What's black and white and bad ass all over? Take a look at this killer build from Moto Guzzi specialists, HT Moto in Germany. HT Moto aren't the kind of workshop to do anything in halves. There's not much on this '82 Moto Guzzi Le Mans III they haven't tweaked, replaced or removed in the pursuit of pure riding pleasure…and if you happen to be a little OCD like yours truly, you're bound to get a kick out of how beautifully symmetrical the HT Moto 'Black & White' is.
With 30 years of experience working with Moto Guzzi's Hartmut Taborsky of HT Moto knows his way around the Le Mans platform. HT have also been active in the race scene for many years so performance is a big part of every build that rolls out of their workshop. The '82 Le Mans 3 arrived at HT Moto with an incredibly low 6000kms on the clock, but that wasn't about to save it from a full tear down.
A balanced and lightened crank was installed along with an HT Moto 2 spark per cylinder set up, ensuring maximum fuel combustion. A 92mm bore increases the Guzzi's power output to 90bhp at 7600 rpm with an 11.0/1 compression ratio. 40mm Dell'Orto carbs with velocity stacks feed fuel into the cylinders and exhausts are expelled via a custom made HT Moto stainless steel system. To handle the extra power bigger valves, springs, cam and a specially modified clutch and flywheel were also added to the Black & White.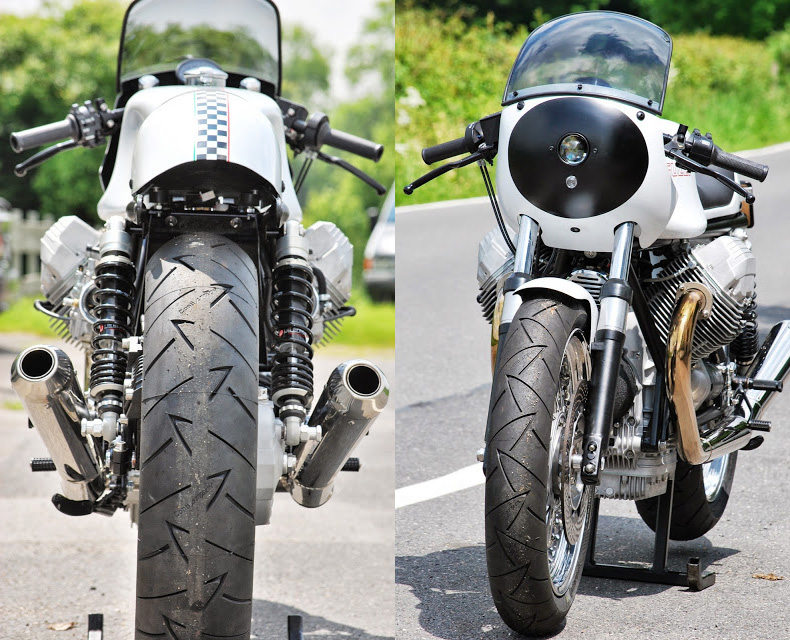 The extensive list of HT Moto one off and custom made parts on the 'Black & White' LM3 include the bikes tank, seat, fenders and front fairing. The wheels are custom laced 18 inch rims, front and back which have been wrapped in Conti CR rubber. The bikes swing arm was also modified and a HT Moto programmable ignition and wiring harness were installed.
Nestled behind the front fairing you'll find a Motogadget Chronoclassic guage delivering stats on RPMs, speed and other essential information back to the rider. Suspension and handling upgrades come in the form of modified front forks, Wilbers rear shocks and a full Brembo disc brake upgrade, front and rear. With a dry weight of 190 kg (16kg less than stock) Hartmut tell us that the Black & White is "A lot fun and feels great on the track considering it's a 30 year old bike!". This is one instance of black and white that I certainly wouldn't be calling plain.