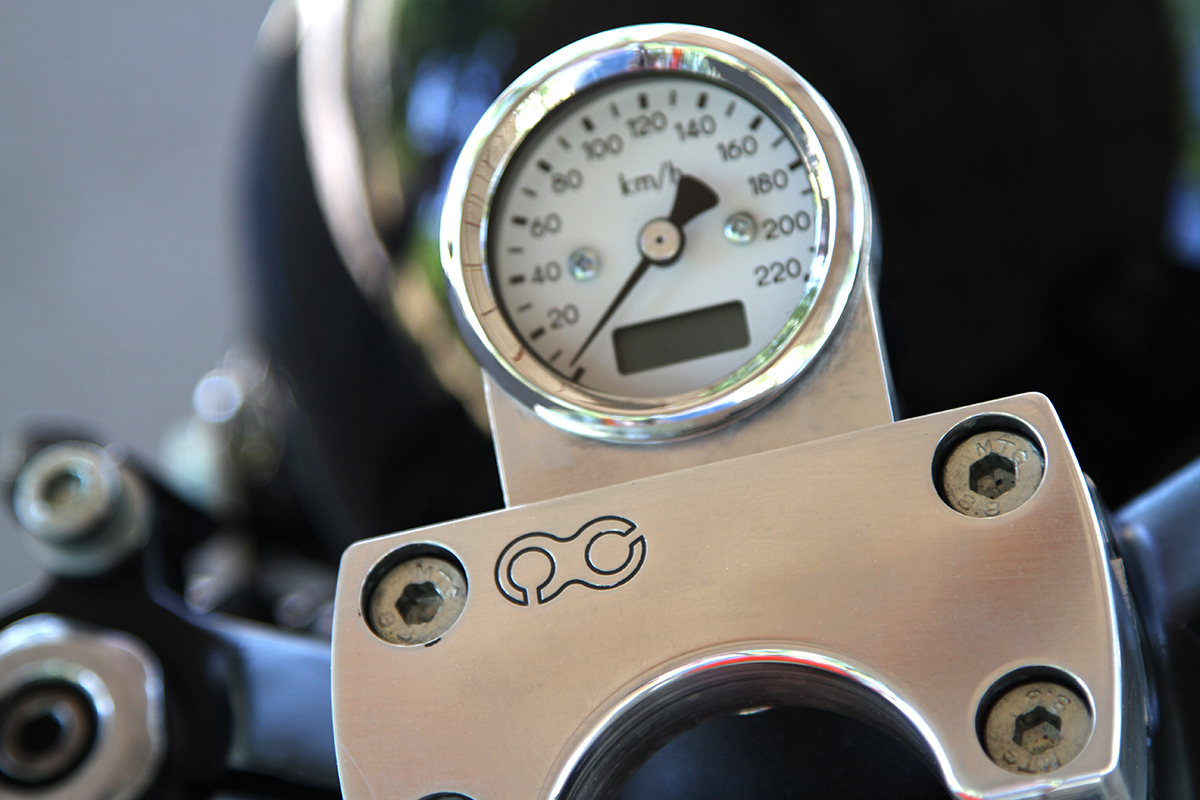 Converting a long haul highway cruiser into a cafe racer may not sound like the ideal undertaking, but the T3's specifications make it a worthy candidate. The bikes low center of gravity and sturdy Tonti frame delivered great handling and after shedding a few kilos that v-twin could really come into it's own. So when Antonio and his team at Nitro Cycles in Spain got their hands on a 1977 Moto Guzzi 850 T3, they knew precisely what to do.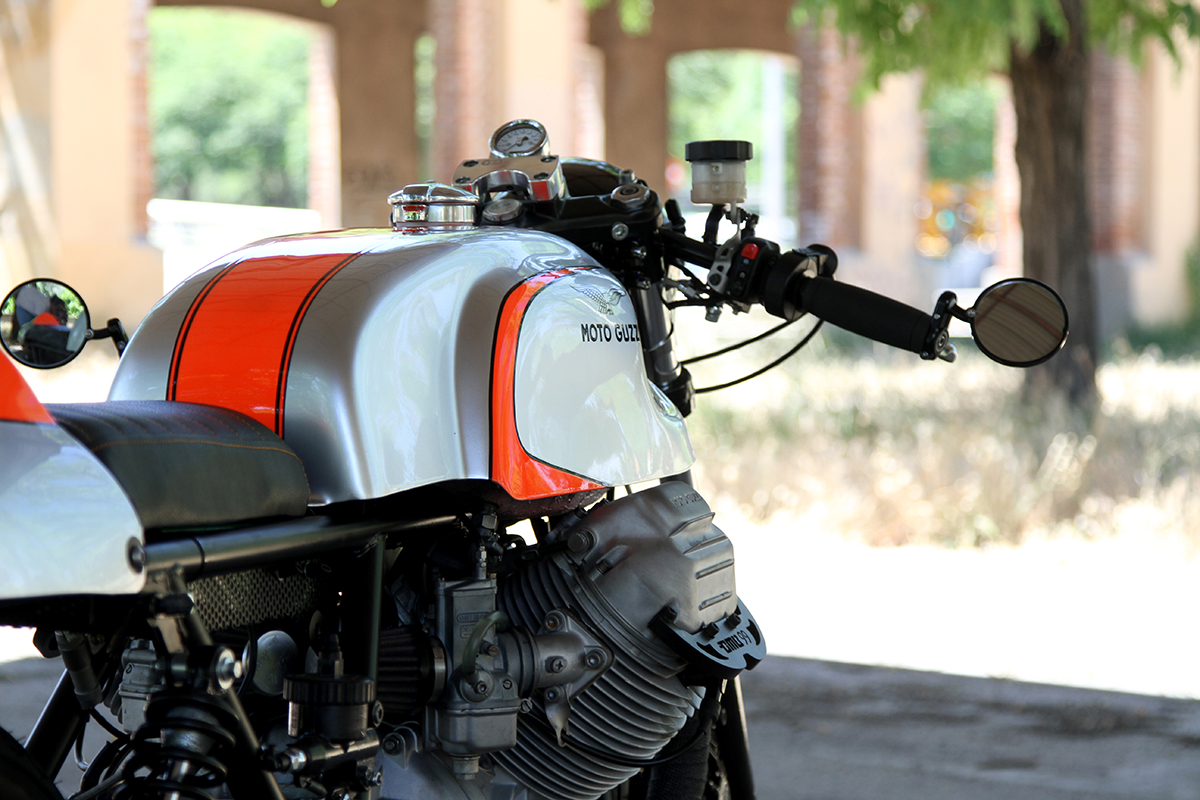 In accordance with Colin Chapman's "Simplify, then add lightness" school of thought, the Nitro Cycles team began with a full tear down of the bike to determine exactly what could be removed. The hefty steel tank and fenders were the first to go, followed by the behemoth, two up saddle. The cruiser style 'cow horn' handlebars and oversized indicators also found their way into the scrap bin, along with the bikes airbox, side covers, factory instrument cluster and scale tipping mufflers.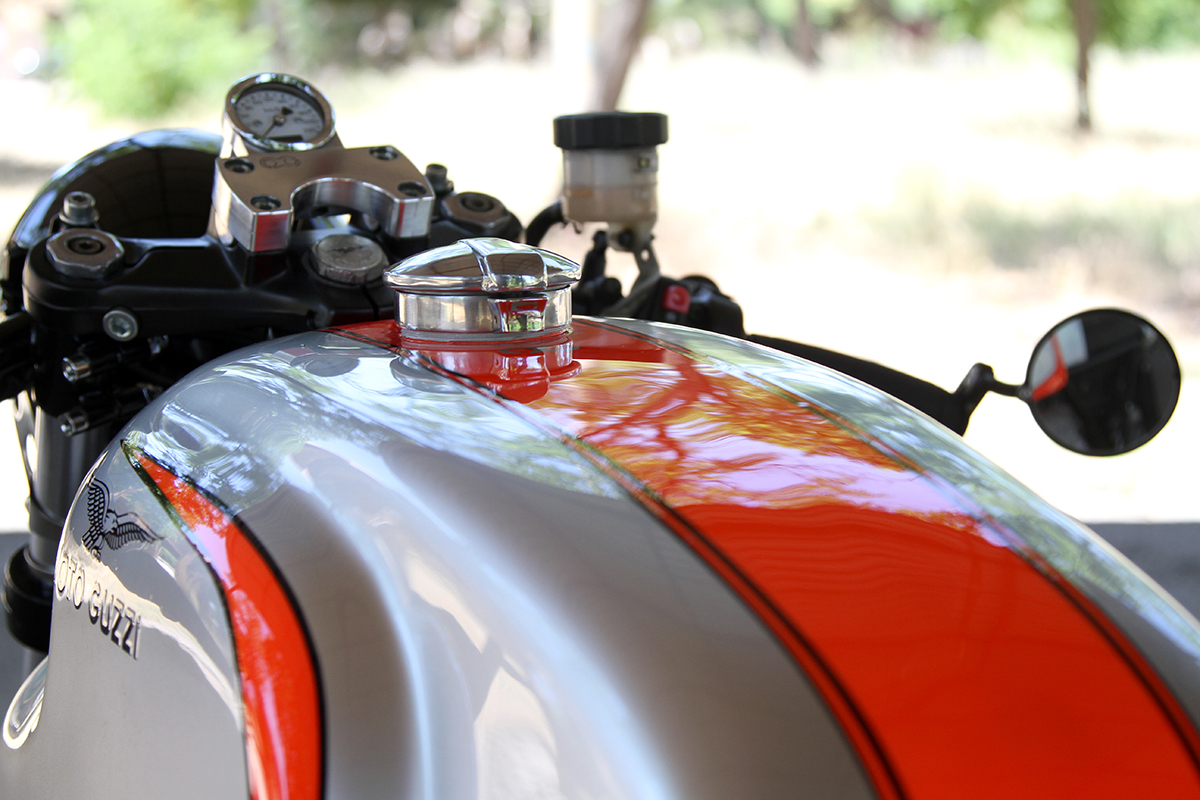 With the engineremoved from its cradle it was treated to a comprehensive overhaul. Fresh internals and an exterior sandblast left it looking and performing as new. A pair of black, free flowing reverse megaphone mufflers were mated to the trimmed exhaust headers and the carbs tuned to accept a pair of conical air filters and the open exhaust. The frame was also given a refresh, removing redundant tabs and revising the rear loop to tighten the bikes proportions.
To get the bike handling right the front and rear suspension were then rebuilt and the Brembo 3 link braking system was given a full overhaul. A simplified loom was put together and linked up to a relocated battery and the tiny indicators, tail light and Bates style headlight.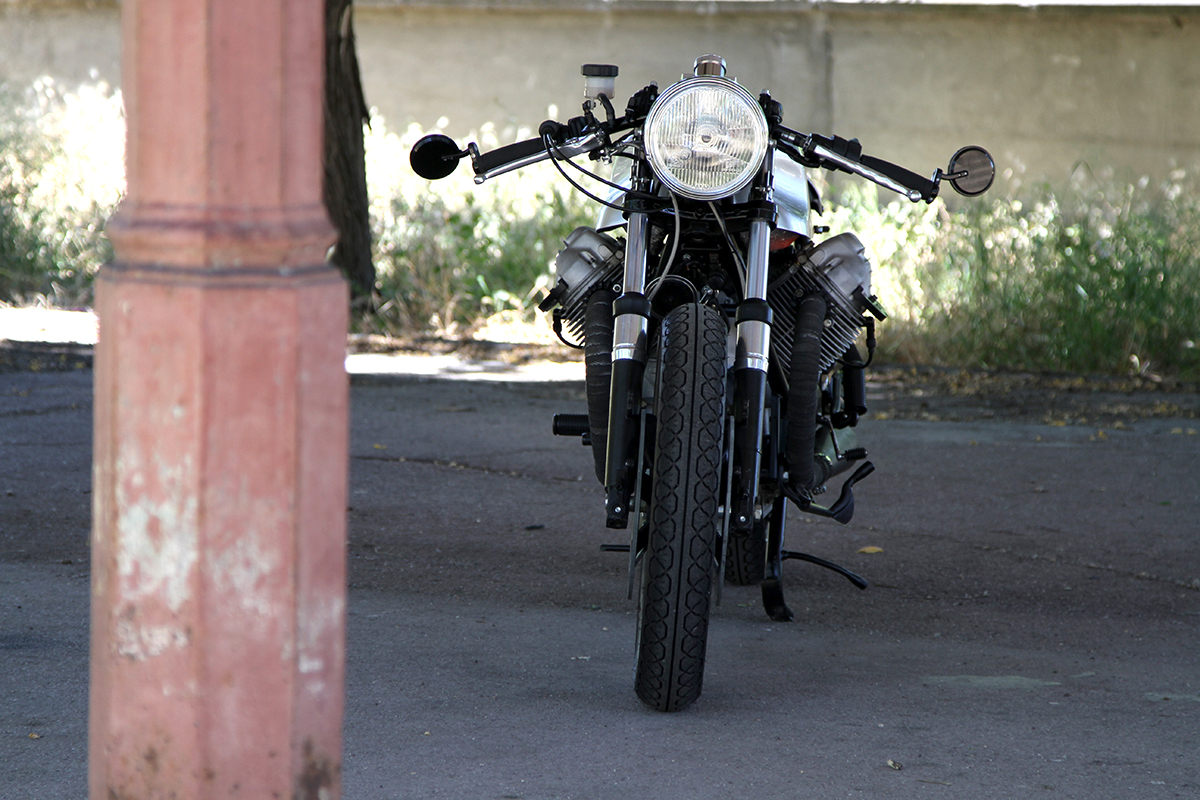 To replace the standard bars and create a more traditional cafe racer stance, a set of clip ons were mounted to the fork legs wearing bar end mirrors and a quick action throttle. The factory risers were swapped out for a polished alloy clamp that holds the bikes speedo in place and features Nitro Cycles cool chain link emblem.
Replacing the standard bodywork was where the boys had to work the hardest to "add lightness" to their T3. Inspired by Norton's iconic Manx a new tank was fabricated from Fiberglass along with a matching rear cowl. The decision was made to retain the bikes ability to take a passenger (biposto) so the cowl detaches to reveal more of the seat.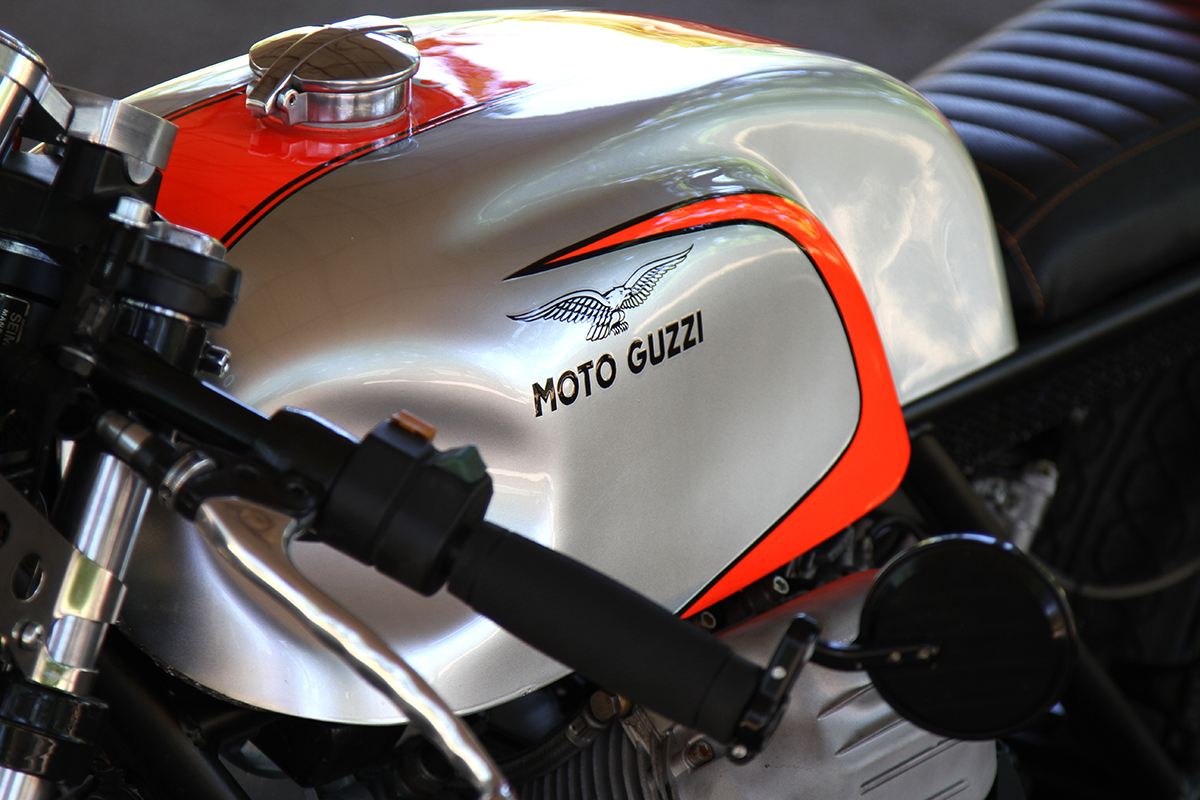 The Nitro Cycles Moto Guzzi 850 T3 cafe racer is a great example of how a motorcycle designed for one purpose can be rebuilt for another. A hefty cruiser becomes a sleek street racer and the words of a brilliant design engineer reign true. We're looking forward to seeing what our Spanish friends cross-breed for us next!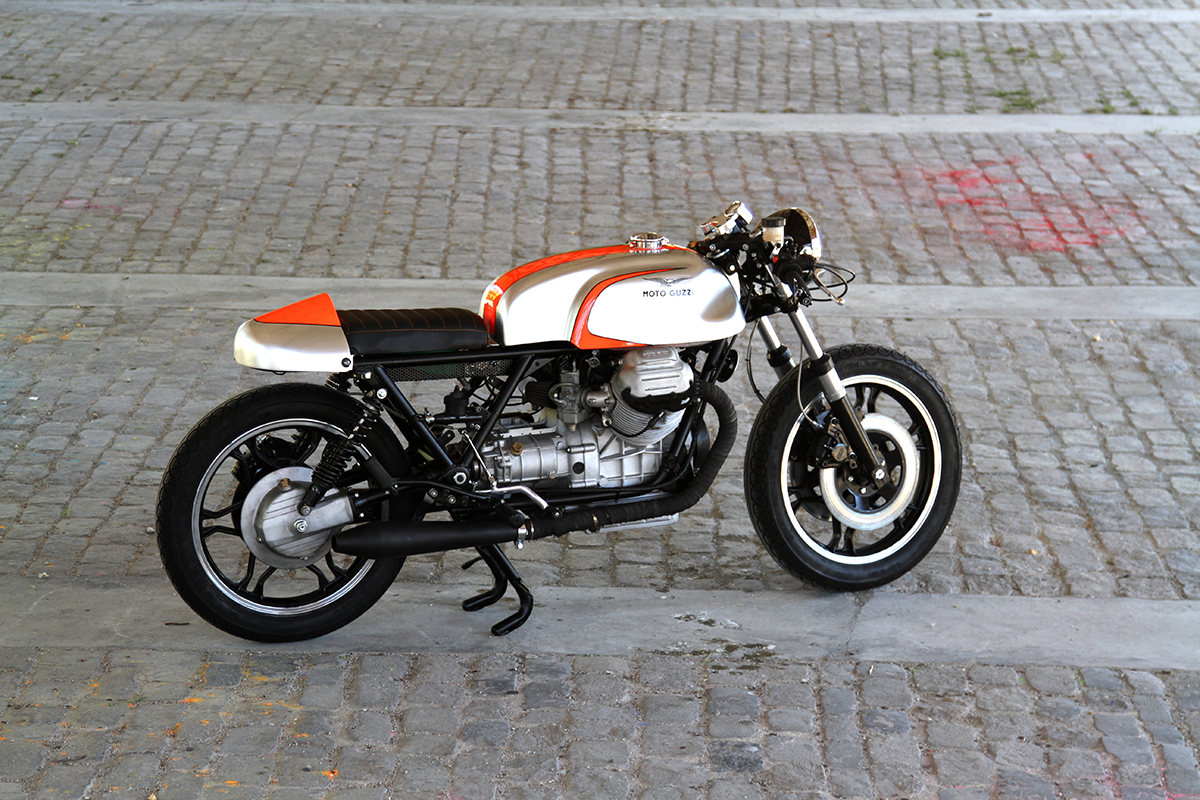 First released in 1975, Moto Guzzi's 850 T3 was designed for the booming American motorcyclist market. As defined by its T designation it was a Turismo model with a comfortable, upright riding position ideal for long highway hauls. The 3 in its name described a new triple disc braking system that actuated both the front and rear brakes at once, a groundbreaking setup that received mixed reviews. Powered by a revised version of the Moto Guzzi 844cc longitudinal v-twin the T3 boasted a respectable 59bhp, but its hefty 211kg weight meant that it wasn't the most sprightly of motorcycles.