Produced by Aussie filmmaker Cam Elkins, he is reaching out to riders in Sydney to share their own experiences in the Stories of Bike series. Here's how Cam defines the project…
"Stories of Bike is simply about the sharing stories of riders and their custom bikes. Motorbikes aren't only a machine from which we derive a basic pleasure in riding, but rather something which connects us to many things: friends, family and our environment both urban and natural.
I feel they also connect us to all forms of time quite like no other machine can. They connect us to the past in our experiences and stories. They connect us to the present by forcing focus and awareness as we ride, allowing us to take note of the sights and smells that would otherwise pass us by. And as for the future? These machines give us something to look forward to with eager anticipation.
It is these connections, these stories, I wish to share with your fellow riders."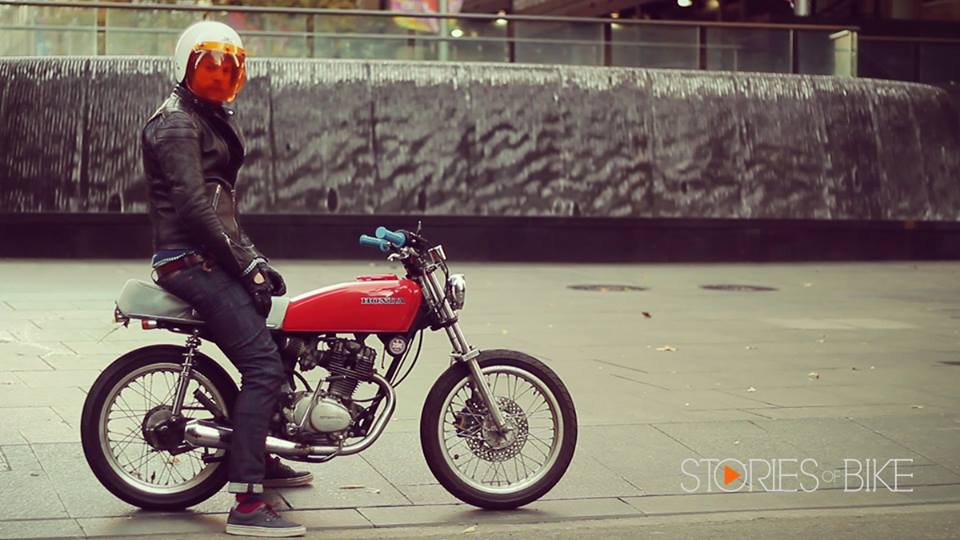 So far there are 5 videos in the series which you can view below. Sit back and enjoy the show.
"A much overlooked option for customisation in Australia, the Honda GB250 is known for its reliability and relative quick speed for a 250cc engine. Bruno, found the GB250 to be something a little left of field when looking for his bike of choice. In the last year he has made the bike his own, with some cost effective mods that still result in making his a unique and distinct cafe racer."
"Sometimes the best way to get from A to B is to cross a bridge, while riding your own custom Honda CB250n motorcycle. Sure, it's a fairly simple bike, but knowing its fairly unshapely origins, Stephen has really turned this machine into a very charming and humble cafe racer."
"Having travelled from the other side of the world, only to land in a new country, mostly alone, Brad found that his life in Sydney, Australia only really begun when he rediscovered his love of motorcycles on the back of a Yamaha SR400."
"The thought of a commute to the workplace for most people would be met with a mild grinding of teeth and sneer or two. Even for most motorcyclists, it's not a pleasant experience dealing with traffic an hour that brings the worst out in people. But one man's peak hour traffic is another man's bliss. For this custom Honda CB125 owner, peak hour is pure, adrenaline spiked, fun."
"It's the little decisions we make and influences of history along the way that determine who we are, what we do and what we create.
For this owner of a custom 1974 Honda CB360 cafe racer / flattracker, incorporating various elements from his own dirt bike and family history of speedway racing resulted in a build of the perfect ride."
What is it about motorcycles that creates such passion and enthusiasm? I've been riding a motorbike as my daily form of transport for almost 12 years now. Looking back I can't recall one day (even when I've been stuck in the rain with soggy jocks) when I haven't enjoyed the journey. As a reader of this site I'm sure most of you feel the same and there's now a video series called "Stories of Bike" being produced in Sydney that is looking to capture this passion on film.