Sheilas Shakedown is really like no other festival. It encapsulates the zeitgeist of the 70s and 80s Aussie bike rally scene but with one very distinct difference. Strictly women only. Sure the general principles remain. It's a bunch of motorcycle enthusiasts getting together over a weekend on a rural patch of dirt, preferably scenic, talkin' bikes, slingin' beers, howling at the moon with some general shenanigans and misbehaving. Then on the Sunday we all ride home. Back to our respective jobs and family responsibilities. A simple concept yet any moto enthusiast who has entered these sacred spaces knows exactly what it's about. It's a feeling. Or as the kid's say these days 'It's a vibe'. Sheilas Shakedown is about bringing hundreds of women together, from all over Oz and beyond. Regardless of age, race, background or sexuality, but with one thing in common. An undeniable love of motorcycles.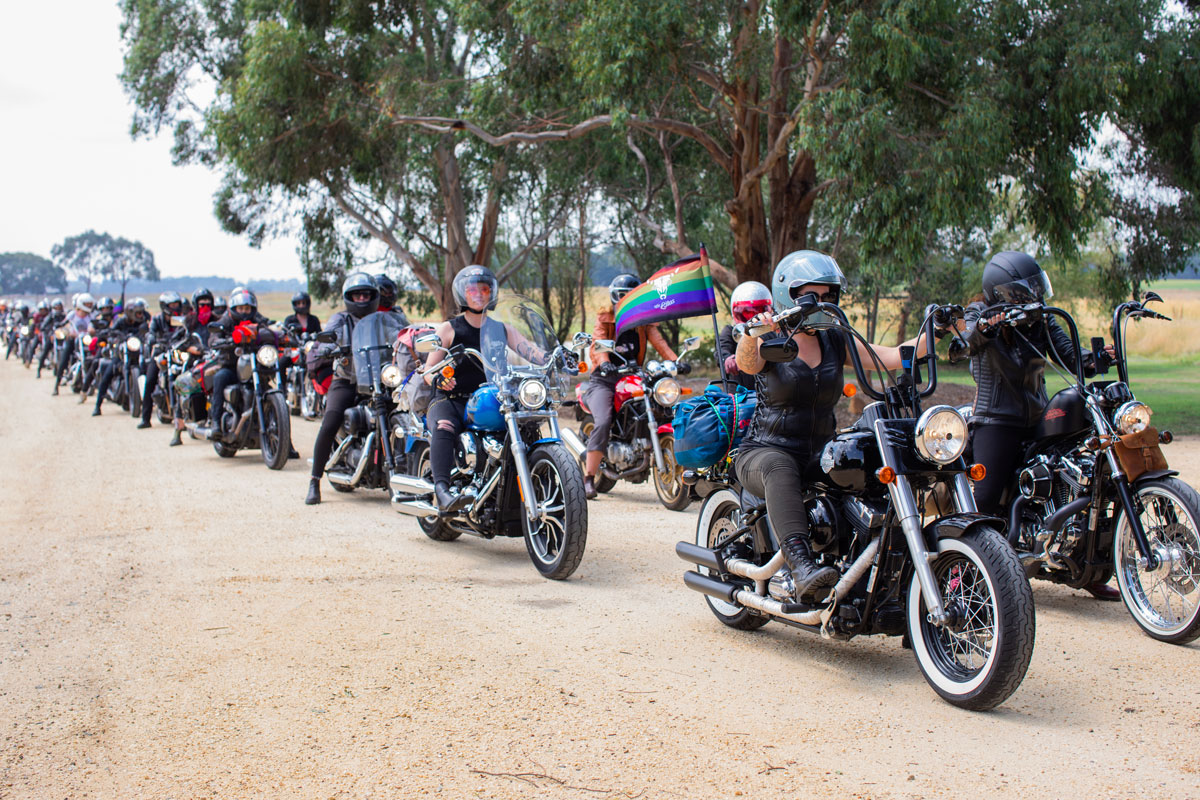 The Sheilas Shakedown concept came together over a few beers at the pub with 3 female motorcycle mates. It was a glam-up from an already existing handful of women who liked to go riding and camping together. These small camping trips formed some solid friendships and really kickstarted the female bond in the Melbourne motorcycle scene. There was something special brewing in those early days and we knew it. We had to build this thing and it was going to grow. There were established events happening in other parts of the world like the US's Babes Ride Out the UK's Camp VC and Europe's Petrolettes. It was clear that us Aussies needed to create our own space with our own unique flavour. And so, Sheilas Shakedown was born!
Sheila
/ˈʃiːlə/ NOUN informal / Australia – NZ
Meaning: a girl or woman.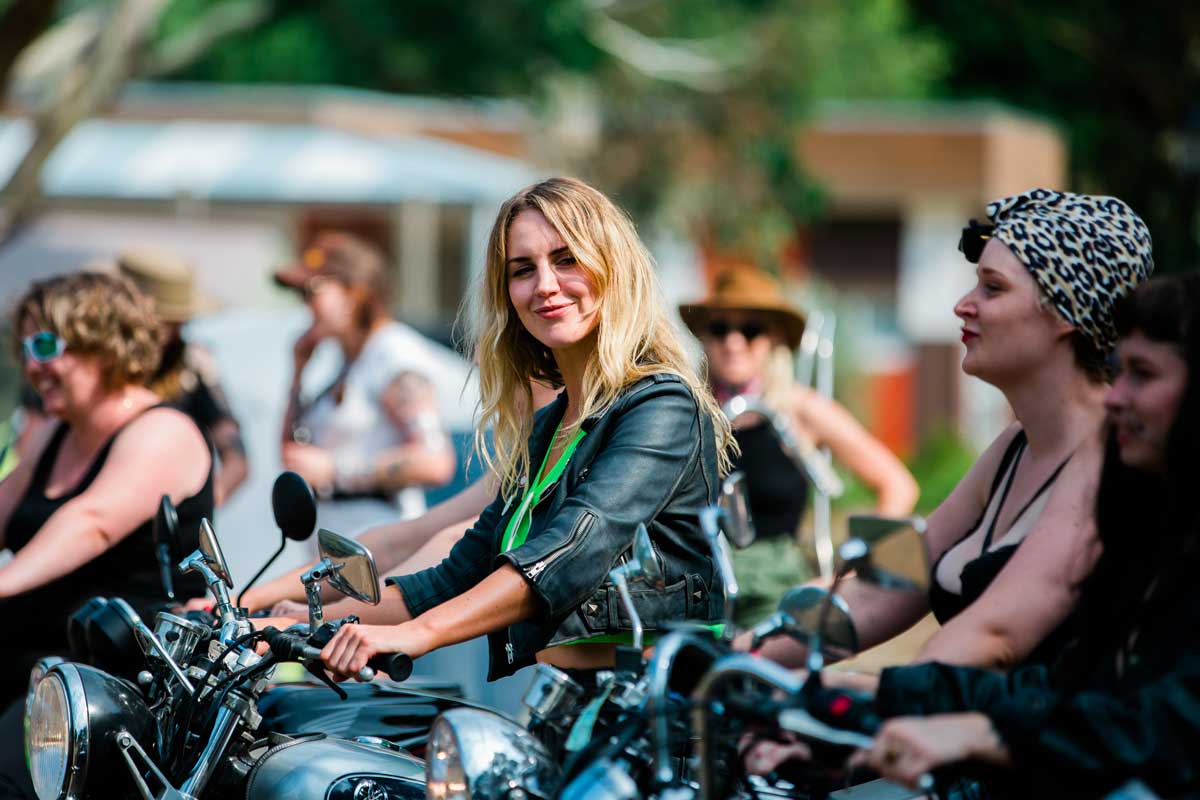 Every Sheilas Shakedown starts with a group ride on Saturday morning and 2020 was no different. Women gather at the Old Bike Shop Cafe, swags strapped to sissy bars with a buzz of caffeine and early morning anticipation. The ride led by The Litas Melbourne chapter heads west taking the scenic route to the grounds of Pheonix Park in Ballan, Victoria. We all know that feeling of hundreds of motorcycles starting their engines in unison and heading out on a road trip. It's powerful stuff! I don't know exactly what it is but knowing that every rider you are with is female is truly something special. Maybe cause we're a minority in the moto world. But the fact is there is a certain energy and strength to it that differs to any other ride I have ever been on. A real sense of unity and belonging. There's no competition and no ego. Regardless of the bike you ride or your experience on the road, we all just want to support each other and ride together.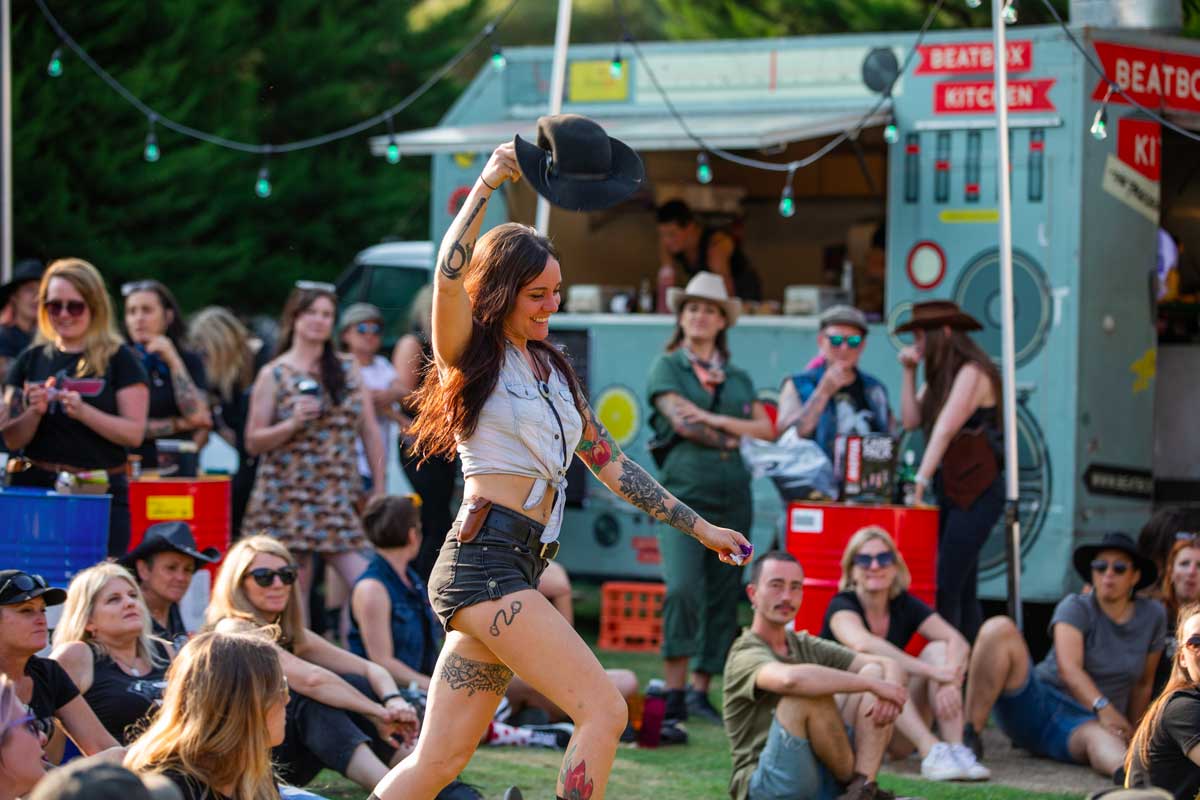 The Sheilas Shakedown starts off nice and chilled. It's a time for the girls to find their spot on the 65-acre site and set up camp. Sheilas 2020 saw more campervans and glamping tents in attendance cause sometimes we like to get a little fancy. As '60s and '70s tunes play over the speakers, the women are free to roam the grounds and check out some of the stalls like motorcycle touring company Nevermind Adventure and several female motorcycle gear specialists like Moto Femmes, Liberta Moto Gear and Hightail Hair. Each year there's always a bit of a workshop to throw in some educational fun. Last year saw a local female mechanic chat moto maintenance. This year Tracey and Emma from Traceytrack Racing displayed their beefy pink track bikes and chatted everything track. But without a doubt, the most popular vendor is always the tattoo station. Two female tattoo artists create a custom Sheilas flash sheet of badass femme and moto-inspired tattoos. It's quite a scene strolling into the camp kitchen to hear the buzz of tattoo guns, the smell of antiseptic, as women line up to get some permanent ink. A commemorative marker of a weekend never to be forgotten.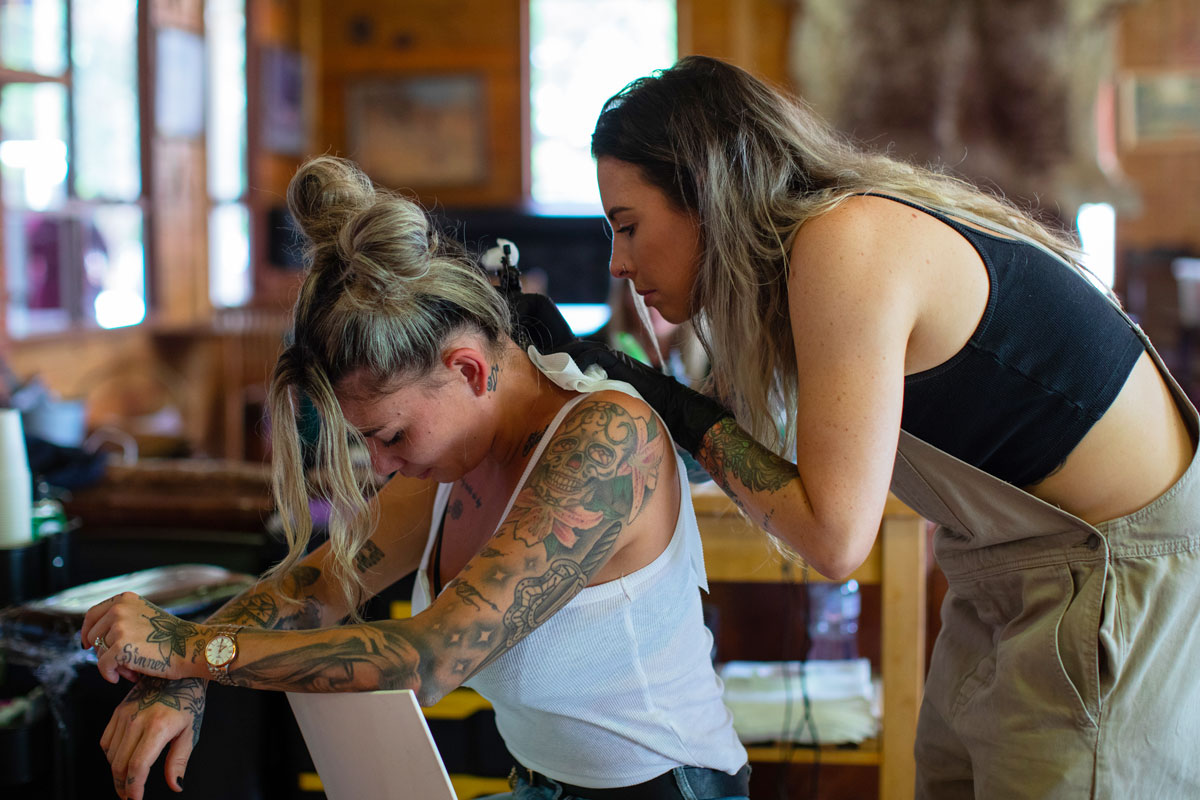 A treasured tried and true moment of every Sheilas Shakedown, a stand out for many attendants is the very serious and skilled 'Sheila-lympics'. Otherwise known as the holy grail of female sporting activities. It's a showdown of motorcycle oriented games such as the slow race, egg & spoon and the favourite snagga (hotdog) on a string on a stick. A Sheila rides with their pillion past another Sheila holding a stick with a dangling hot dog. The pillion has to take a bite from the wiener without the rider stopping. This basically makes for some great snaps of girls with their gobs open getting smacked in the face with a hot dog. 2020's hot dog challenge saw a pillion rider go at the wiener whilst cracking a bullwhip. Does any of this make sense? Not really but It's a shit load of fun, looks hilarious and gives us just another reason to laugh and let loose.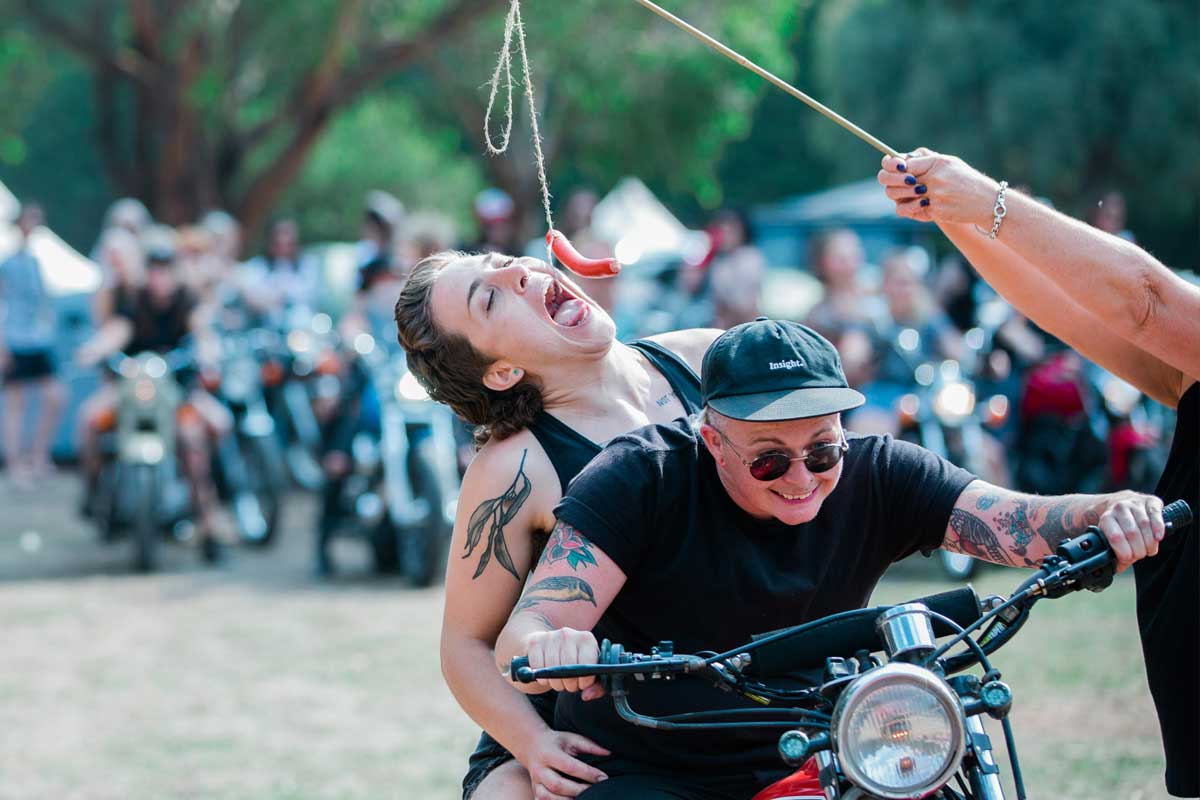 Every year there's a hand-picked bike display. From crusty dirt bikes to factory chromed up cruisers, no bike is discriminated against. There is always a prize for best in show. In past years, '60s & '70s survivor bikes, as well as modified '70s and '80s choppers, tend to be the favourite. This year's prize went to a pristine re-built Honda Z50. One of several yet definitely the standout of all the monkey bikes that were fanging around the grounds just for shits and giggles. And like any good traditional moto-rally, Sheilas Shakedown takes the opportunity to raise monies for a charity. Girls strip down and donate to have their breasts painted into motorcycles, lightning bolts, flames, cacti, flowers or whatever. Just to add some colour and whimsy to the party. But mainly monies raised come from the raffle. It was a bonus to see that the main prize, over one thousand dollar's worth of motorcycle gear went to a Columbian woman who travelled to Oz especially for the event. This year was a great success as we managed to raise thousands of dollars for the Australian bushfire relief.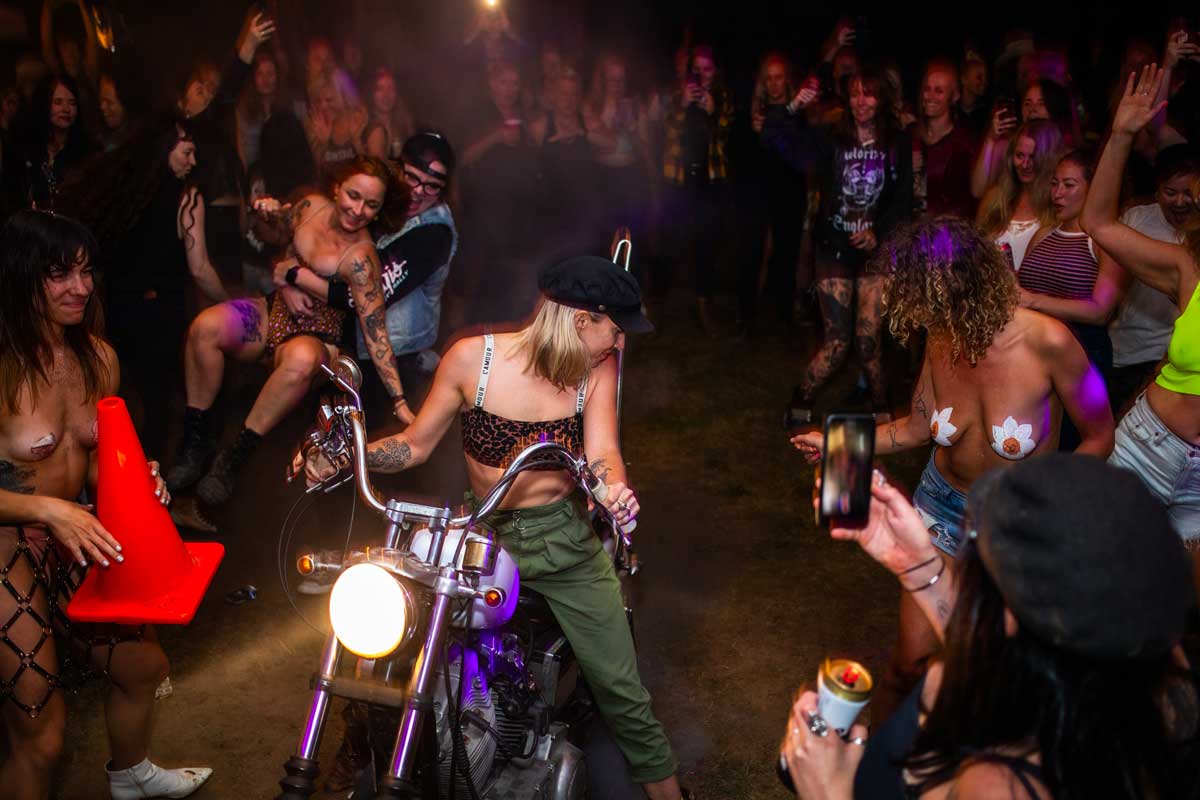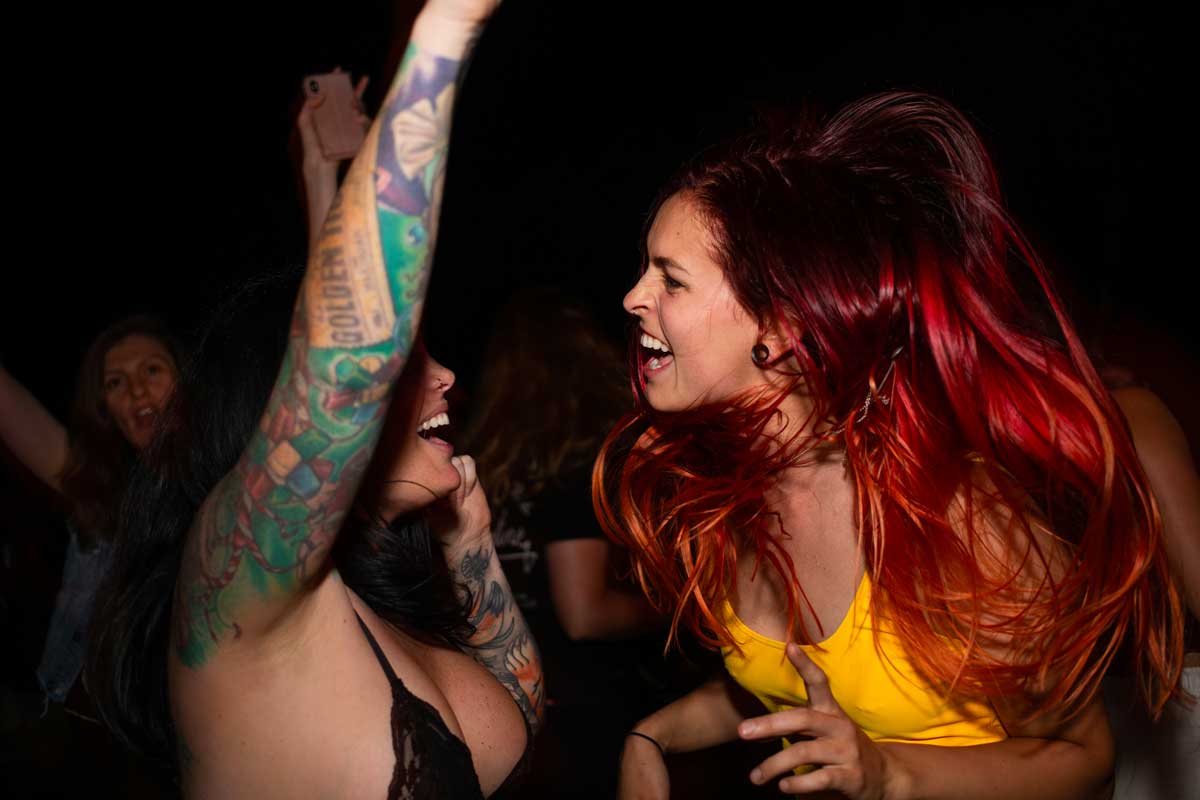 The magical hour at Sheilas would definitely be the summer golden hour. Just as the sun is going down. Everyone is well and truly relaxed, fuelled by burgers from the food trucks and beers and cocktails from the bar. A campfire is lit and the live entertainment begins with Taylah Carrol, a beautiful Melbourne woman who plays the guitar and sings dreamy indie rock tunes. Then a big jump to the revved-up sounds of 'Von Stache'; a three-piece punk band from Geelong with song titles like 'Piss in the Wind'. No Sheilas Shakedown goes down without the ever unprofessional DJ set from the Throttle Moles. Two girls who rode their Harleys from Mildura armed only with a Spotify playlist and an iPhone. The rest of the night can get pretty wild and pretty god damn loose. Most years I call it a night early on, so only hear about the kind of shenanigans that occur well past midnight and are definitely worth leaving out of this article. But it's safe to say that the Sunday morning can seem like a bit of a write off before everyone ride's off. It's relaxed with coffee flowing freely and a greasy hangover breakfast as chilled country folk is performed on the main stage.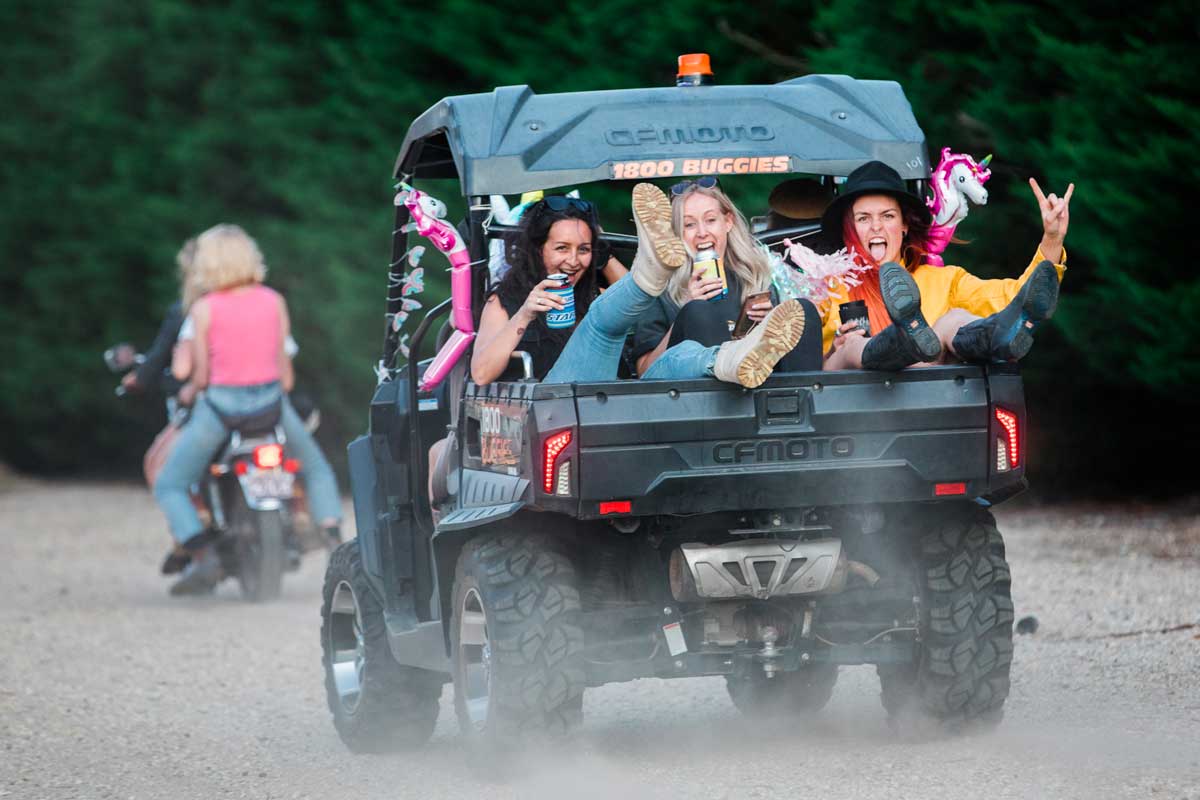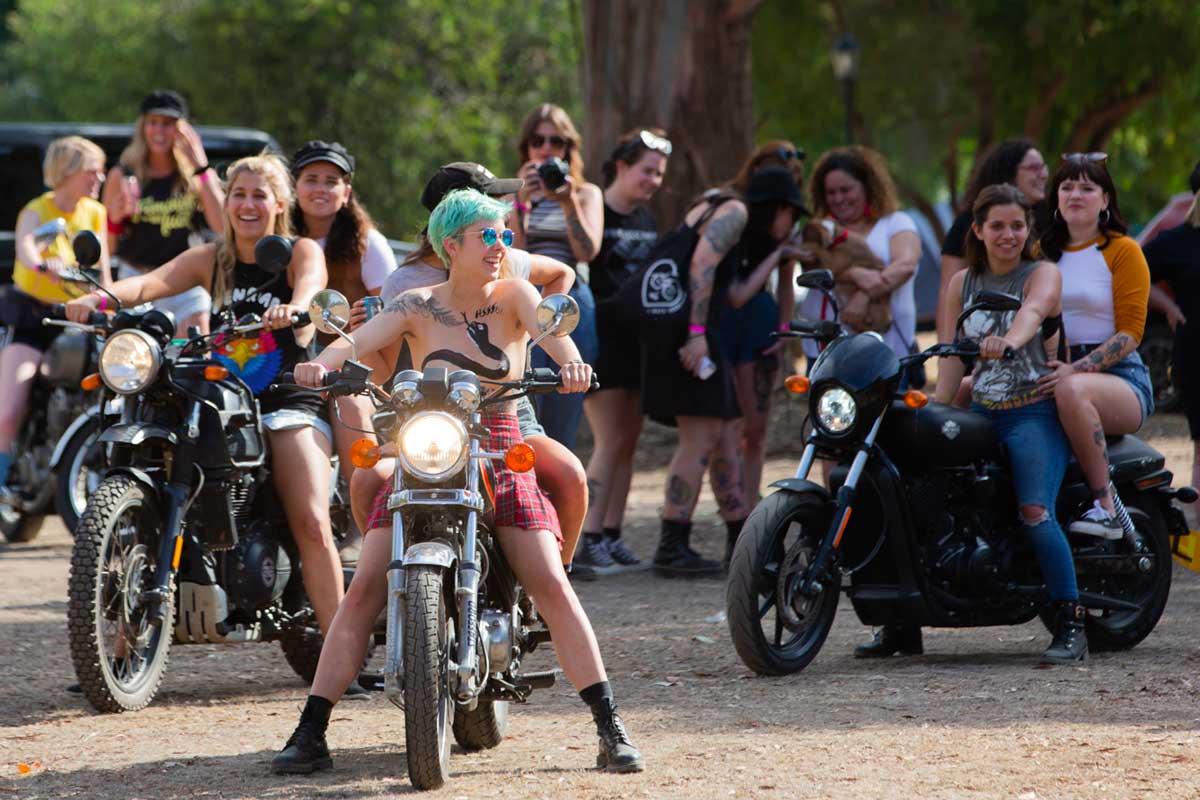 Every year the feedback from Sheilas Shakedown has been phenomenal with most describing it as the best weekend of their lives. Some women go to catch up with mates they only get to see once a year at the event. Others go not knowing anyone and leave with some lifelong riding buddies. One mother described her 2020 experience as reigniting her life again with both hope and joy. Something she had not felt since the death of her child only months before. It's stories like these that we realise just how important Sheilas Shakedown is. Sure it's a simple concept. Bikes, babes, beers with the odd burnout here and there. But it will continue to forge a future for female culture and remain a lifeline for women who ride for years to come.
Story by Remmi Aloni / Photography by Shannyn Higgins