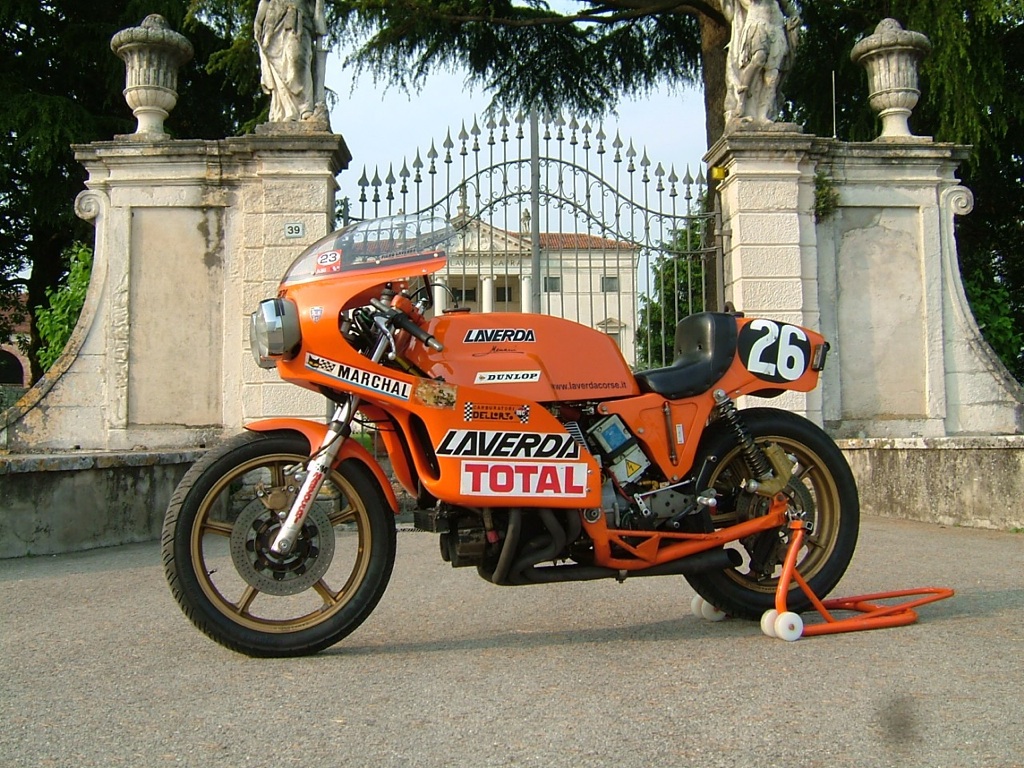 In 1950 Francesco Laverda developed the first Laverda motorcycle, a four stroke 75cc single. It was with this small capacity design that the Laverda brand gained its popularity in the motorcycle world. At the 1952 Milan-Taranto endurance race which covered 1410km, Laverda entered 20 of their 75cc race bikes. Of the 20 that entered 16 finished in the top 20 places beating the likes of Ducati and Moto Guzzi. From there Laverda went on to develop their 650 parallel twins and their legendary 750cc triples renowned for their superior power and bulletproof build quality. It was in 1977 though that Laverda unveiled something truly astounding. This bike is the 1000cc V6 Laverda, a one of a kind testing platform that unfortunately never went into production.
The V6 was developed by Laverda during the directorship of Massimo Laverda in 1977. Designed by ex-Maserati engineer Giulio Alfieri, the Breganze's engine had many similarities to V6 engines he had built working for Citroen and Maserati. Initial testing of the 90 degree V6 produced a power figure of 160bhp but to make it more manageable in a motorcycle frame was detuned to around 140bhp. On the track the V6 clocked up a top speed of 283kph (176mph) which for its time was an incredible result.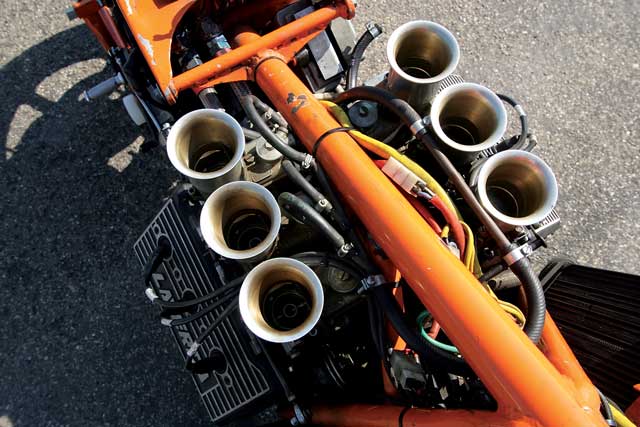 Initially conceived as a development test bed the V6 has been dubbed the "world's fastest laboratory"
The V6 engine was a DOHC, water cooled, 1000cc, 6 cylinder that formed a large part of the bikes frame. Brembo discs provided braking, the forks were 38mm Marzocchi, Six 30mm Dell'Orto FDR carbs fed fuel to each of the cylinders and an F1 style
ignition
system fired the beast to life. The twin headlights came from a Porsche 911 and the lightweight wheels were Campagnolo. Beneath the bikes fairing were a pair of side mounted radiators for cooling which added to the bikes unwieldy 250kg weight.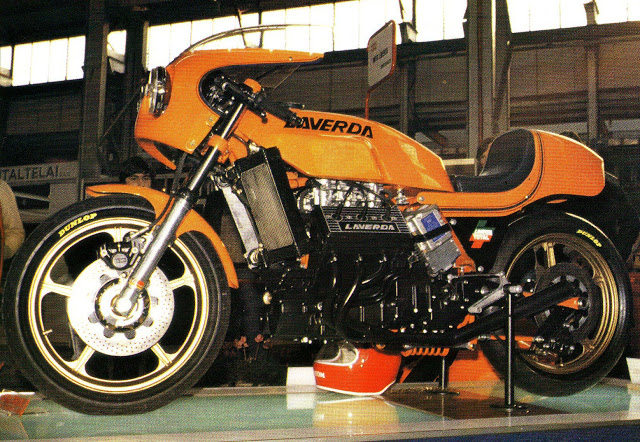 The V6 made a one time appearance at the 24 hour Bol d'Or race in France piloted by Paul Richard. Although it's top speed could not be matched by other manufacturers the bikes 200kg+ bulk worked against it and due to technical problems it failed to complete the race. A second attempt was planned for 1979 but due to changes in race rules the bike was exempt from entering and the V6 project ended. The bike is now part of Piero Laverda's personal collection is valued in excess of $500,000 and is still fully functional.