In 2011 a self-confessed motorcycle nerd and his fashion model girlfriend took part in their first land speed trials event at Bonneville salt flats. During the years that have since passed, Alp Sungurtekin and Jalika Gaskin have amassed an impressive collection of 13 land speed records. Even more impressive is that the list includes the record for the fastest 650cc pushrod engine of all time.
This motorcycle is Alp's latest land speed racer named the "Killa Bee". The Triumph engined beast is a ground-up creation, most of which was fabricated from scratch by Alp in his modest workshop. After being blown away by photographs of the Killa Bee I contacted Alp to learn more about this impressive bike and his aspirations for its future.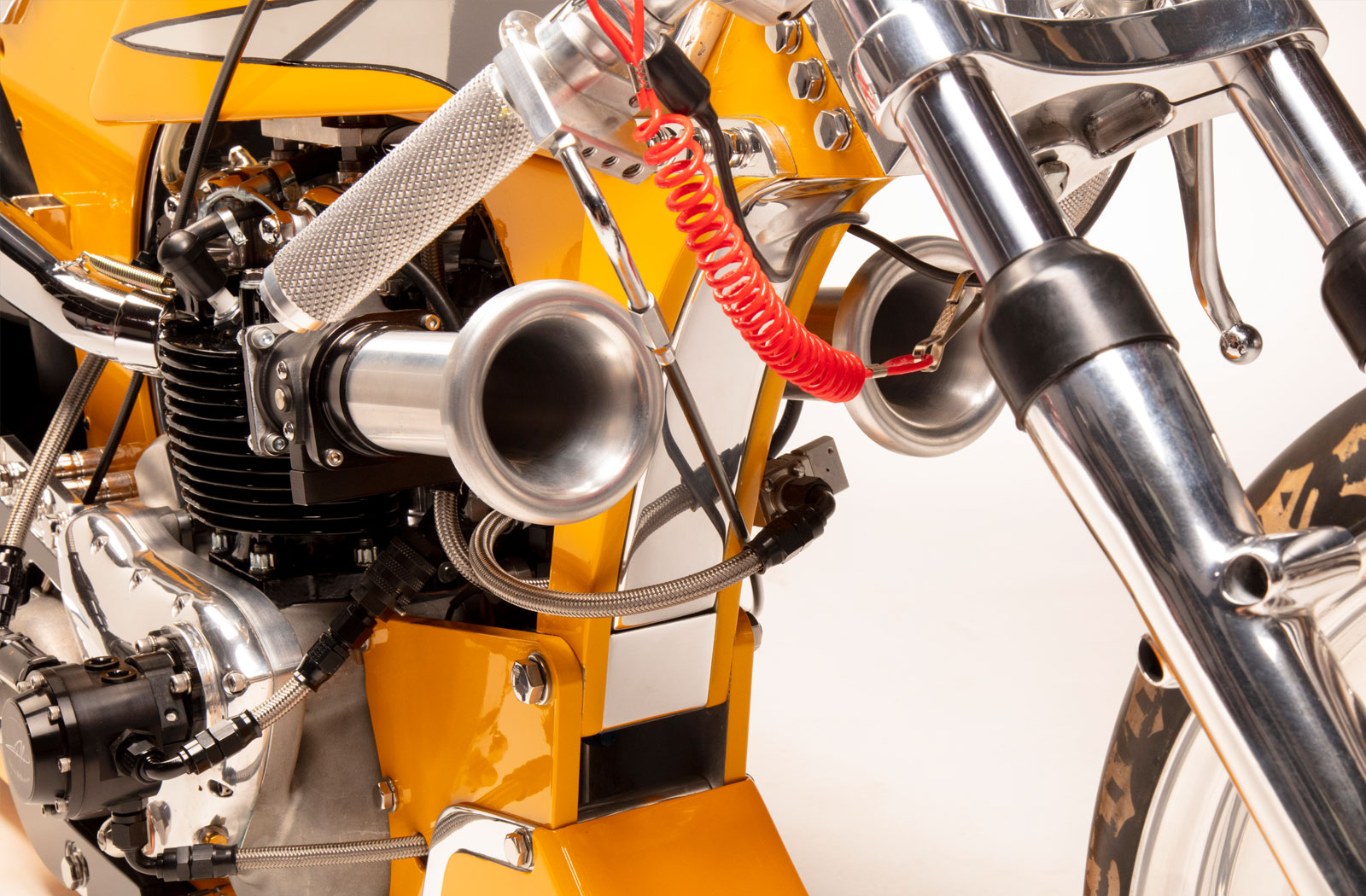 Alp trained as an industrial designer and went on to specialise in transportation design. Today though he designs and builds custom motorcycles and engines full-time as Alp Racing Design. The Alp Racing Design workshop is a converted 2-car garage located at his home in Los Angeles, California. The bulk of his business involves race bikes but his portfolio also consists of motorcycles pieced together for private collectors.
By all accounts, Alp is an incredibly modest man. He's the definition of a quiet achiever but despite his humble demeanour, he caught the attention of the often rambunctious custom motorcycle community. This ultimately led to him unveiling the Killa Bee at the 2022 Born Free Show where event organisers Mike and Grant awarded him with the prestigious 'Born Free Founder's Award'. The main goal of this project was never to simply look good though. The Killa Bee was built to go fast and it has already proved more than capable of achieving that task.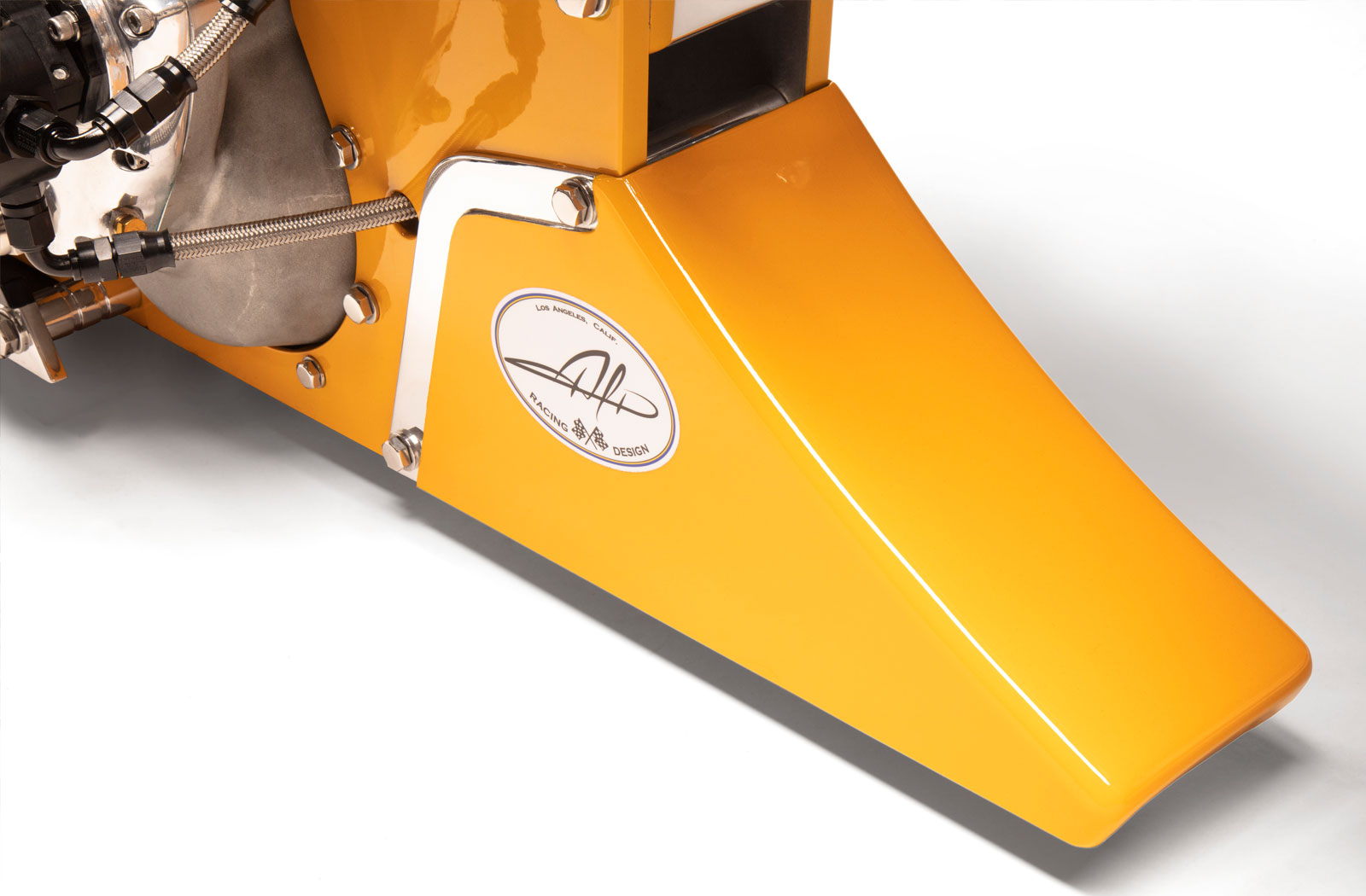 The Killa Bee came into existence after a client commissioned Alp to build it. The zealous customer wanted a motorcycle capable of setting a new land speed record; in particular, the record for the fastest 1000cc pushrod engine. That title is currently held by a Harley Davidson built by Yankee Engineuity Express and it set the bar at 166.843mph.
Alp describes his Killa Bee as an experimental design. There was no donor as such for the project but if it was to be labelled as anything it would be a 1950s Triumph pre-unit. When designing a motorcycle like this, Alp starts by sketching out an idea on paper. From there he jumps straight into the build which he describes as a freehand approach.
"The main idea was to reduce the frontal area and keep the centre of gravity as low as possible," says Alp. "I've done many different types of frames but I wanted to use flat aluminium sheets on this one."
The result of Alp's approach is a very unique chassis design. There's no tubing like a traditional motorcycle frame. Instead, the entire structure is made up of a thick 6061 aluminium sheet. Alp's process of creating the structure is also rather unexpected. In a world where CNC machining and laser/water jet cutters would make short work of this design, Alp opted to do everything old school. As a result, every piece of the Killa Bee's frame was cut on a band saw before being painstakingly filed and finished by hand.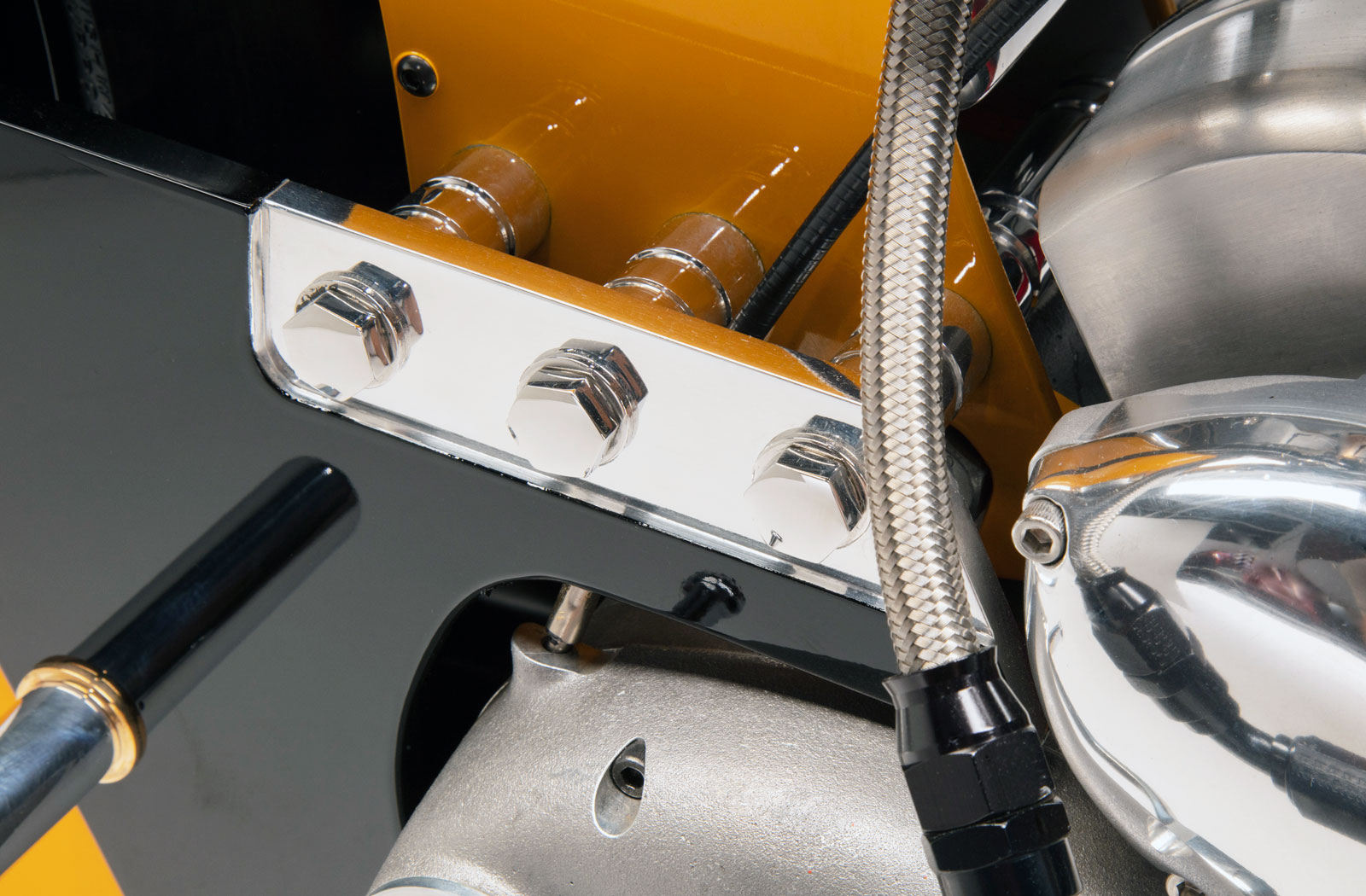 "This bike is also all modular. There's no welding similar to my previous Vincent land speed racer design," says Alp. "All final proportions are limited to official rules and specs for the LSR motorcycle classes in which the bike is intended to race."
Holding Alp's modular frame together are handfuls of beefy bolts. Sandwiched between the upper members of the chassis is a custom machined headstock, again made by Alp, which uses a similar design to his record-breaking Vincent. Although it certainly looks the part, the chin fairing is the only component of this project that was built for show. Finished in a colour scheme matched 'Signal Yellow' 1960s Porsche colour by Alp's good friend Bryan Thompson of Thompson Cycles, the chin piece is removed prior to racing.
As for the engine, it's Alp's own go-fast concoction. "The engine base is a 1950s pre-unit Triumph and the cases are new," he says. "They were sand cast and machined to my specs by Thunder Engineering." There's also a set of rocker boxes from a Triumph T140 incorporated into the engine design which now runs on 95% nitromethane and generates a very impressive 150hp.
For the ignition system, Alp has opted for a rare earth Morris Magneto. The cams have been custom-made to his own specifications by Web Camshafts and the valvetrain is by Kibblewhite Precision Machining. Alp also sourced many Triumph spares for the build from JRC Engineering and utilised parts from the Pingel catalogue for the throttle setup, kill switches and critical fuel valves.
Unsurprisingly, starting an engine like this is no mean feat. With Jalika's assistance, Alp fires the beast into life by squirting methanol directly into the mouths of the forward-facing carburettors. As you'd expect it makes plenty of noise when it does start, but pleasing the neighbours isn't something that sits high on this race team's list of priorities.
There's no shortage of challenges faced when building a motorcycle to compete in land-speed racing. So out of interest, we asked Alp what the biggest challenge he faced during the Killa Bee build was.
"Just about everything!" he jokes. "Frankly, the actual build is the fun/relaxing part. The real challenge is figuring out all the components necessary to allow the bike to run on Nitromethane. Seeing my design/builds all come together and manage to function in synchronicity, let alone break solid records is what makes it all worthwhile."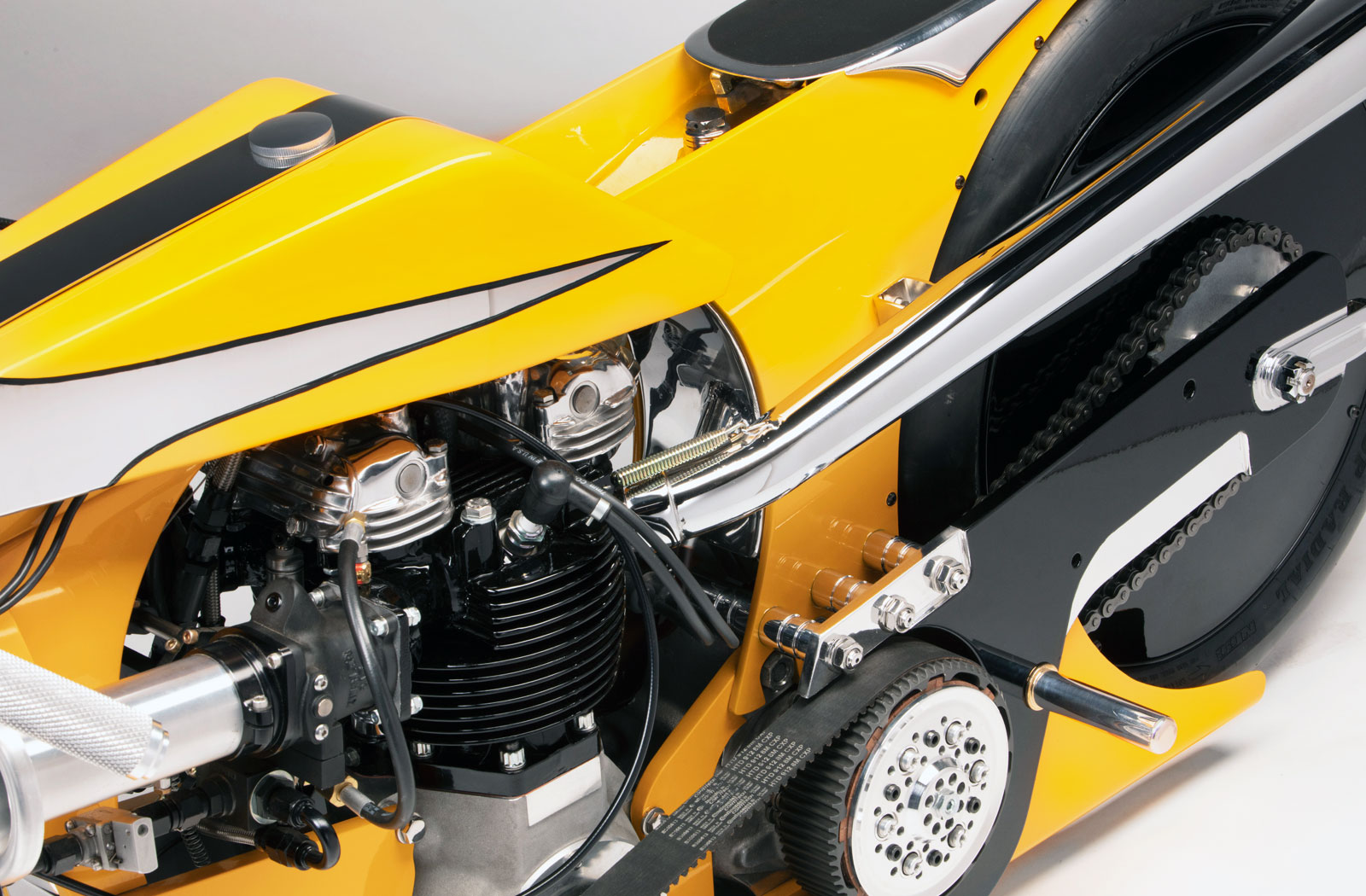 With the Killa Bee completed and already sporting a trophy (albeit for looking good while standing still), it's time to see just how fast this motorcycle can go. "We attended the USFRA test/tune event at Bonneville and the fastest run was 170.749 mph," Alp says. "This was with 3/4 throttle and it still needs tuning! It will go faster but I do not know how fast."
The current record in the Killa Bee's class stands at 166.843 mph so the bike is well on its way to breaking that. Unfortunately, the 2022 Bonneville events were cancelled due to water on the salt. The next land speed event Alp is attending will be at El Mirage where he has high hopes for the Killa Bee.
Alp and Jalika are a power couple in every sense of the term and they now have their sights set on becoming members of the hallowed land speed racing 200mph club. Judging by what they've achieved so far we think that goal is well within their reach.
Studio photography by Derek Althen