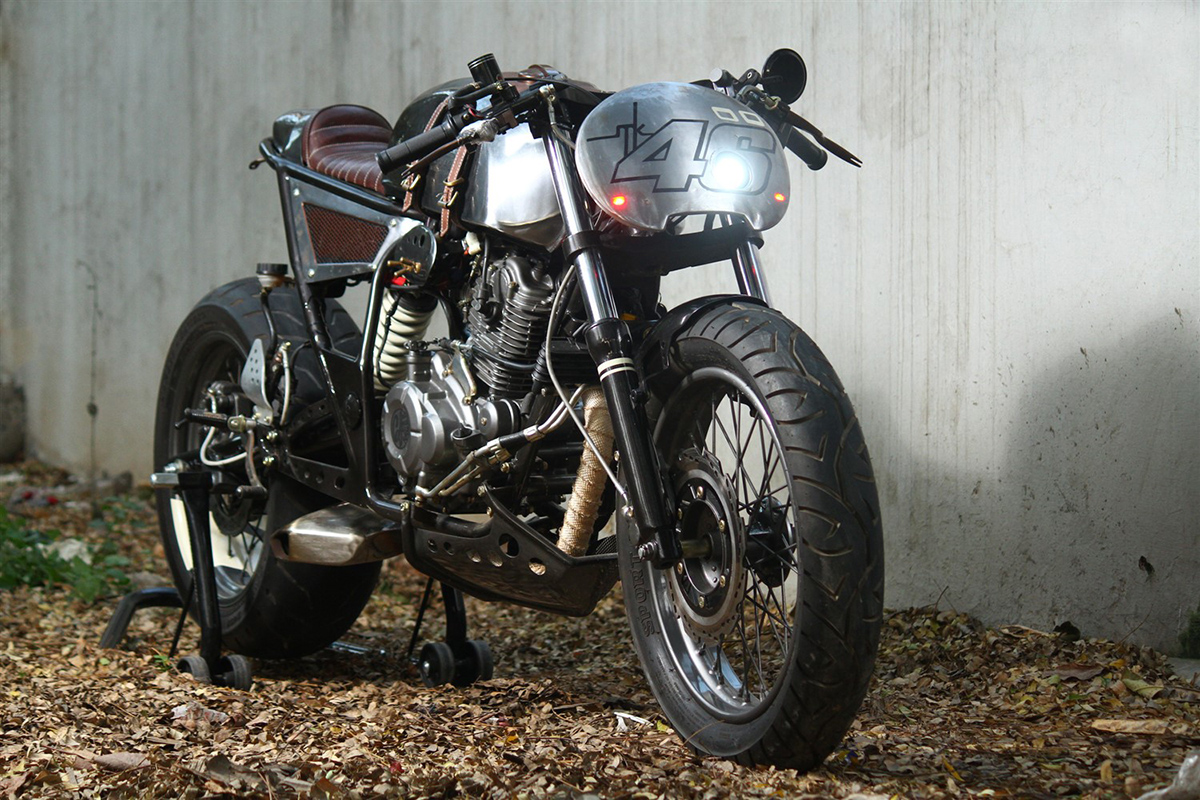 The "MK46" is the work of Samik Chatterjee, owner operator of MotoKraft Customs in New Delhi. After graduating from Art School in 2009 Samik combined his passion for motorcycles with his design education to launch his own "bespoke boutique custom studio". His principle goal with Motokraft was to create unique machines that don't compromise on performance and he's applied this approach to his Valentino Rossi homage.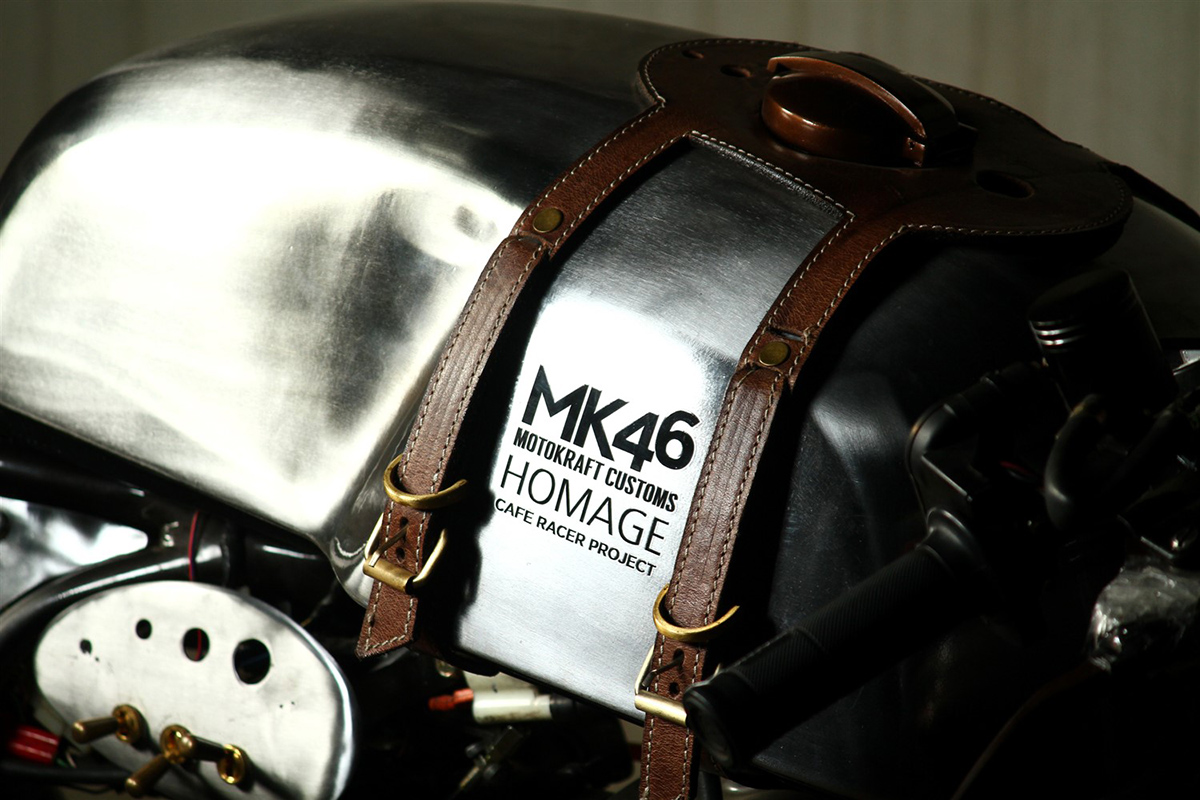 "I had been meaning to build an homage bike for Valentino Rossi to wish him luck and agility," says Samik. So, with the 2017 Moto GP season set to kick off, he started work on his vision.
Rather unusually, the cafe racer styled MK46 started out as a chopper. Sitting in a corner of the Motokraft workshop was a chopped Kawasaki Eliminator frame that was ripe for repurposing. To make the frame suitable for its new purpose he cut away the rear end and welded in a 200mm hoop and support struts to level out its backbone.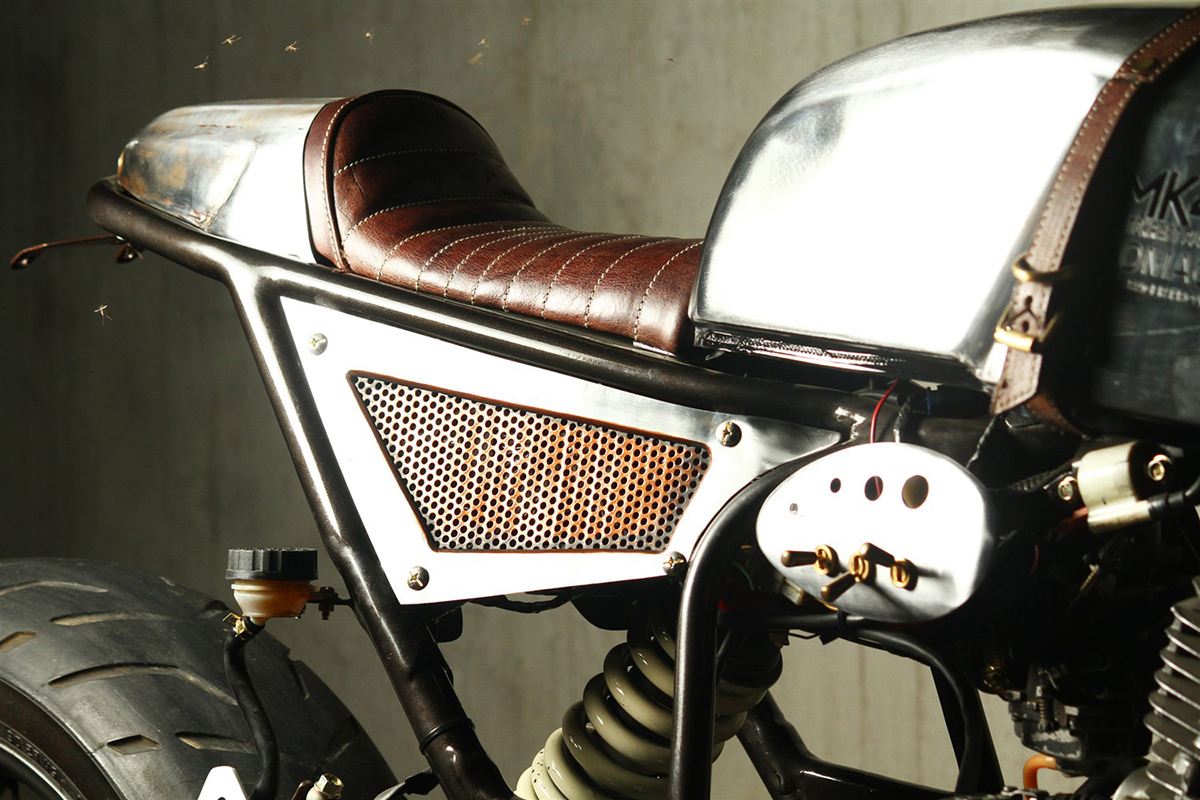 "As an avid rider I like my bikes to be nimble and fun with distinctive characters," Samik tells us. So, the next task was creating a handling package that would fit the bill. At the rear, he's adapted a KTM mono-shock by welding anchor points to the frame and swingarm. Up front, there's a set of 41mm forks held in place by a custom made set of 12-inch triple trees. For the wheels, he mounted a 18″ rim at the front and a wide 17″ at the rear to create a sportsbike-esque stance. Both rims wear grippy Pirelli rubber and the ventilated Bybre brakes (a subsidiary of Brembo) give it plenty of stopping power.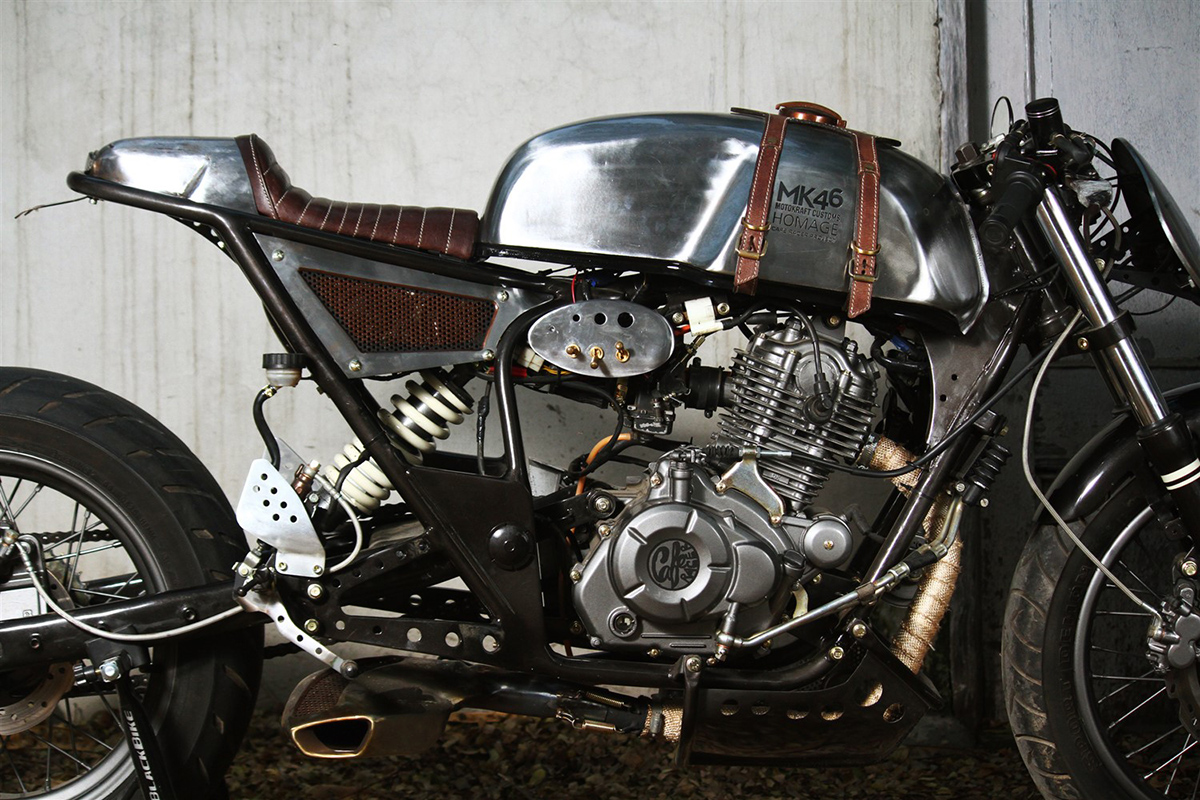 The bike's engine was sourced from a 2005 Kawasaki EL400. Power has been increased thanks to the fitment of a larger displacement cylinder that houses oversized pistons and wears a 37mm carburettor. To free up the flow of gases the inlet and outlet ports received some porting and a pod filter and free flowing exhaust round it all off. Although Samik admits high performance was never the aim he says it's a "hoot to ride" and will barrel along comfortably at a touch under the ton.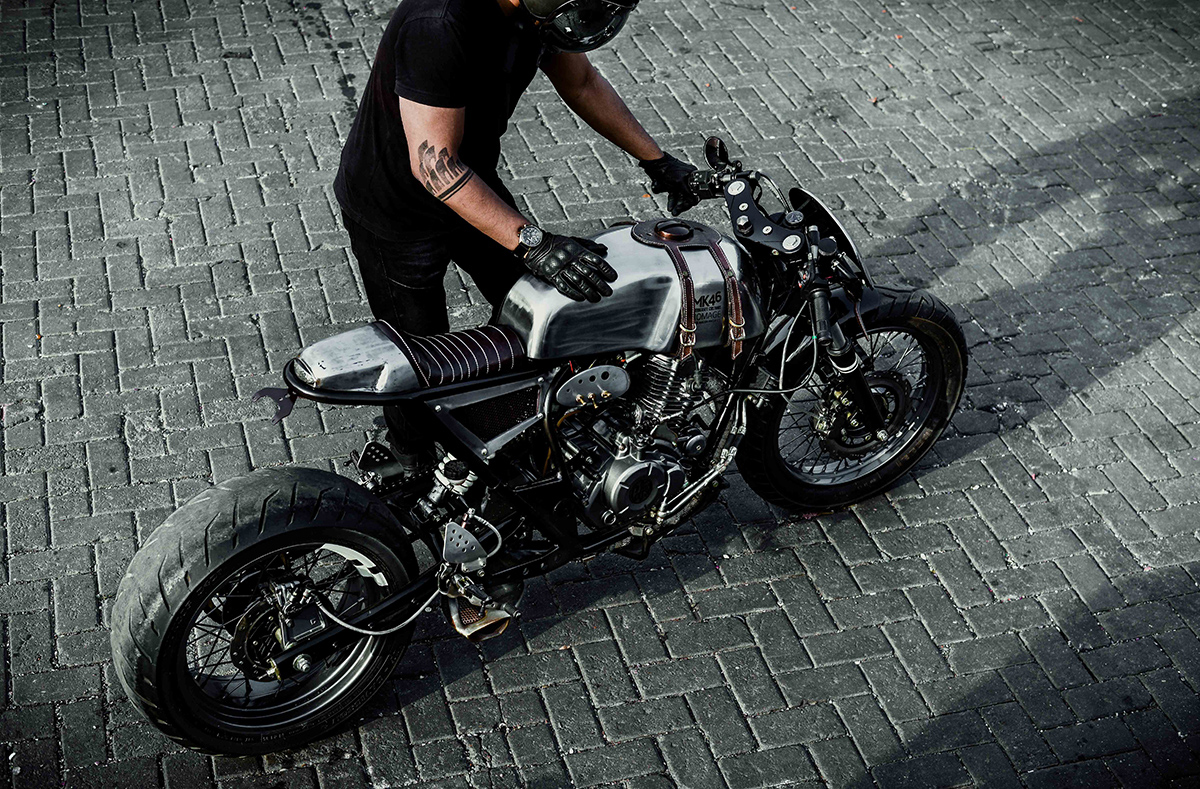 To create the Cafe Racer look he was after Samik fabricated the bikes custom bodywork by hand. The fuel tank is a stripped Royal Enfield GT item modified to fit on the Eliminator frame. A hand beaten sheet metal cowl sits on the rear loop using a design that echoes the lines of the tank. Vented side panels disguise the battery and electrics and the exhaust is covered by a handmade bash plate. For a vintage road racer look, Samik then mounted a racing style plate wearing Rossi's number 46 to the front of the bike that houses discreet indicators and a projector style headlamp.
Rather than applying a flashy paint scheme like that of Rossi's racebikes, Samik opted for a more organic finish. To achieve this his bodywork features a lightly weathered patina sealed beneath a coat of clear.
Standing out in a crowd of 37 million may sound like an impossible task, but I think Samik may have just found a way.
Photography by Mervyn Titus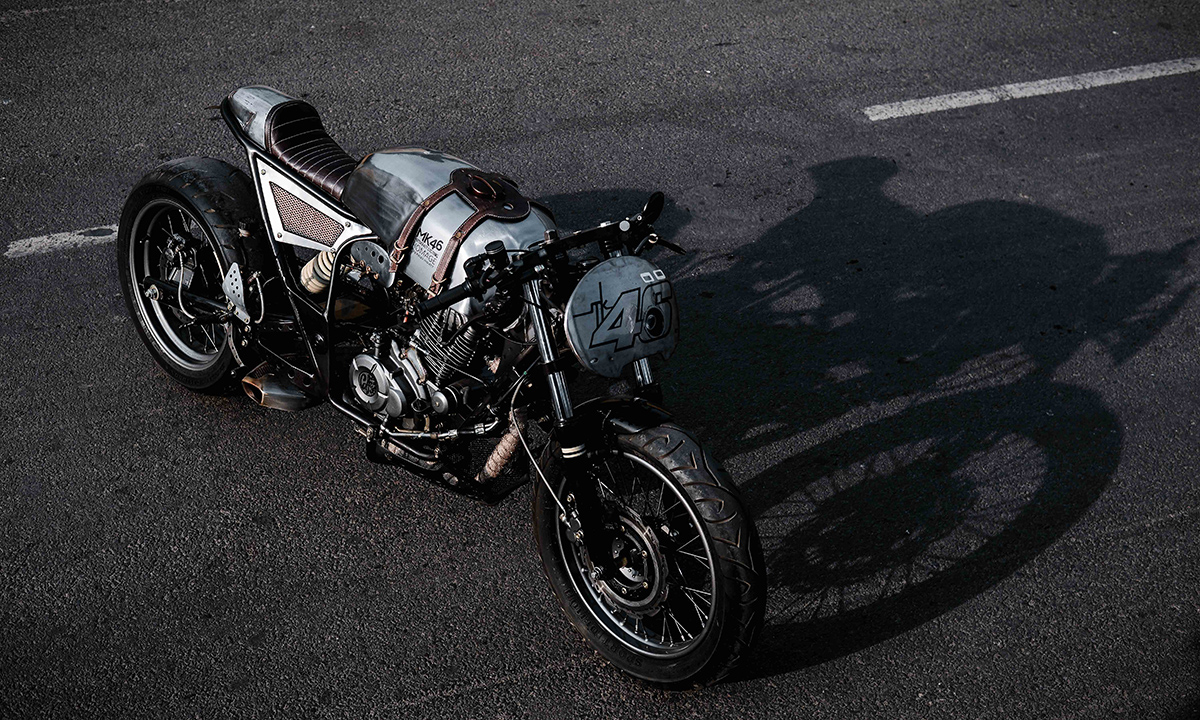 There's one thing that the people of India like more than cricket and that's motorcycles. Motorcycles and mopeds rule the streets of India, in fact, there's more than 37 million of them helping India's population to get where they're going. With that many people riding motorcycles it's only natural there's a strong following of motorcycle motorsport. Today's featured build is a testament to that fact. The 'MK46' is one workshops homage to a certain Moto GP rider by the name of Valentino Rossi and it's a cafe racer to boot!