The Royal Enfield Custom World initiative aims to connect 650 twin owners with verified custom workshops around the world. It's a clever way to ensure that Enfield's customers are entrusting their products with builders whose work they know and trust. If you're looking for such a workshop in Europe, one place Royal Enfield recommends is Hedgehog Motor Co. in the South of France.
Along with bespoke motorcycle modification, the Hedgehog team offer complete kits for transforming Enfield's parallel twin. If you're simply looking to tweak a few aspects of your bike they also stock a range of parts they have developed in-house or items from their partner brands. To showcase their ability on the Custom World website the Hedgehog team has built a unique GT650 which commemorates the decade of their founder's birth.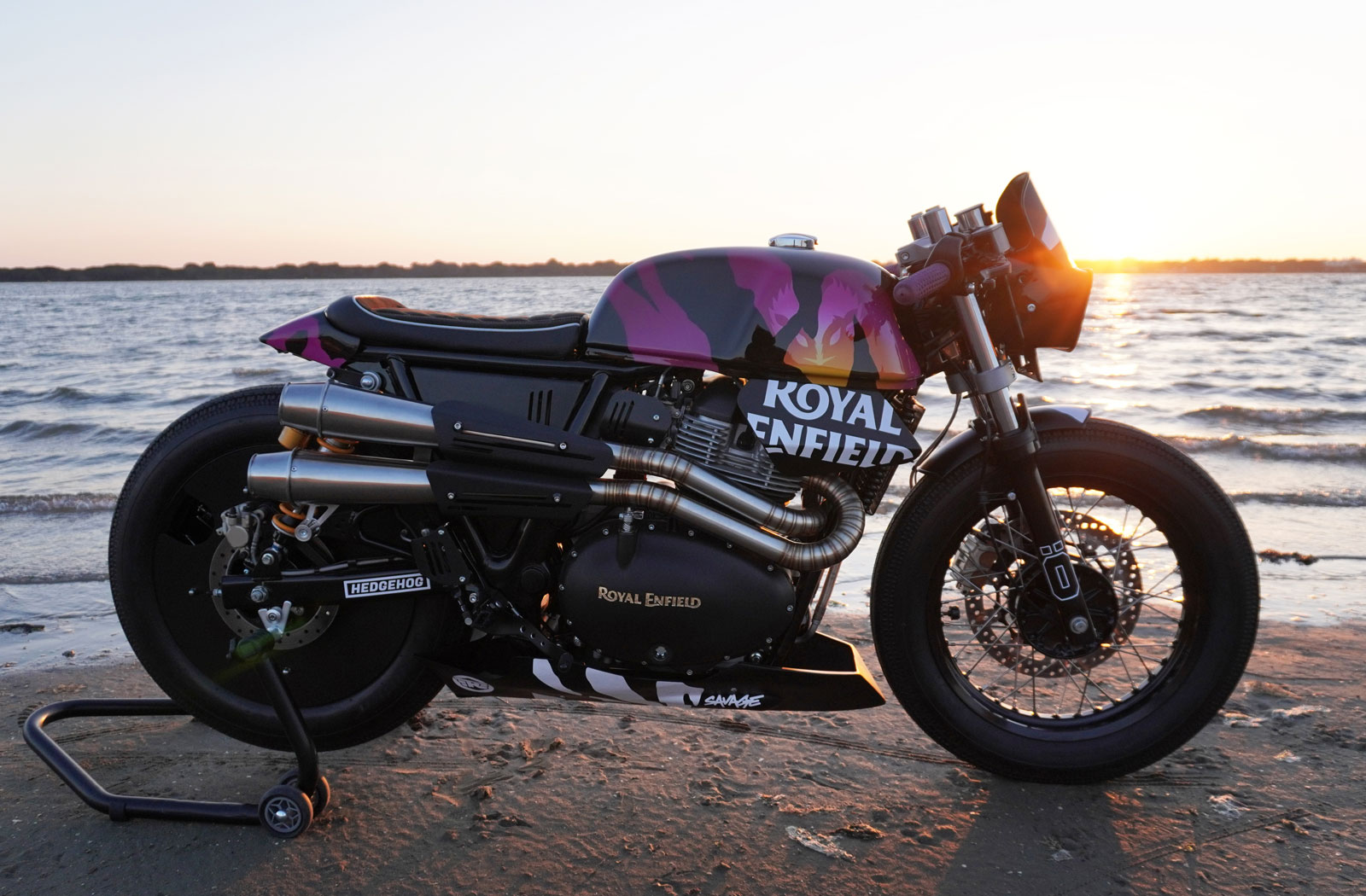 Nicknamed Savage 650, the Hedgehog Motorcycles Custom World project is based on a Continental GT650. Evidence of that can be seen in the silhouette of the fuel tank and the unmistakable Enfield 650 parallel twin, but beyond those details, it bares little resemblance to its donor.
"Sauvage is a paradox, aggressive in its lines but reassuring in its decoration. A mix of fun and performance" says Hedgehog team member Mathilde Ayache. "Our workshop let its instinct speak to create this machine, radically flashy it embodies the 1980s which represents our roots."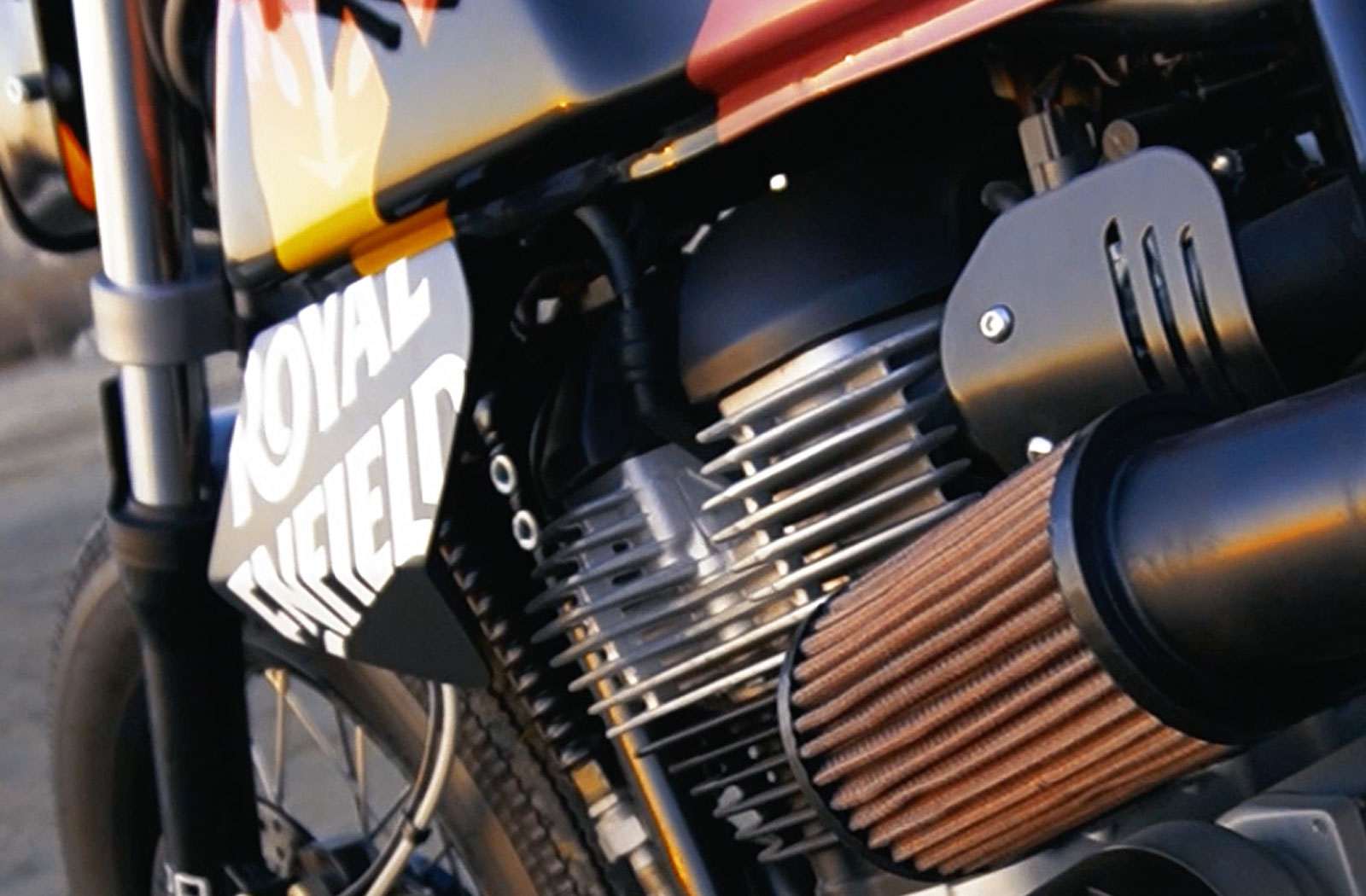 To kick off the transformation Hedgehog fit the GT650 with a selection of laser-cut parts straight out of their catalogue. Replacing the stock components are gilled throttle body covers, side panels and heel guards. The chainguard is a lightweight aluminium unit too and protecting the bike's exposed oil cooler from road debris is a Hedgehog stone guard.
Leveraging the same techniques Hedgehog use to create many of the parts in their catalogue, they have built a set of angular, winglet-style panels which flank the front end. Designed in CAD then laser cut from aluminium and bent to shape they were made entirely in-house. Although their effect on the bike's performance is questionable, the panels direct attention away from the oil cooler which is by far the most unappealing aspect of the 650 twin design.
Next, Hedgehog took to the chassis with a grinder, cutting away the subframe and tightening the 650's proportions. During the amputation, the rear fender and bulky tail light assembly went into the parts bin, making way for an all-new rear end. The new, significantly more compact tail is made from fibreglass and is sporting an integrated LED brake light assembly. Complementing the new setup is a one-off seat that's been upholstered in Alcantara. To round things out the rear has also been given a serious performance enhancement using custom-tuned Ohlins piggyback shocks.
Not to be outdone, the front end has had its fair share of modifications too. Starting with the headlight, it now sits within a fibreglass bikini fairing sporting an amber lens. The forks have been given an Ohlins overhaul too and they sit low in CNC-machined triple clamps. Again to slim things down the front fender has been heavily trimmed and there's a CNC fork brace to help stiffen things up.
After trimming off any excess, Hedgehog set about beefing the bike up. The process involved the fitment of a race-style belly pan which visually lowers the whole bike. The rims have been wrapped in chunky Shinko E270 Super Classic rubber and the rear wheel has been covered to give it the look of a solid rim. The liberal use of black paint on the engine and running gear adds to Savage 650's rowdy demeanour while clip-on bars and rear set footpegs lay the foundations of an aggressive riding position. To complete the aggressive new look Hedgehog added a spattering of race-inspired livery in contrasting white vinyl.
Looking this tough is pointless if you can't back the claim up, so Hedgehog has made the customary intake and exhaust upgrades. The 2-into-2, high-mount exhaust is a one-of-a-kind pie-cut system wearing theme-matching laser-cut heat shields. The bike inhales through a forward-facing K&N filter hanging from a custom intake and the fueling has, of course, been tuned to suit.
To complete the transformation Hedgehog had the stock tank and tail painted in an eighties-inspired scheme. Featuring a purple-to-orange gradient under black tiger stripes and 8 coats of clear, this motorcycle would have looked right at home in a Culture Club music video.
Savage 650 may not be to everyone's taste, but that pretty much sums up the eighties doesn't it?