Looking over the photos it's the smaller details that really make his bike special. The W650 features a spattering of custom made and modified parts from other bikes including a tail light from an old Vincent, Triumph gas cap, Bonneville T140 gas tank and even a headlight stone guard off an MG sports car.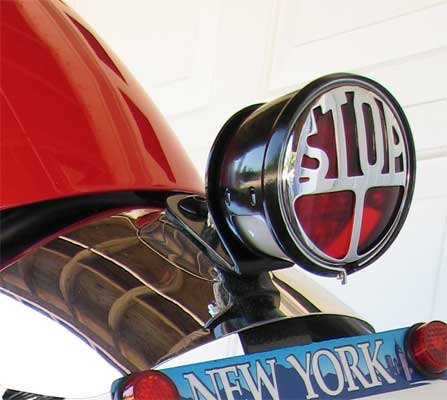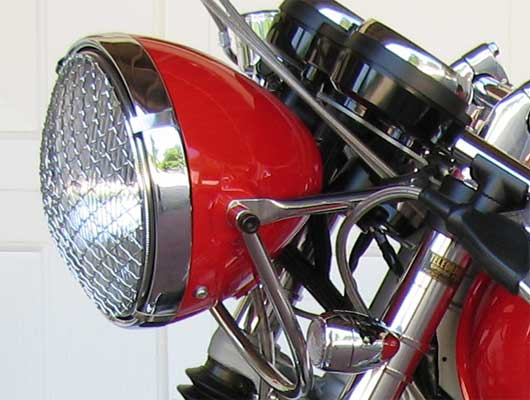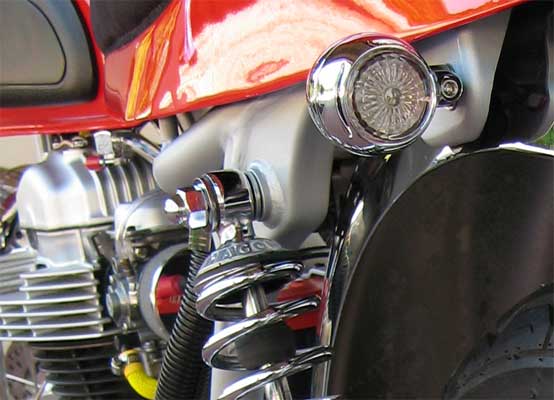 The list of mods are extensive so take a deep breath and cop a load of this…
Tail light from old Vincent motorcycle now w/LEDs
headlight mount from Daytona in Japan
headlight stone guard from an old MG sportscar
Progressive fork springs
Hagon shocks
Fenders cut down with hacksaw and chromed
Kuryakyn turn signals
German seat base – modified mounting system and shape
Custom seat from a local shop
Rear brake torsion bar drilled and polished
Took off lots of paint and polished aluminium parts
Buchannan stainless steel spokes for wheels
Front hub powder coated
Front brake painted to match engine
Polished Superbrace fork brace
Finned bevel drive cover from Japan (E-bay)
Clip ons fully adjustable
Gas cap from old Triumph
Tank strap custom made
Brake lines Galfer
New chain, brake pads, bushings, etc
Clutch & throttle cables Motion Pro
Frame reworked for the battery tray, welds ground down
Electronics now under the seat on a custom base
Lots of rewiring and new cables
Stock pipes coated by Jet-Hot and wrapped
Pipes drilled out
Uniflow custom red foam air filters
Crankcase Breather
Dyno tuned w/ new jets
Engine repainted
Aluminium engine side covers semi polished
Odessey battery
Frame painted BMW silver
Tank, seat, light Ferrari red
Headlight holes closed and one opened
Rear footpeg mounts ground off
CRG bar-end mirrors
Triumph Bonneville T-140 tank modified to fit
Custom fuel valves/lines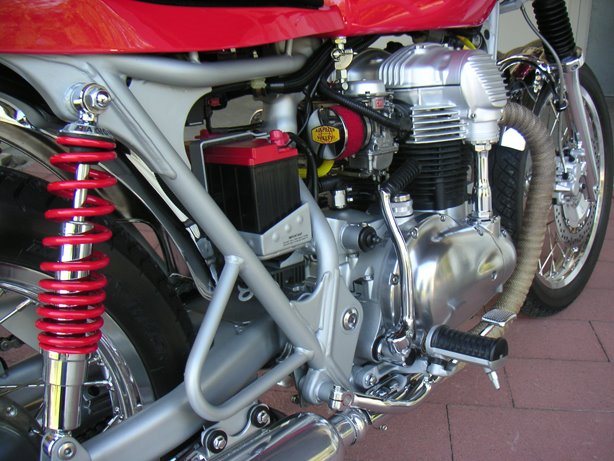 I was recently contacted by Dave from New York regarding a post on the site. Dave shared a couple of pics of his w650 Cafe Racer and my jaw dropped. His attention to detail is top notch and as a result, his Cafe Racer is an absolute work of art.