In my hometown of Melbourne, we're lucky to have a great cafe racer community. Thanks to clubs like the "Melbourne Cafe Racers" there's always something going. It's also a great way to meet like-minded people who ride some pretty awesome motorcycles. Take for instance Dexter-Lee and his drag bike inspired Kawasaki KZ1000. Dexter's a regular attendee at events and his Kwaka gets plenty of use on the streets of Melbourne. When I saw that his KZ had recently been photographed by the talented Ben Galli for the Australian publication 'Motorcycle Trader Magazine' I knew it was time to sit down with Dexter to learn a little more about his beast of a bike.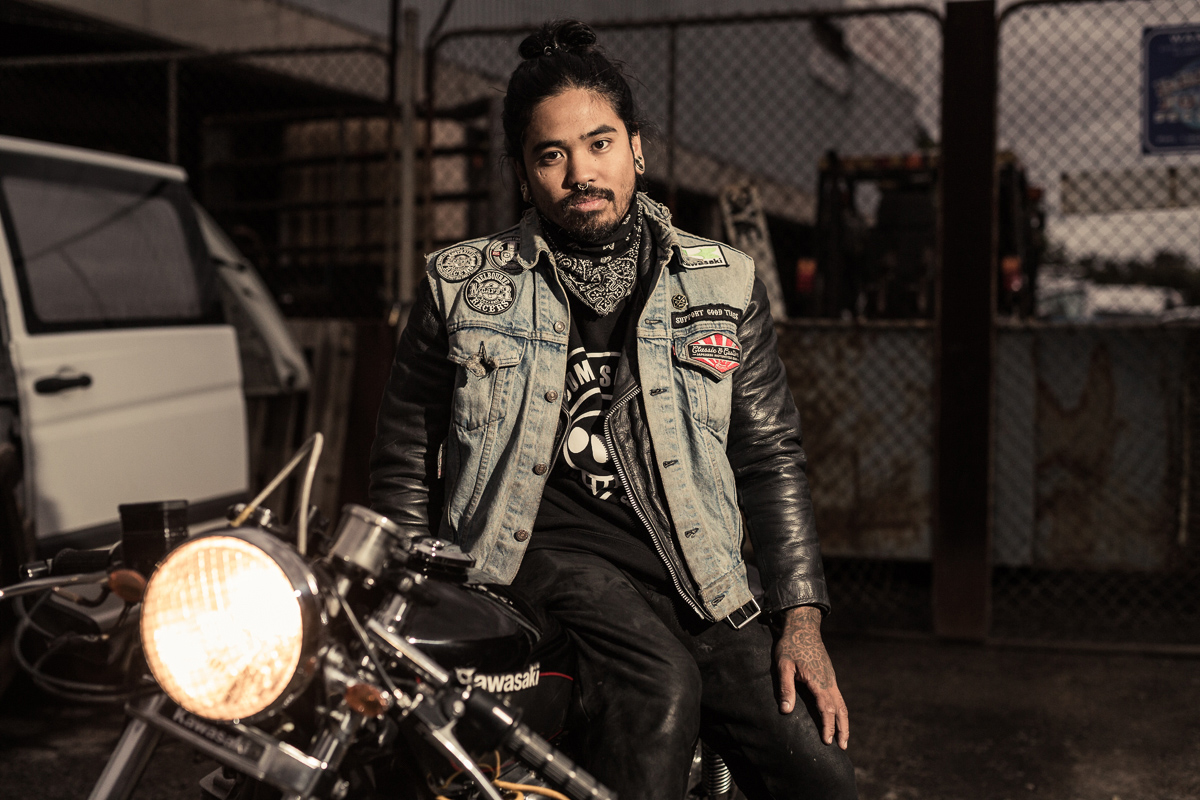 "I have been into cars and motorcycles for as long as I can remember," says Dexter. "I originally got into 2 stroke road bikes and big factory spec, high-performance output motorcycles. I'm an ex-light vehicle mechanic with a fashion degree and I currently share a motorcycle workshop space in Heidelberg with Brad Partridge (Aviator Customs). I spend my time after hours tinkering and building motorcycles there and working on my fashion label BMBSQD.
My bike, "Queen B", is a 1979 Kawasaki KZ1000. I purchased the bike in 2013 from a friend who had it imported in stock form from the States. He had originally built the bike as a homage to American drag bikes of the '70s. Robby (the previous owner) had set the bike up with a rigid rear and an upright riding position. When I bought it from him I just tweaked the aesthetic of the bike to suit the style of motorcycle that I was after. It was also recently off the road for about 9 months getting a restoration after it was stolen and joyridden."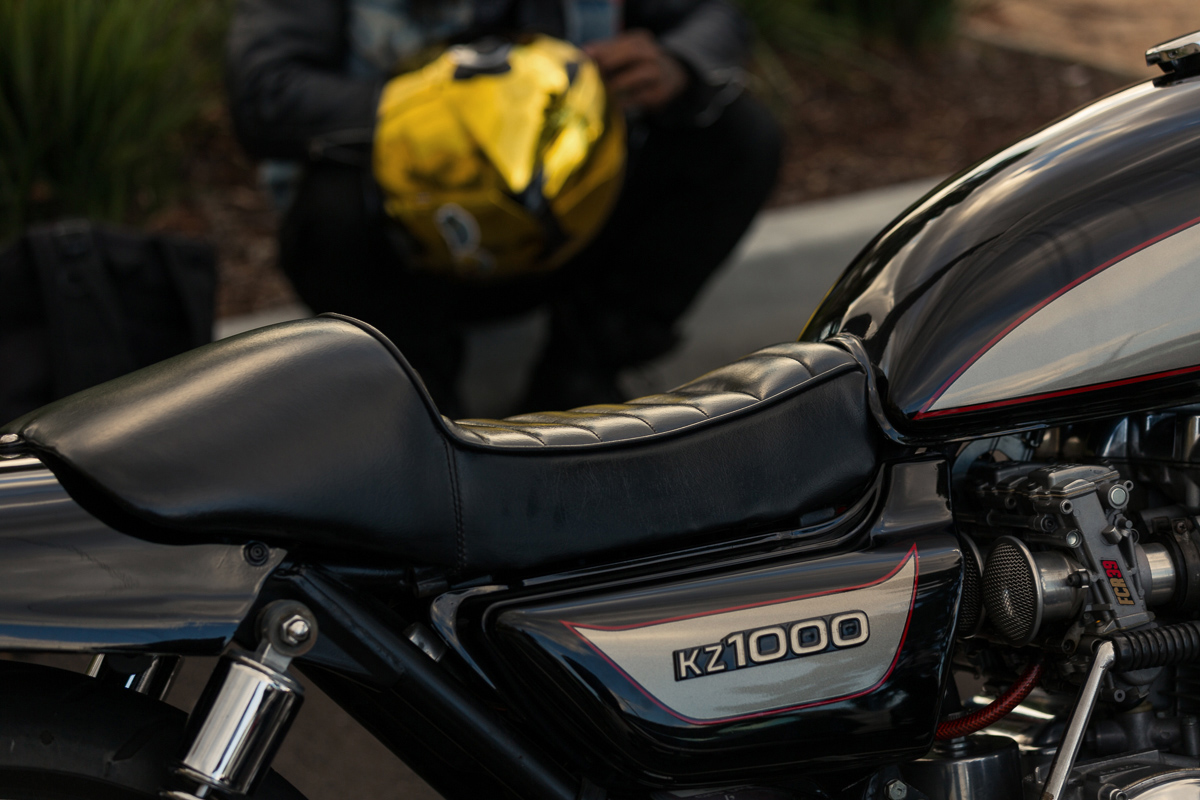 The Queen B features an extended swingarm with a drag rim wrapped in 200 wide rubber. The Moriwaki style ducktail rear came off a drag bike named Barbarella, which is where the bike got its name.
"

I had planned to get some engine work done before the unfortunate incident of the bike being stolen," says Dexter. "While it was off the road it was time to fix a few things that I felt needed some attention, I opted to revert back to the original side covers and get the seat redone. The paint was given a freshen up as I was happy with factory scheme, but it was finished with a ceramic clear coat. I also spent countless hours polishing all the cases and alloy bits on the engine."
The KZ is now driven by a fully forged and balanced bottom end and has been taken out to 1075cc from the original 1015cc. Dexter also paired the engine modifications with a Hallam Cycle Works custom cam profile and a light port. The fuel delivery system is a bank of Keihin FCR39's with velocity stacks that are mounted to custom manifolds from Sudco. Spark is delivered via Accel 3.0 Ohm coils with matching 8.8mm leads and a Pingle high flow fuel tap delivers the fuel.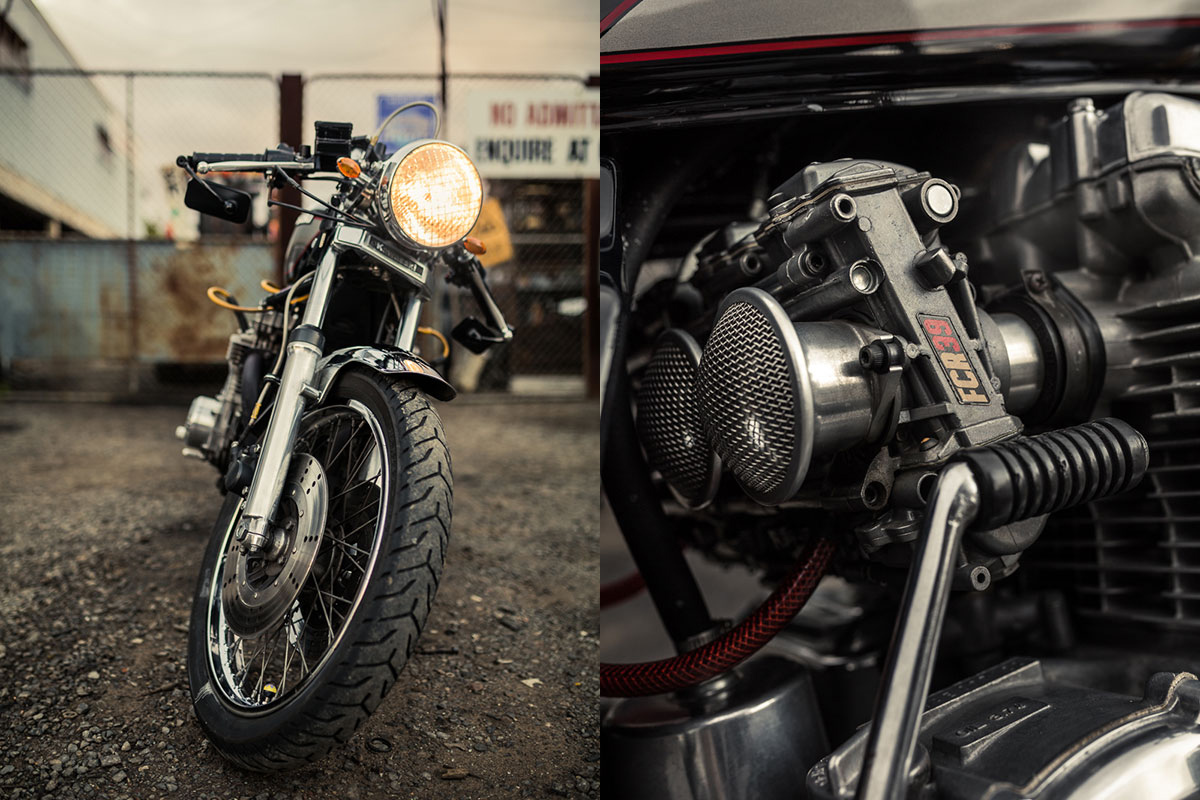 "The old set of pipes went directly underneath the sump plug so oil changes were a pain. I had to remove the headers every time a service was due." recalls Dexter. Since his Queen B was getting a full overhaul Dexter had a set of custom flanges made and fitted a spanking new 4-into-1 Kerker exhaust system. He also fit braided brake lines throughout and mounted a Grimeca calliper and master cylinder from a late model Harley Davidson to help pull up the rear. On the clip on bars, there's also a Yamaha R6 throttle assembly. For a bit of personal styling, there's an old Ford Falcon grill on the 7-inch headlight and there's a steering damper mounted to the forks to keep the front end in check.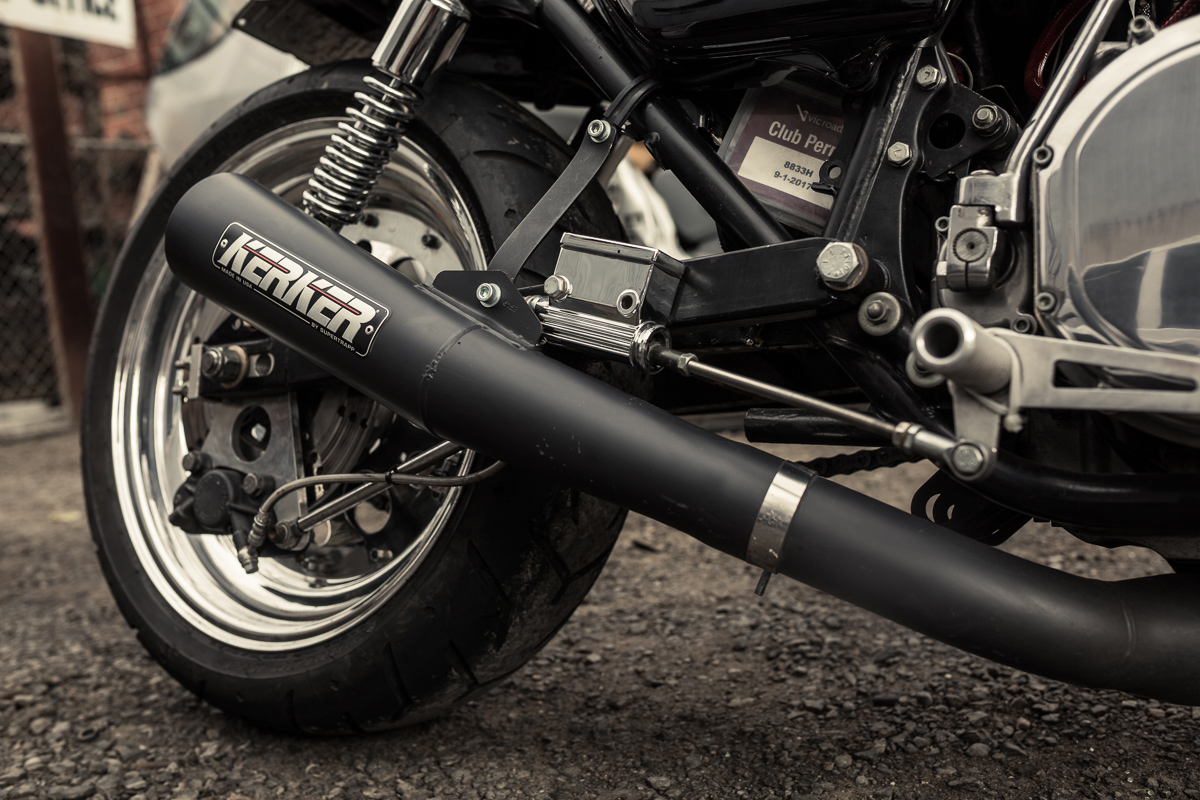 With 100HP at the rear wheel, the bike is still in need of a few changes to manage the power. According to Dexter "It suffers from a slipping clutch and has the tendency to shear the rear sprocket bolts off the hub!" To correct the issue he's in discussions with  Charlie and Andrew Hallam to figure out how to run the bike without a cush drive and put an end to the broken bolts. The clutch issue will also soon be overcome with the fitment of an APE Clutch Kit that incorporates an extra plate and heavy duty springs. The rear sprocket will be replaced with a Kosman item pulling a 630 chain and the Hallam brothers will re-engineer the hub and sprocket. Other future modifications on the to-do list include a welded race cam and getting the heads fully ported to unlock even more horsepower.
Dexter also noted that "There were many talks of adding a turbo, but there is another build lined up for after summer. I'm really looking forward to getting into that one, so I need to somewhat be rational."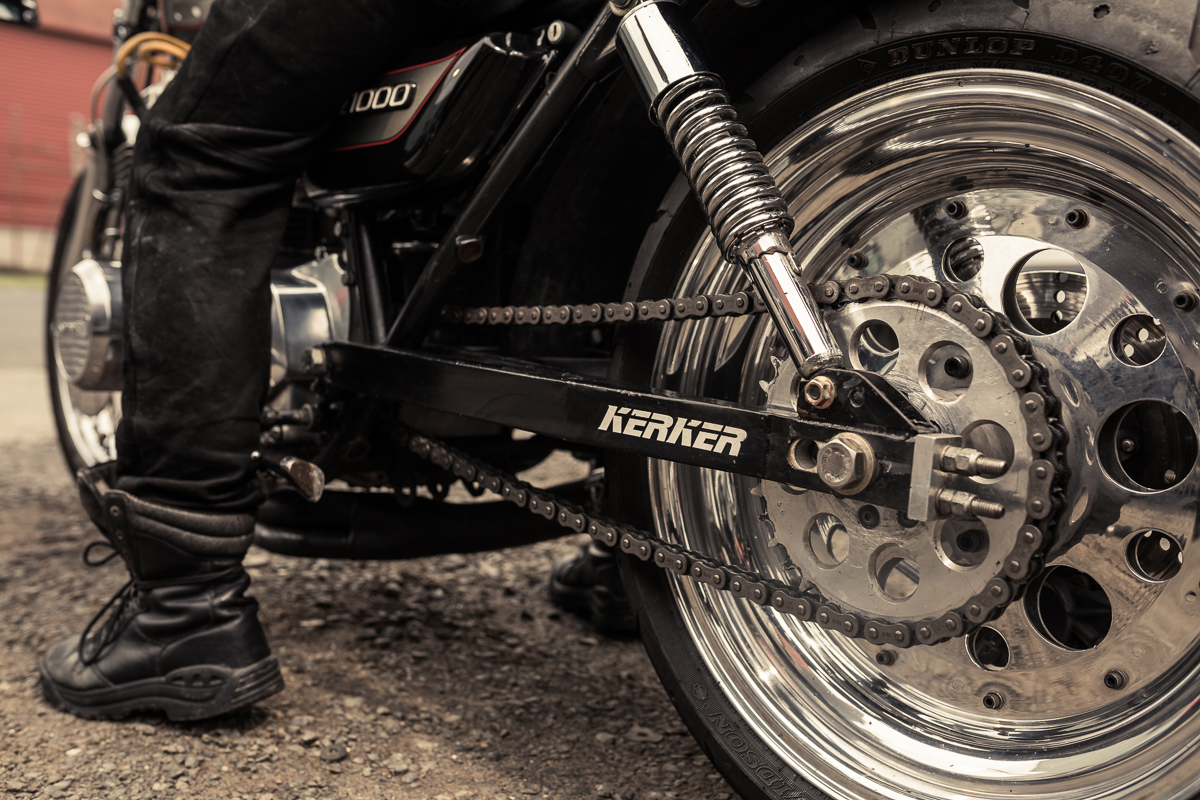 Dexter confesses that this version of the Queen B couldn't have been realised without the help of some talented members of the local automotive scene. "Queen B represents tireless hours of hard work and there is a whole bunch of people who need special mention.

 Robby Ante who was the original owner did all the fabrication while it was his. He gave me the perfect platform to work upon. 
Charlie Hallam is the man who was responsible for resurrecting the bike back from the dead.
 Glen Stevens did the paint, Aaron (Weirdopolstery) reworked the new seat. Not to mention Andrew Hallam from Hallam Racing, Mid Life Cycles, Max Kosma, Dan Henricksen, Ryan Walker, and my boy Brad Partridge aka Aviator Customs."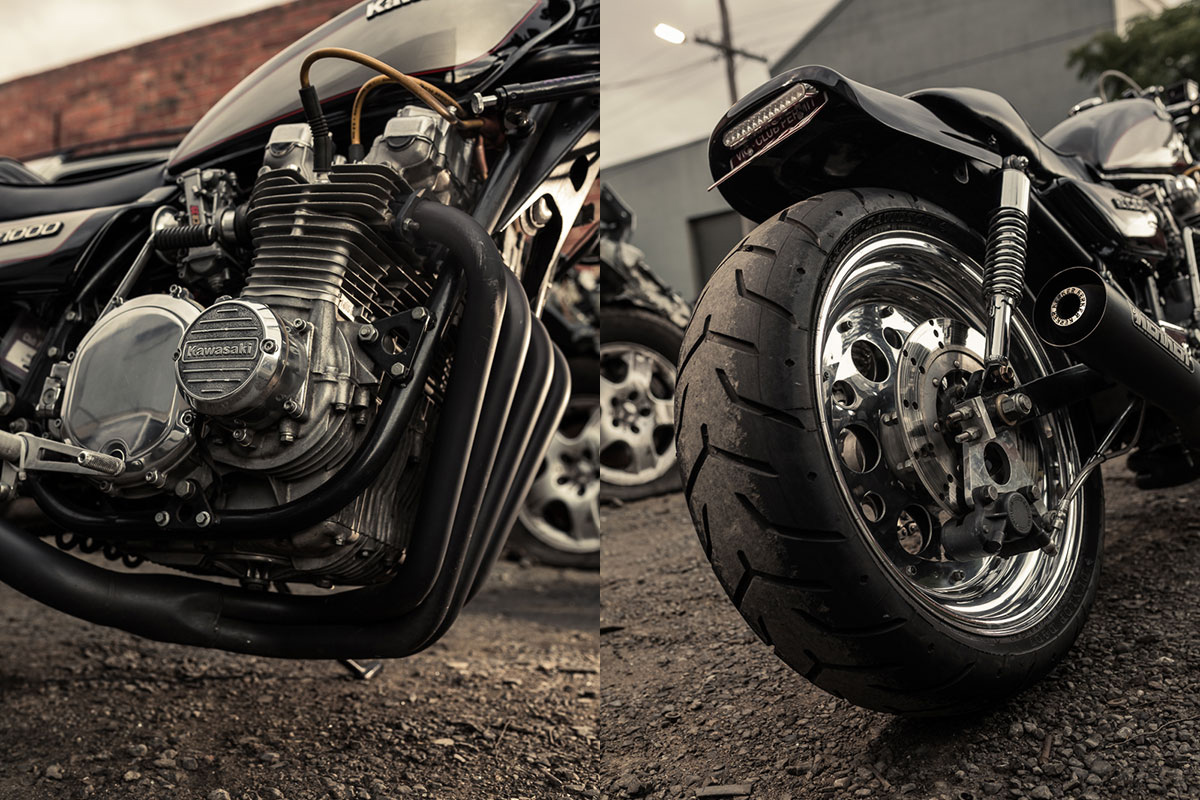 Special thanks to…