This Kawasaki KZ550 is the work of Jaka Martinuč who works in the financial sector, about as far removed from motorcycles as you can get. But his passion is for bikes so after starting a custom workshop with his friends Dušan and Gaber, he decided the best way to kick things off was by building his first cafe racer.
In early 2017 Jaka purchased a donor bike for the project and devoted the next 5 months to reimagining it. The bike he sourced was a neglected and rather sorry looking Kawasaki KZ550. The early 80s KZ was Kawasaki's scaled-down Z1R that featured a frame design influenced by Norton's legendary featherbed and a strong DOHC inline 4 that produced a respectable 58bhp. Despite the bikes poor condition, its appropriateness for a cafe racer conversion was undeniable so Jaka got to work disassembling the bike down to the very last nut and bolt.
Under the supervision of Dušan, the trio's technical expert, Jaka rebuilt the Kawasaki's inline four. When he'd finished the only aspect of the engine that could be described as old was its exterior which was only partially cleaned to retain some of its decade-old patina. To get additional grunt out of the engine Jaka installed a custom exhaust configuration, pod filters and rebuilt the carbs to suit. With the engine running like new he turned his attention to tightening the bike's proportions.
After cutting off the stock subframe a shorter custom loop was welded in its place. A pair of short mudguards were then fabricated to expose the Continental classic TKV rubber and all of the bulky stock lighting was replaced by suitably classic looking aftermarket items. To level out the bikes stance and the triple clamps were slid down the fork legs an inch and piggyback shocks went on the rear. Clip-on handlebars and a single aftermarket speedo clean up the cockpit and all of the electrical components were housed beneath the seat.
To complement the minimal approach taken with the bike's construction Jaka went with a stark paint scheme. The frame and wheels are satin black while the tank is finished in a pearlescent white that needs to be seen in person to really appreciate. For the seat, he mixed brat and cafe styling to create a low saddle with a subtle hump at the rear which has been wrapped in chocolate brown leather. To finish off Jaka's first cafe racer the Kawasaki's tank received classic K decals and a Custom Garage Ljubljana logo.
If Jaka's Kawasaki cafe racer is a forecast for the bikes we can expect to see from him in the future then good times lay ahead.
Photography by Made by Indigo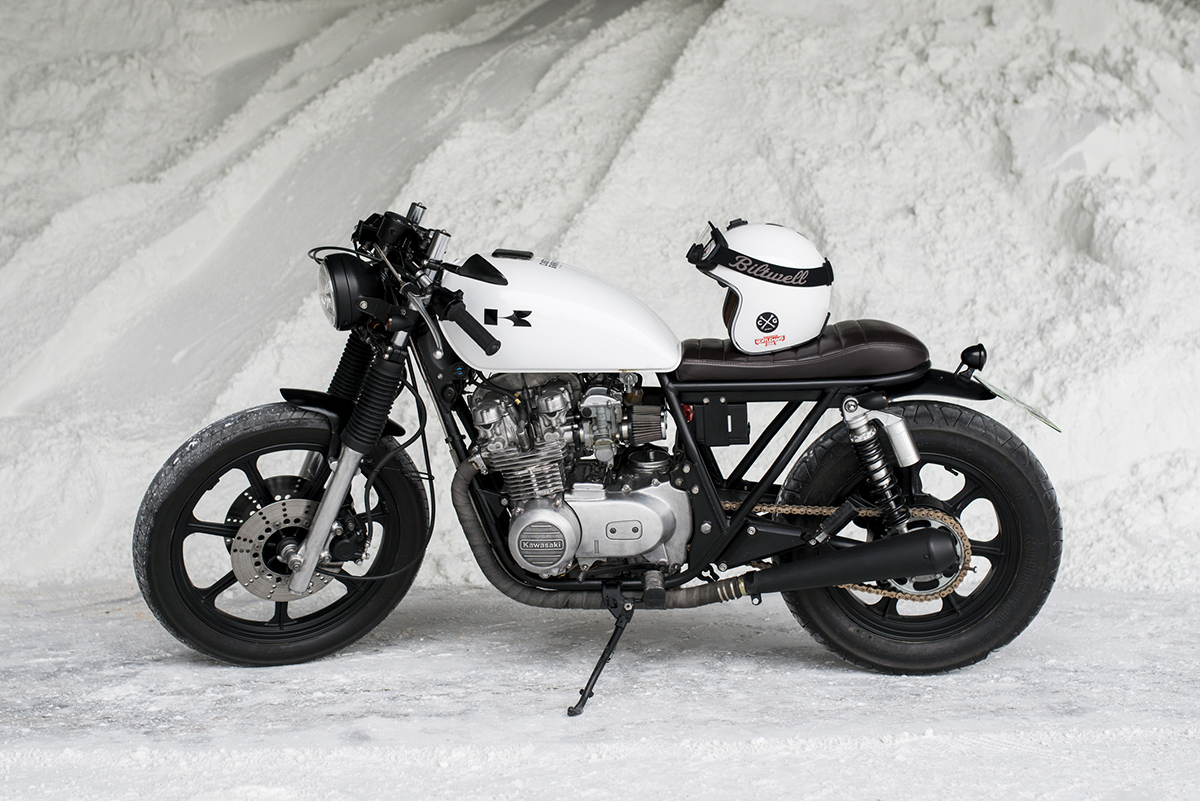 I'm sure you're all aware by now that I'm a sucker for a great first-time build. Nothing pleases me more than seeing a slick bike built by an amateur builder. It's like getting a good weather forecast and looking forward to the week ahead. If a builder starts with an exceptional bike, imagine how good the next one will be. Today's first-time cafe racer build is no exception and it's come to us all the way from Slovenia's capital city, Ljubljana.