In the early eighties, a clever member of the Kawasaki marketing team thought it'd be a good idea to produce a bike that paid homage to the great Eddie Lawson's 1981-1982 Superbike. The result was the Kawasaki Z 1000R Eddie Lawson Replica. Such was the success of that bike that in 2001 they did it again with a replica of the replica. Branded the ZXR1200R the naked, retro muscle bike delivered big power, predictable handling, a comfortable riding position, and in its classic Kawasaki green Eddie Lawson livery, it turned plenty of heads.
One market where the ZRX1200R was particularly well received was in Kawasaki's home town, Japan. So in 2009 the Japanese market got its own exclusive 3rd ELR replica in the form of the ZRX1200R DAEG Special Edition. Produced up until 2016 the DAEG edition retained the same styling but received extensive upgrades to the transmission, fuelling, brakes, suspension and geometry.
Due to the popularity of the ZRX in Japan, it attracted the attention of many of the country's aftermarket parts suppliers. Amongst them was Suzuka-based manufacturer Nojima Engineering. In 1998 company founder Hidetoshi Nojima built a ZRX-based race bike which is considered locally as one of the best-customised examples ever made. Coined the NJ-1, Nojima's ZRX was built to race at the famed Suzuka 8-hour endurance races. Despite being a naked motorcycle and built around a steel chassis as opposed to an alloy-framed, fully-faired sports bike the NJ-1 held its own and earned Nojima a loyal ZRX customer base.
This 2007 Kawasaki ZRX1200 R is the work of Daiken, a ZRX1200R devotee from Taiwan who built the bike as a homage to Nojima's legendary endurance racer.
"I am engaged in traditional industries and one of my hobbies is to transform motorcycles," says Daiken, and his history with this ZRX goes way back. Purchased new 16 years ago he's built a strong bond with his bike so when the time came to give it a refresh he wasn't about to cut any corners.
As for the bike's new look, the idea was dreamt up after several trips to Japan to watch racing events. During that time he discovered the Nojima brand and their legendary NJ-1. So he decided the best approach for his build was an NJ-1-styled race-inspired custom. But it wouldn't just be a ZRX posing as a race bike. Daiken made sure his ZRX had the performance to match. Or as he puts it, "Everything that can be improved is improved!"
To help realise his vision Daiken enlisted the help of local builder Kenken Moto whose work began with extensive modifications to the mighty 1164 cc Kawasaki inline-four. After a complete teardown, the engine has been kitted out with a performance cylinder head kit and pistons, a Yoshimura ST-1 camshaft, an SP2 ignition system, and a slipper clutch. To keep temperatures in check the cooling system now makes use of a K-Factory titanium cooling kit and a larger CBR1000 radiator. For more power, you need more air and fuel, and that's been achieved here using carbon fibre ram air intakes and FCR41 flat slide carburettors. To then make the most of all the modifications is a full titanium exhaust system and muffler by Striker Japan.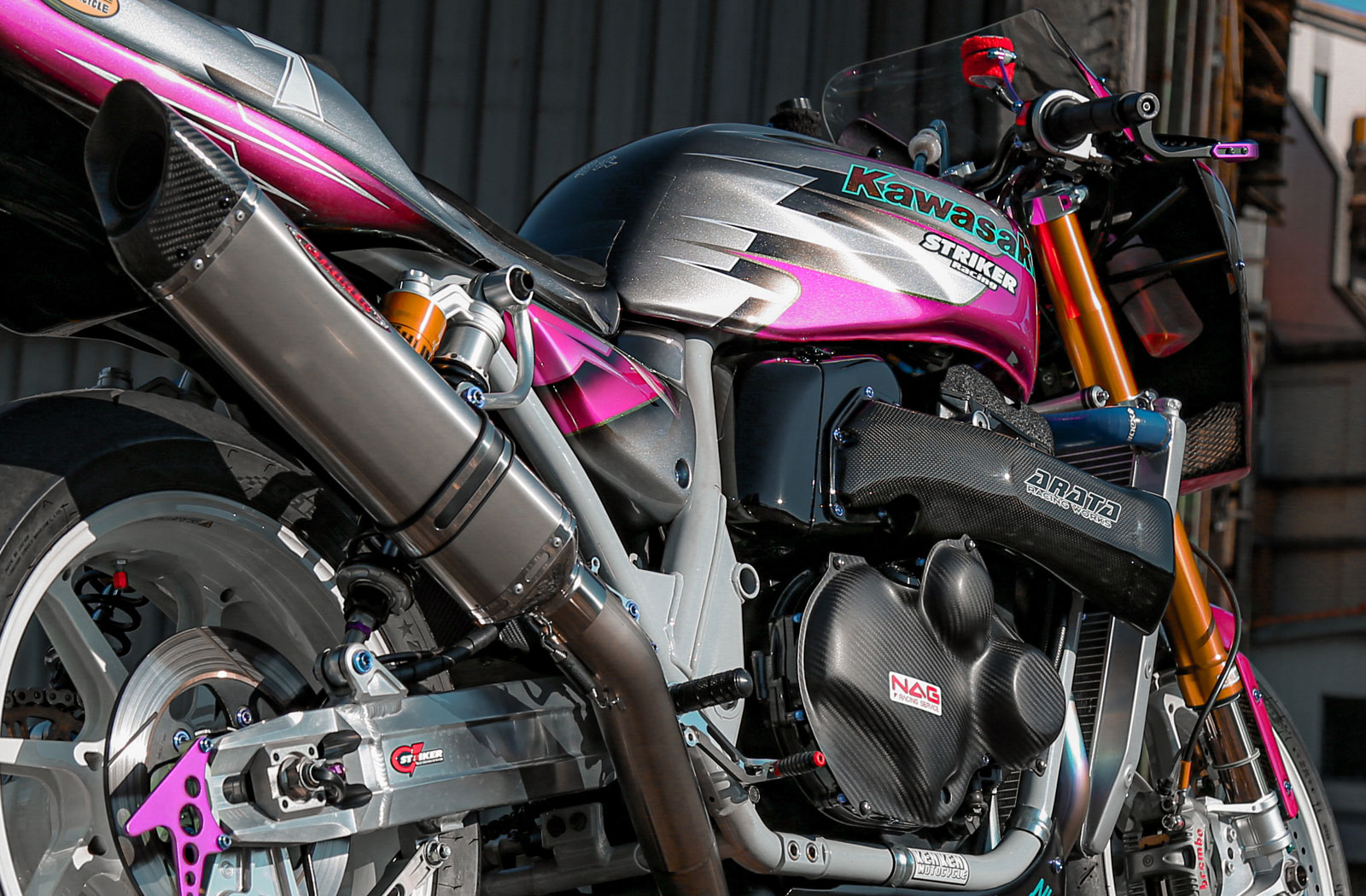 During the rebuild, Daiken requested that the engine's exterior should get a facelift too. As a result, it's been stripped and repainted with a fresh coat of hi-temp black. The upgraded head wears a ripple effect black paint and many of the engine's original cases have been replaced by lightweight carbon fibre or alloy alternatives. Lightweight titanium fasteners complete the new look along with shaving off a few more pounds. While the engine was on the workbench KenKen Moto also stripped the frame and repainted it using a light grey to draw attention to the restyled engine.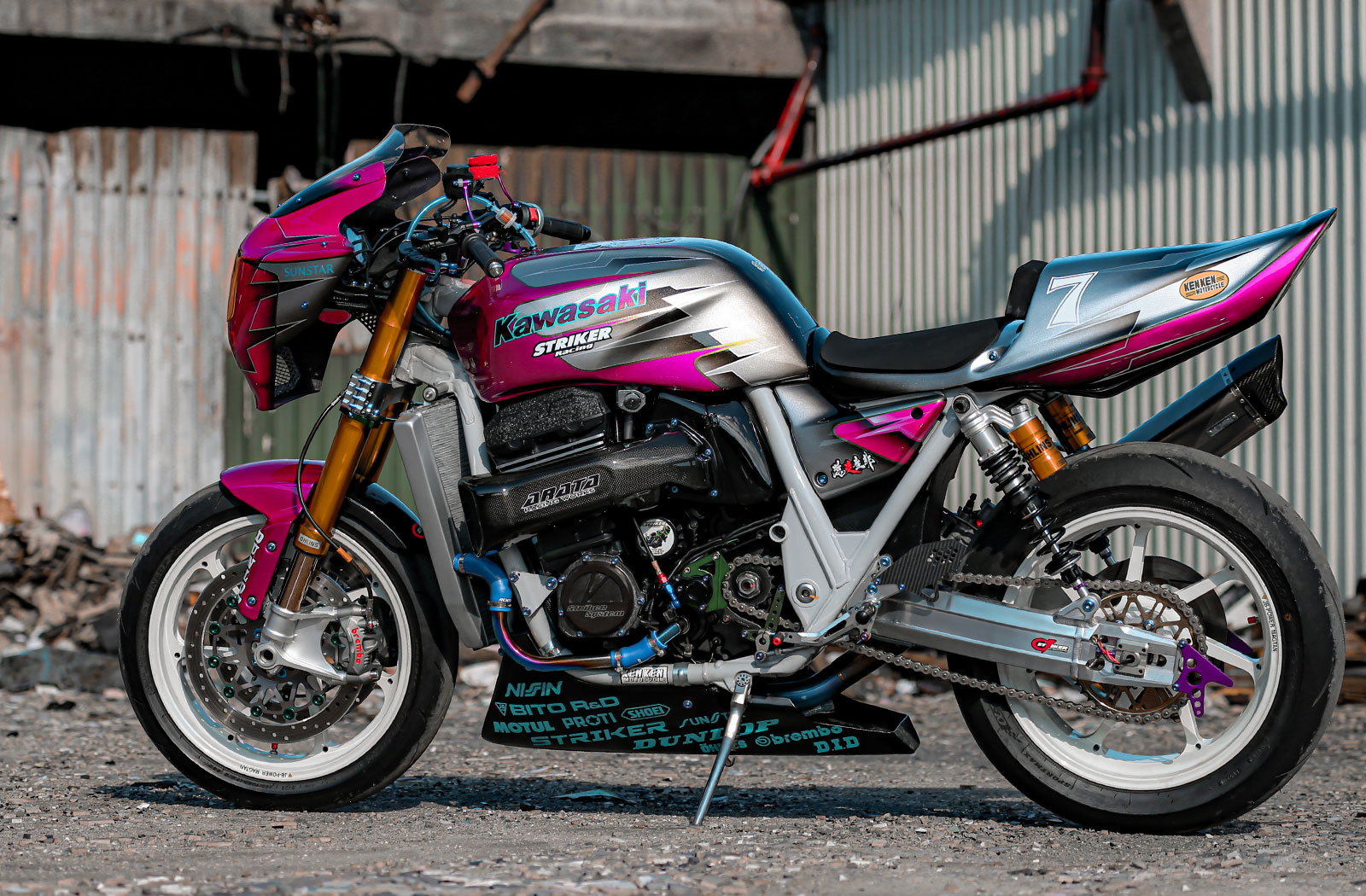 One of the major upgrades Nojima made to the ZRX1200R was to convert the rear suspension to a link-type mono-shock setup. Daiken opted to stick with Kawasaki's twin shock rear-end design for this project, but he didn't overlook the opportunity to upgrade it. The rear suspension on this bike uses twin Ohlins fully adjustable piggyback shocks which are mated to a lightweight G-Striker aluminium swingarm. To balance things out the front end wears Ohlins forks that sit in custom triple clamps. And to bring the rest of the handling up to spec, the brakes are all new too. The system now runs Brembo callipers, Sunstar discs and braided lines. Rounding things out (literally) are a pair of JB-POWER JB4 forged magnesium rims that reduce unsprung weight to sharpen the ZRX's handling even further.
Once the bike was performing up to standard, KenKen Moto got to work restyling its appearance. The ZRX now wears an aluminium Nojima-style fuel tank with a race-look filler cap and breather hose. The tail unit, seat and side covers are all aftermarket additions sourced from Japanese manufacturers. Similar to the NJ-1 this ZRX wears a belly pan which, similar to race bikes is a rolling billboard of motorcycle performance brands. Sticking to his theme Daiken also replaced the ZRX's iconic square headlight and bikini fairing with a Nojima cowl which sports an off-centre headlamp and a wide mesh-covered intake.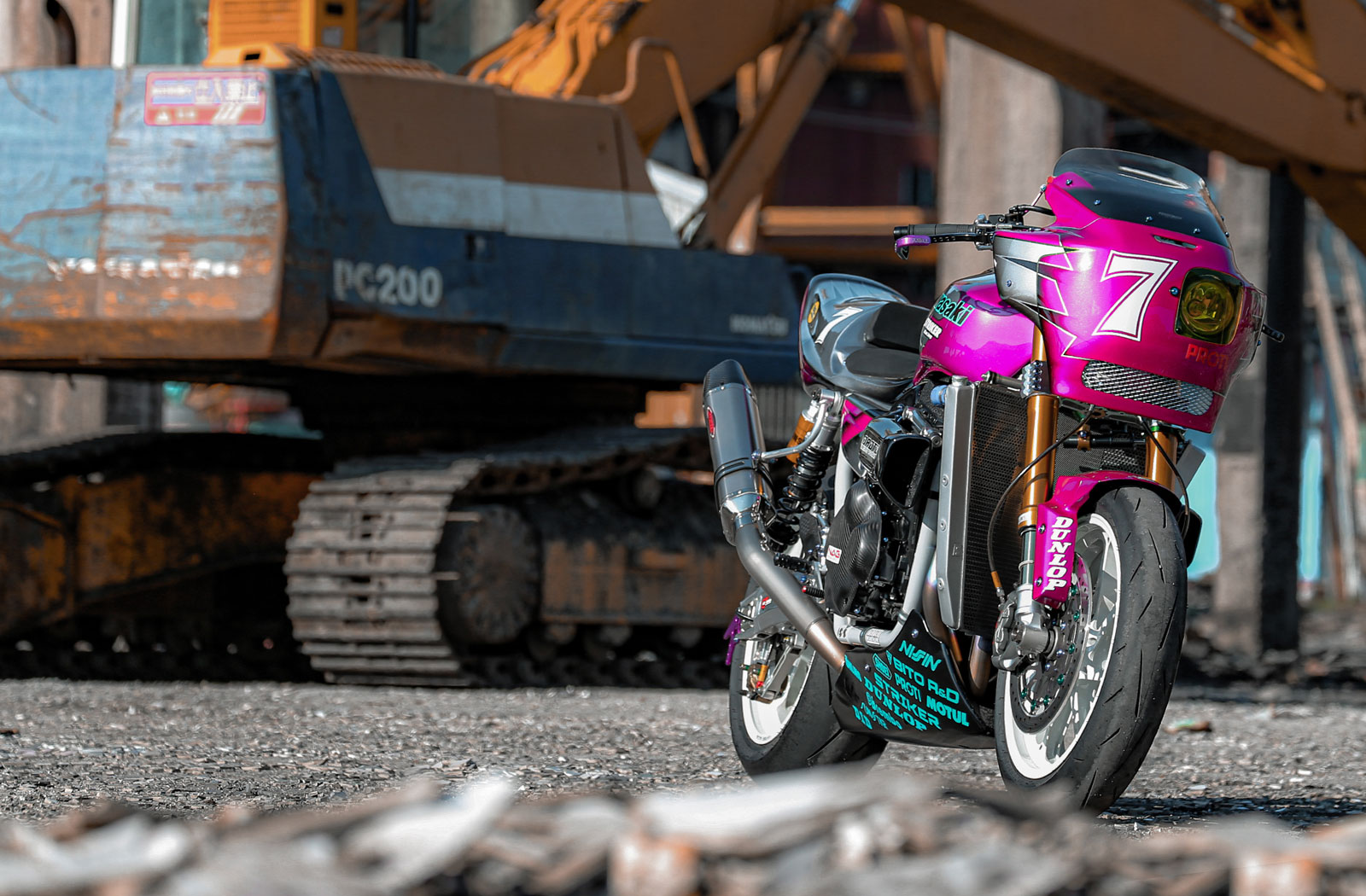 The pièce de résistance however is the paintwork which Daiken reports took the longest of all the work completed. His ZRX's new livery is a dead ringer for the 1998 Nijoma NJ-1 scheme. The bike is now sporting the same pinstriping theme and similar decal placement but the big difference is the colour. Rather than matching Nijoma's blue-silver palette Daiken went with one of his favourites, an outlandish pink-purple magenta. Like the bright green of the ZXR Eddie Lawson Replica, it's a colour that's not going to be to everyone's liking, but it demands attention and attention is exactly what this bike deserves.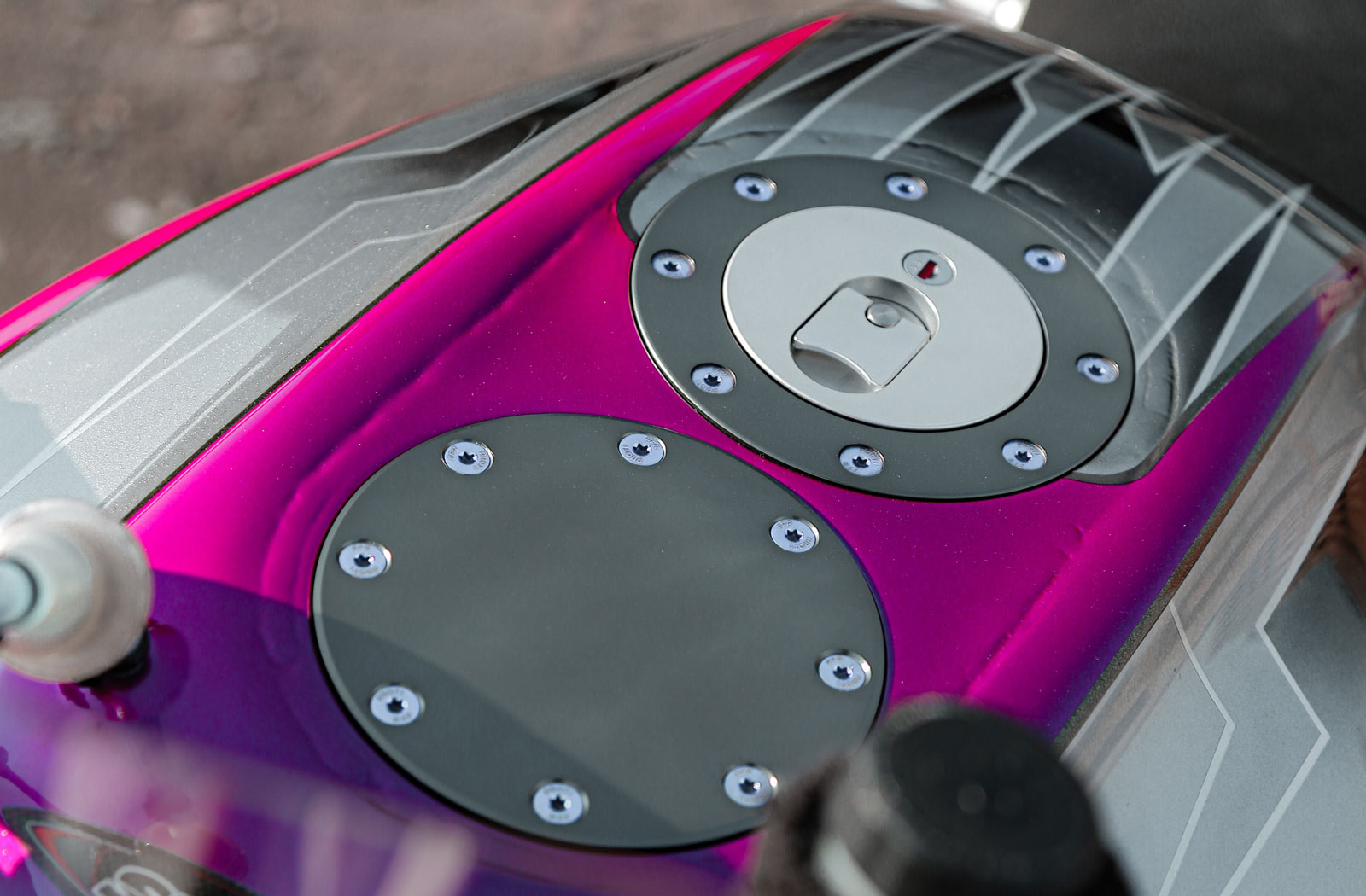 During the 8 month build, Daiken sourced a huge collection of aftermarket parts, most of which came straight out of Japan. So the entire bike is peppered with brand names and emblems which only makes its race-bred appearance more believable. Amongst the seemingly endless list of parts, you'll find an Active quick throttle, X.A.M electroplated sprockets, a DID chain, Effex handlebars, an analogue and a digital Acewell tacho and speedometer and much more.
As for how his heavily modified ZRX1200R rides Daiken jokes, "Performance up, comfort down, but that's what I want!"