As gaudy as the eighties were they certainly produced some cool motorcycles. Sharp angular styling, bold colour schemes and groundbreaking engineering resulted in a decade of motorcycle releases that reshaped the industry. Suzuki's Katana was, without a doubt, one of the decade's most iconic motorcycles in terms of styling and performance and after its release, the other Japanese manufacturers quickly followed suit. Two years after the unveiling of the Katana concept Kawasaki released their GPZ750. An air-cooled, 4 cylinder 'Sports Bike' with styling akin to the Suzuki. While the GPZ750 never achieved the same cult status as the Katana it was a great all-round package boasting respectable performance and vogue 80s styling.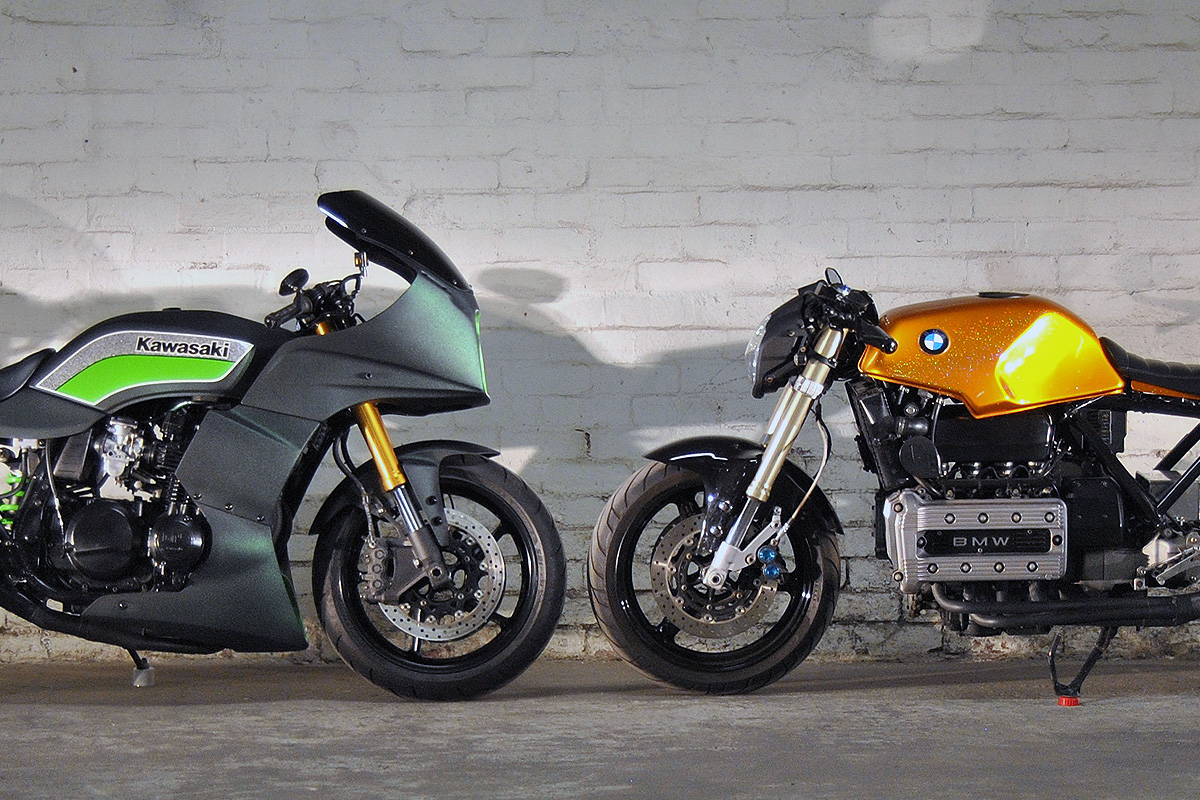 After being gifted a GPZ750 by his cousin, Paul Hutchinson decided rather than completely transforming this metaphor of 80s motorcycling, he would celebrate its heritage by giving it a carefully considered overhaul. Paul's history with motorcycles spans back to his childhood, riding off-road bikes through the bushlands surrounding his families property in outback NSW. At the age of 30, he made the transition to street bikes and built his first complete custom, a wild BMW K100RS just a couple of years ago. The 'Saki' GPZ750 is the second custom build to roll out of his garage, taking around 18 months to complete.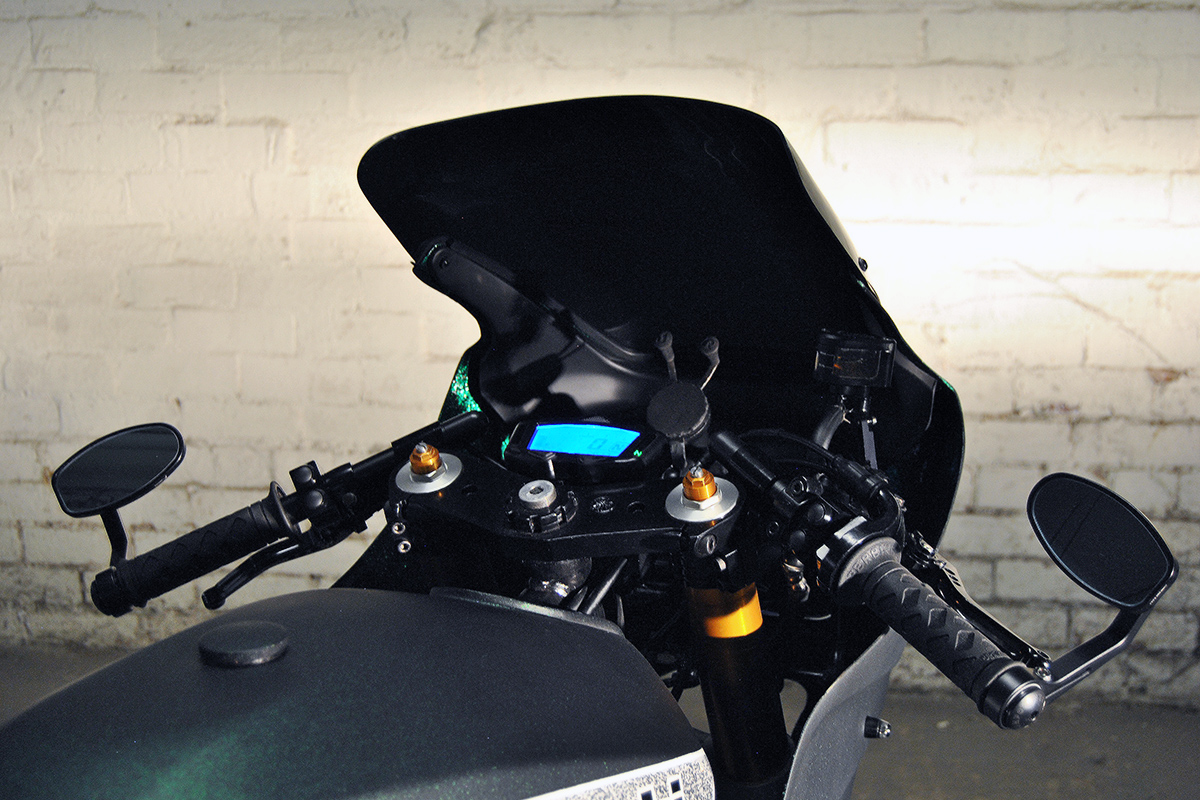 When Paul took delivery of the GPZ750 his cousin informed him it hadn't been started in almost 8 years. "Lukas (my cousin) told me the last time he tried to start it he nearly burnt down his father's house. The carbs spewed fuel everywhere which subsequently ignited. If his speedboat with its fire extinguisher hadn't been parked outside the house it could have burnt to the ground!" Paul laughs. Once he'd given the bike a cleanup and dropped in some fresh fluids Paul had the Saki running well enough to get it approved as roadworthy. With the bike registered for street use he then began a complete teardown.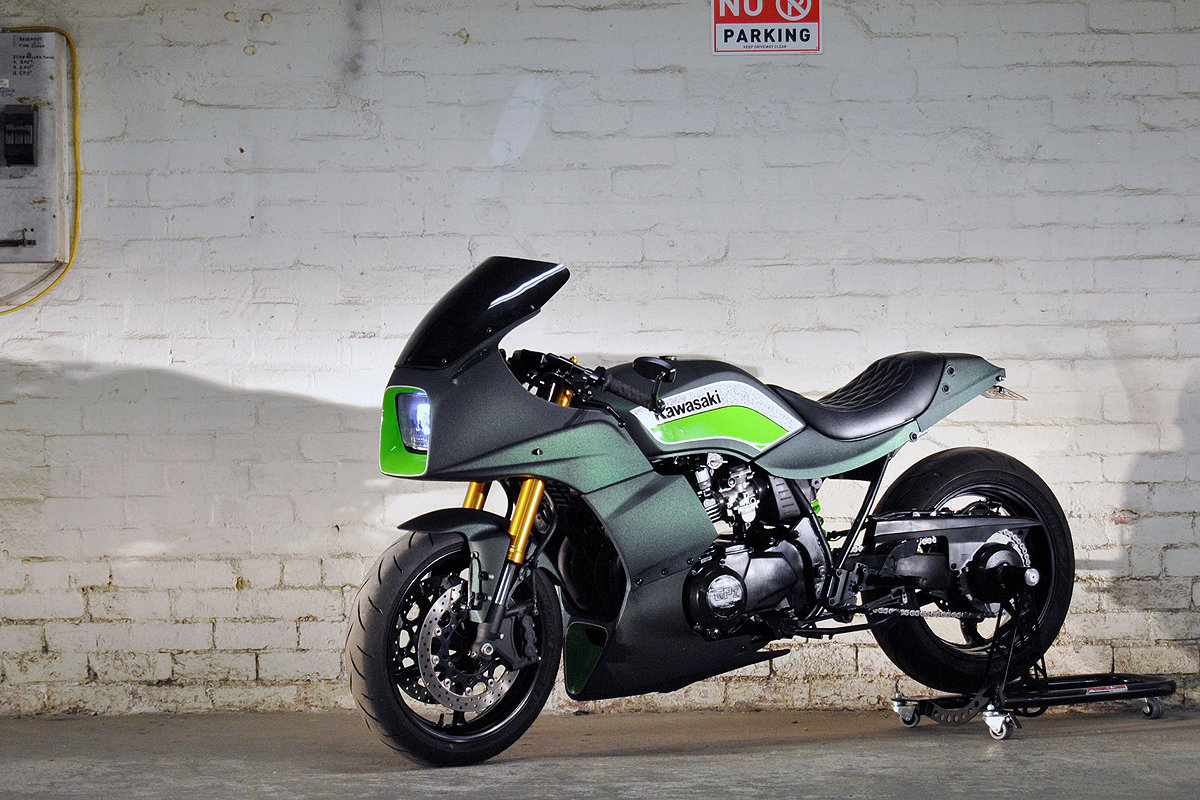 "I finished a rebuild on the engine with an 810cc big bore kit." recalls Paul. "I then rewired it from scratch using Motogadget gear, including switches, indicators, a RFID keyless ignition, alarm system and a Koso speedo. I also mounted a bi-Xeon projector-beam inside the stock headlight unit."
With the bike's engine and electrics all functioning as new, Paul got to work on the rest of the bike. "I wanted the donor bike to be recognisable but to have significant upgrades to its suspension, brakes, and engine. I also wanted to trim weight where ever possible."
Not wanting to deviate too far from the bikes original styling Paul looked at ways of improving upon Kawasaki's original design. "The fairing is the stock item with the indicator mounting holes filled." Paul explains. "I lowered the upper fairing and tilted it forward so its lines flowed with those on the tank. I then had to cut and remould the mid fairing panels to align with the belly pan." Thanks to his well-planned changes the bike now looks less top heavy and significantly more aggressive than its former self. In the rear he took a similar approach, trimming 8 inches from the mid-subframe so that the original tail could be pulled in closer to the tank and converted to a single-seater. He then took to the side panels trimming them down till they fit as though nothing had changed.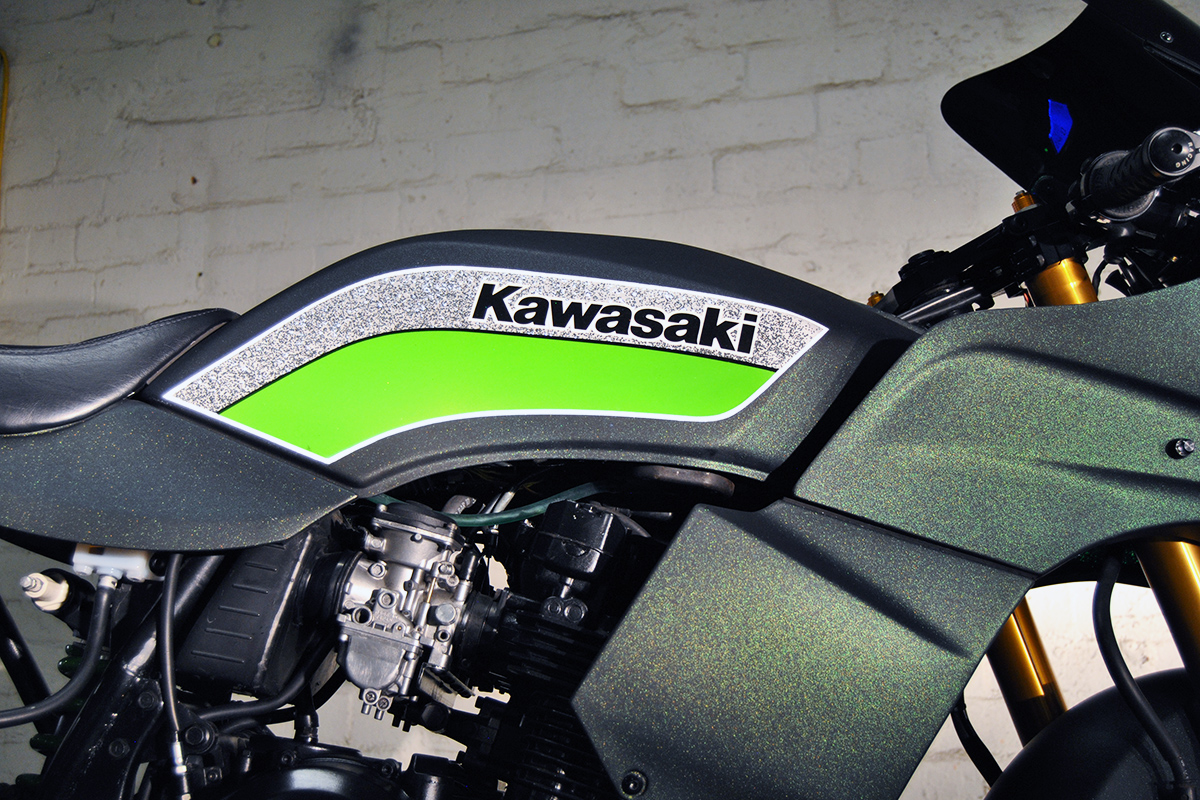 Despite the Saki still appearing to be an 80s bike, Paul wanted modern performance. Up front he adapted a set of USD forks and brakes from a Yamaha R1 and modified the rear end to support the single-sided swingarm from a Honda VFR750. New clutch plates were installed to manage the increase in power and a Lossa Engineering muffler helps the engine to breath more freely.
Finally with all of its modifications complete the bike went off to Steve May at Lizard Designs for painting. The new scheme uses a Kawasaki racing green basecoat mixed with a heavy metal flake that's been slightly subdued with a coat of matte clear. The '80s were all about colour, style and experimentation and Paul's Saki is the perfect by-product.