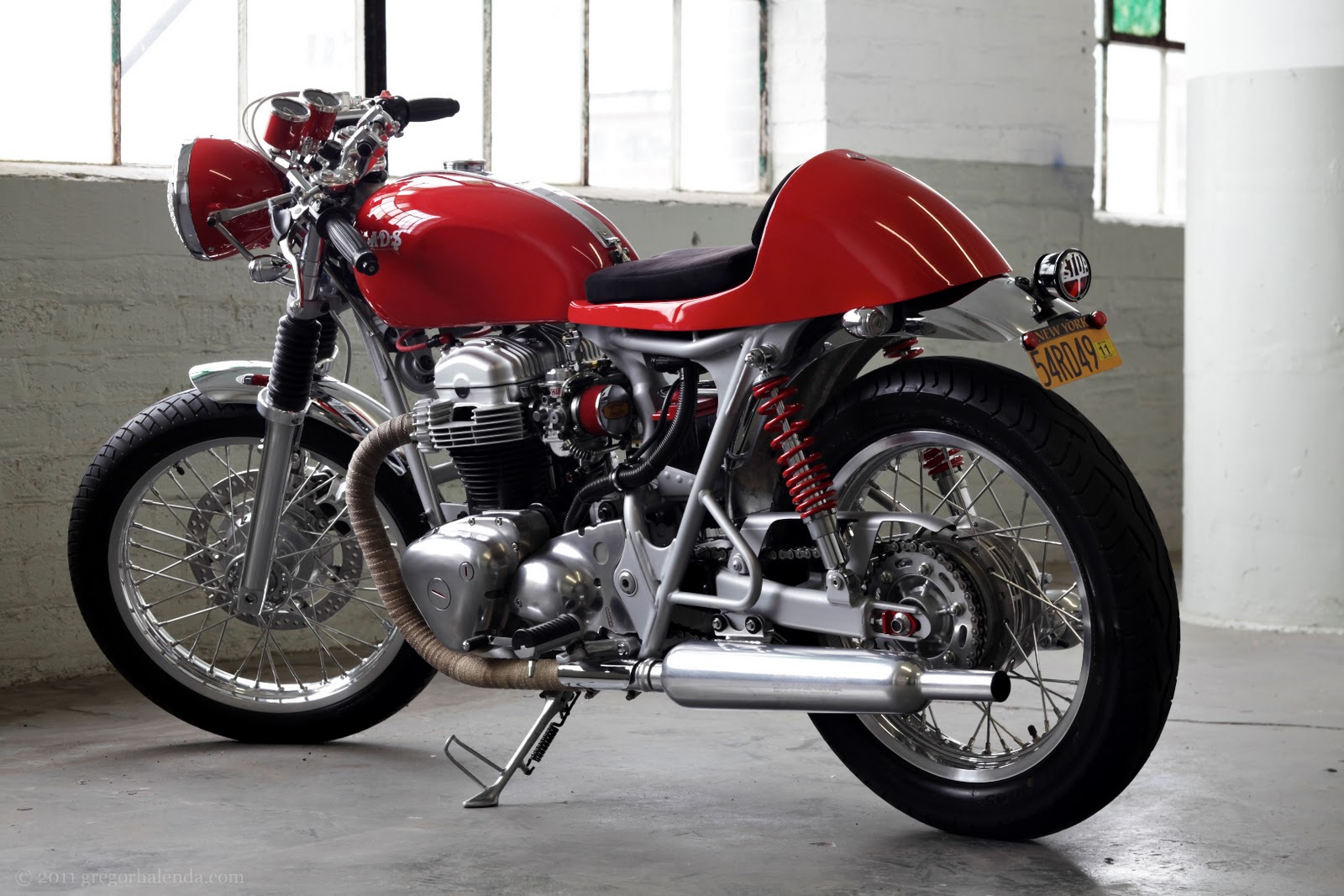 What better inspiration could a man need when building his first custom bike than to be building it for his son. What was once a neglected Kawasaki W650 is now a show quality Cafe Racer. Here's the story behind how this Cafe Racer came to be…
"I didn't set out to build a bike, I really
wanted to build a car. But my friend Don, a long-time motorhead, said to
"try a bike first, it's cheaper and easier. If you get through that you're
ready for anything."
Okay. But all I'd ever done was occasionally
change the oil on my old dirt bike, I'm not exactly what you'd call a mechanic.
Which in the end wasn't a problem. As I found out, all you have to do
is…well, just do it.
First you need a vision, an end goal. For
me it was the clean lines of a cafe racer. Unlike modern bikes, you see the
machinery–keeping the "motor" in motorcycle. They seem light and
nimble, with plenty of air around the parts, looking like what they are:
honest, simple machines, with a slight raw edge. Cool.
I sat on the idea for a year until my kid,
Alex, was born. Since it didn't look like I'd be leaving him much money, I
figured I'd make the bike for him, and started the fictitious ADS (his
initials) Motorcycle Company as kind of a legacy. Sounds corny, but until your
kid becomes an obnoxious teenager—dads think like that.

The next step was finding a donor bike. Don
advised that I start with a solid foundation, a bike with "good
bones" and the right look. For that I bought a beat-up 2000 Kawasaki W650
from a lesbian couple in New Jersey who were trading up to matching Harleys.
Besides looking like an old Brit twin, the W650 came with a shop manual—which turned out to be the most important tool in the build as it was written for idiots. So I felt right at home."
"Except for the engine internals, I rebuilt everything on the bike mostly just to learn how, and built a lot of new parts, too. I found a world on the internet to access things from Germany, Japan, and even some custom electrical connectors from a guy in Argentina. I also found that if you're willing to make mistakes and do things over at least three times, nothing is impossible.

In the end it worked out well. Alex is proud to show other kids "his bike," I built something better than I ever thought possible. Plus, it not only runs and hasn't killed me, it actually handles better, too. All very good things.

Now, as my friend Don said, I'm ready for anything. But I won't be building that car. I've got another bike in mind and I'm starting to build bikes for others, so ADS Motorcycles may actually become a reality after all."
Some of the modifications to the W650 include:
Wired tail light from old Vincent with LEDs
Headlight stone guard from an old MG sport
scar
Vintage cloth wrapping on spark plug wires
Front sprocket cover adapted from a 2011 W800
Changed frame geometry and suspension for
better handling
Homemade cowl/seat base
Polished Superbrace fork brace
Stainless steel tank strap
Frame reworked for battery tray and electronics
under seat
Stock pipes/mufflers coated by Jet Hot and
wrapped
Crankcase breather filter/canister
Dyno tuned for better midrange punch.
CRG bar-end mirrors
1974 Triumph Bonneville T-140 tank modified
to fit
Custom red-foam air filters
Finned bevel drive cover
Custom wire loom
and much more…
If this first bike is any indication of the quality of Cafe Racers to be produced by Dave's ADS Motorcycle Company, you can be sure you'll be seeing more of them on this site.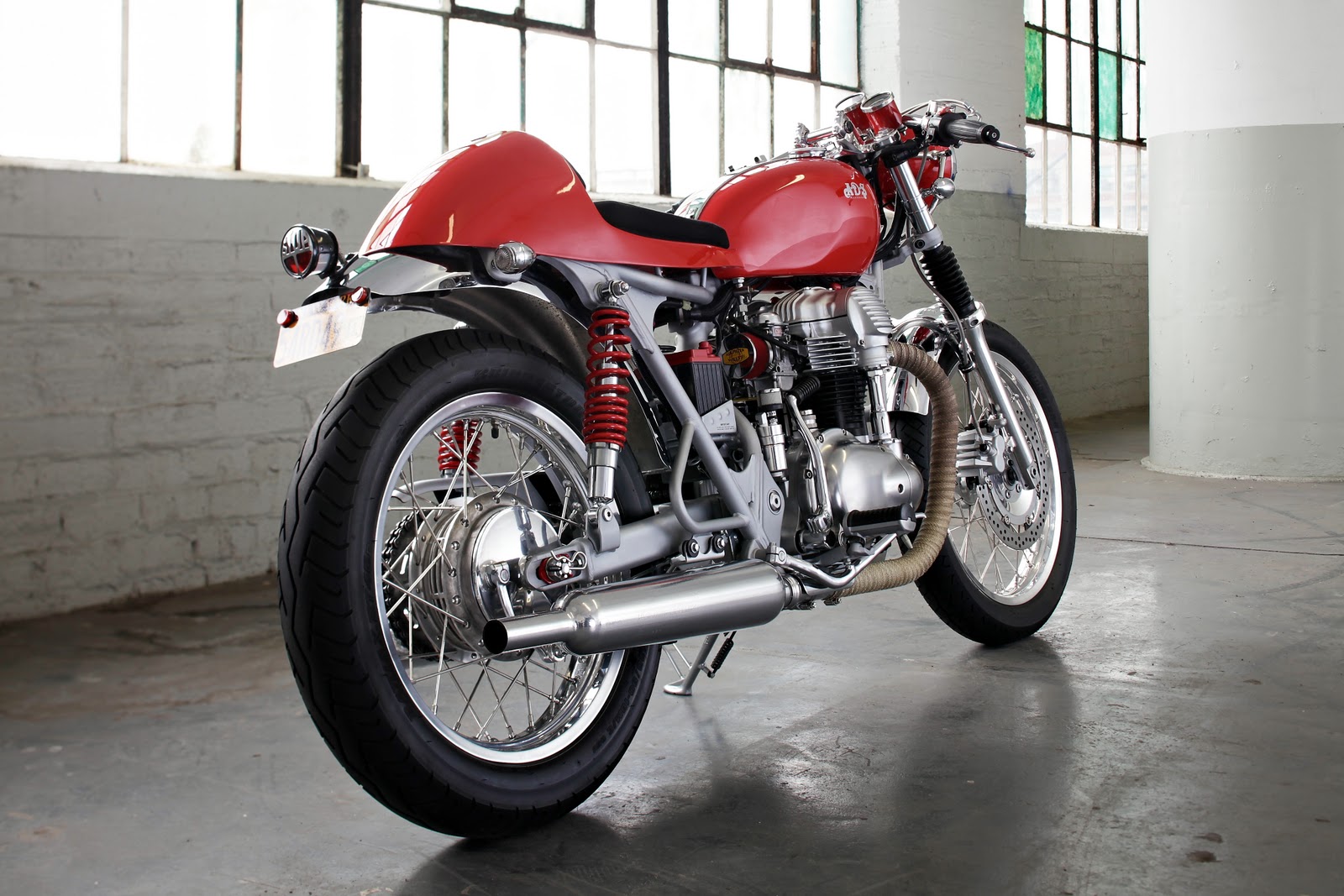 Thanks to Dave for sharing his Kawasaki W650 Cafe Racer with us.