Lorenzo's latest build is based on a '99 WR360 Husqvarna and you'd be right in thinking it doesn't look all that practical, because this beauties all about going straight and fast out on the salt. The WR360, contrary to its title, is powered by a 349cc engine allowing Lorenzo to enter the bike into the 350cc class. After a friend sold him the bike at a bargain price Lorenzo spent 10 months worth of evenings prepping it for the salt.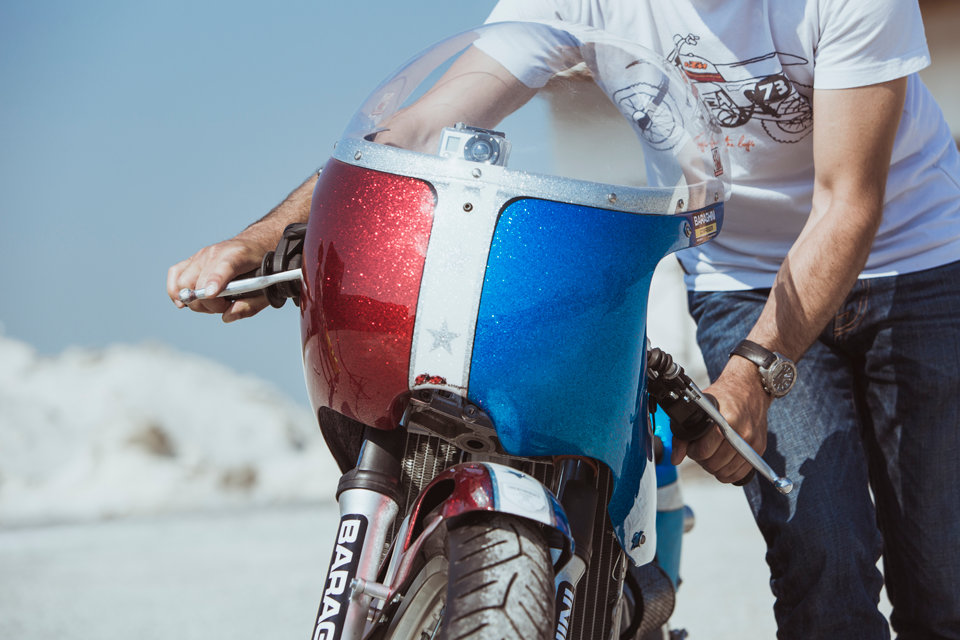 Some of the extensive work done to his Husqvarna includes swapping out the front end for a set of Yamaha R6 forks, rebuilding the rear subframe and removing the rear shocks to hardtail the frame. He's fully rebuilt the engine using OEM parts for the best reliability and built a custom handmade exhaust system with carefully designed expansion chamber to squeeze more power out of the big bore two stroke engine. The rims and rubber are new, the swingarm has been extended back by 10 cm and the frames head stem was raked to improve its stance and straight line handling and at higher speeds.
Aerodynamics are of course an essential part of land speed racing so Lorenzo has fit a monocoque style tank and tail section made from lightweight fiberglass to the WR360. He's also mounted a half fairing up front so he can tuck in behind it during his record attempt runs. Despite the builders Italian ancestry he's gone for an unmistakably American paint scheme reminiscent of Evel Knievel's legendary leathers.
All up the Husqvarna now weighs in at a mere 85kg, about 20kg lighter than in stock form and is pushing out a respectable 65bhp. With some very tall gearing and a vast expanse of hard, flat salt to wind it out on Lorenzo has his sights set on breaking the 200kmh mark which might not be enough to set a new world record, but it will certainly leave him with a smile on his face.
"Wasted Years is not only my favourite Iron Maiden song, it is also a feeling I have had to sometimes fight against. Many people think that he who believes in dreams wastes his time on crazy ideas that will lead to nowhere. This bike is a tribute to all the people who believe in something, to the people who follow their dreams." 



The Wasted Years WR360 is on its way to the USA now and will be taking part in Speed Week during mid August. If you happen to make it along to the salt be sure to give Lorenzo a pat on the back and wish him all the best from me.