Too much hype can lead to disappointment. We see it almost every time Apple reveals a new product or there's another episode added to the Star Wars saga. Marketers feed us juicy images and teaser videos to get us all excited, but when the product arrives it doesn't deliver. This was my biggest concern when my time to test ride the Husqvarna Svartpilen 401 and Vitpilen 701 finally arrived. It felt like I'd been waiting an eternity for these hugely anticipated new road bikes to get to Australia. Back in 2014, the motorcycling world went crazy when they made their first appearance and so did I. Now I finally had the two bikes both sitting in my driveway and the keys in my hand. Would they satisfy my high expectations? I had 2 weeks with them to find out.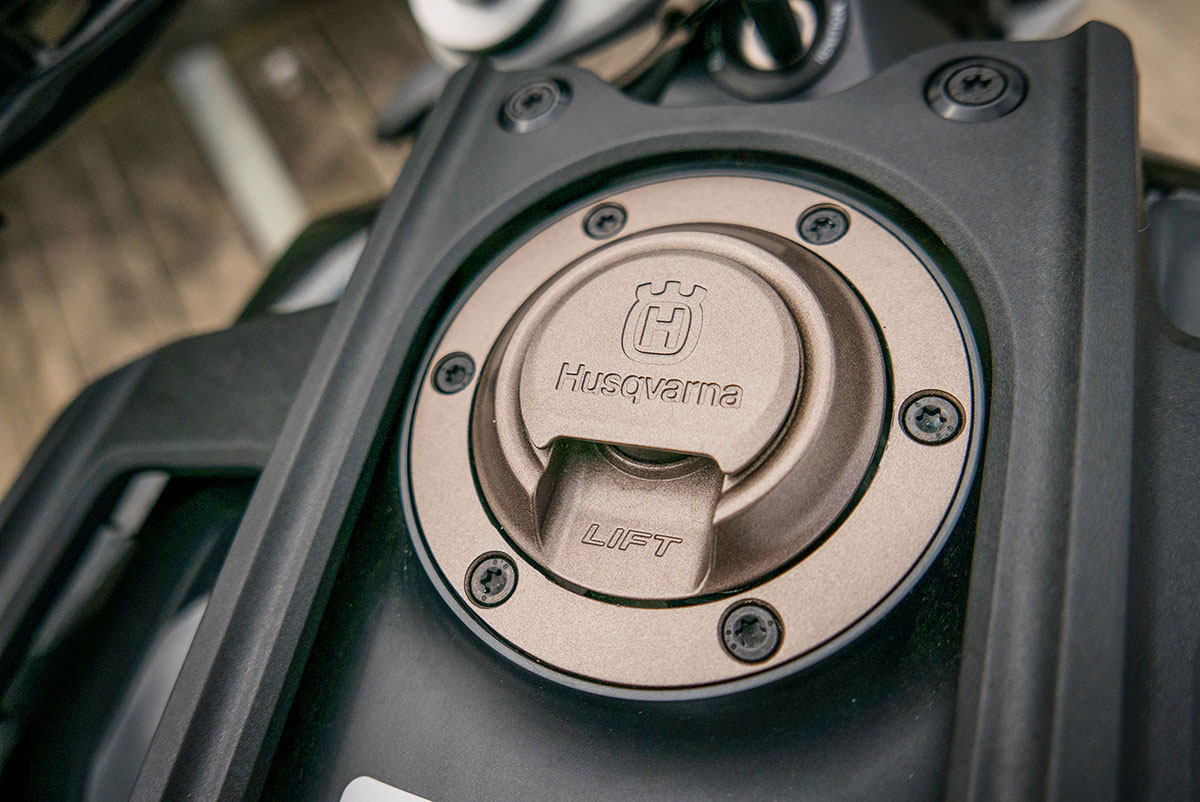 Obviously riding 2 motorcycles at once isn't anything anyone should attempt. So, I'd arranged with the guys at Pipeburn to share them. I had a short time with both bikes before Pipeburns writer arrived so I took the opportunity to give them a once over.
There's no denying these motorcycles look unique. In fact, they look so unique it would be easy for the uneducated passerby to assume they were custom. This is because that futuristic looking bodywork is sitting on top of a recognisable motorcycle chassis and engine. That's not a bad thing though. Turning heads and sparking conversation is a great way to generate sales. However, if the designers had gone full Tron with these bikes it's unlikely they'd have sold a single one. So what we've ended up with is a good visual balance of flashy looks and familiar forms. One of the most interesting things about the design though is the materials Husqvarna used to create it.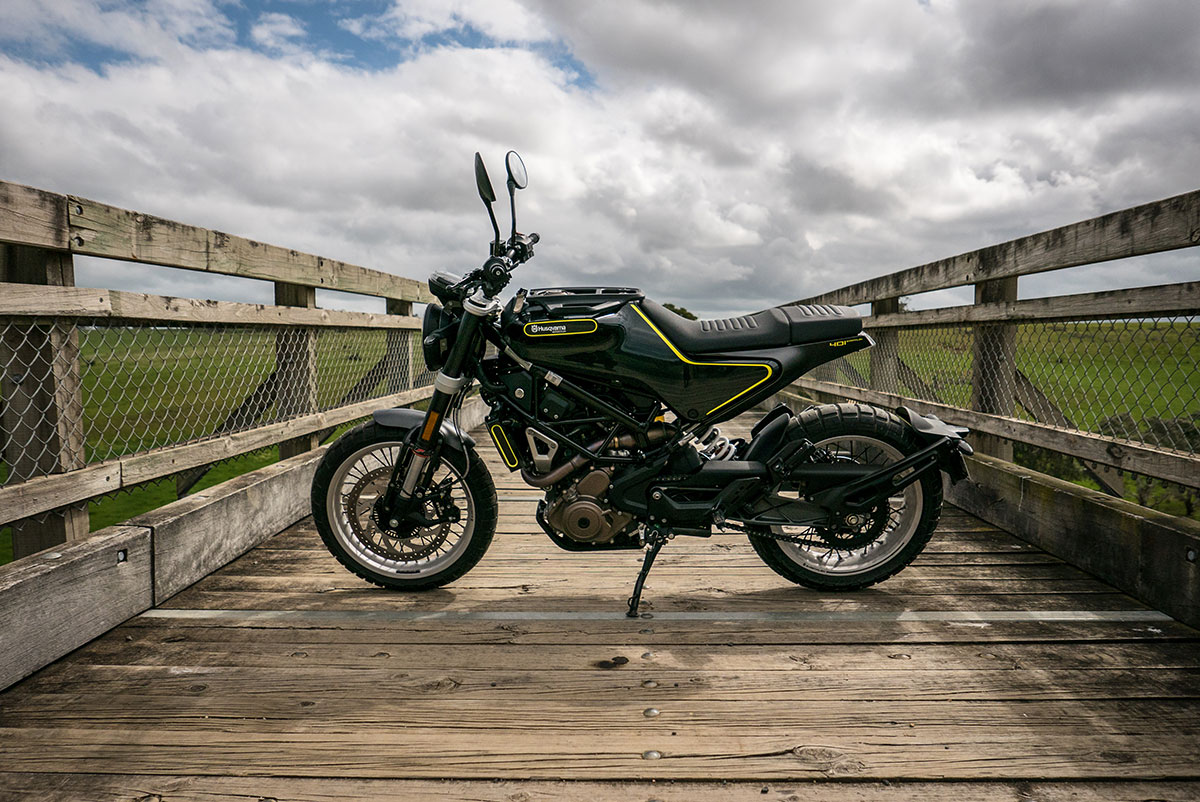 While other manufacturers like Honda and Triumph are bragging about the lack of plastic on their latest modern classics, Husqvarna has embraced it. This has allowed them to create the bikes distinctive monocoque styled bodywork. The abundance of plastic on these bikes is also key in keeping weight to a minimum. Something that is essential to how well they both handle, but more on that later. When Pipeburns man arrived he opted to take the Vitpilen 701 first leaving me with the more Scrambler styled Husqvarna Svartpilen 401 for the first week. Not quite the bike you'd expect to see here on Return of the Cafe Racers, but when an opportunity presents itself…
I haven't considered fluro colours to be cool since the eighties, but Husqvarna has me thinking otherwise. The hi-viz touches on the Svartpilen help to break up the mass of black bodywork and keep your eyes moving over the bike. There's also a hint of metal flake in all that black which looks great in direct sunlight. Every time you look at the Svarpilen you're reminded how well executed the design is. On its textured seat, you'll find embossed lozenge shapes that match the sides of the fuel tank and you'll find those same shapes repeated in other places too. The symbols on the switchgear are also backlit which offers zero benefit but adds considerably to the bike's premium feel.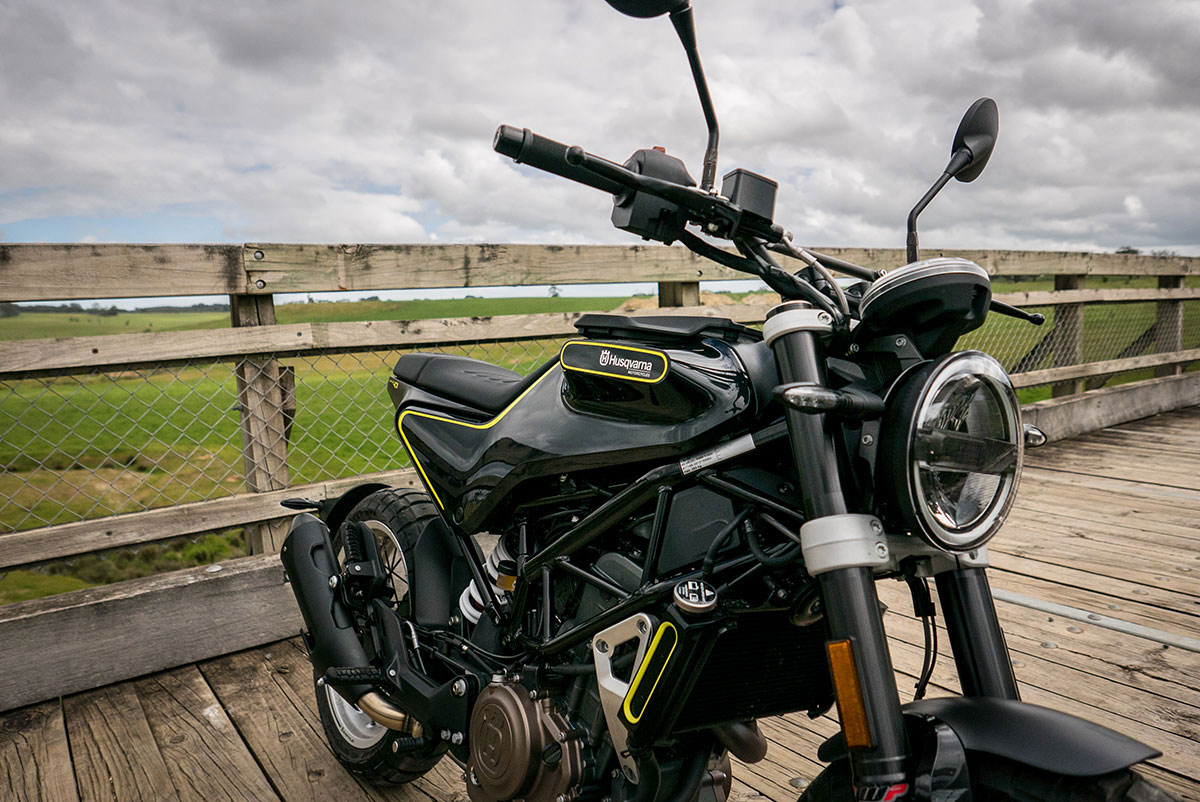 It sounds ridiculous saying it, but getting the seat off the Svartpilen for the first time was rather challenging. After searching the entire rear end I noticed a keyhole right up at the front of the bike which turned out to be the seat release. Makes sense right? The seat is a two piece affair that's divided between the rider and passenger seat pads. The clever clogs at Husqvarna offer a different rear half that functions as a luggage rack for those who require more carrying capacity. Under the seat, there was no USB charging point, but I did find a decent toolkit. A turn of the key revealed a "Pioneering since 1903" message on the dash followed by a kill switch warning that was replaced by a side stand warning when I flicked the switch. This could be the world's first idiot proof motorcycle…if it wasn't for the seat lock.
As I pawed over the bike I also found a few minor quirks.  Both the Vitpilen and Svartpilen have some unsightly wires and plugs exposed. The blue and red WP stickers on the forks also stand out like sore thumbs on an otherwise beautifully balanced design. Thankfully neither of these gripes really detract from how good the Svartpilen 401 looks and my riding experience made these issues look even less significant.
The Svartpilen's proportions are tight and it rides like a small bike, but it wasn't too small for my 5'11" physique. The riding position is relaxed and my feet sat comfortably on the ground when I was in the saddle. The bikes exhaust note has just the right amount of burble to satisfy, but an aftermarket pipe would work wonders. I'd use caution with my muffler selection though as anything too loud would be disproportionate.
After being so impressed by how the bike looked I'm happy to say it was also loads of fun to ride. During my maiden journey on the Svartpilen, I was surprised at how eager it was to turn. So eager in fact that you could compare its manoeuvrability to that of a scooter. That may sound like a negative, but trust me it isn't. During the week that followed, I got very comfortable with how well the Svartpilen steered. Most of my 401 riding took place in its optimum environment; commuting around the city. The tight corners, lane splitting and quick launches that can sometimes make city riding exhausting are a pleasure on the Husqvarna Svartpilen. The WP suspension is soft but well balanced and the chunky Pirelli Scorpion Rally rubber had plenty of grip on the asphalt. As you'd expect the 375cc single powering the Svartpilen has plenty of gusto. Twist the throttle hard enough off the line and you'll end up on one wheel. Husqvarna state a power figure of 43bhp which is a decent number for an engine of this size and it had no issue hauling the bikes 150kg and my additional 80kg around town.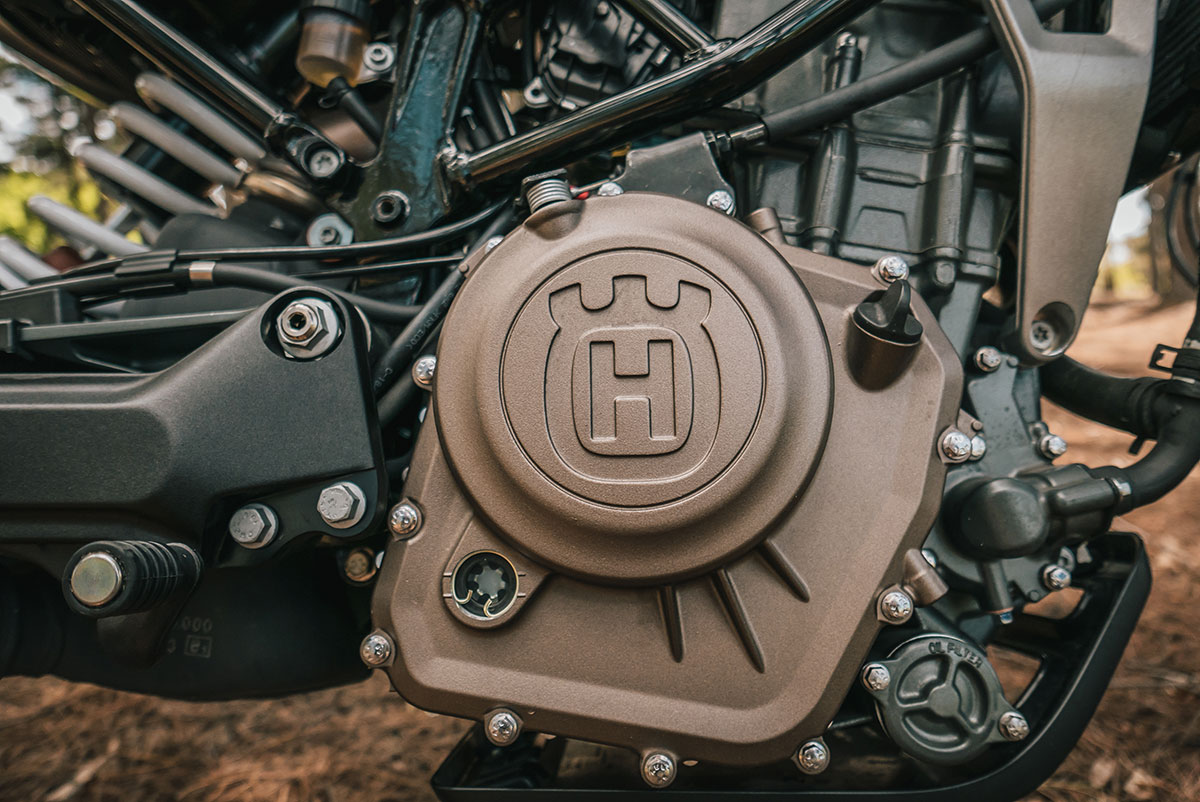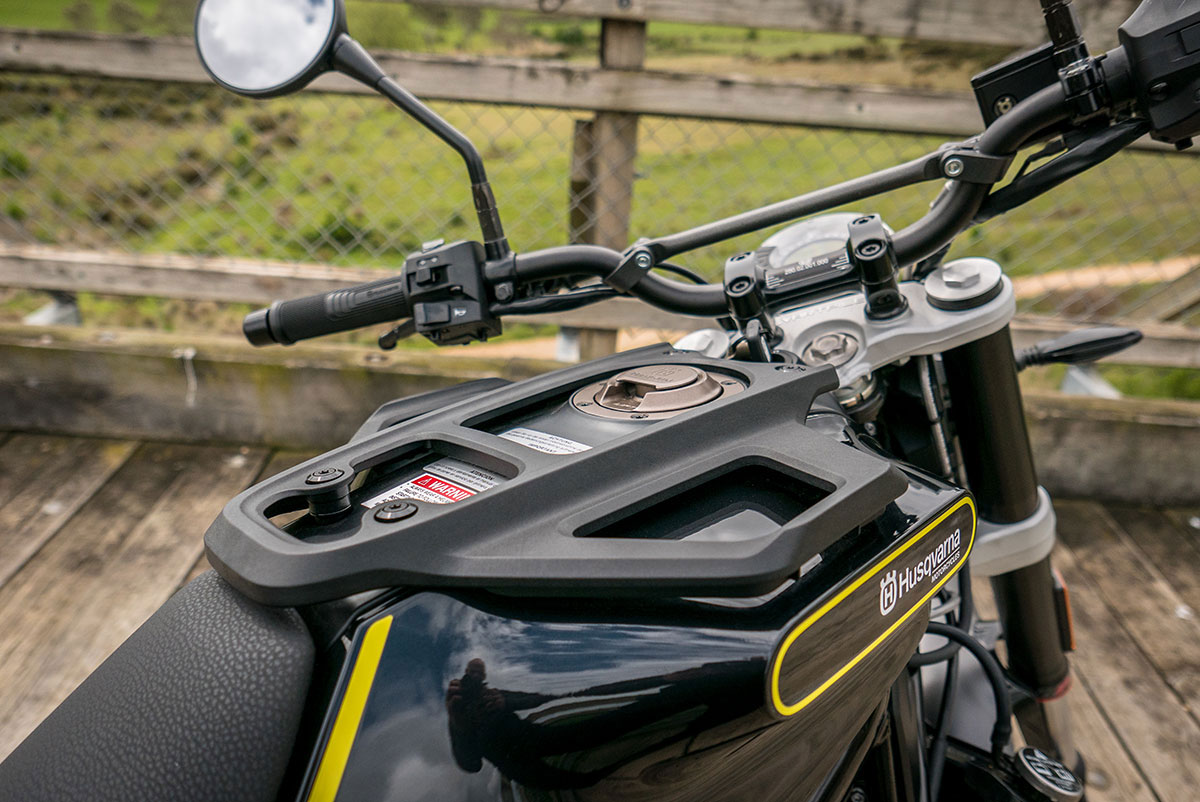 My good times on the Svartpilen 401 ended with a ride to Ballarat where I would swap it for the Vitpilen 701. I filled the 9.5-litre fuel tank and read an estimated 300km range on the dial. This went as high as 370km once I got out on the highway. The ride to Ballarat consisted of mostly freeway riding with a 110kmh speed limit. It took around an hour and a half to get there. Sitting on the 110 speed limit in 6th gear the engine spun at around 6000rpm. That may sound like a lot but the bike showed no sign of being near its limits. This is no long haul motorcycle though. When I arrived in Ballarat I was relieved to get off the highway and drop the revs, my butt was also in need of a break from the Svartpilen's slimline seat.
A review isn't a review without some negatives. In the case of the Husqvarna Svartpilen 401, there are very few. I'm happy to report that none of them have to do with how the bike performs. Instead, my main complaint with the Svartpilen 401 would have to be that in some places they should have opted for metal over plastic. Take for instance the baggage rack on the fuel tank. It's plastic and any kind of pressure applied to the outer edges bends them down to touch the tank. If you were planning on stowing anything heavy it wouldn't take much to mark the paintwork. Another issue is that due to the angle the dash sits on it's hard to read in full sunlight. Lastly, the hugger style rear fender has to go. I think the folks at Husqvarna agree with me on this one since none of the bikes in their press shots wear them.
Yes, the hype surrounding this little street scrambler was well worth it. The SVartpilen 401 is much more than a motorcycle that merely looks cool. Nevertheless, you will feel very cool riding it. The Svartpilen is one of the most unique looking motorcycles currently on the market and it attracts loads of attention. I had several conversations with motorists at traffic lights that usually started with "Awesome bike. What the hell is it?". I too caught myself staring at the Svartpilen 401 on more than one occasion. Let me tell you it takes something pretty special to get me doing that these days. Most importantly though I thoroughly enjoyed my time riding this. For those looking at buying one, I would wager that the enjoyment I experienced wouldn't fade over time. In fact, as you'll read at the end of my Vitpilen 701 review, I'd pick this bike out of the two. But you'll have to read that review to find out exactly why…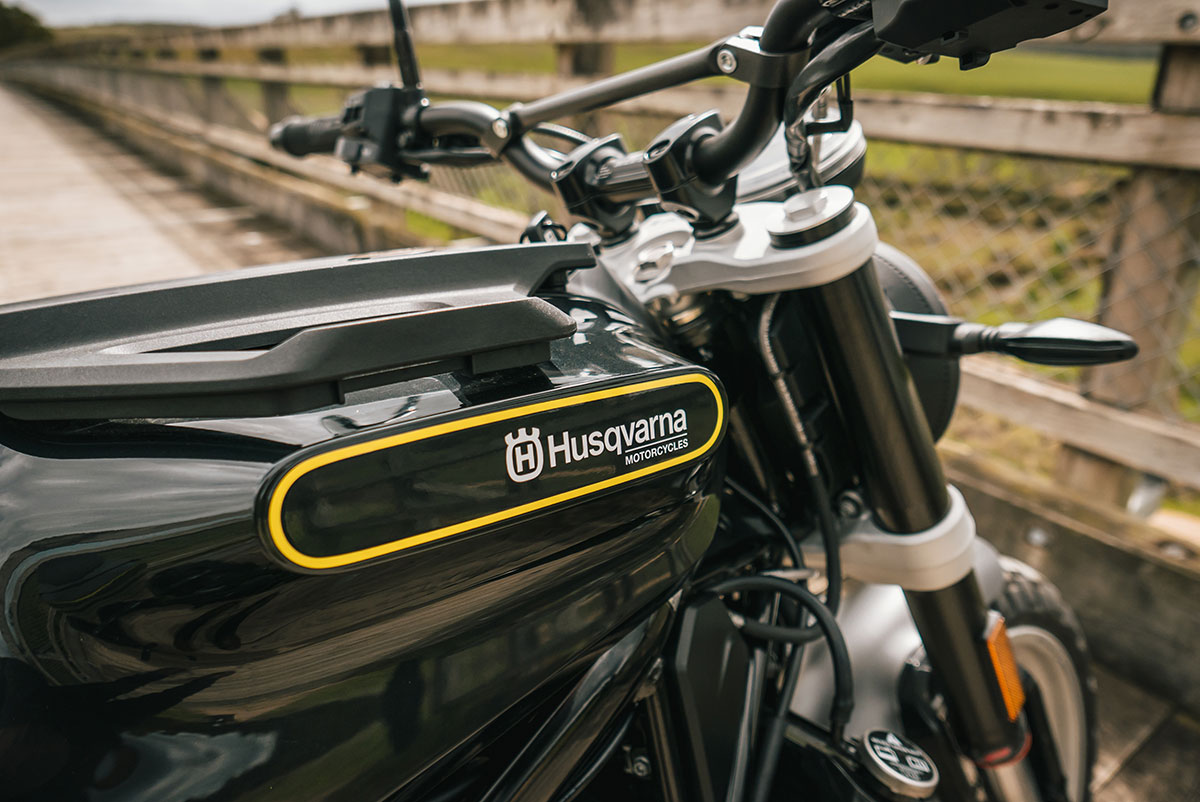 The Husqvarna Svartpilen 401 is priced at $10,990 AUD ($6,299 USD).
| | |
| --- | --- |
| Component | Specification |
| Engine | 373cc, 1-cylinder, 4-stroke |
| Gearbox | 6 speed |
| Power | 32kW / 43bhp |
| Weight | 150kg |
| Suspension | WP 43 mm upside-down, WP monoshock |
| Brakes | ByBre Front four-piston radial, disc. ByBre Rear single-piston floating calliper, disc. Switchable Bosch ABS. |
| Fuel capacity & range | 9.5L / Approx 300km |
| Seat Height | 835mm / 32.8 inches |