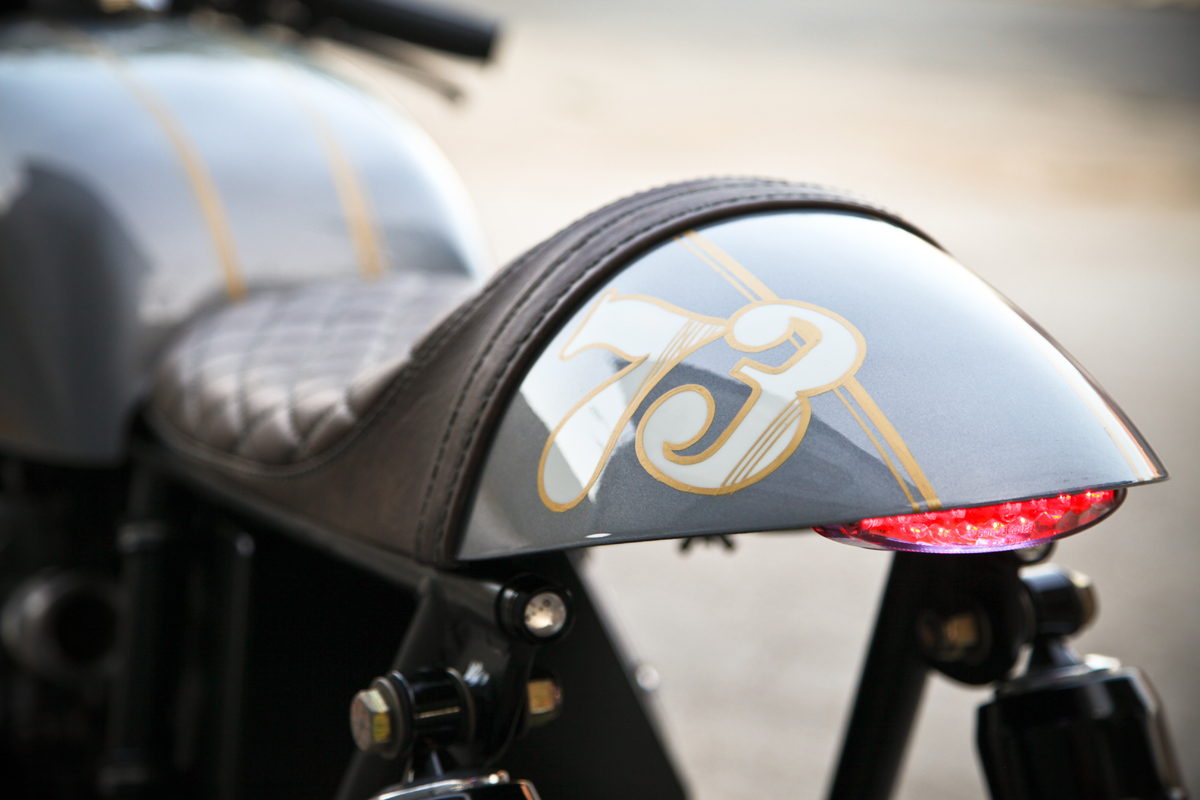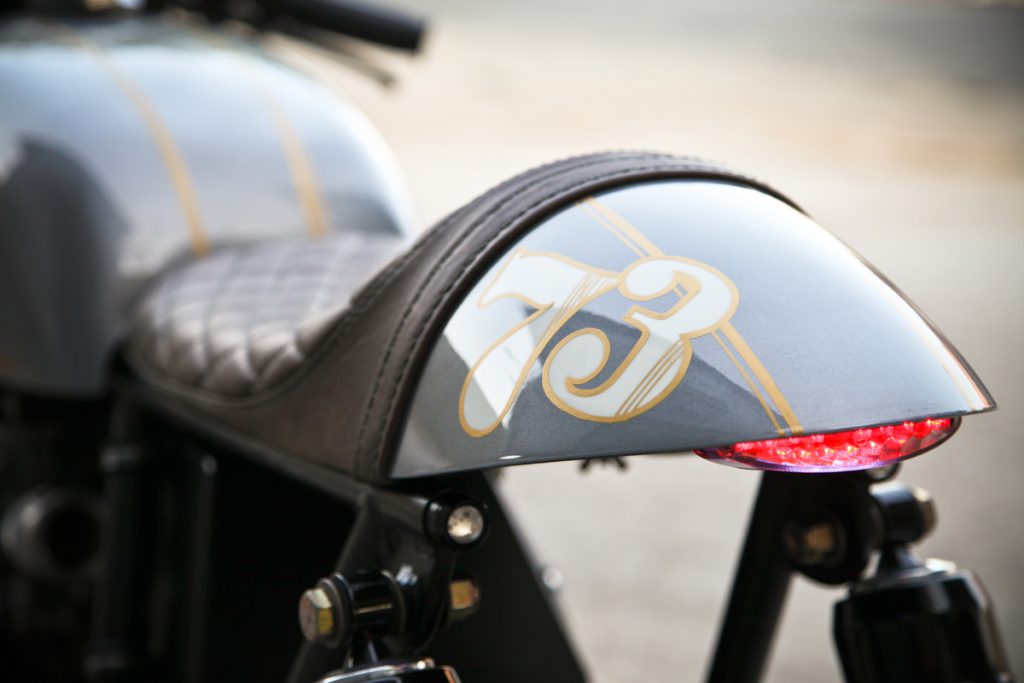 "For years, I had watched all the motorcycle builder shows on TV and had always wanted to build my own bike. When I began to see the cafe racer movement take shape, I decided to try my hand at it and purchased a 1973 Honda CB750. I didn't even have a garage, so the first phase of this build took place in a friend's garage. During that time, I broke up with my girlfriend and ended up having an empty bedroom in my house. That room quickly became the "motorcycle room". My workshop is old carpet laid on a hardwood floor in the air-conditioned comfort
of my home. If things need welding, grinding or painting, they're taken to the back porch. I have a basic toolbox and began this build by learning things from the internet. I set out with a goal in mind and the determination to make it a reality."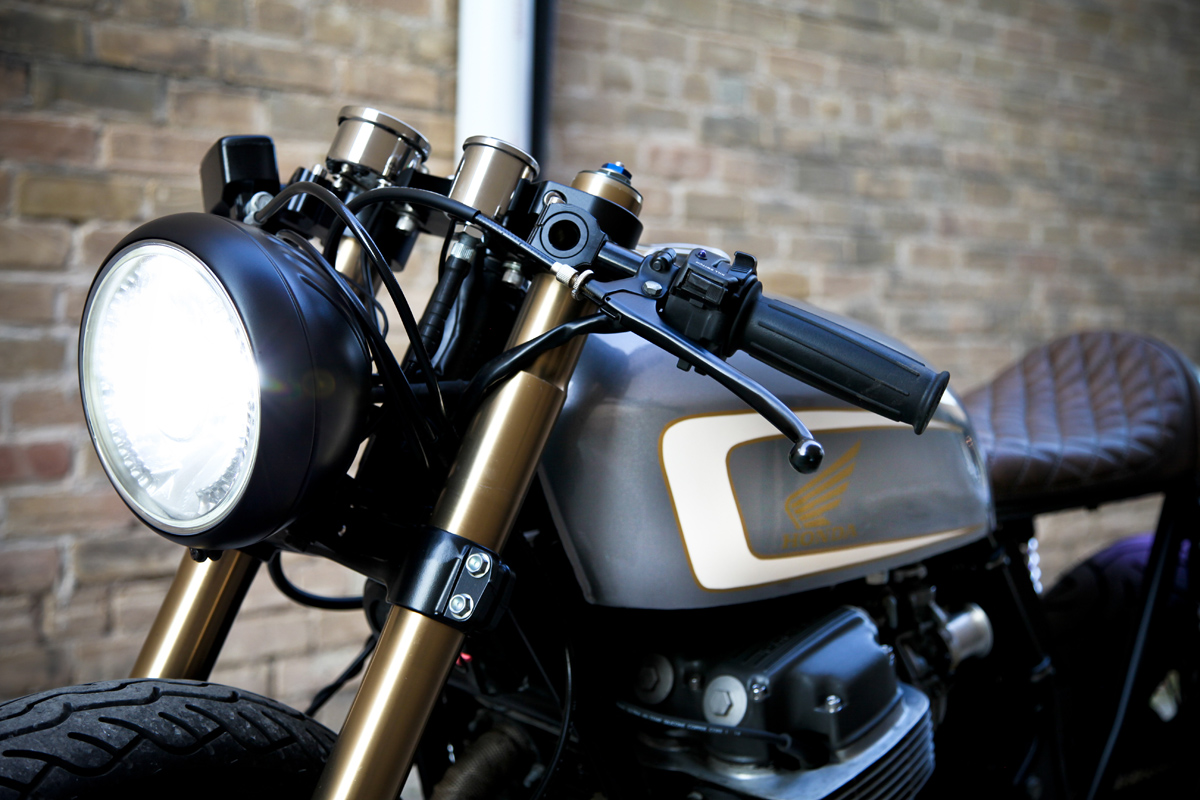 "Building the bike was a bucket list thing that I undertook during a time when I needed to focus on myself to keep my head above water. The time and money I invested is far beyond reasonable, but that wasn't the point. I was staying busy doing something I loved, learning as much as I could and creating an environment where my friends and family could come help me out. I think this build is about as personal as it gets."
I did a lot of the work myself, but I did have some great people contribute along the way. Justin Belz supplied the garage for the first phase and helped me with the tear-down. My twin brother Eli Carver lent a hand as well as my friend Tanner Kothmann, and Karly Kothmann also got involved during the design and paint stages. I also got a lot of parts and advice over the phone from Devin at Cognito Moto. He's a great guy, designs some amazing parts and provides the customer service to back them up."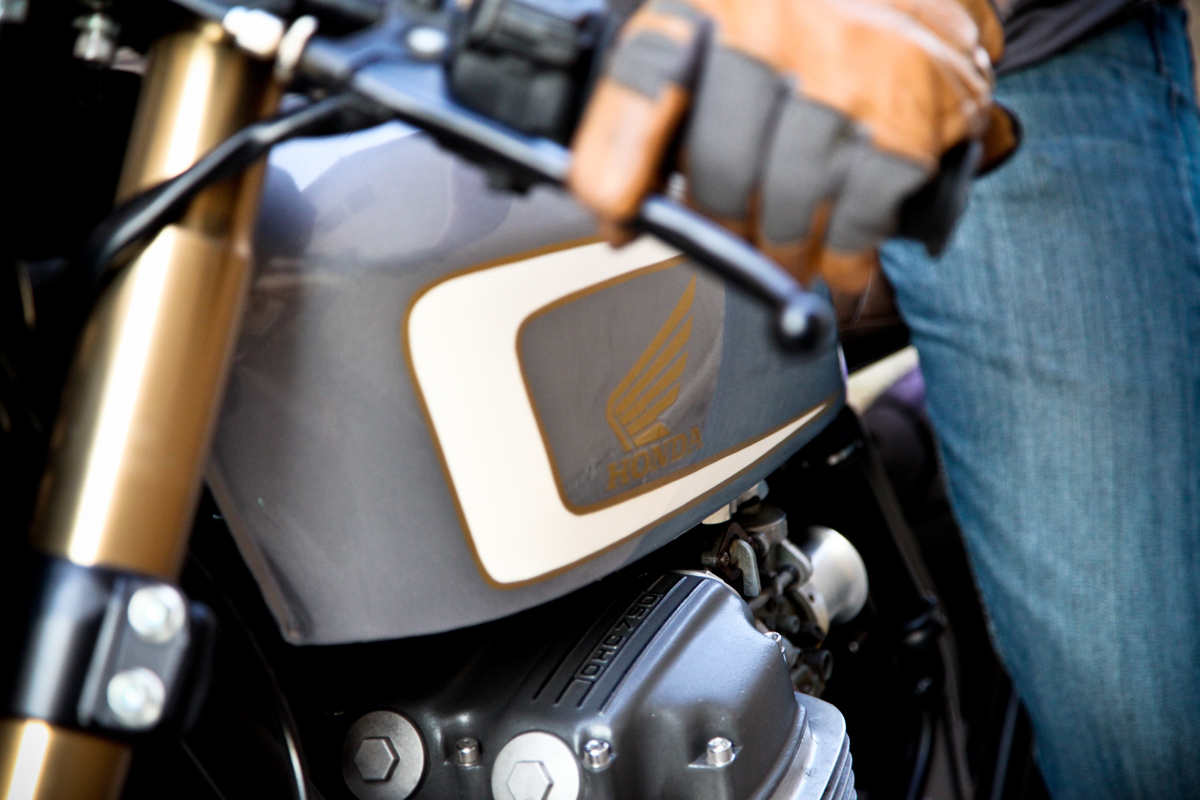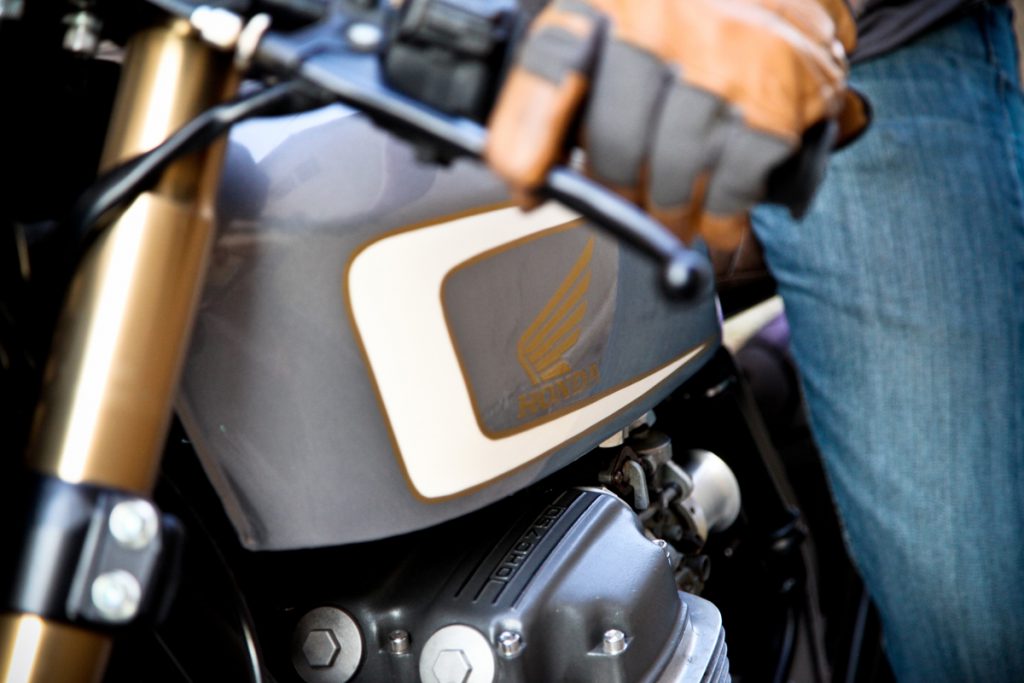 "The bike is a mashup of a few custom builds I had seen online. 'Seaweed & Gravel' built a blue CB750 that I fell in love with and looked at photos of often while working on this one. I also took inspiration from Devin's builds at Cognito Moto. He built a CB750 and a CB550 that helped me to develop the look that I was going for.
During the build, the rear of the frame was chopped and new upper rear shock mounts fabbed to shorten it. I found a set of GSXR forks and brakes and secured them to the front end using a Cognito Moto top triple clamp and steering stem. The leather that surrounds the idiot lights is from a wallet my uncle made in prison for me when I was a kid."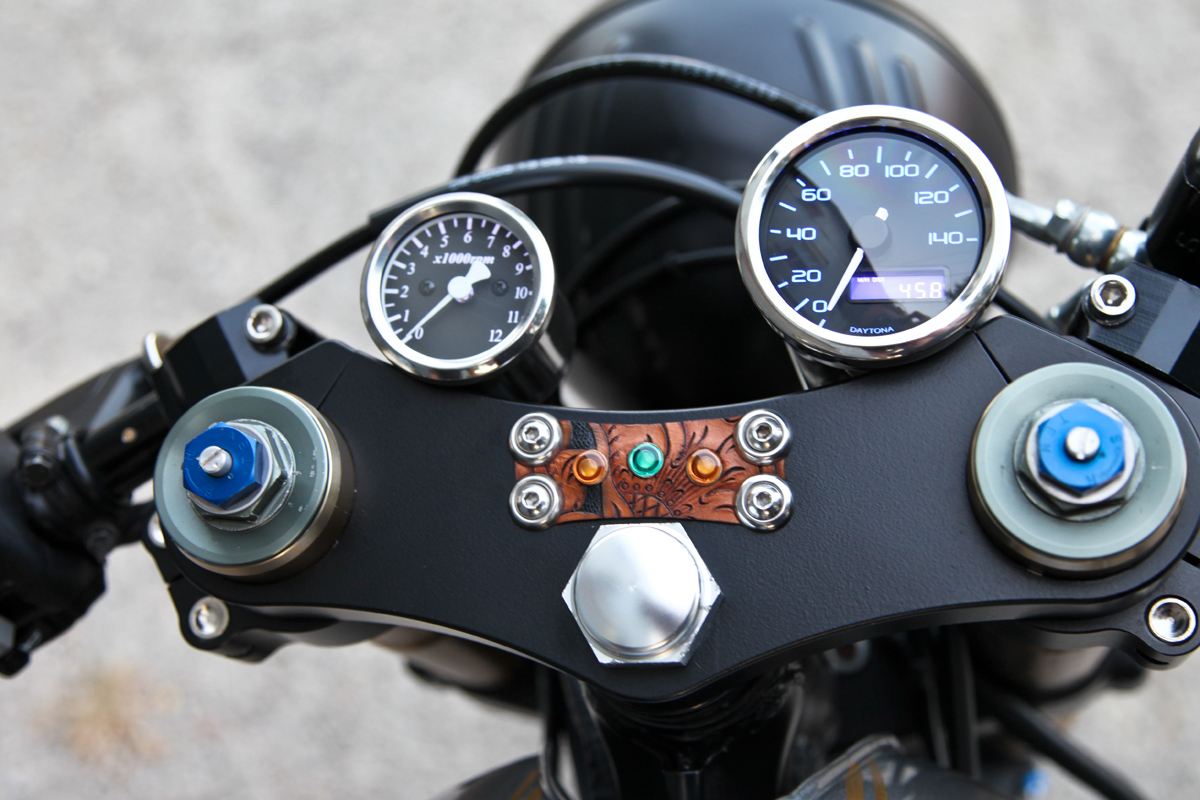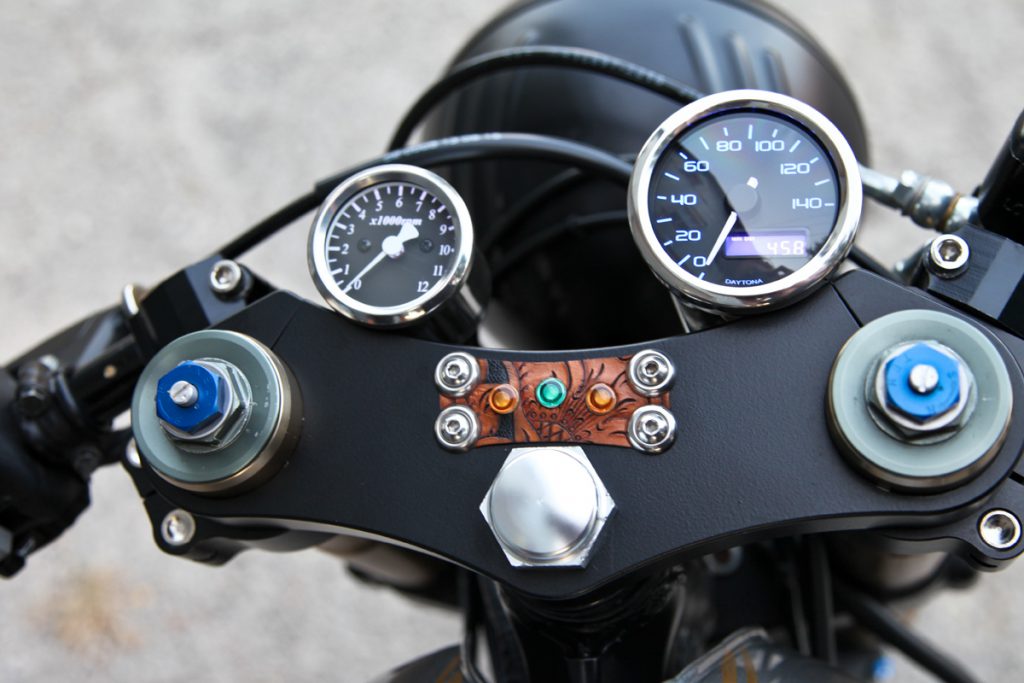 "Cognito Moto also supplied the front hub I used to mount the 17-inch rim and the frame mounted oil tank. I used another 17" rim in the rear that rolls in a CB550 swing-arm and the saddle is an aftermarket unit from Tuffside. Everything was either powder coated or re-painted except the engine cases because I wanted there to be some indication that this was not a brand new bike.
I purchased a "custom built" wiring harness that I thought would be plug and play. Unfortunately, it was a mess and after a while had so many gremlins in it that I decided to ditch it altogether. Being colorblind, wiring is hard for me, but I managed to build my own custom harness which was a crowning achievement for me."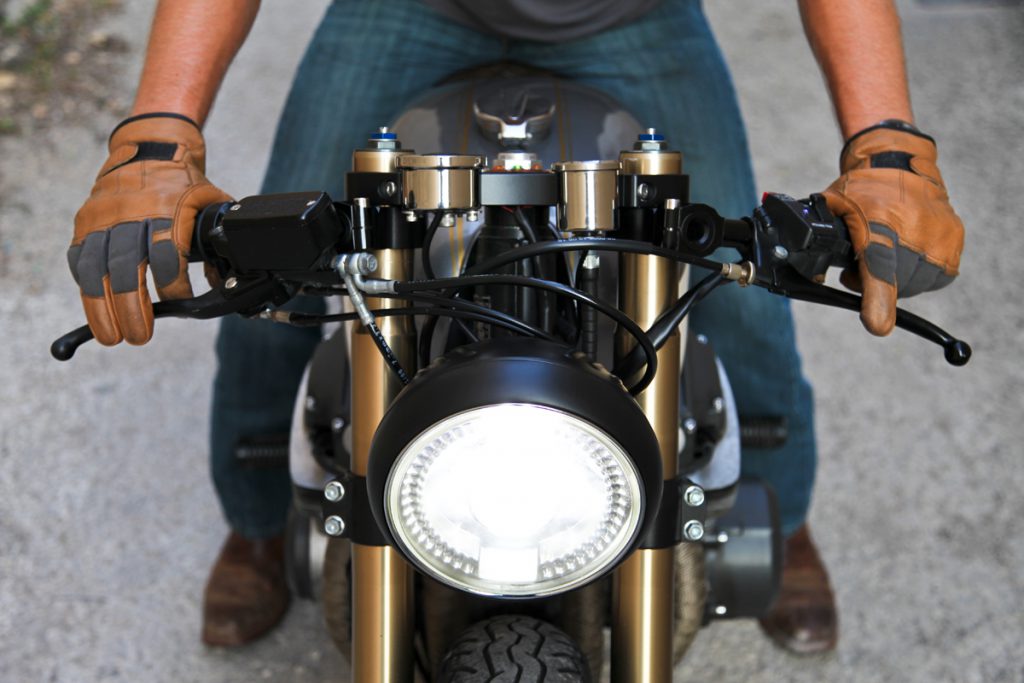 "As a result of this project, my brother and some of my best friends have bought old bikes and rebuilt them as well. I have met some great people because of my CB750 and have shared some wonderful experiences. I'm proud that there's much more to this build than what you see when you look at it. My time building this bike with my friends and the people I really care about has paid off immensely and that really makes me proud."
Story and build by Tyson Carver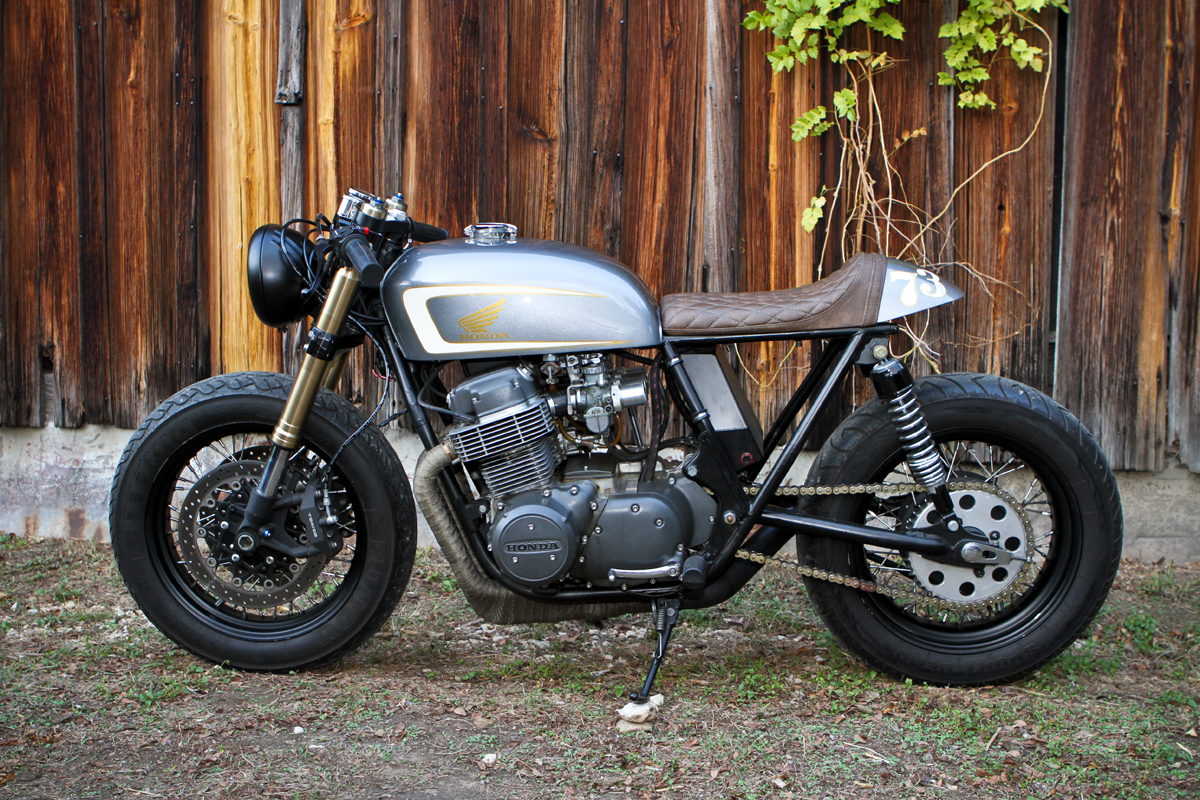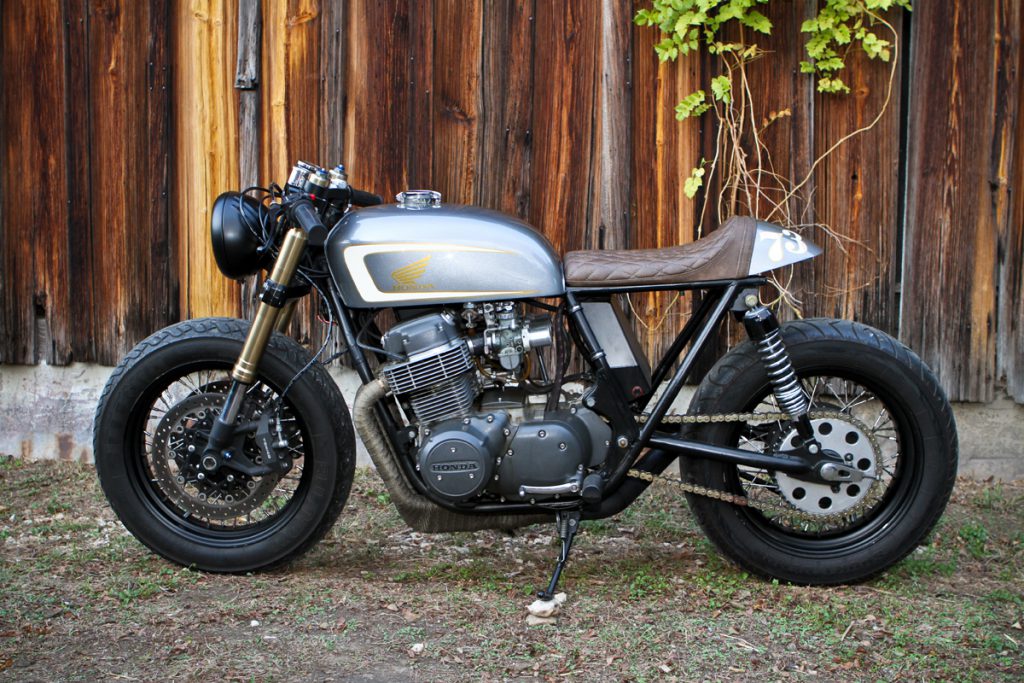 "Ever since high school, I wanted a motorcycle but was never in a position to afford one. I worked construction, played music and went to college and those things always seemed to take priority. When I was 28, I lost both of my parents and that changed everything. Within 6 weeks of losing my Mom, I had purchased my first motorcycle and had learned to ride. It was a Buell XB12R. I put about 14,000 miles on it the first year."