When I started pulling this list together I was expecting to get a fairly balanced bunch of bikes. By this, I mean a group of custom motorcycles that bear a resemblance to one another. As you'll see from the list this certainly wasn't the case. Why? To be completely honest this has me stumped, but it's also rather pleasing. To me customising bikes is all about originality and if I'd ended up with a list of clones that would have been rather disconcerting. From metal flake paint jobs to carbon fibre bodywork and wild performance modifications, each of these CB750 cafe racers was a hit with the cafe racer loving community earning them a place in our Top 5.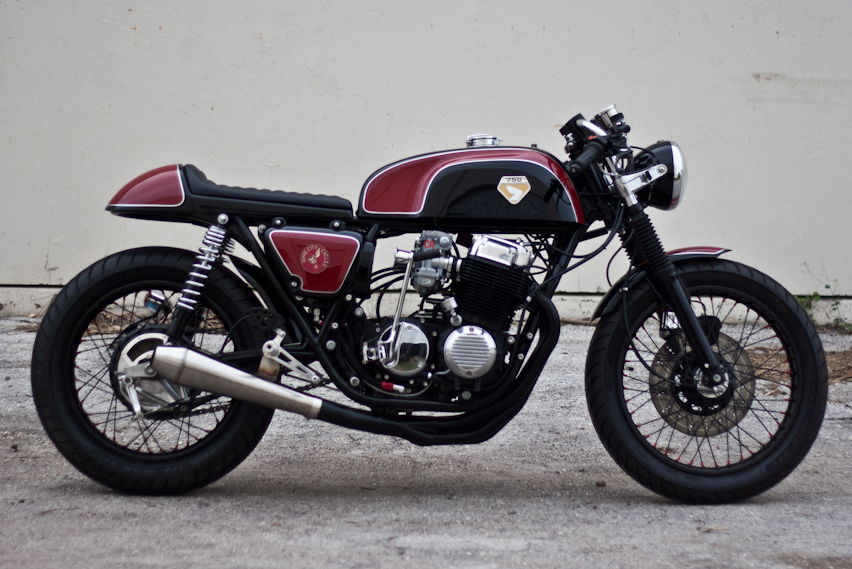 Number 5 on the list is Dime City Cycles 'Mabel' CB750. I was very happy to discover that Mabel made the cut as she's a great representation of a traditionally styled cafe racer. The guys at DCC dug deep into their own catalogue of parts to put this bike together for a competition run in conjunction with Iron & Air magazine.
Mabel isn't just a bolt-on collection of DCC bits though. Jason and Herm paid special attention to performance. There's Progressive suspension front and rear, a Dyna ignition, Keihin CR carbs and a tuned 4-into-1 exhaust. Then there's the paintwork. Nothing too flashy, just some well-placed panels of red that accentuate her lovely curves.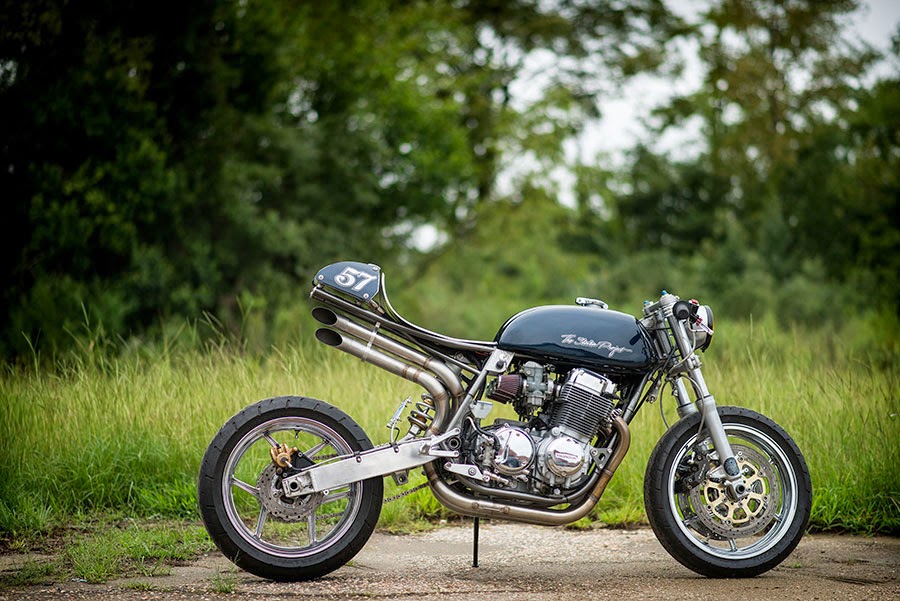 At fourth place is this wild ride from TBC Handcrafted Motorcycles. 'The Steven Project' was built in honour of a fallen rider who previously owned the '78 Honda CB750. Unlike Dime City Cycles the TBC crew took a much less traditional approach with their build.
Tim Bradham of TBC wanted to create a performance focused motorcycle that took styling cues from the race bikes seen at the Isle of Man. The bike's high tail end draws an obvious connection to modern sportbikes but that lovely inline four adds an unmistakable classic edge. The mono-shock conversion and massive brake upgrade were achieved using modern GSXR parts and the bike now rolls on Kawasaki ZX1000 wheels. A pair of slash cut exhaust pipes add to its aggressive appearance and some clever fabrication places the engine's oil in the rear cowl.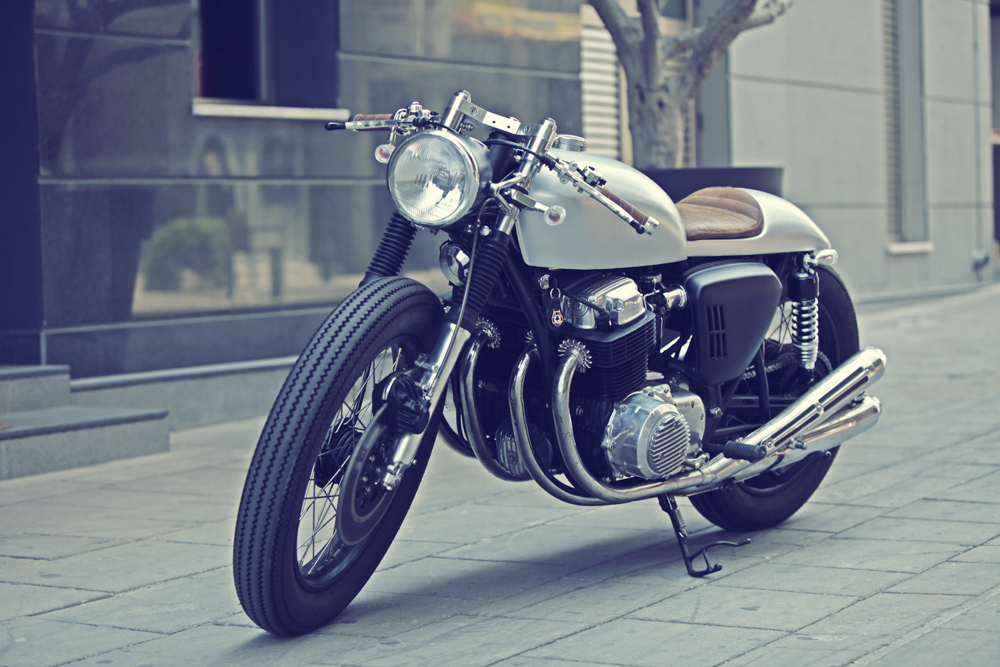 Alexandros Hadjicostas' 'ElGato' took out third place. By day Alexandros is a photographer and filmmaker living on the Greek island of Cyprus. Due to a lack of available parts in his hometown, Alexandros shipped bits in from 10 different countries to realise his dream. Along with a lack of parts, there were very few people who could help him to build the bike so he ended up completing it himself.
The 1969 Honda started out as an incomplete basket case he bought for 500 Euro and ended up being one of the most popular CB750's we've ever posted. Not a bad effort for a first time builder!
Read the full feature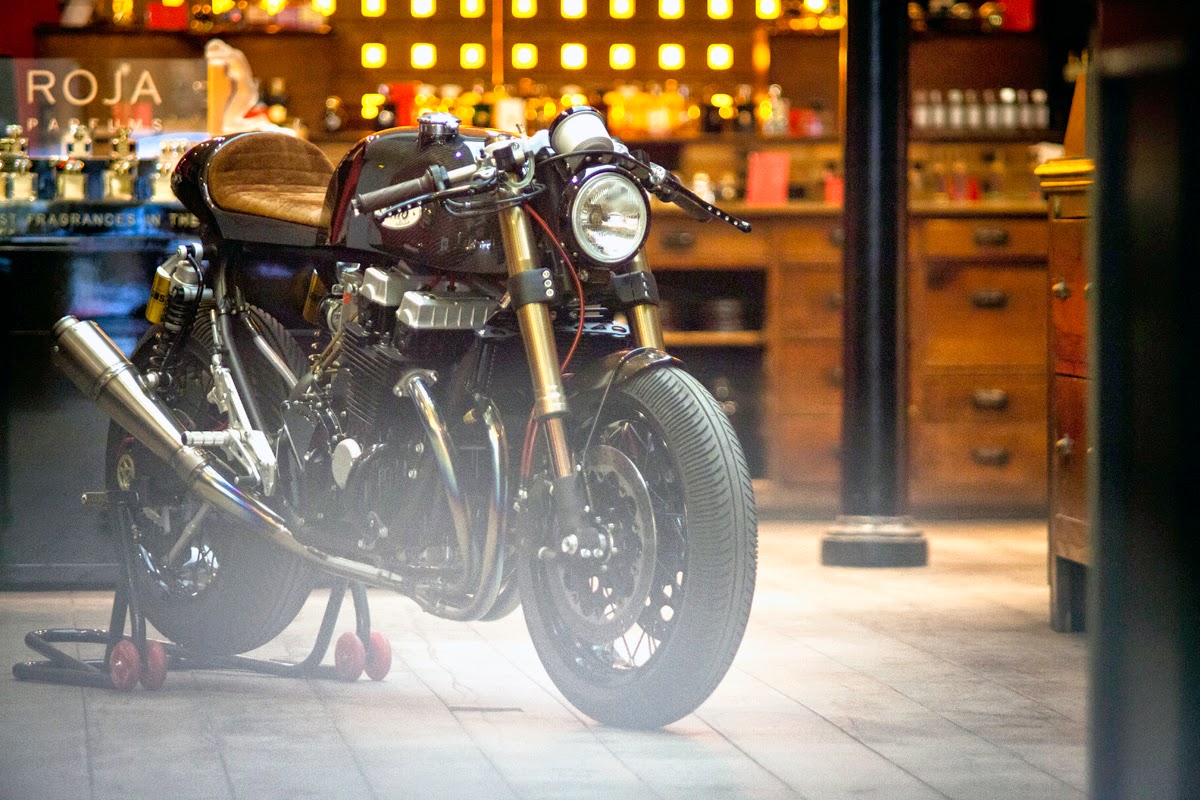 In second place is the only F series CB750 in our Top 5 list. Many consider the F series bikes less appealing than the earlier models, but we've been proven wrong by the Oficina MRS RC42 CB750 cafe racer. Granted the only parts of the original bike that remain are the frame and engine (and they've even been reworked), but at least Oficina front man Mario wasn't afraid to give it a go.
The bike's engine is now a cocktail of RC42 and CBX750 parts along with bigger CR carbs, a custom lubrication system and full titanium exhaust. As impressive as the performance work is, it's the bodywork that steals the show on this bike. Made entirely from carbon fibre it's the perfect pairing of old school styling and modern technology.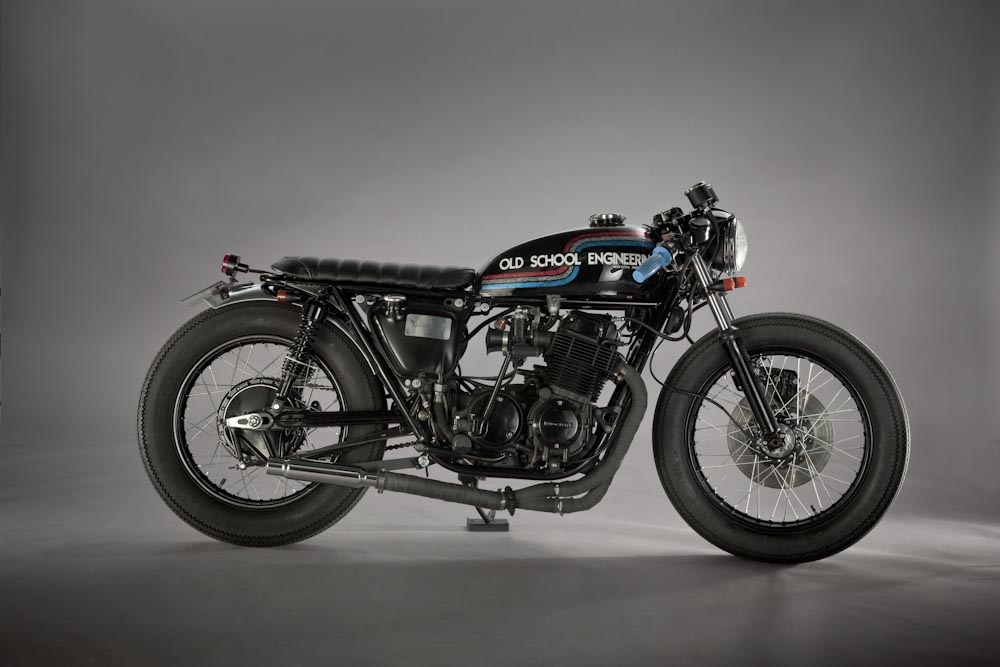 And the winner is… the Old School Engineering CB750 K2. As a self-confessed lover of metal flake, I have to admit I was pleased to see this one rank so highly.
If it wasn't for a few splashes of metal flake filled colour, Old School Engineering's CB750 would be an all black build. The abundance of black could very well be why the K2 landed itself at the top of the list, but I think the bikes barebone simplicity also has a lot to do with it. In the cafe racer scene where less is definitely more, this bike excels. Sure the complexity of the work that went into creating this one pales in comparison to the Oficina MRS build, but the people have spoken.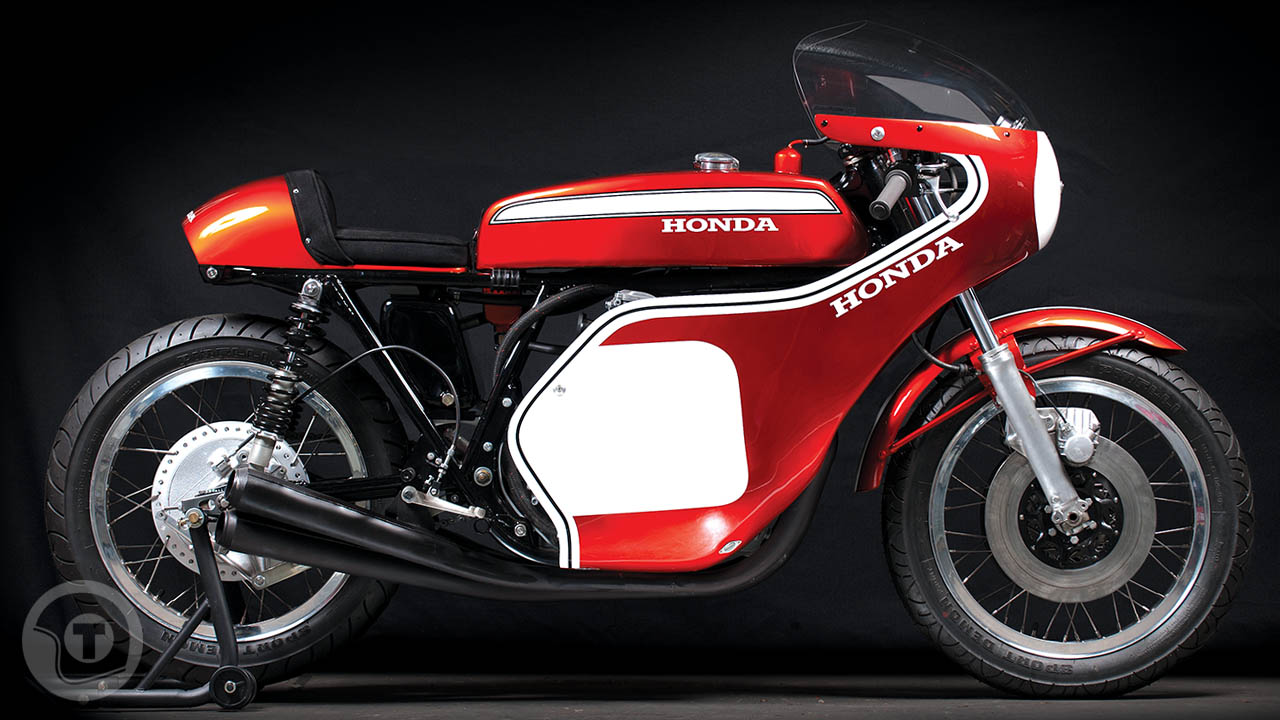 Lastly, I wanted to add my own personal favorite, this TT Motorcycles Honda CR750 replica. I have a soft spot for the legendary Honda CR750. Its historic significance for motorcycle engineering and its importance for the Honda brand is immeasurable.
I stumbled across this bike at a vintage race meet in Melbourne. Soon afterward I interviewed Brian of TT Motorcycles for a feature in the first issue of Tank Moto magazine back in 2012. The story and the photos turned out so well that the bike ended up gracing the cover. After the release of the mag, I ran a condensed version of the story here on the website. If you didn't see it then, take a look now. You won't be disappointed!