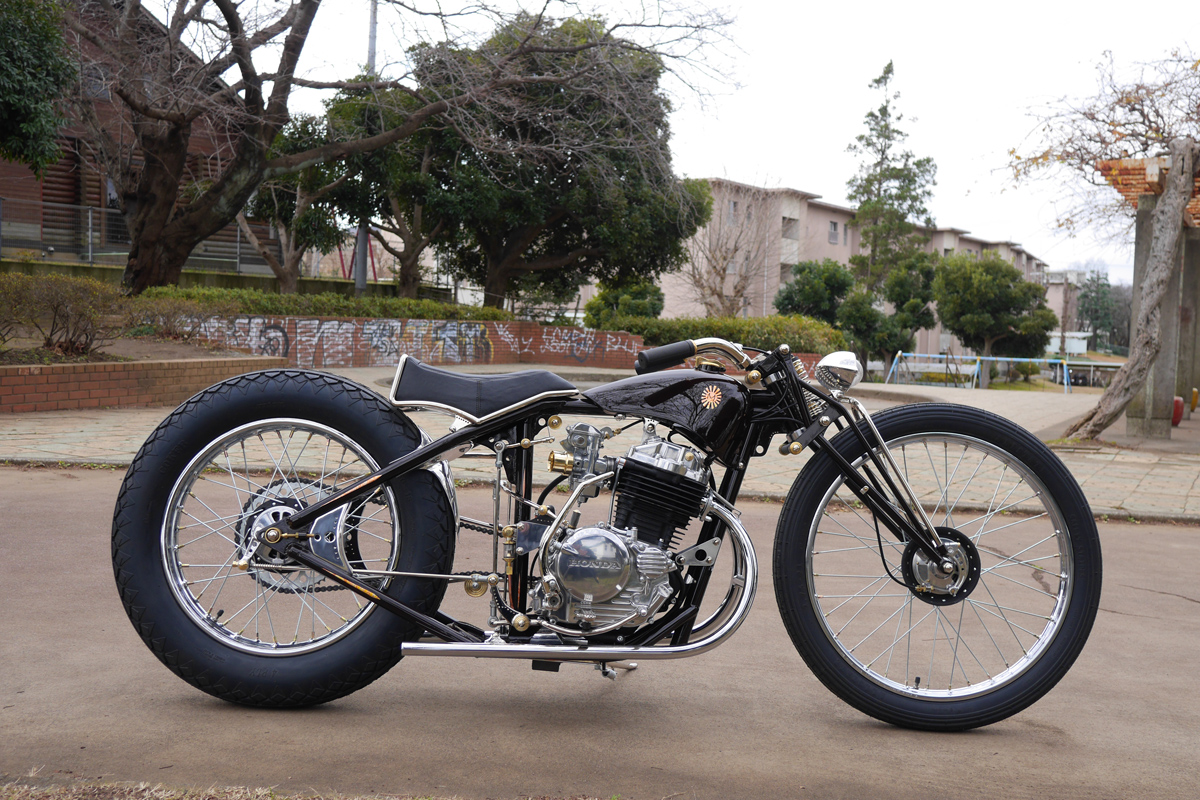 Much like the ASK Motorcycles 2014 Yamaha SR125 'Material Woman', Rad has continued his "very skinny, low and long" theme with the Mother Machine. This time however he's added some embellishments to help it capture the attention of the Mooneyes judges. Now before any one can call foul, this doesn't mean the bike can't be ridden. The Mother Machine is a fully functioning, completely capable motorcycle, just like all the bikes at the Mooneyes show are required to be, it's just been dressed to impress…and impress it clearly did.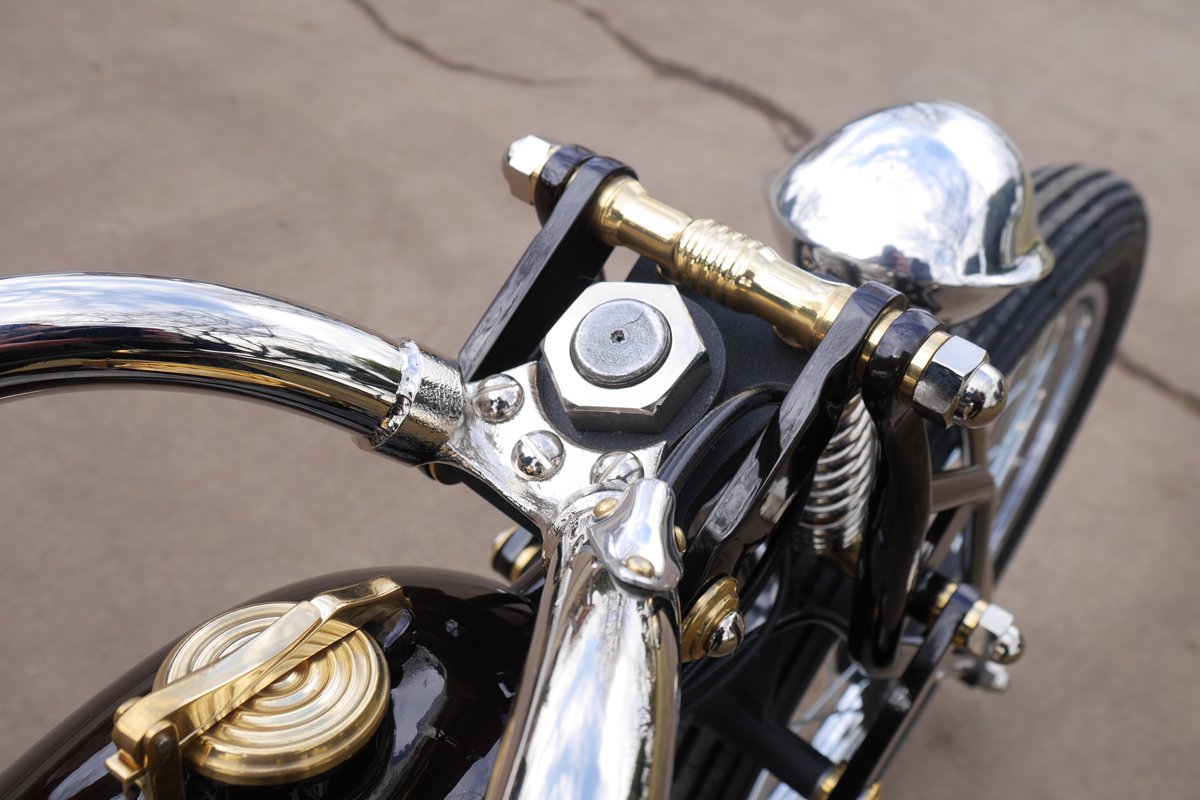 Rad's a master at working metal and has a particular penchant for turning parts on his modest workshop lathe. As a result you'll find beautiful bits of brass adorning many of Mother Machine's components, such as the ripple effect fuel cap, the washers on the bikes girder style front end, the nipples on the spoked wheels and the pulley wheels and guides that manage the bikes control cables. Along with giving his lathe a workout with this build, Rad also utilised his collection of hammers, dollies and sandbags to shape the bikes fuel tank from steel sheet metal. The seat rail, handlebars and exhaust were all also custom made by heating and shaping tube by hand in the ASK workshop.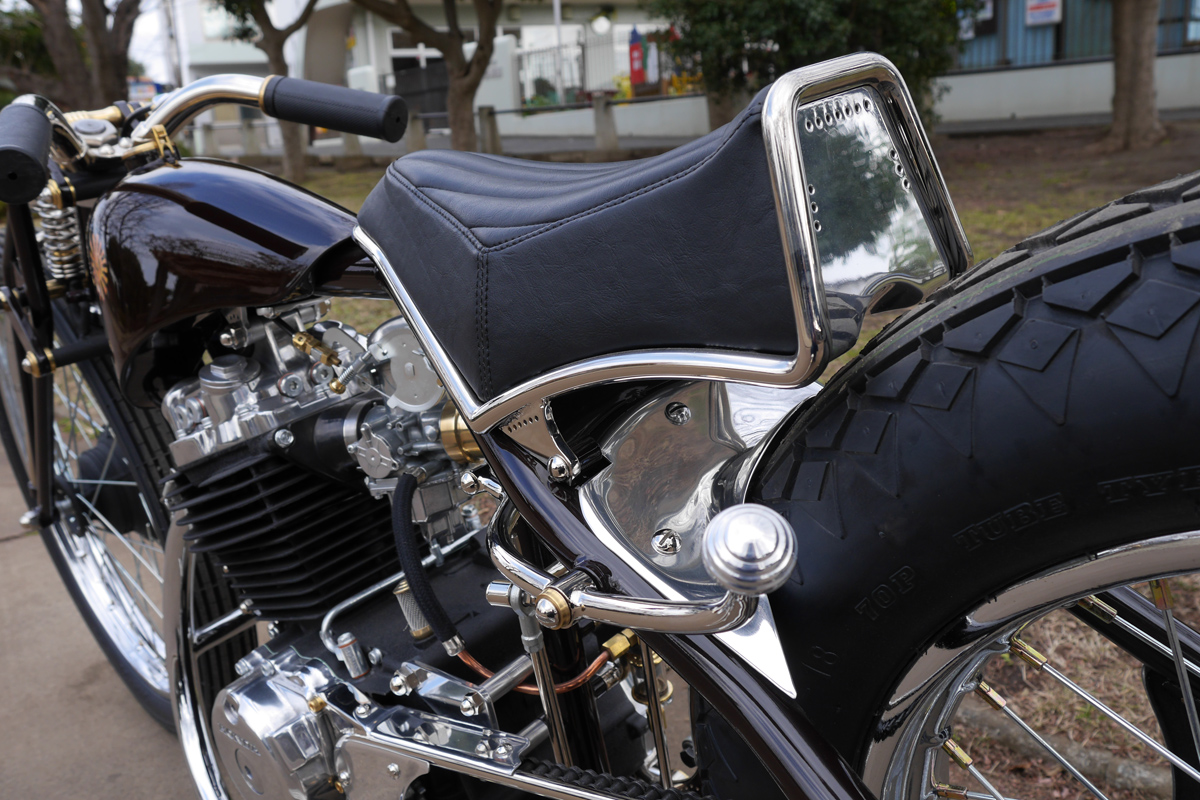 The Honda XLR250R engine was rebuilt at a friends workshop prior to being redressed. Rad beefed up it's appearance by welding larger cooling fins to the cylinder prior to a repaint and the engine cases were polished to a mirror finish. The bikes custom frame is a one off design, built around the engine using a basic, homemade jig.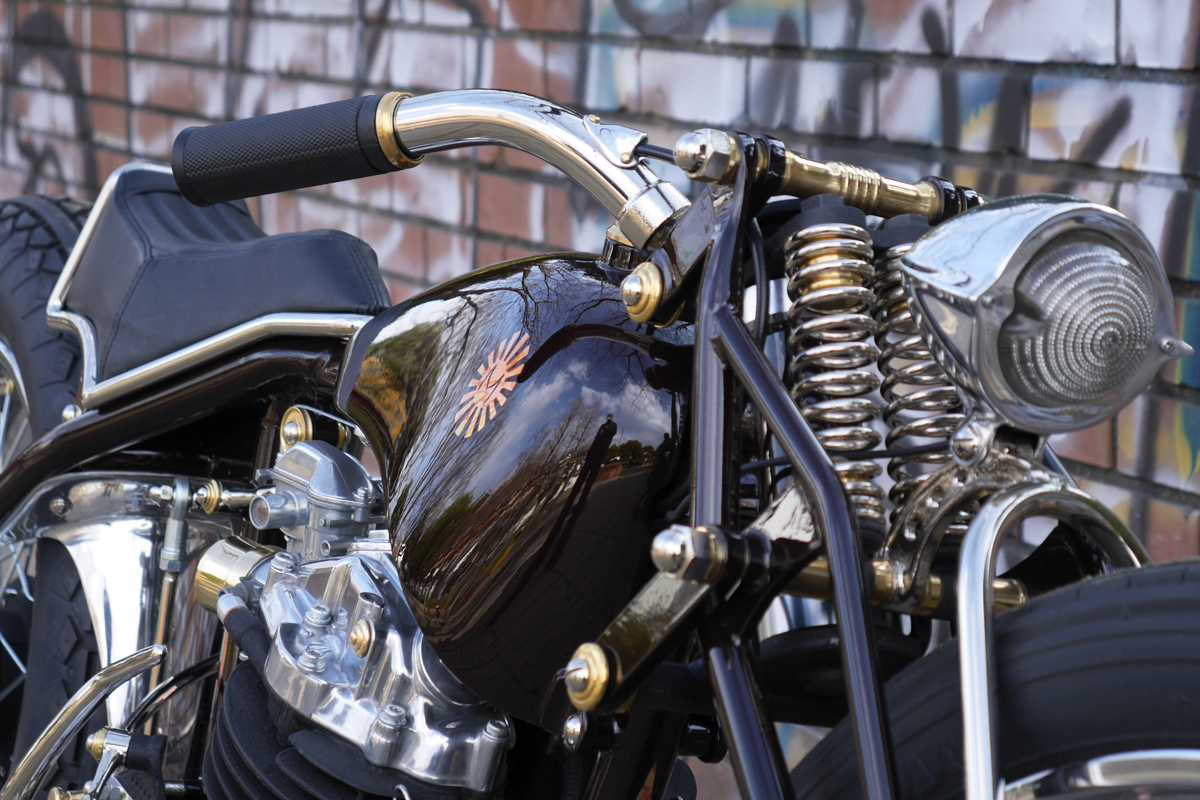 With a set of bars devoid of levers I wouldn't judge you for thinking this bike can't be ridden, but Rad's used some very clever design to ensure that it can be. The Mother Machine uses an internal throttle and the foot brake actuates both the front and rear brake drums. Gears are changed with the jockey shifter situated just behind the seat and the clutch is foot operated. If that doesn't make your mind boggle enough, take a close look at the linkages, ball joints and pivot points that work together to get it all functioning right.
Rad's work at ASK Motorcycles pushes the boundary between practicality and art and while riding a bike like this may not interest some, it's these kinds of custom motorcycles that inspire me to build better. A well deserved outcome for a talented builder and the one to watch at the 2016 Mooneyes show.
During a recent trip to Japan, I spent a day with Rad Yamamoto from Ask Motorcycles. We'd met 2 years before at the Mooneyes show in Yokohama and as a result, I'd featured his 2012 Mooneyes bike in Tank Moto magazine. This time around we met at a motorcycle swap-meet outside Tokyo before jumping on a couple of his bikes and riding out of town to the ASK workshop for a day of messing with bikes and taking in some Japanese sights. Along with that incredible experience I also got a sneak peek at this bike during the early stages of its build. This Honda XLR250R powered "Mother Machine" was Rad's 2015 Mooneyes show entry and it won him the Street Bikers Magazine pick of the show and Mooneyes 'COOL' pick of the show awards.