Tanadit Sarawek's 'House of Custom Design', otherwise known as K-Speed, is Thailand's most prolific custom motorcycle workshop. As part of his business strategy, Tanadit produces aftermarket parts for new motorcycles under his secondary brand Diablo. This means getting his hands on a new bike as soon as, or even before, they hit the market and working fast to design, test, and manufacture parts. This bike, which is based on a 2023 Honda CL300 was built for that express purpose. Taking a mere 1 1/2 months to complete, it's K-Speed's interpretation of a Brat-style motorcycle using Honda's latest twin shock roadster platform.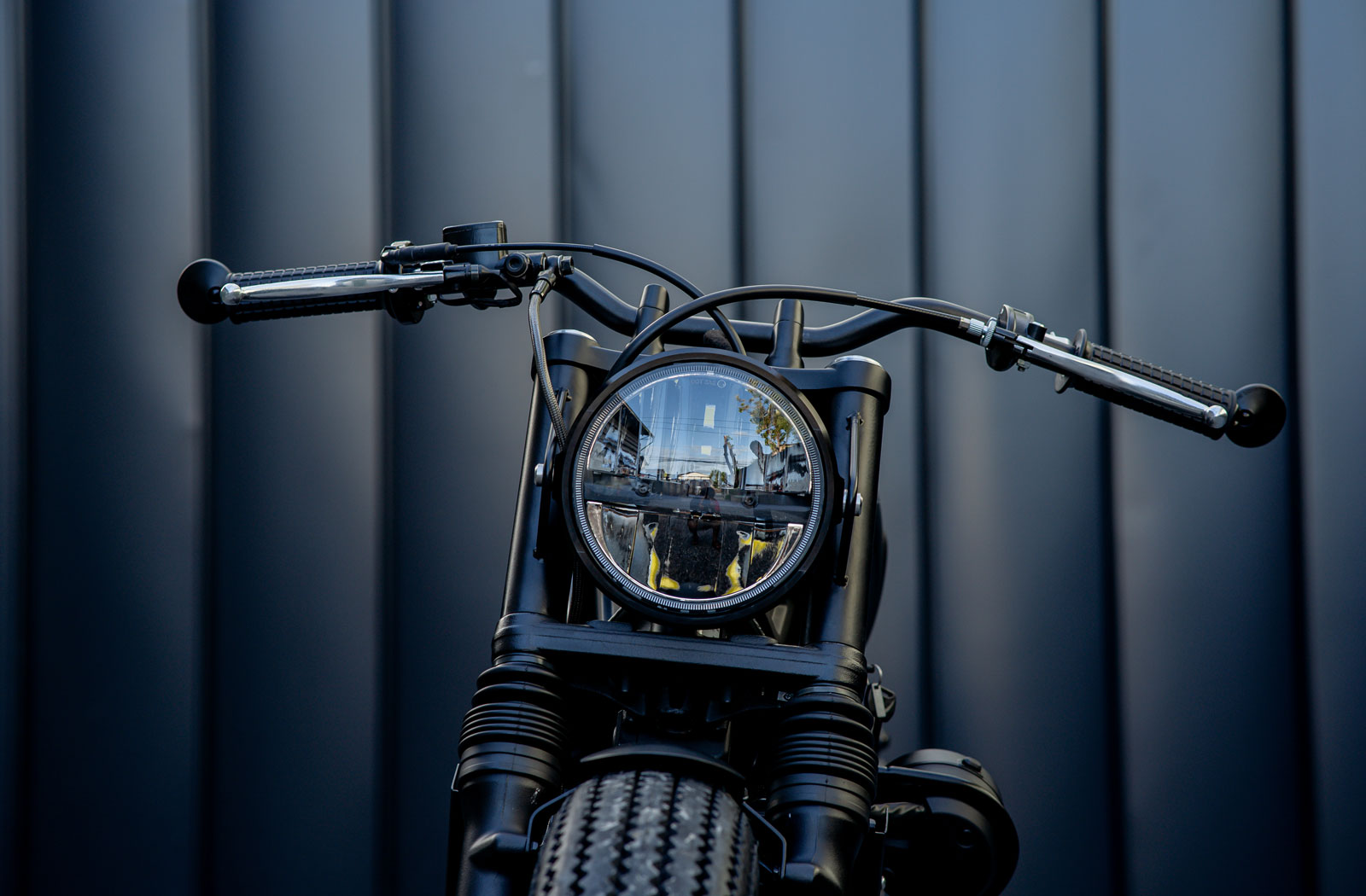 Manufactured in Thailand the CL300 and CL500 were aimed, first and foremost, at the Asian market. Although Honda is stating the CL300 is a retro-styled motorcycle, in reality, that claim is a bit of a stretch. Based very loosely on Honda CL models of the early seventies, the new bikes have very little in common with them aside from a round headlight, rubber gaiters on the fork legs,  and a twin exhaust with a high-mount muffler and chrome heat shield. The term Scrambler has also been thrown around which is only apparent in the tall stance and a headlight surround on certain models. What the Honda CL300 does have however is a breadth of modern features and the steadfast reliability for which Honda has become so well known.
When approaching the CL300 as a potential new platform for customization, K-Speed aimed to ramp up the bike's retro styling. The look they went for was a style popularised by the Japanese builder Go Takamine and his BratStyle workshop. The style, which is for obvious reasons commonly referred to as Brat style, is defined by a level bone line, low stance, wide tires, bobbed fenders, a flat seat, and a dirt-style handlebar. To give the CL its new look, Tanadit took his usual approach, using a mix of bespoke modifications, parts from his K-Speed catalog, and retrofit components taken from other motorcycles.
Retrofit parts on this build, or 'scrap' as K-Speed calls them, were used to revise the look of the front end and cockpit. From the factory, the CL300 comes equipped with a 4-lens LED headlight which is anything but retro. To remedy this K-Speed acquired another LED headlight which rather than a projector-style setup, mimics the look of a classic incandescent unit. In the place of the stock handlebar is a set of low MX bars. To keep them looking clean they've been fitted with new levers, control switches, a simplified throttle assembly, and a basic fluid reservoir.
Next K-Speed looked at which CL300 components they could redesign or build upon with the aim of producing bolt-on aftermarket parts. Starting with the fuel tank they created a cover that helps to break up the tank's staid styling. The radiator has received a purposeful guard that's laser-cut and folded from aluminum. New engine guards and a chain cover came next along with a set of lower rear shocks which helped to establish the CL's revised stance. Tiny LED indicators were also added to replace the larger stock items and positioned inconspicuously so as to not detract from the bike's new look. A Diablo retro tail light and bar end mirrors complete the changes.
While bolt-on solutions are a great option for most people, Tanadit likes his projects to be unique, so many of these parts were installed with the help of some custom work. These include a custom-made bracket for the new headlight and changes made to relocate the ignition from the bars to beneath the front of the fuel tank. Both the front and rear fenders have been trimmed to help tighten the Brat's proportions and a whole new seat formed and upholstered. As is typical of K-Speed builds, this bike has been given a liberal coat of black, blending gloss and matte finishes for a decidedly sinister look.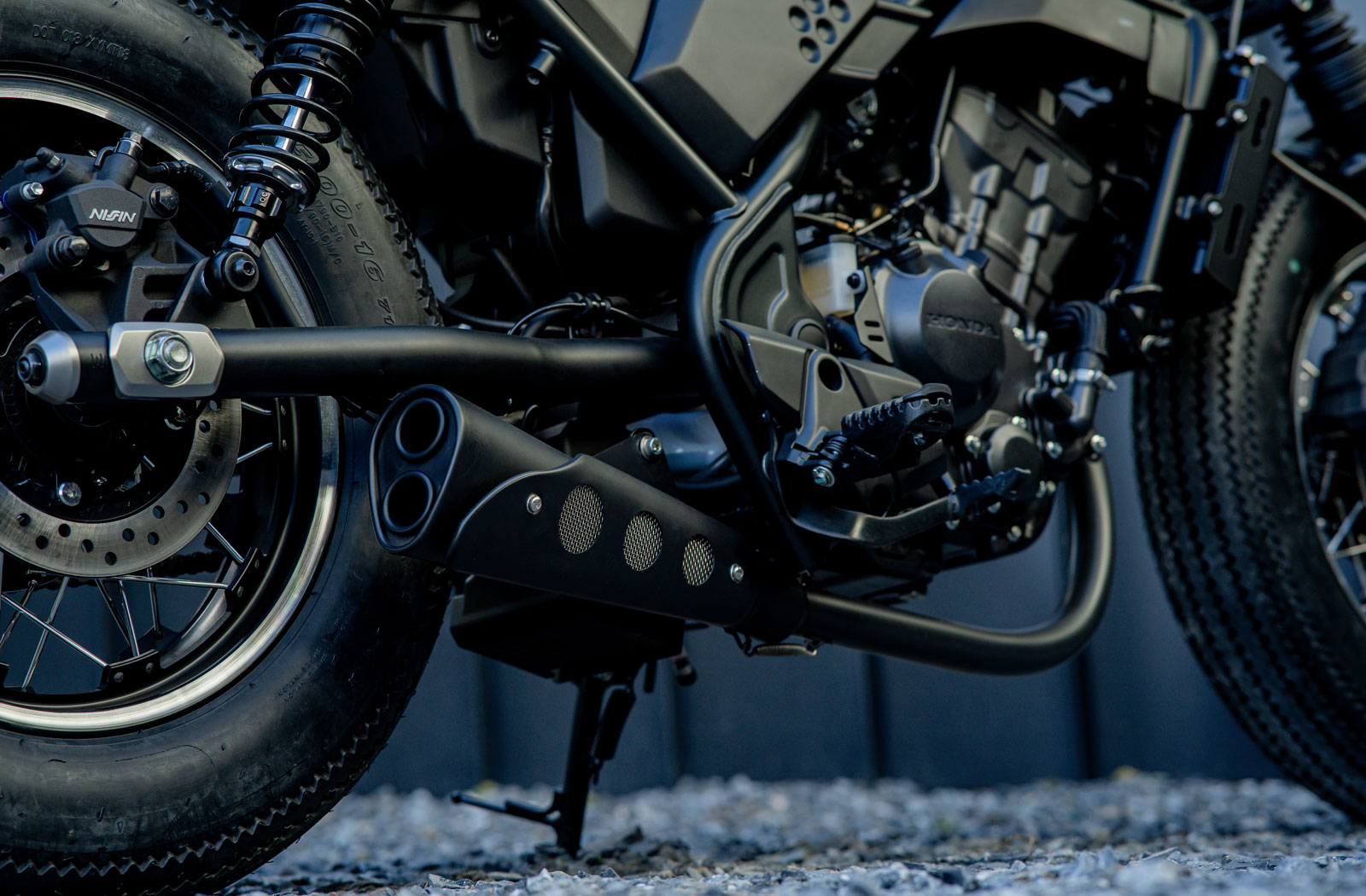 When it came to performance this CL300 is stock aside from a custom exhaust system, but boosting performance was never a goal here. This city cruiser is all about style hence the chunky Firestone rubber and lowered front end. So although it's not about to win any races, this little Honda will definitely be turning heads on the streets of Bangkok.
Tanadit and his team have also developed a range of parts to amp up the CL300's Scrambler vibe, which you can find here on the K-Speed website.