Someone once said, "It's more fun to ride a slow bike fast than a fast bike slow".  Not everyone is going to agree with that statement. But we think small capacity motorcycles, which are generally considered to be slow, can be a real hoot in the right circumstances.
Take for instance on the race track. On shorter tracks, there's nothing quite as fun as pushing a motorcycle to its limit lap after lap. Riding on the rev limiter. Throwing the bike into each bend without even considering the brakes. Searching for the best possible line to shave fractions of a second off your previous best… and all the time hardly exceeding 60mph.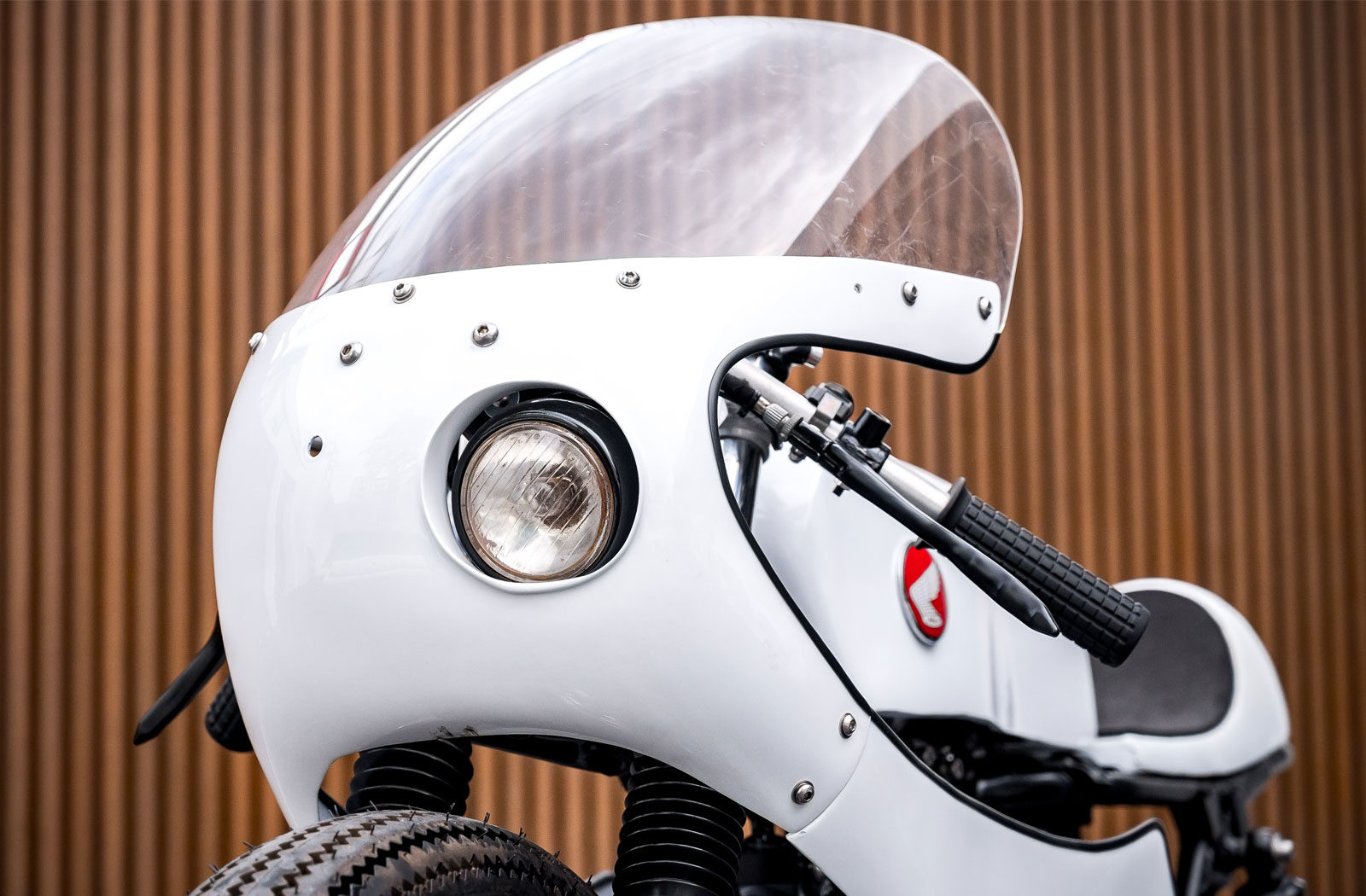 One rider who is sure to agree with our opinion is Tanadit Sarawek, owner of the Thai workshop K-Speed.
Tanadit's latest track-inspired custom build is based on a 1984 Honda CB125 and while its 10.19 hp factory power figure isn't all that impressive, what he's done with the bike certainly is.
Over the course of 50 days, Tanadit and his team transformed the uninspiring CB125S into this awesome stripped-back retro-styled racer.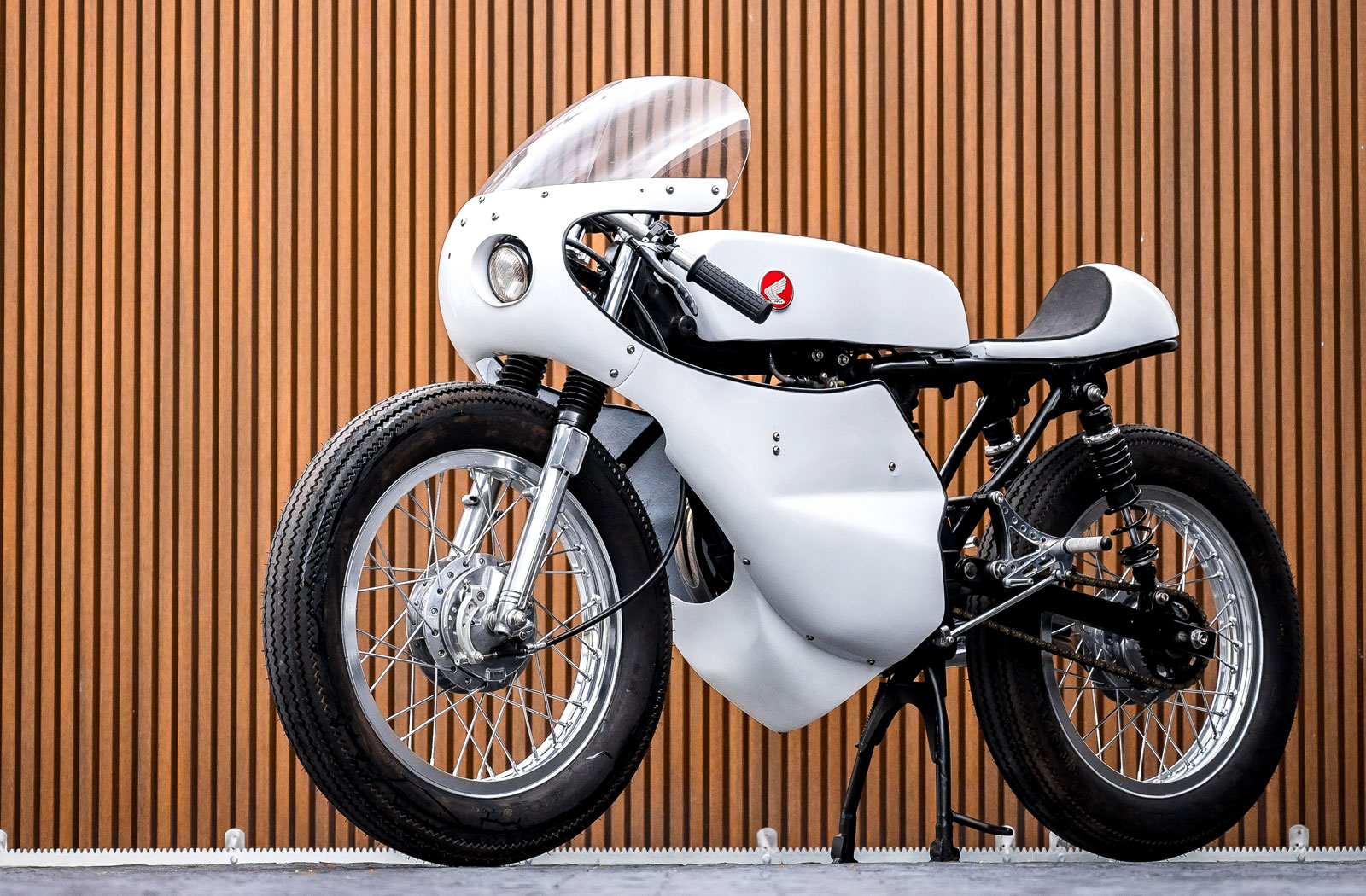 In '84, when Honda released the latest iteration of the CB125S it was marketed as economical yet fun. It was a "full size" motorcycle that was affordable to buy and run and offered the kind of performance ideal for new riders. In its standard guise, the CB125S tipped the scales at a measly 99kg, but with only 10hp on tap that translates to a rather dismal 0.1 hp per kilogram.
Every racer knows reduced weight results in improved performance. So with such little power to work with, K-Speed did everything they could to slim the Honda down.
Starting with the bodywork they dispensed with the steel factory fuel tank, ungainly two-up saddle, plastic tail unit and side covers. Both of the fenders and rearview mirrors ended up in the parts bin too. And seeing as they'd no longer be required, most of the Honda's lighting and the gauge cluster was discarded.
Digging deeper into the chassis of the bike K-Speed extracted the CBs airbox. The standard battery was also ditched and the entire wiring loom simplified to remove any redundant wires and components.
K-Speed then identified which of the remaining parts could be replaced by lighter-weight alternatives. Making the shortlist were the upright steel handlebars, which have been swapped for alloy clip-ons. With no indicators to control, the switch blocks are gone – replaced by a single starter button. Moving south they swapped the rider and passenger footpegs with lightweight aluminium rear sets. During this stage, the heavy kick-starter, centre stand and cast brake pedal were all removed too.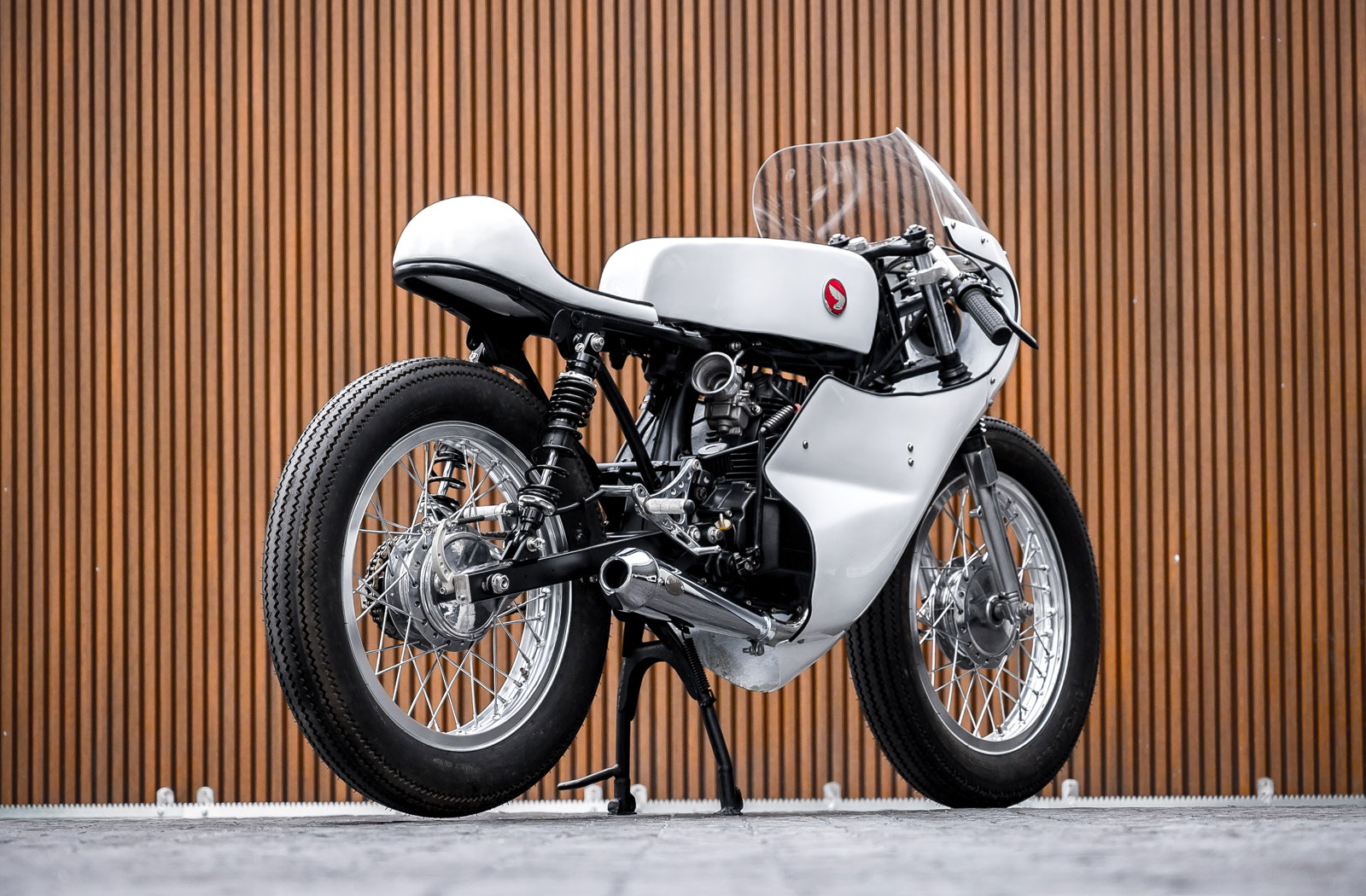 Knowing there wasn't much to be gained from the 124cc single without serious upgrades Tanadit limited the engine mods to the intake and exhaust. Replacing the disproportionately large factory muffler is a short Diablo megaphone muffler from K-Speed's own parts catalogue. The single Keihin carb wears an open velocity stack and has been jetted to suit.
As for the suspension, the front end has been rebuilt and fitted with rubber gaiters to amp up the retro look. In the rear, are modern Diablo shocks that lift up the tail to level things out.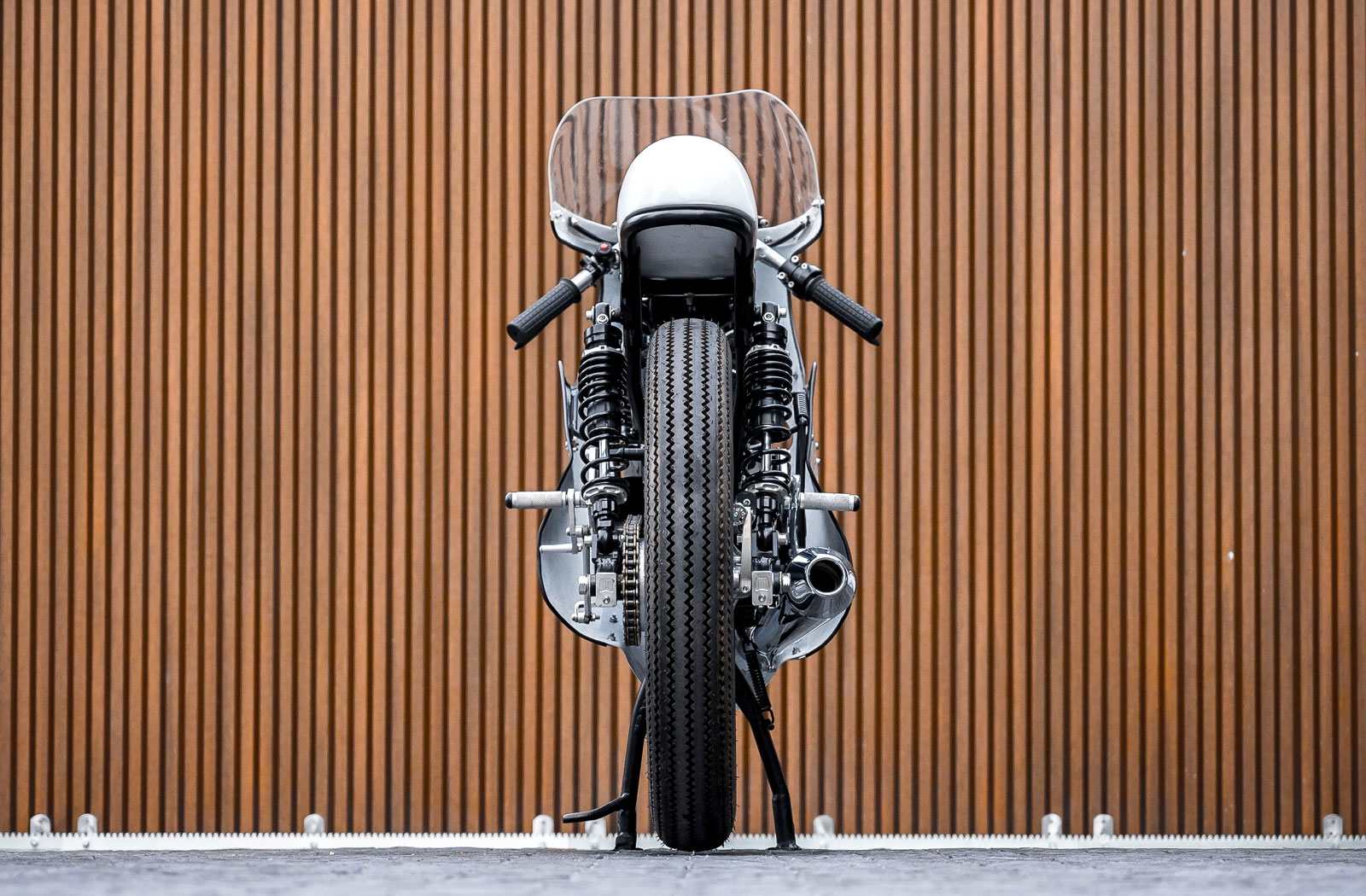 Saving the best for last, Tanadit's CB125S racer wears entirely bespoke bodywork.
Inspired by legendary small capacity Honda race bikes like the RC166 and RC149 K-Speed built all-new bodywork for their CB125S. To keep weight down everything was constructed from fibreglass. The four-piece front fairing envelops most of the Honda's front end and engine. The wasps tail rear cowl houses a lightweight battery and it sits atop a modified rear loop. Lastly, the new, elongated fuel tank with its classic Honda wing emblem, is actually a cover that sits over a smaller hidden fuel cell.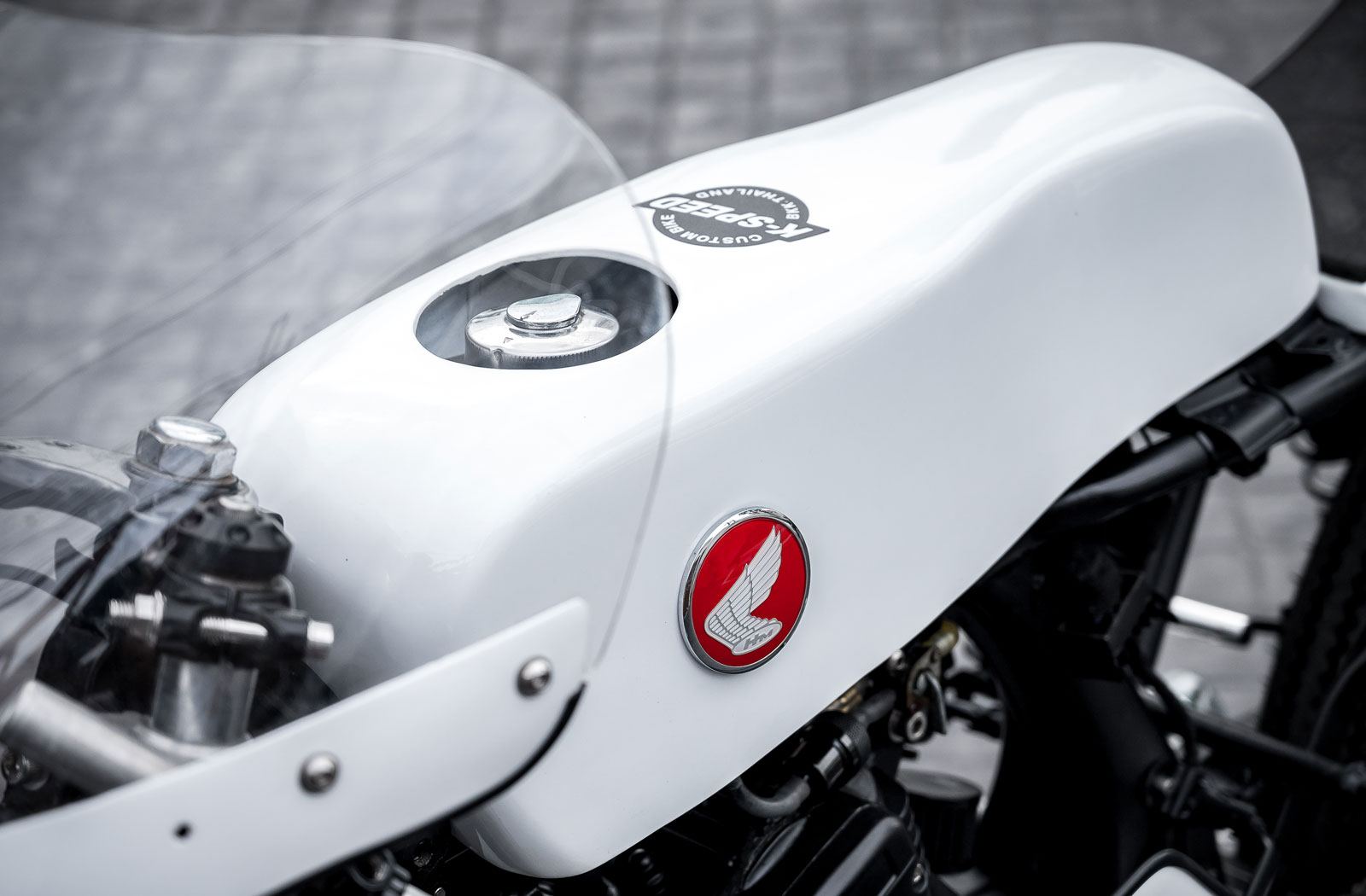 Tanadit's CB125S racer is an awesome homage to Honda's small capacity racers. Although it's unlikely it'll ever set a single lap record, we've no doubt he's going to have a bundle of fun trying.