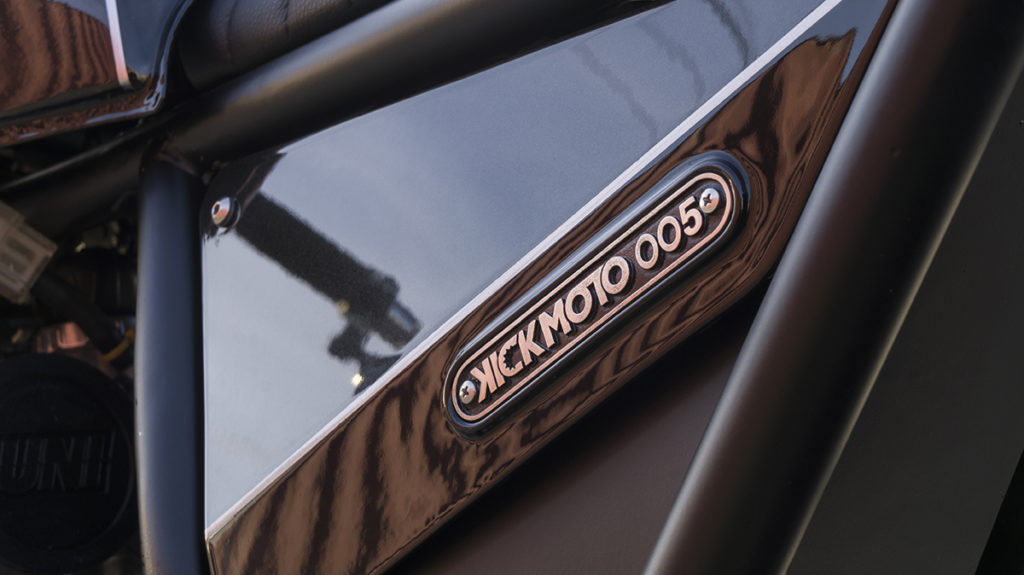 So how did KickMoto get started?
Jeff: We all met through a mutual friend and hit it off because of our common interest in motorcycles. The completion of my first build with the help of the guys triggered what would become the foundation of KickMoto. My boss at the time saw the recently completed bike and inquired about having one of his own. So we built him the 'Logan' Honda CB550 which became KickMoto's first official build. This build gave us the exposure we needed to create the brand and build a customer base. Since then we have completed five official builds and are currently working on the sixth, our biggest project to date.
Today KickMoto is me, Jeff Shaw, and Jordan Braun. Currently, KickMoto is a side job for both of us. During the day I practice architecture and Jordan works as a mechanical engineer. KickMoto lets us unleash our creativity on something tangible, something that we can do with our hands. Although we grind away all day designing on computer software, there is something special and something very rewarding about the process and exchange of information from analog to digital and back to analog. We have started to do this on a few bikes now where we are using 3D printing in metal for some of our parts or components. You will definitely see KickMoto engaging in more computer-aided design and manufacturing, but it will still always come back to the joys of creating something by hand.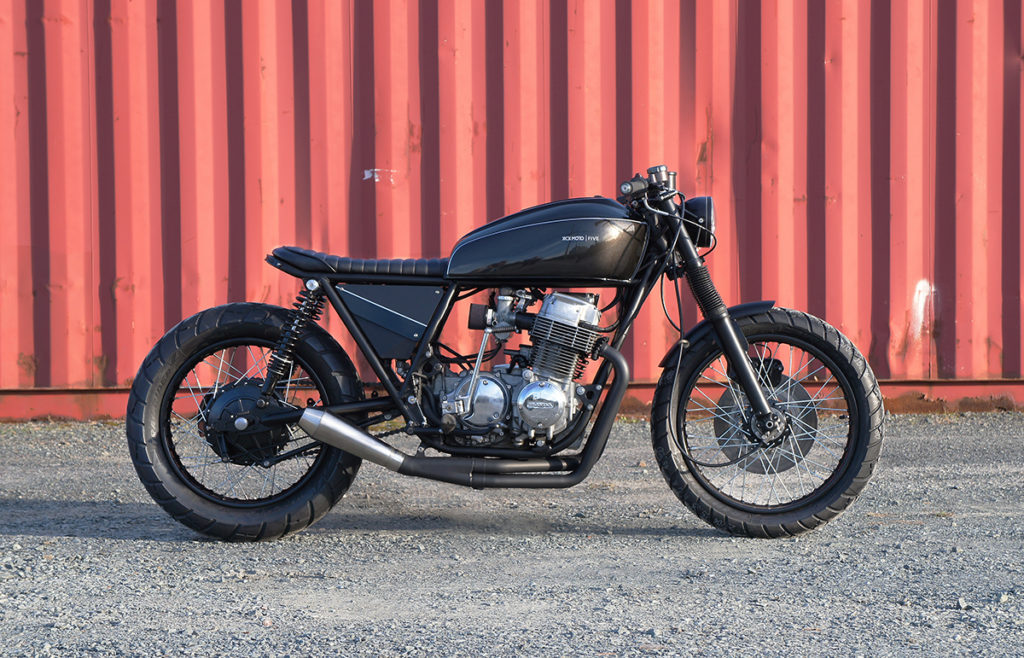 How do most of your builds get started?
This bike was built for a client. He approached us with this bike, and like many of our clients said: "Make it clean, and black". Don't get me wrong, I love the look of this bike in black, but for the sake of my sanity I hope our future clients (possibly reading this right now) do not ask for black! Alongside building client bikes we are also going to be producing one-off custom motorcycles for purchasing. These bikes will allow us to have full creative control and let us head in different directions than we have in the past.
What was your concept for this bike and was there anything that influenced the design?
The customer had a few requests, mainly "Badass and black". Budget is always a factor when it comes to client builds and something we need to consider closely. The concept was to create a brat style bike with a bit of a nod to the flat tracker scene. So I guess it's our Brat-tracker?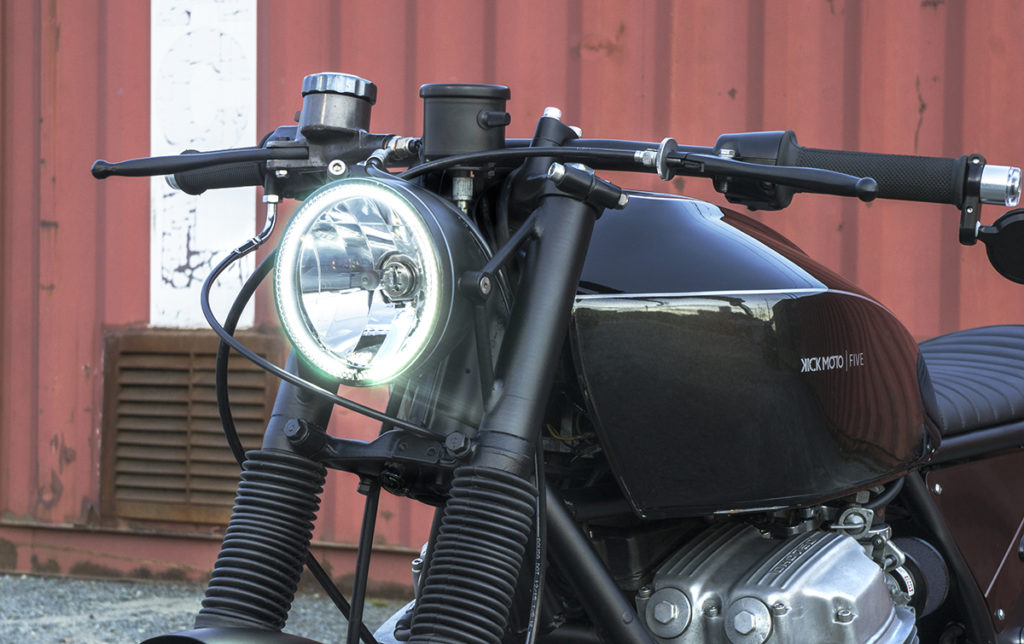 Can you walk us through the work that was done to get the bike to this stage?
Our goal was to tidy and tighten while emphasizing the best looking aspects of the 750. To do this we swapped out the original 750 tank for a more aggressive-looking, angular unit from a later model CB. It's much larger and matches the width of the engine nicely. The bike he brought us also had the Lester style mag wheels on it. Although they're a nice wheel, it wasn't the right look for this bike so they had to go. We scoured local online listings for some laced cb750 or 550 wheels, eventually picking up a mishmash of parts and hubs. The characters you meet during these builds is always a story to tell and it turned out that the gentleman we sourced the wheels from had more parts in his basement than I have ever seen before. After digging through his collection we managed to acquire enough parts to freshly lace up a new set of wheels. The original stamped 750 swingarm is an eyesore, so we ditched it for a CB550 version. This modification also gained us an extra 1.5″ and allowed us to push the wheel out from inside the frame and extend the footprint of the bike. These modifications were the ones that set the stage and the tone for the rest of the custom work.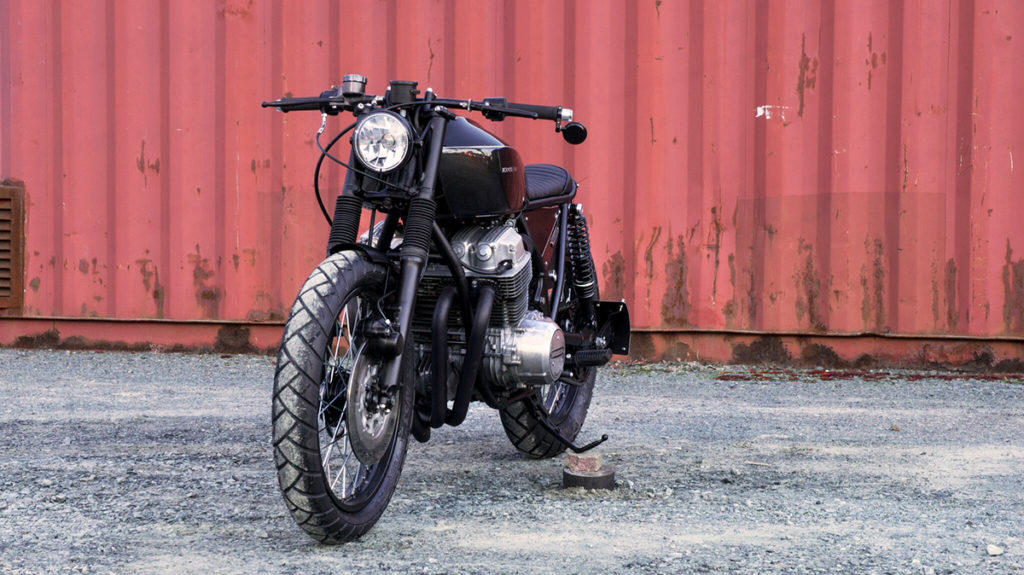 Next, we fabricated a new oil tank and electronics box along with some simple side covers to break up the mass of the oil tank. We replaced all the electronic components with new ones and moved to a small Shorai battery to keep everything light and tight. Up front, we trimmed the front fender, added some fork boots and used a special KickMoto trick to improve the aesthetic of the front end. We like to make fork boots that slide over the tubes to give the illusion of a thicker front end. We rubber mount them and use them to tuck our new headlight in nice a tight to the head tube. We also added a new gauge with indicator lights and powder coated all the original controls while modifying the handlebar to allow for internal wiring.
In the past, we made all our exhausts and mufflers ourselves, but a friend of ours had purchased a nice stainless cone from Lossa Engineering. The thing sounded so good so we didn't want to miss the opportunity to run it. So, we just shortened and modified what was there to give us a nice up-swept look capped off with the Lossa cone. The seat was made from scratch and we came up with a way to integrate a really cool one finger, push-button release mechanism we'd purchased from 'Quick-latch'. They are designed to be used for car hoods and we ended up using one on the gas cap lid too because we liked them so much. Just under the light is where the button is found. With one finger push, the seat comes off to reveal the oil tank cap and gives easy access to the battery terminals for winter storage.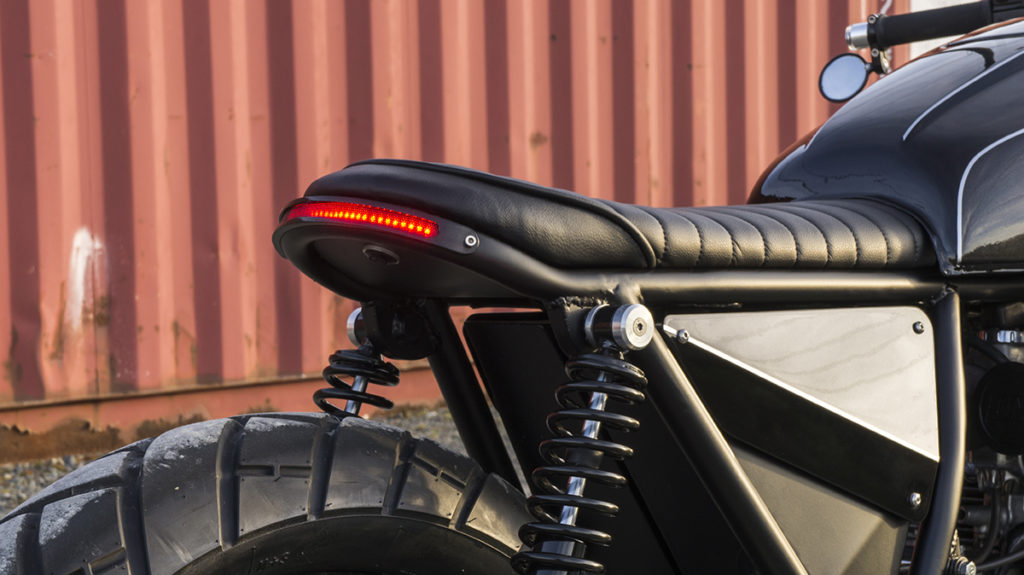 At the rear, we integrated an LED lighting strip with both brake and signals into the frame hoop. It was a nice clean finish but we didn't like the look of the LED strip, so we took a trick from our last bike build and created a custom light bezel to cover it up. This part was created using 3d modeling software before being it printed in metal. We then inserted a perforated mesh screen, typically used for speaker covers.
We tweaked the bikes geometry with the extended swingarm and by modifying the suspension. We also modified the cockpit by adding a drag-style handlebar because the owner liked the idea of a mid riding position. The tires we choose were Avon Trail Riders, this gave the bike a final nod to the flat tracker style we envisioned. Then all that was left was to clean everything, install the new electronic ignition and tune the carbs to suit the pods and exhaust. With our wideband O2 sensor this was a breeze.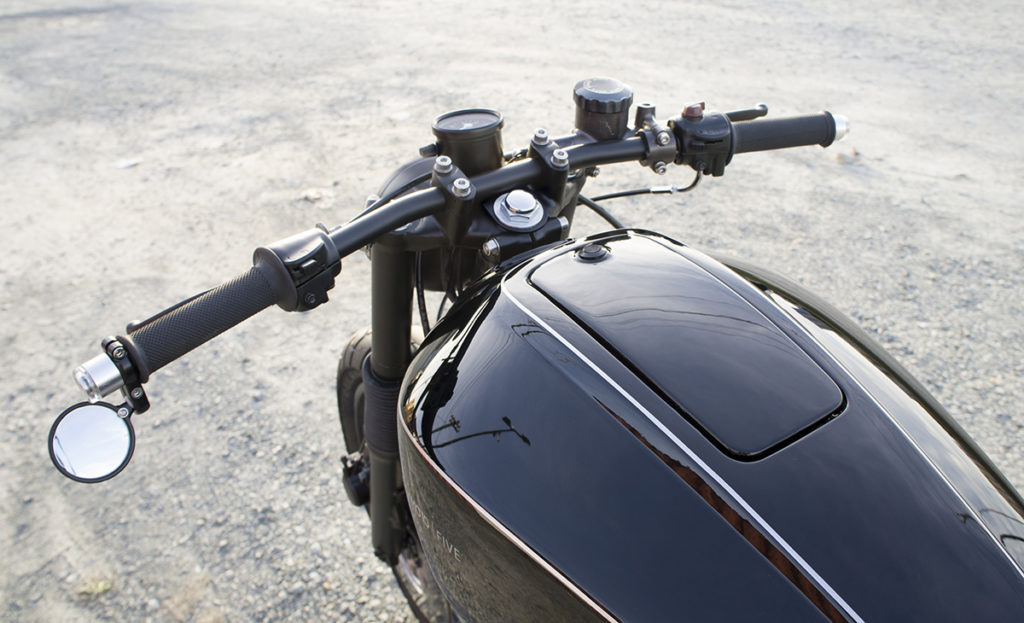 Is there anything about the finished bike that you're particularly proud of?
I think the little details are always the ones that excite us the most. The inlaid KickMoto Serial badge came out really nice. The 3d printed light cover impressed me a lot because it was a complex shape and the tolerances were so small. I would have to say the thing that impressed us both the most though was the oil tank fabrication. It was a lot of welding and after the first attempt it came out perfect without a single leak!
The bike is a mean, clean, adventure machine! Here in Nova Scotia, we are less than 30-40 min from back roads that flow along the rocky coastline. The CB's neutral riding position and semi-aggressive tires suit this journey perfectly.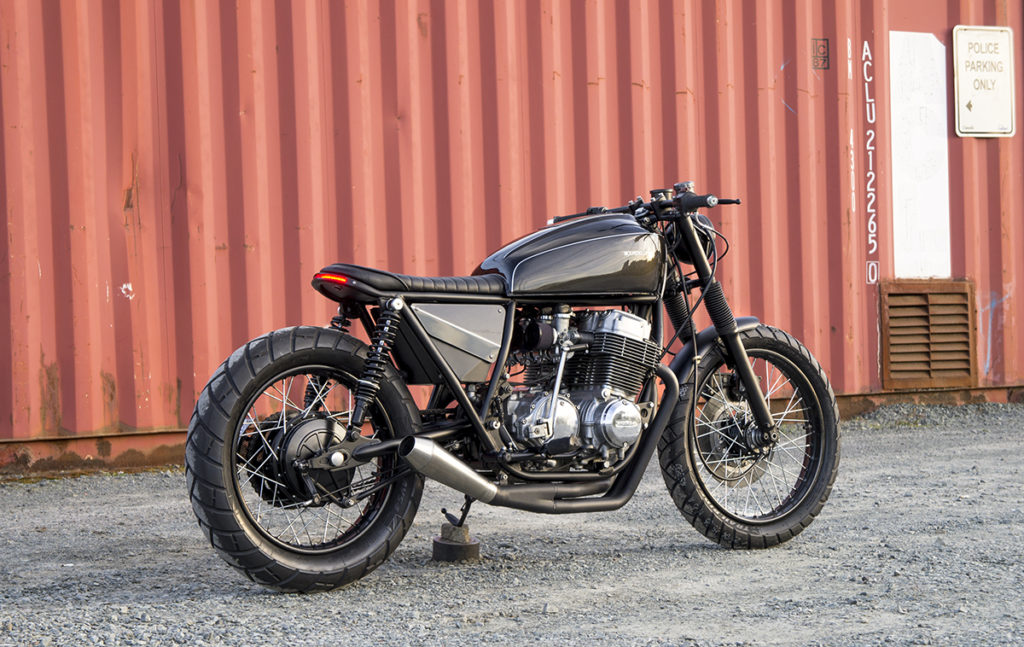 The CB750 builds continue to roll in! We've seen the legendary Honda transformed so many times it's hard to believe anyone is doing anything original with them, but today we've been proven otherwise. Jeff Shaw and Jordan Braun of Canada's KickMoto workshop have just dropped their latest work, a '72 Honda CB750k, into our inbox and it's a lean looking machine. KickMoto is still in its early years of development so we had a chat with team member Jeff Shaw to find out more about the development of their workshop and the KickMoto 005 CB750.