Can you imagine the horror at Moto Guzzi's HQ when Honda unveiled their first CX500 in 1978? A Japanese manufacturer had ventured into the Italians hallowed, longitudinal v-twin territory and they'd done a bloody good job of it. This wasn't the first time a Japanese manufacturer had introduced a similar motorcycle to a European manufacturer and in some cases these more refined, technologically advanced machines had disastrous effects on their sales. Thankfully for Moto Guzzi the CX series had a relatively short lived 7 year run. Despite its success the CX had seen its day and Honda discontinued the series in favour of further developing their inline engined models.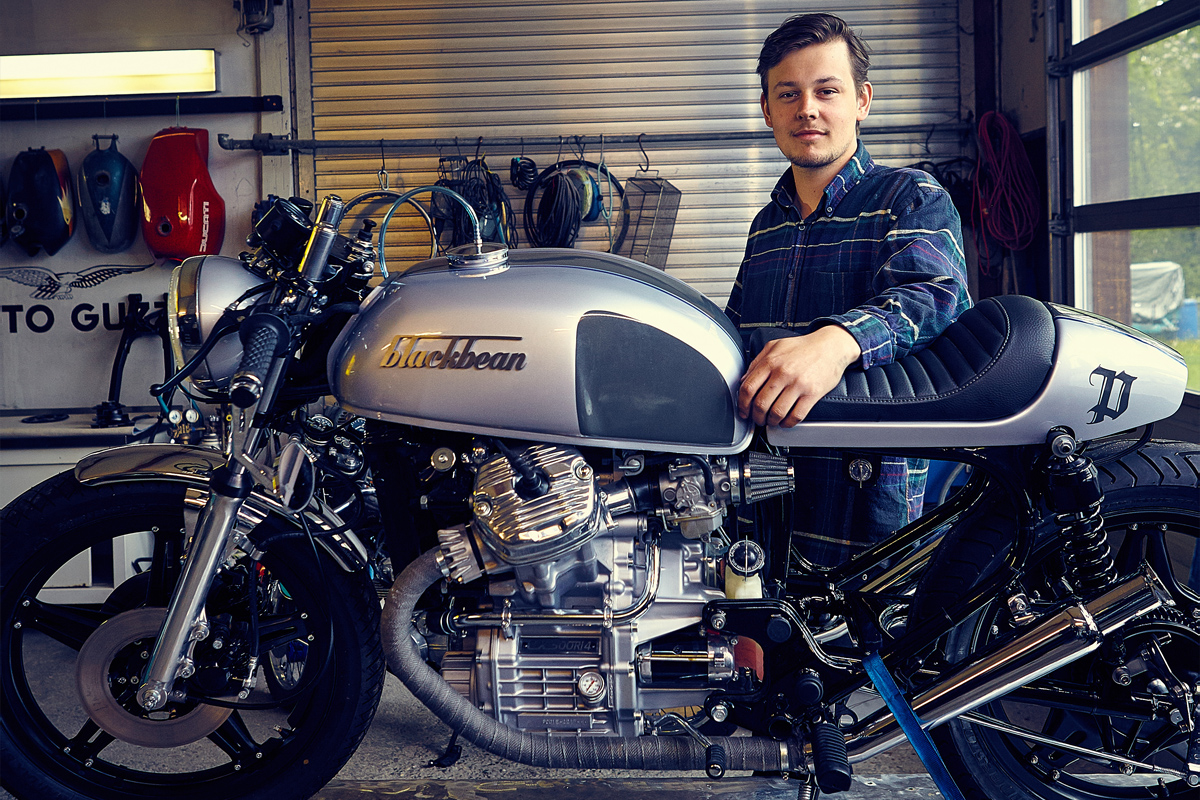 It was the unmistakable connection to Moto Guzzi that drove 22 year old Axel Krembs to build his Italian inspired Honda CX500. After visiting the Guzzi factory and museum by Lake Como in the north of Italy Axel embarked on a journey that saw him move away from his university studies to focus on establishing his custom workshop, Blackbean Motorcycles. Infatuated by the machines built by the Italian manufacturer he decided it would be fitting for his first full custom build to be reminiscent of the Moto Guzzi Le Mans Mk1 his father once owned.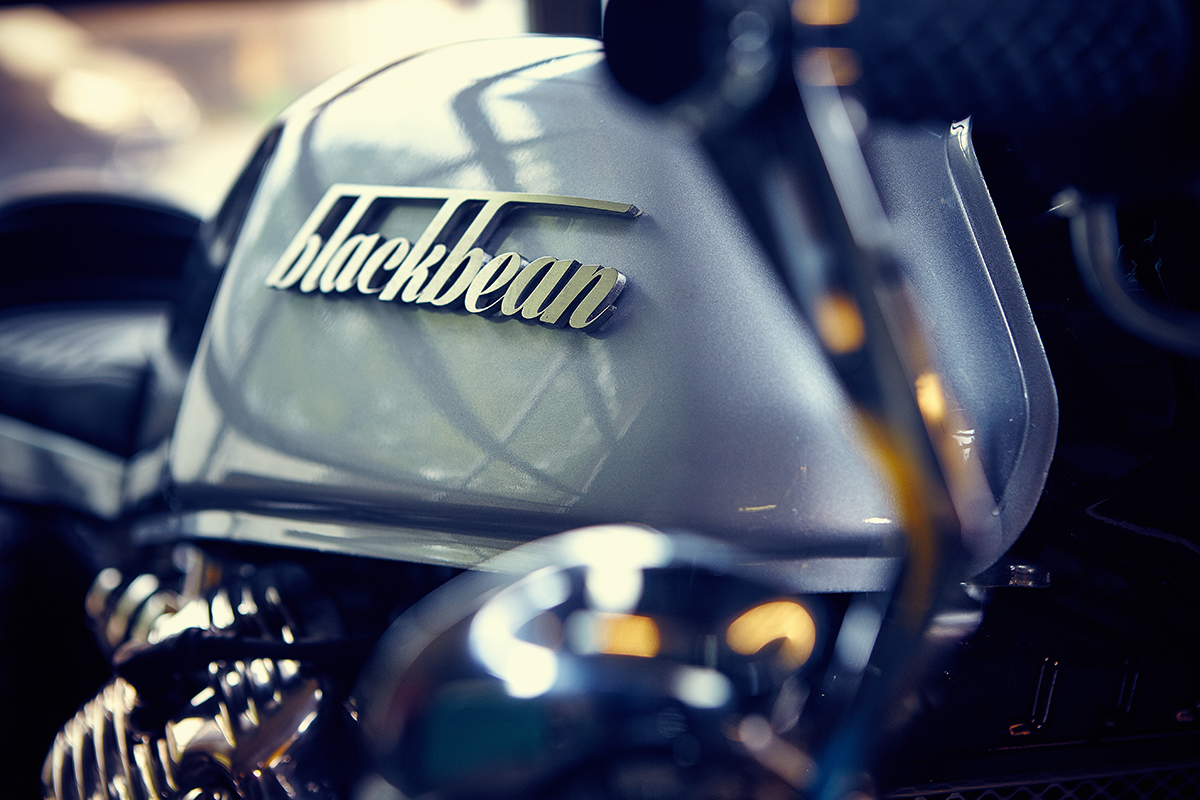 After acquiring an unloved '84 CX500, Axel used his father's Guzzi for inspiration. Not wanting the bike to simply look like a Guzzi clone he then added touches of cafe racer styling to his design to create something unique that he could lay claim to being his own original build. Unfortunately getting to that stage meant that the ratty old CX sitting in his garage was going to need a serious overhaul.
The process began with a complete engine rebuild that involved installing new pistons into freshly honed cylinders, adding a balanced crankshaft, smoothing the case edges for a perfect seal and an extensive exterior clean. Axel adopted the cafe racer ethos of "if it isn't essential, get rid of it" by stripping away the Honda's airbox, plastic bodywork and seriously oversized seat. The carbs were then rejetted to work in harmony with pod filters and the battery relocated out of sight.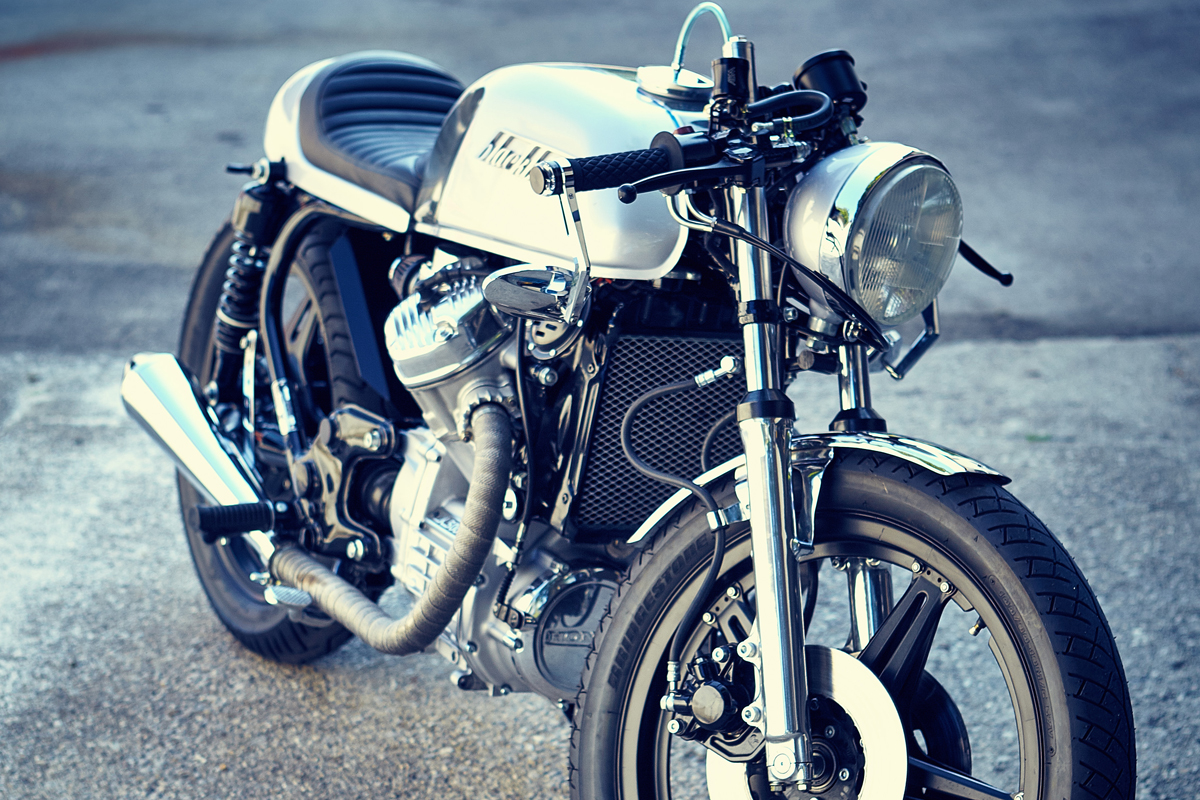 To help minimise the size of essential lighting LED units were mounted in the tail and bar ends. An aftermarket speedometer, clip on bars, bar end mirrors and modern levers declutter the top clamp and a new loom ensures that everything performs as it should, all of the time. To complete the bikes cafe styling a much more suitably sized seat was fabricated and fit to the bike by trimming the rear of the frame. The tank was then lifted a few centimeters higher in the front for a smoother flowing bone line and the triple trees were slid down the forks to finesse its final stance.
To finish his build the bike was resprayed using neutral tones with metallic finishes and embellished with custom Blackbean badges. According to Axel the changes we've listed here barely scratch the surface of how much work actually went into the bike saying that "almost every nut and bolt has been replaced". It may not bare the Moto Guzzi name, but Axel's Blackbean CX500 has just as much sex appeal as a retro Italian machine.