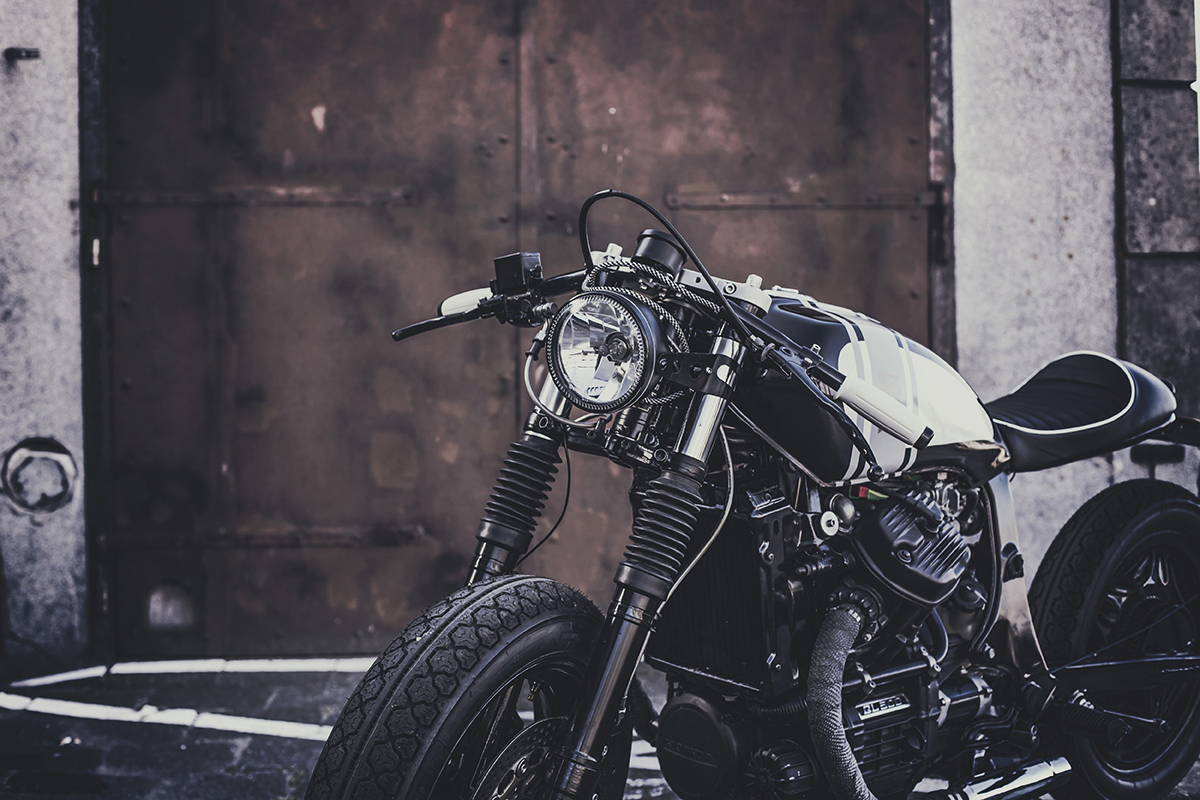 After deciding to open their workshop back in 2015 this was the second custom build that the Wrench Kings undertook and they went all out during the transformation. The bike started out life as one of Honda's mid-sized touring GL500s, which is essentially a CX500 with a revised ignition system, Pro-link monoshock rear suspension and a heap more plastic.
"Absolutely everything has been done to the bike." Wrench King co-founder Bram proclaims. "She turned out even cooler than we expected and handles like an absolute dream."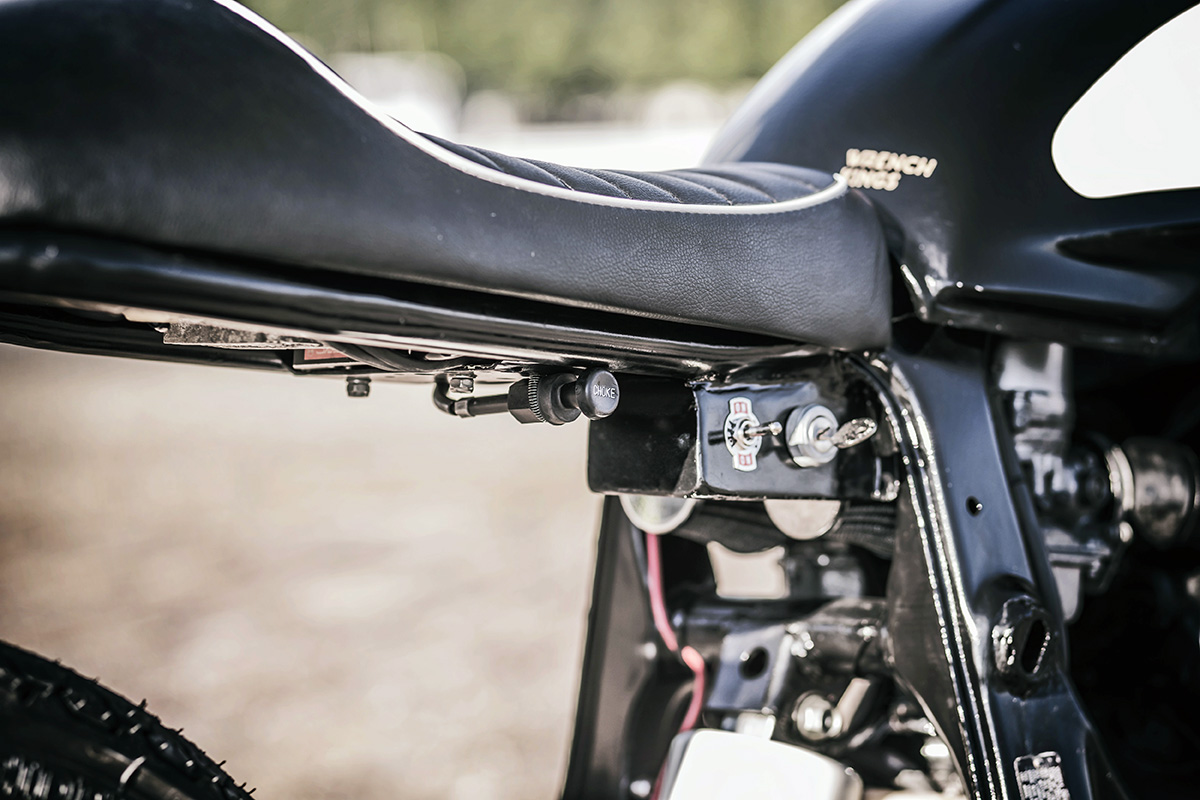 One of the more challenging aspects of customising these bikes is dealing with their hunched frames. Rather than trying to find a workaround for this the Kings resorted to cutting away the entire rear end of the frame. In it's place they fit a revised subframe with a narrow single seat that followed the baseline of the stock fuel tank. Thanks to the bikes pro-link monoshock the new tail appears to float over the rear wheel creating a void of negative space that balances out the visual bulk of longitudinal v-twin.
To improve front end handling a set of modern Honda CB forks were mated to the frame along with the CB front wheel and it's huge disc brakes. Both wheels wear beefy Hidenau K36 vintage styled rubber for ample grip. For modest power gains the carbs were rejetted and now wear cone filters and each shortened exhaust pipe vents through its own low slung muffler. For reliability the entire wiring loom has been remade and a hidden lithium battery effortlessly cranks the engine over.
"Once the major work was done, attention was given to the details." Bram explained. "The gas tank was stripped and repainted in black and white with the Wrench Kings signature striping in vintage grey. And the rest of the bike was fitted out with loads of new goodies!"
To be specific the guys mounted clip-on bars upfront for classic cafe racer styling. A Daytona digital speedo replaces the original mechanical units and a "halo ring" LED headlight sits comfortably beneath the top clamp. A vintage style tail light sits on the rear loop with a custom license plate bracket that doubles as a mudguard. The ignition, kill switch and choke were all relocated to keep the cockpit clean and everything below the tank was resprayed in beautiful black.
"Once the bike was finished it was listed on a classifieds website online" recalls Bram. "Within two hours we received a call from Belgium with the request to 'please remove the bike from thewebsite because it's sold!"
Photography by Bas Duijs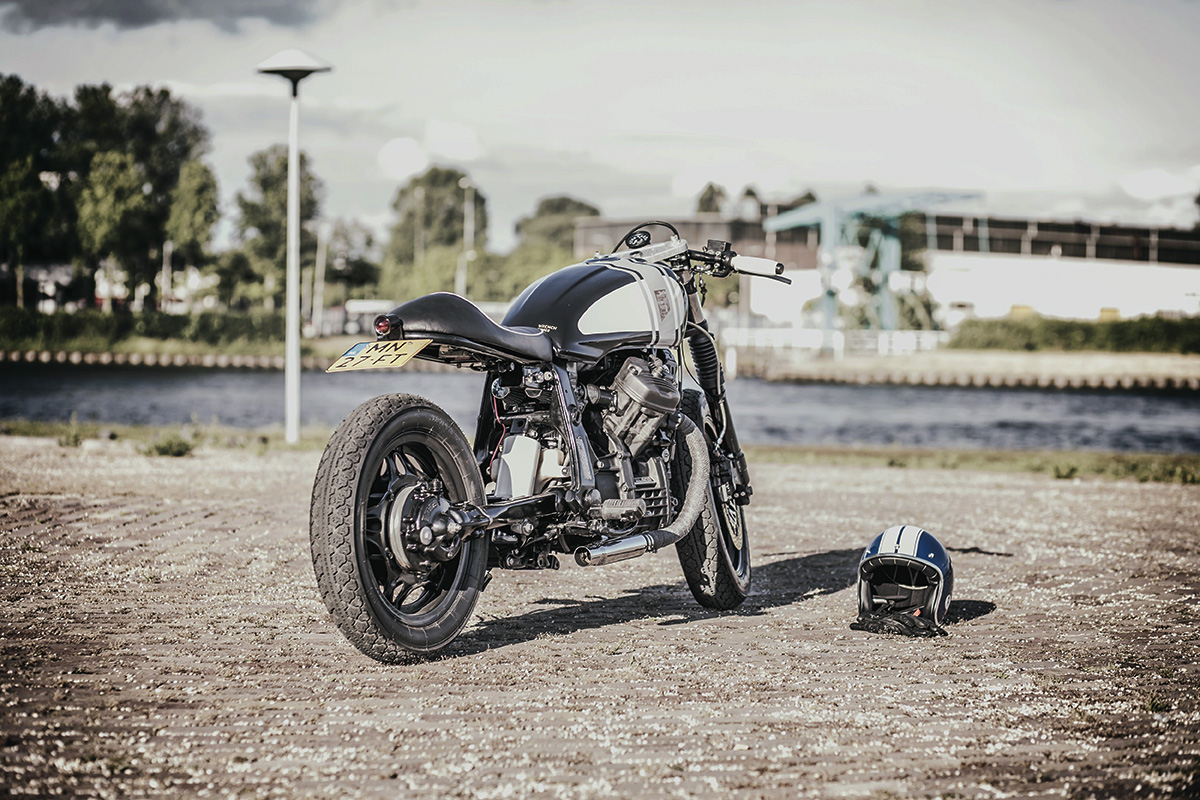 The Honda CX500s just keep coming! A while ago I read a feature on another custom motorcycle blog that mentioned how difficult it must have become to find an unmodified CB750; I think this statement could also now be applied to Honda's CX series of longitudinal v-twins. Personally, I was never a huge fan. In its standard form the plastic maggot looks about as appealing to me as playing Pokemon Go and after being involved in a few CX based custom builds, I learnt first hand how much work needs to go into one to achieve a decent result. My personal CX gripes aside though I have to admit when they are done right, a CX500 Cafe Racer cuts a fine figure and todays build from Netherlands based workshop 'Wrench Kings' the is a perfect example.