The following is an excerpt from Tank Moto Issue 1 "As Close As It Gets" Replica Honda CR750 article –
In 1970 Honda Motorcycles' marketing department had their eyes set on the United States. Although their newly released (1969) CB750 was celebrated as a technological and performance breakthrough, the Honda brand simply didn't have the street cred it needed to generate enough US sales. Honda had already experienced success in European racing in 1969 including a win at the revered Bol d'Or 24 hour in France, but it wasn't enough to make an impact on the Americans. Bob Hansen, the American service manager at the time, told Mr Honda himself that if you want to sell them (CB750s) you'll have to race them. At the time a Motorcycle manufacturer could expect a "Win on Sunday, sell on Monday" result due to the huge popularity of the racing events. This recommendation lead to the construction of 4 unique racing bikes, which were promptly packed and shipped to the USA for entry into the Daytona 200 mile.
Honda had originally planned for all 4 bikes to be ridden by British riders but later assigned one to the 1969 AMA Grand National titleholder, Dick Mann, a decision they would never regret. The British/Irish constituent of the CR750 team included road circuit racer Bill Smith, future lightweight TT winner Tommy Robb and Honda 50cc world champion Ralph Bryans. Honda provided the racers with 4 bikes which each had slight differences in camshaft specifications and varying power figures of between 89 to 96 bhp.
During testing Ralph Bryans bike stepped out on a bank, he jack-knifed, crashed and the bike burst into flames when its tank ruptured. Bill Smith subsequently gave up his bike so the more accomplished rider Bryans could compete. All of the bikes were experiencing mechanical problems and it was discovered that the magnesium crankcases were expanding under high temperatures which could have lead to serious engine failure. To tackle this problem, 3 stock CB750 engines were sourced from local dealers and promptly modified using parts from the original CR750 motors. During this time Brian Hensen's team spotted a weakness in the bike's cam chain tensioner and replaced it with one from a CB450, a modification that the British teams chose not to do. The remaining 3 CR750s then lined up on the 200 grid amongst new triples from Triumph and BSA, and the first XR750 Harley-Davidsons.
When the starting flag dropped Mann shot ahead from his fourth place on the grid and had a 50m lead by the first turn. Early in the race the two other CRs experienced mechanical failures and dropped out but Mann maintained his lead. After 100 laps of the Dayton course Dick Mann crossed the finish line with up and coming champion Gene Romero hot on his heels, winning his first Daytona 200 after 15 attempts and giving Honda the boost in sales they were after. Ironically Dick's bike broke down only seconds after crossing the line but this made no difference to the final result. This single win could be regarded as the one event that lead to Honda Motorcycles becoming the company it is today.
Due to demand for CR750 racers Honda released a short run of 'kit bike' CR750s which they supplied to a select group of dealers. The kits could be used to convert a stock CB750K into a race ready bike using around 200 specially designed parts that were direct replacements for the factory components. Today very few of the original kit bikes remain so building an accurate replica can be a real challenge.
This CR750 replica was built by Brian Browne, owner of TT Motorcycles in Mornington, located about an hour south of Melbourne. Brian's CR750 replica has been a painstaking 18 months in the making. The decision to build the bike as accurate to original factory spec has meant acquiring parts that, as Brian puts it "are as rare as hens teeth". Thankfully though Brian has 30 years of working for Honda behind him and he's a walking data bank of CR750 facts.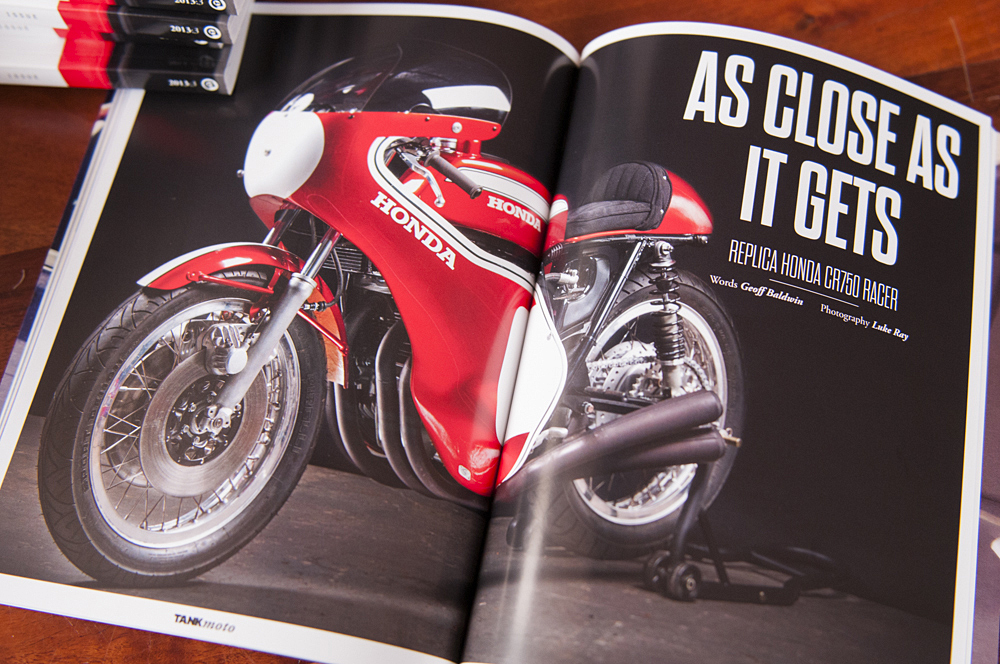 When I was working with Fuel Magazine to pull together the first issue of Tank Moto one of the most exciting moments we had was when we discovered our cover bike. It was at a chance meeting with Brian and Gavin from TT Motorcycles at this year's Broadford Bonanza when we first saw their Honda CR750 replica. Even though the Honda hadn't been finished yet, the boy's description of the work that had gone in to it and the fact that it was simply stunning had us toying with the idea of it appearing on the cover as we were walking away from their tent. A couple of days later I confirmed a date for the shoot and we knew we had something special. There's much more to this bike than the story of it's build though so in issue 1 we took a look back at the history of the CR750's and what made them so special…