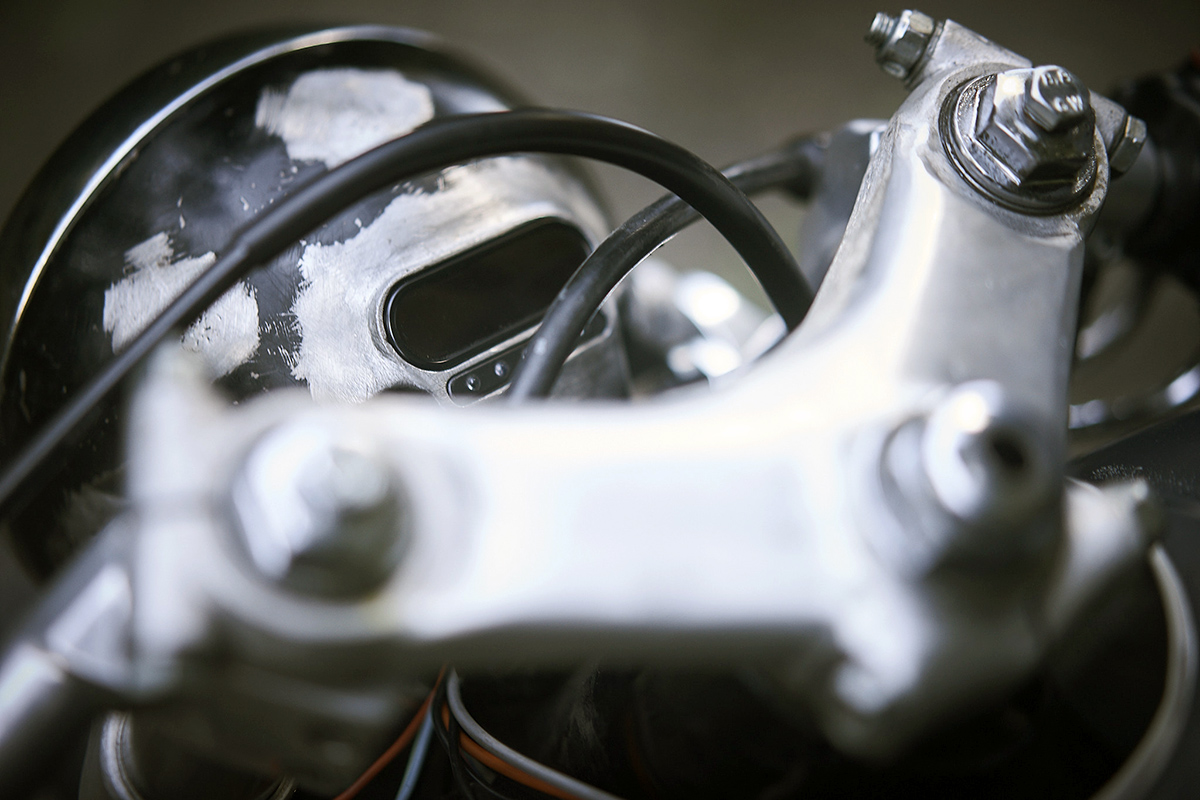 The Honda was built by Andy Megerle, a German car enthusiast who's had his heart set on building this Honda for quite some time. "My relationship with this bike began almost 20 years ago when I was a little boy," Andy recalls. "One day around 1999 my Uncle started dismantling it to build a Honda RC161 inspired custom, however, around that time he also bought his first Ducati and lost interest in the project".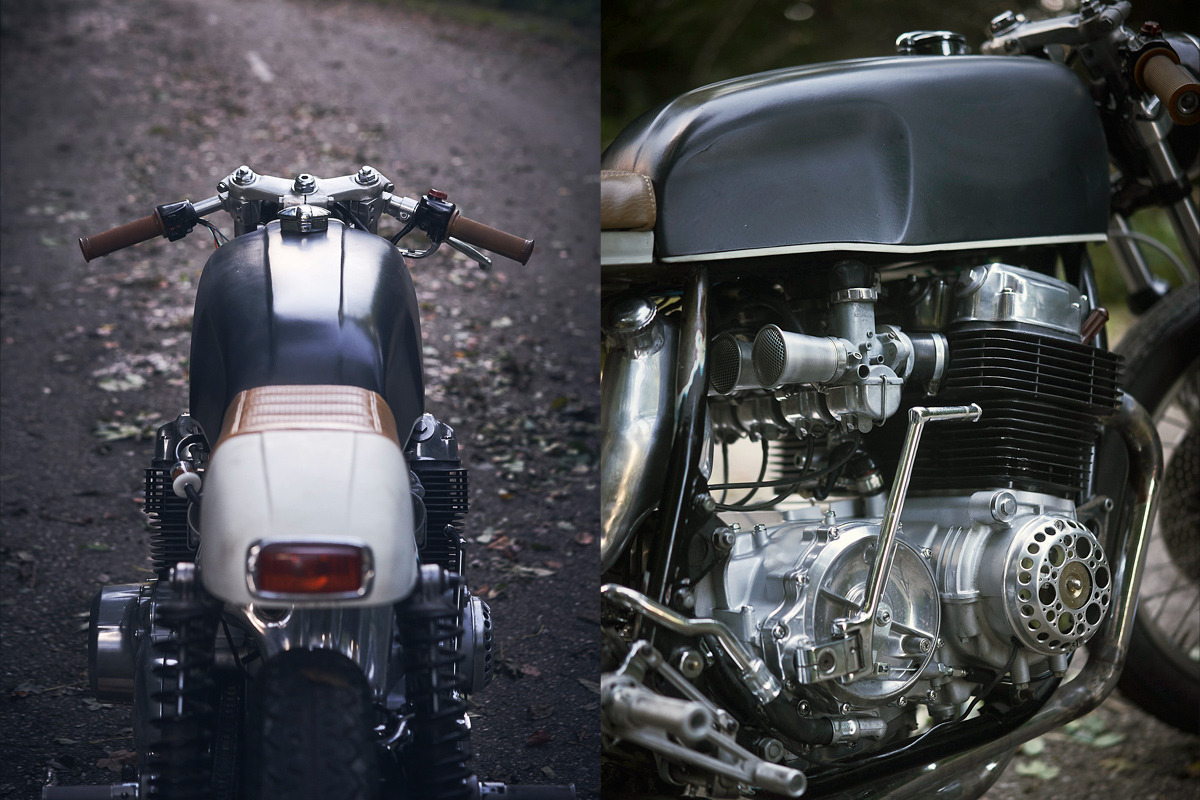 Years passed and the memory of the Honda still lingered in Andy thoughts but it wasn't until during a visit to his uncles home, some 13 years later, that he discovered the bike still sitting there in pieces. Eager to see it back on the road again his uncle agreed to hand the '72 CB750 K2 over to Andy so he could finish the job.
"My Plan was to build a café racer as clean and simple as I could. But I wanted to create a bike that once you dug deeper revealed the passion and craftsmanship that went into creating it. I decided to build everything I could by hand and to make each part look as though it had been made in the Honda factory."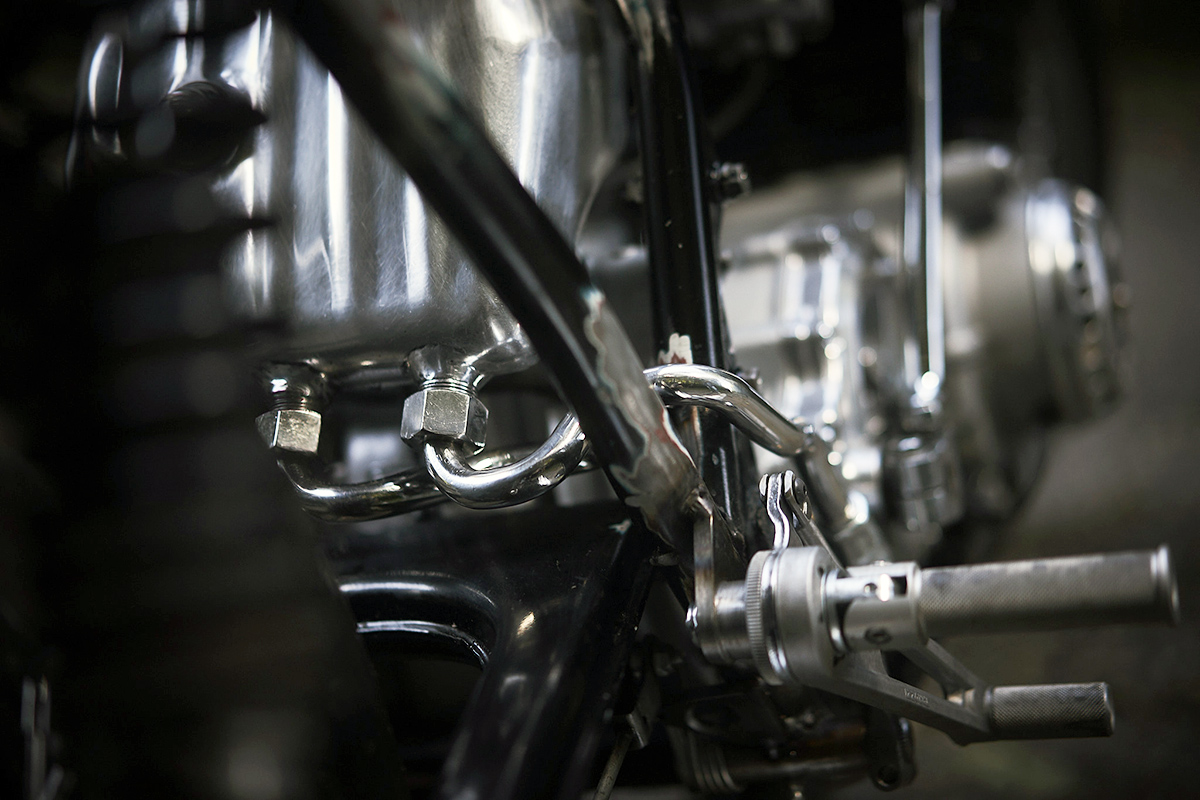 Since the engine had been sitting for so long a full overhaul was in order and Andy didn't hold back. The inline fours capacity was increased to 888cc using a big bore kit and camshaft. Fresh seals, gaskets, and bearings were installed throughout and a set of custom 4-into-1 Vance and Hines headers were hung from the exhaust outlets. With the airbox already gone Andy wanted to completely open up the frame but to do this he had to create a new oil tank that could sit between the frame rails. With no previous welding experience and rudimentary shaping skills, he started with flat sheets of aluminum. After countless hours of hammering and plenty of trial and error, he had a one of a kind oil tank. The following two weeks were then spent welding stainless steel bends together and smoothing them off to create the custom oil lines that flow around the frame.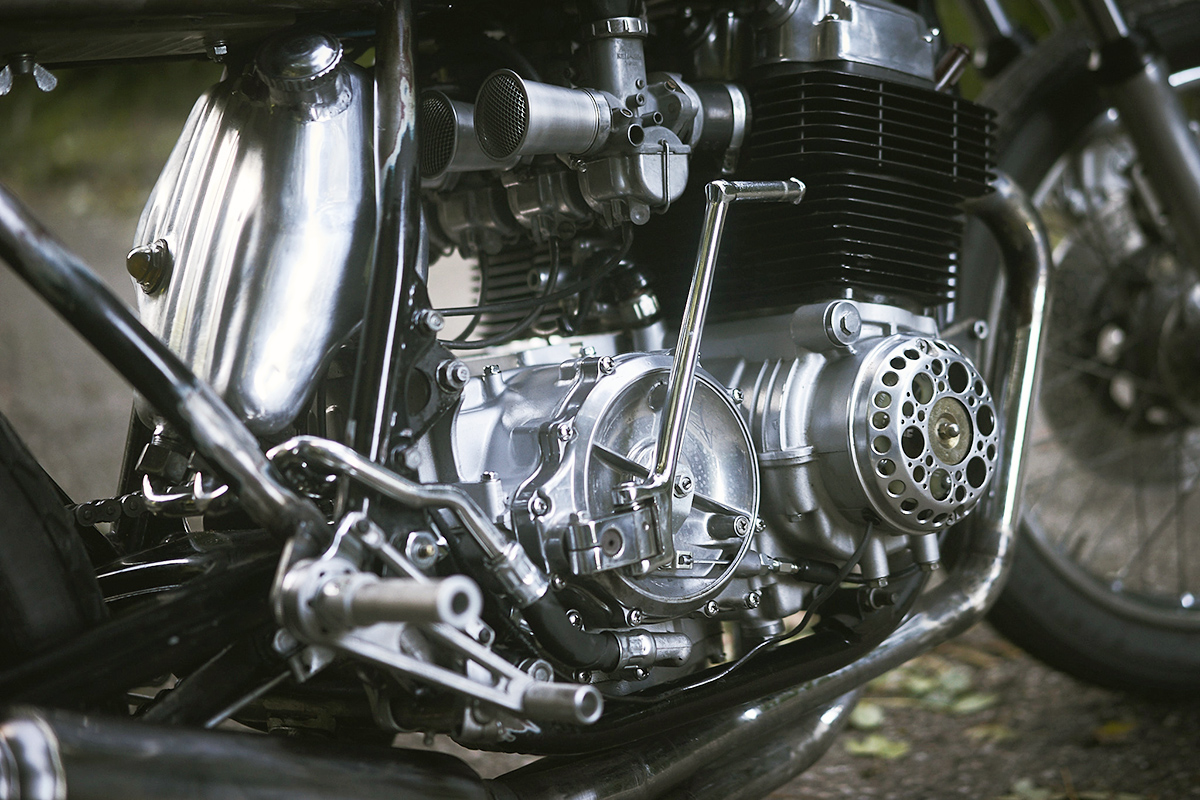 As a hat tip to his Uncles days with the bike, Andy has retained the clip on bars, open throttle bodies and drilled ignition cover he installed back in the seventies. The tail end though is another new custom addition that Andy fashioned from sheet steel. The fuel tank is a modified Honda F2 item that Andy fit with knee dents and a Monza filler cap. MotoGadget provided the indicators which have been mounted using custom alloy brackets and the tiny speedometer that's been Frenched into the CB250 headlight that sits up front. To continue the family connection Andy's also installed a tail light that originally lived on a Mercedes truck driven by his grandfather in the sixties.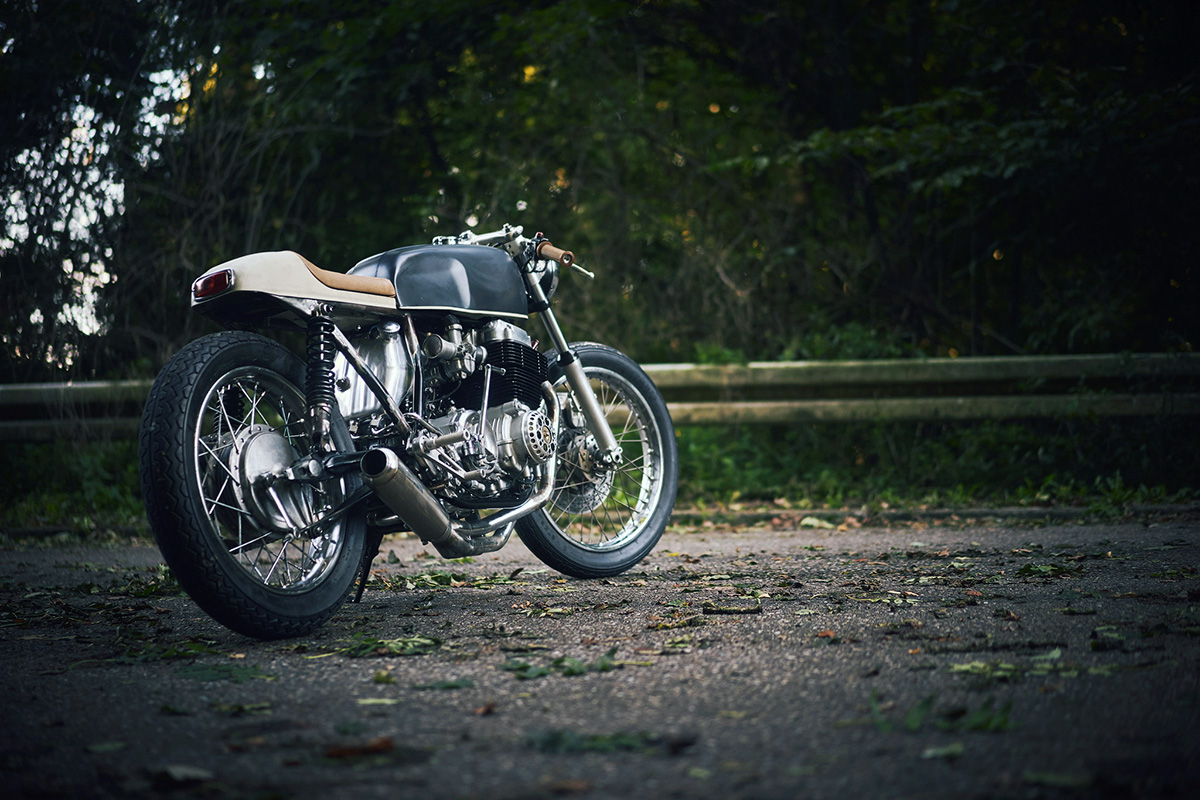 For handling improvements, the suspension has been completely rebuilt. The disc brake is powered by a BMW R50/6 pump that's hidden beneath the fuel tank and to complete the racer riding position a set of Tarozzi rear sets were installed.
Those with a keen eye are sure to notice the paint that's missing from the CBs frame. That's because Andy hasn't quite finished this build. Although he's already invested around 1500 hours into the Honda it still requires one last tear down so everything can be painted, polished and plated.
It's not often people send us photos of their "almost complete" projects, but it's just that kind of flippant behaviour that piqued our interest in Andy's Honda. Aside from the fact that his bike still needs to be properly painted, he's has put together a commendable CB750 café racer that's got some great family history to add its appeal.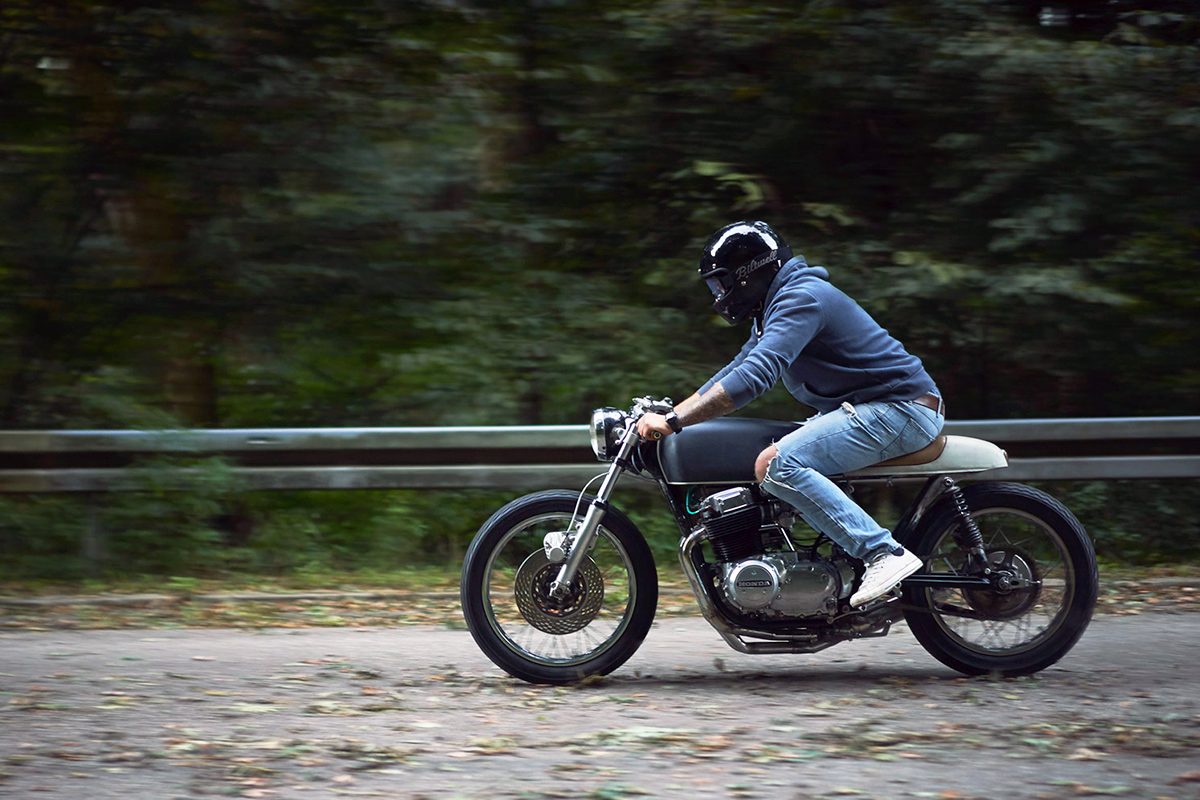 With the end of 2017 right around the corner what better way to wrap up the year than with a build that epitomizes what this site is all about, getting your hands dirty and giving it a go. Back in 2006, I launched this website to document my own cafe racer build and now, over a decade later, we've featured well over a thousand custom builds from cafe racer enthusiasts the world over.
This particular build is based on a motorcycle we all know too well. An early model Honda CB750. When preceded by so many similar builds it can be difficult to stand out, but sometimes its the story behind a custom motorcycle that really makes it special.