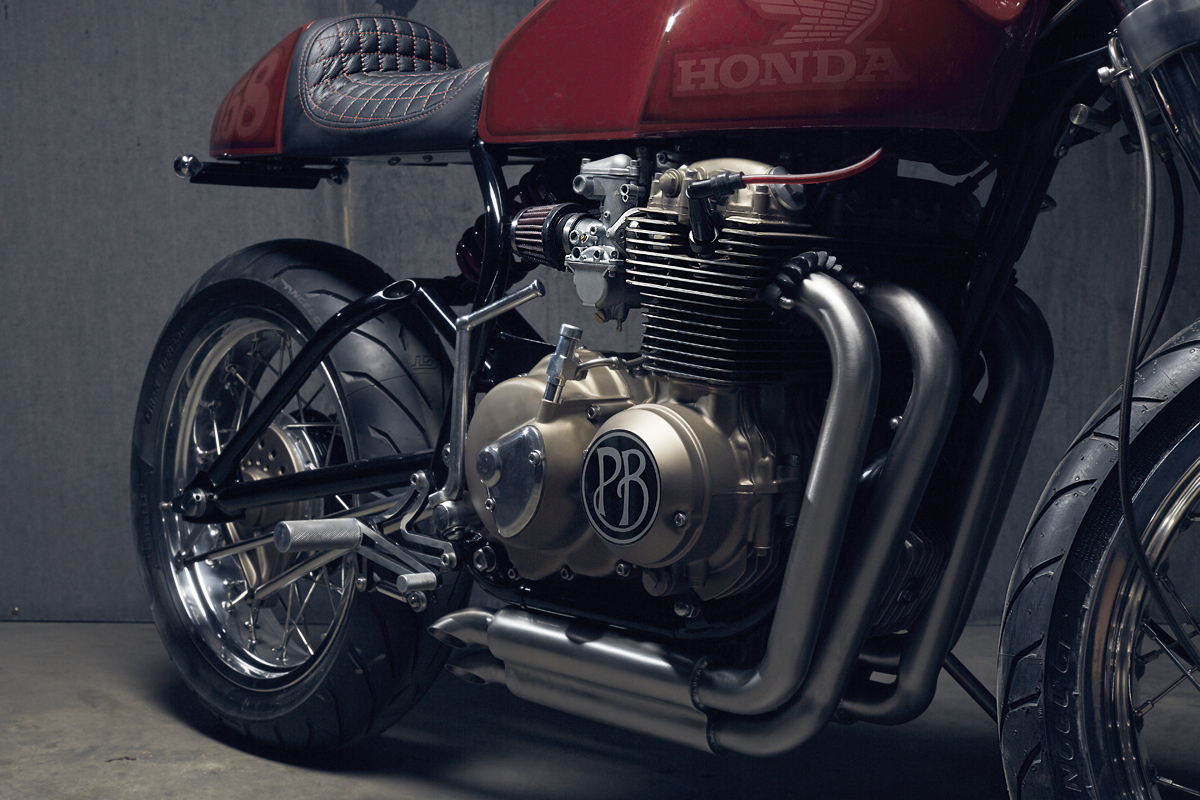 Obviously Honda's little 400 four isn't the biggest bike around. So the plan was to make it larger while retaining its original proportions. The rear of the frame was cut off at the back bone and swing arm mounts and a raised floating seat section with mono shock mount was fabbed up to replace it. The swing arm was extended 50mm, bracing for the mono shock was welded in and the shock from a late model Triumph holds it all together. I then found a really nice Ducati Monster front end that had the perfect dimensions for this project. The neck of the frame had to be dropped about 20mm lower so the Ducati top clamp could sit closer to the bikes tank.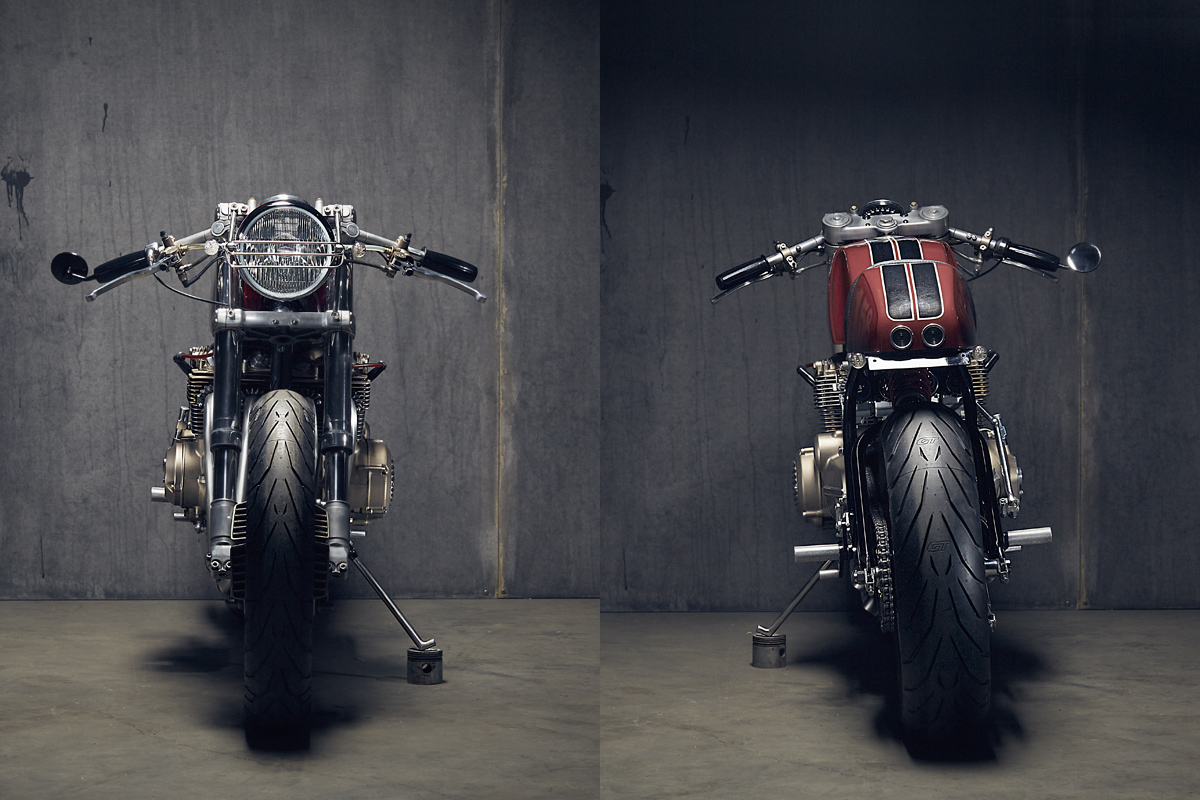 The bikes tank and tail are modified versions of a fibreglass Cafe Racer kit I make for the CB400f with a 3″ longer tank. On this one I added knee wells, scallops to accommodate the Ducati triple trees, a flush mounted pop up cap and I separated the seat from the tail section. Carbon fibre strips were also added down the back bone of the tank and tail for additional strength and aesthetics. Once it was all mocked up with a set of clip-on handlebars the bike was looking much more aggressive.
Nate came in to try it out for size. I have to admit, I was a little scared it was still going to be too small, especially when he stood next to it. But once he sat in the saddle it fit him like a glove. I then had to think about moving this bulk of a man along at a reasonable pace.
The motor was fully rebuilt with a Yoshimura style big bore kit, Dyna ignition, freshly rebuilt carbs wearing K&N filters and lots of new internal parts. I made the custom exhaust out of stainless steel including the mufflers. Each side is made out of 22 pieces welded together. They give the bike a mean super bike sound, but it doesn't pierce your ear drums. You could say it sounds a lot bigger than what it is.
To keep it sticking to the road a 17″ x 5″ rim was polished up and laced to the original rear hub. The front wheel however, was a little more complex, and soon became my favourite part of the bike. It's a CBX550 twin ventilated inboard disc brake hub. It took me forever to find it. It had to come out of England and it was a mess. I completely rebuilt it and smoothed the outer plates of any unwanted excess. As these hubs were originally mounted to an ugly ComStar style rim I had to CAD design the two rings that bolt onto the hub to adapt it to spokes. I had it water jet cut, machined the taper and countersunk all the holes. It was then laced to an Excell 18″ x 3.5″ rim with stainless spokes. Both rims were wrapped in Pirelli Angel GT rubber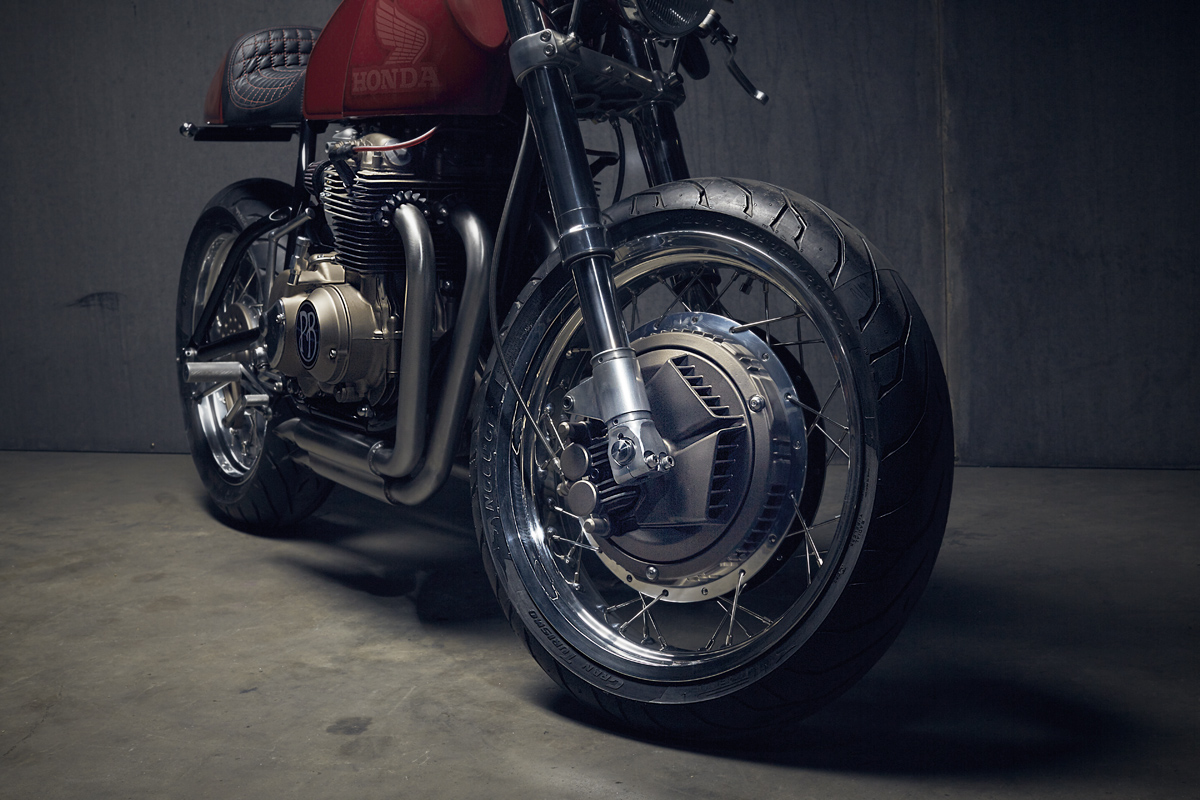 Then it was time to add all the fancy bits. It's running a 4″ GPS speedo/tacho custom made by SpeedHut in the states . It was sunk into the 7″ headlight that's mounted using custom stainless brackets and wrapped with a one off stainless grill. It also has customised hydraulic brake and clutch masters with hidden reservoirs. Flush mount handle bar switches, CAD designed, one off foot controls, custom polished linkages, stainless steel etched logo on the points cover, keyless ignition system, custom made tail lights, custom made seat trimmed by Hotel & Club Decor in Burleigh, hidden AntiGravity Battery, wiring run through the frame and electrics hidden under the seat in a custom flush mount box.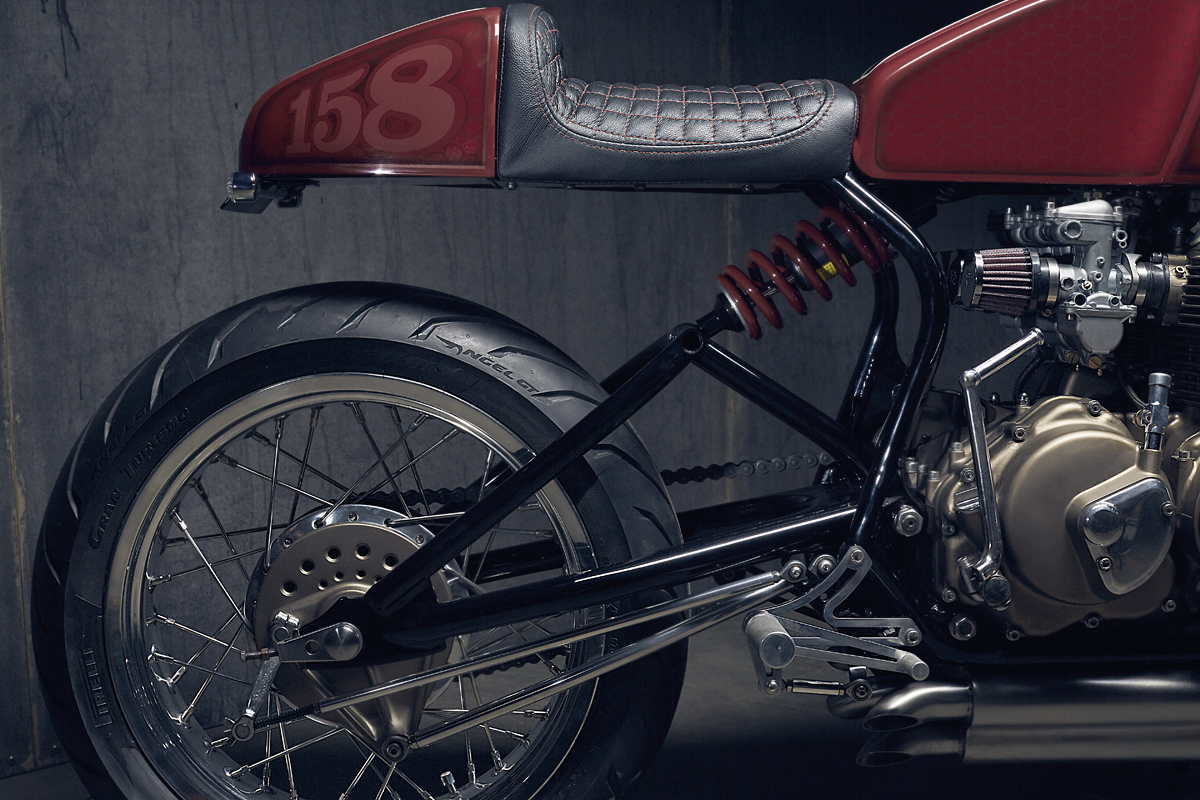 I was given strict orders that the bike had to be maroon, so I found a deep burgundy to keep it classic,  adding in a little modern flare with layered graphics on the side including Nate's state of origin number and the iconic Honda wings. The real carbon fibre on top was outlined in an off white and cleared over. The motor, brake plates and master cylinders where all painted a custom mix of pewter and satin cleared to mix it up a bit. The frame was totally smoothed over and freshly coated in gloss 2 pack black.
At the beginning of the build I had convinced Nate we'd end up with a 70's styled street fighter, and I think that's what he got. It was a huge project and I want to thank Nate for putting up with how long it took me to finish! Hopefully there's another project between us down the track!
This little <a href="https://www.returnofthecaferacers.com/category/honda-cafe-racer/">Honda</a> CB400F ended up with me after an impulse buy at the Mudgeeraba swap meet in Queensland. After a bit of haggling, I handed over $350 and it was mine. It was reasonably stock other that a rattle can paint job on the tank with bashed in knee wells. The motor had been pulled out and the top end lifted off, but it was all there. I got it back to my workshop, basically stuck it up on the mezzanine and forgot about it. It wasn't until a couple of big burly looking fellas came in wanting me to build a couple of bikes for them and asked what I had. All I had was a CX500 in a million pieces and this 1974 CB400f project. They argued over who would get which one and the one that ended up choosing the CB was none other than NRL superstar and just general legend Nate Myles.