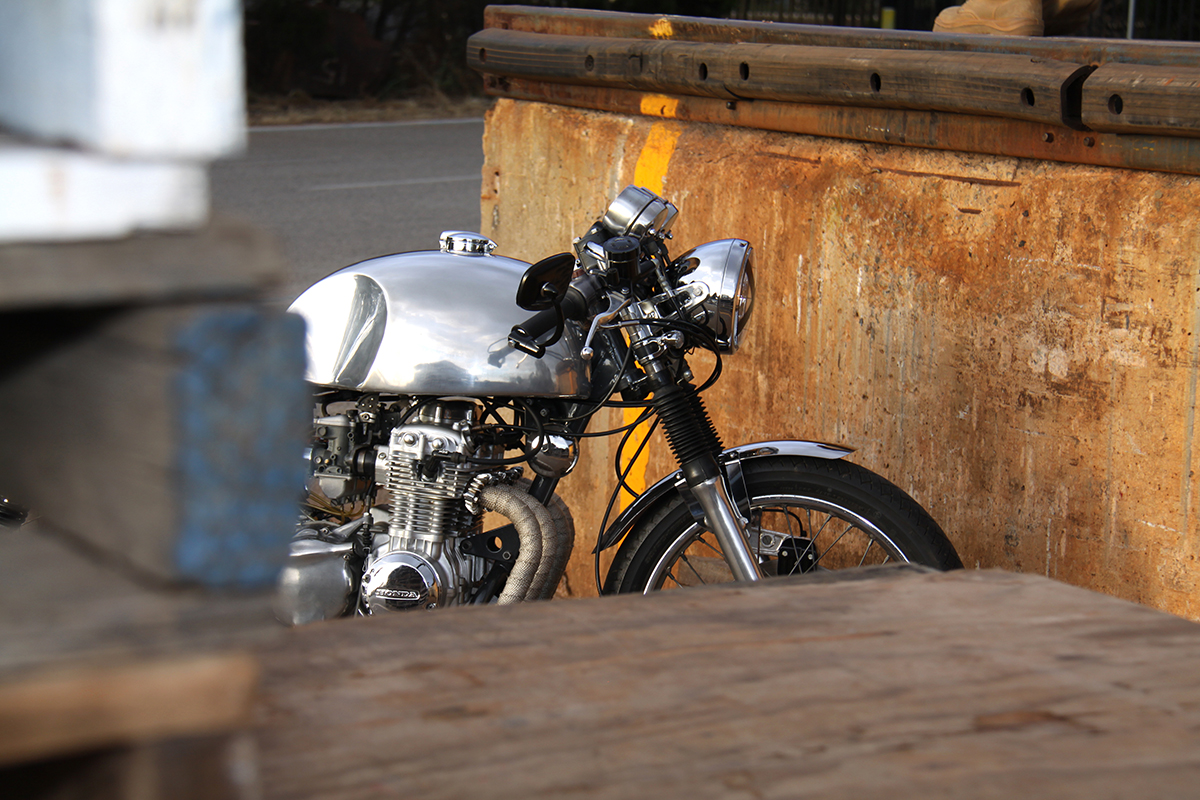 After careful design and build considerations, Tony decided that an alloy tank was the way to go. It would become the centrepiece for the build and was expertly crafted by Sean Pelletier at Roc City Cafe Racers in Rochester, New York. A unique one-off, devised over multiple emails, a bit of guesswork and a whole lot of hard work, the end result was worth it in every way. With the tank crafted Tony stripped the CB back to the frame, cut off superfluous bracketry, chopped and looped the back end and sent it off to be powder coated in dark metallic grey. While the frame was away getting a makeover he took to cleaning the engine, chipping away at 40+ years of road grime, selectively painting or polishing as he went.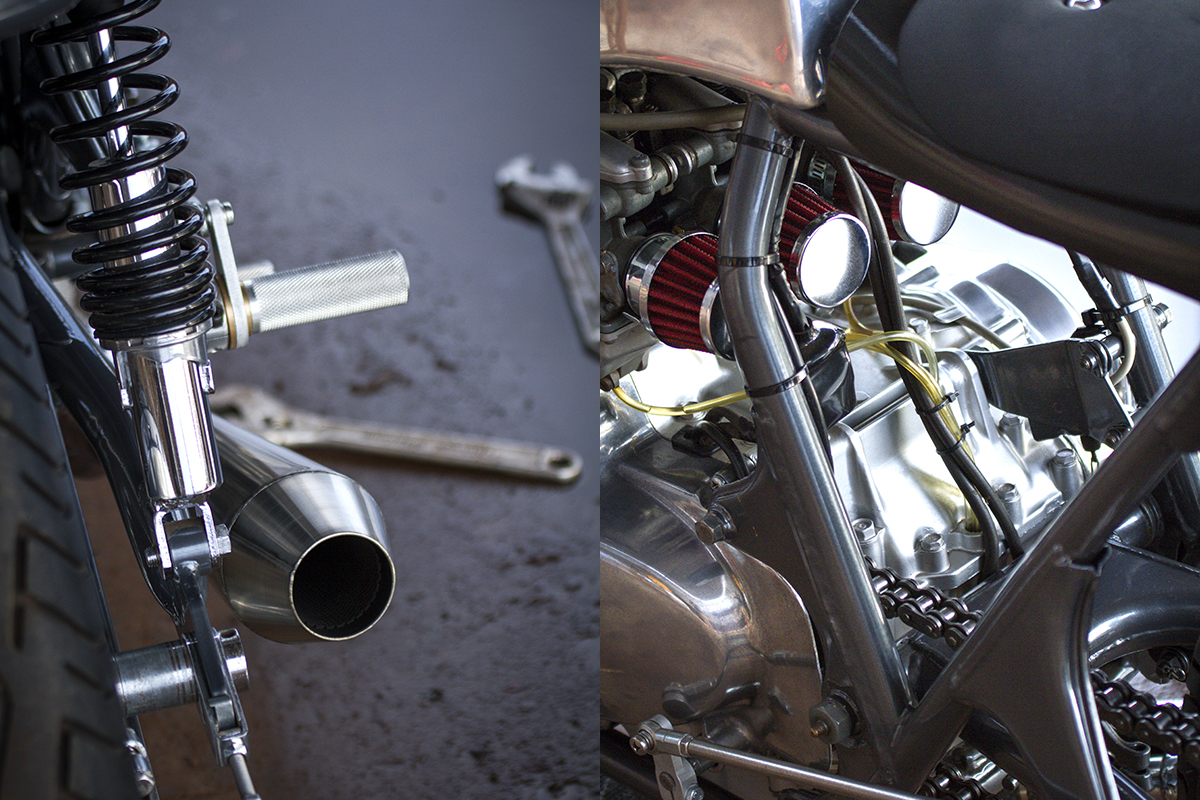 Up front, the brake caliper, lines and master cylinder were rebuilt or replaced as necessary while the forks were overhauled and sheathed in classic rubber gaiters and a tidy little fender. The wheels were meticulously cleaned and new Bridgestone rubber was wrapped around the front and rear rims. All the electrics were hidden under the seat and inbetween the frame rails, including the standard size battery. The kick­start remains intact and works as a reliable backup, incase the battery packs it in. The headlight with brackets and indicators are all new and the refurbished tacho and speedo bring a whole new meaning to 'looks fast standing still' (apparently you're doing 22mph even when you're not moving at all!).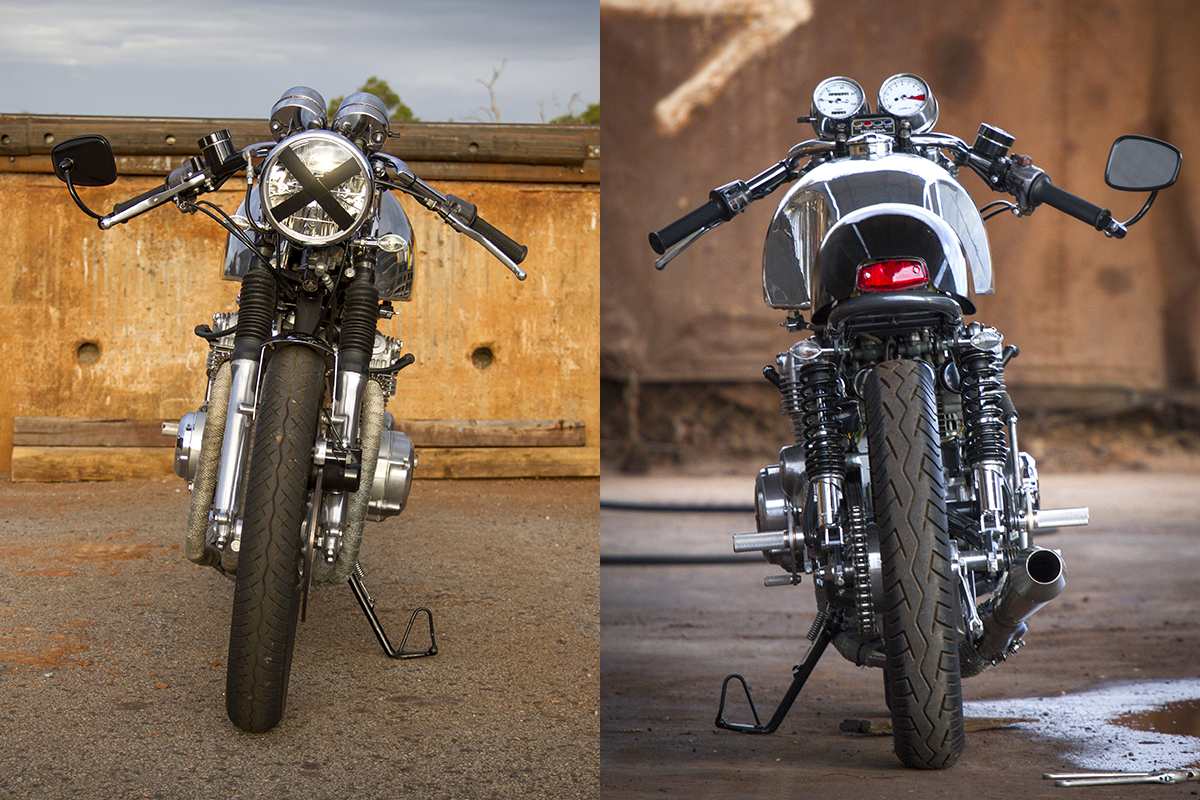 The carbs were rebuilt, balanced and breathe freely through pod filters that add a splash of red to the  otherwise monochrome Honda. In the rear a Lucas tail light has been recessed into the fibreglasstail which provides a platform for the wafer thin seat to sit upon. Rear set footpegs and clubman handlebars provide genuine Cafe Racer ergonomics and by applying a stroke of Aussie ingenuity, Tony used the cover band from the back of a Holden ute to secure the tank in place.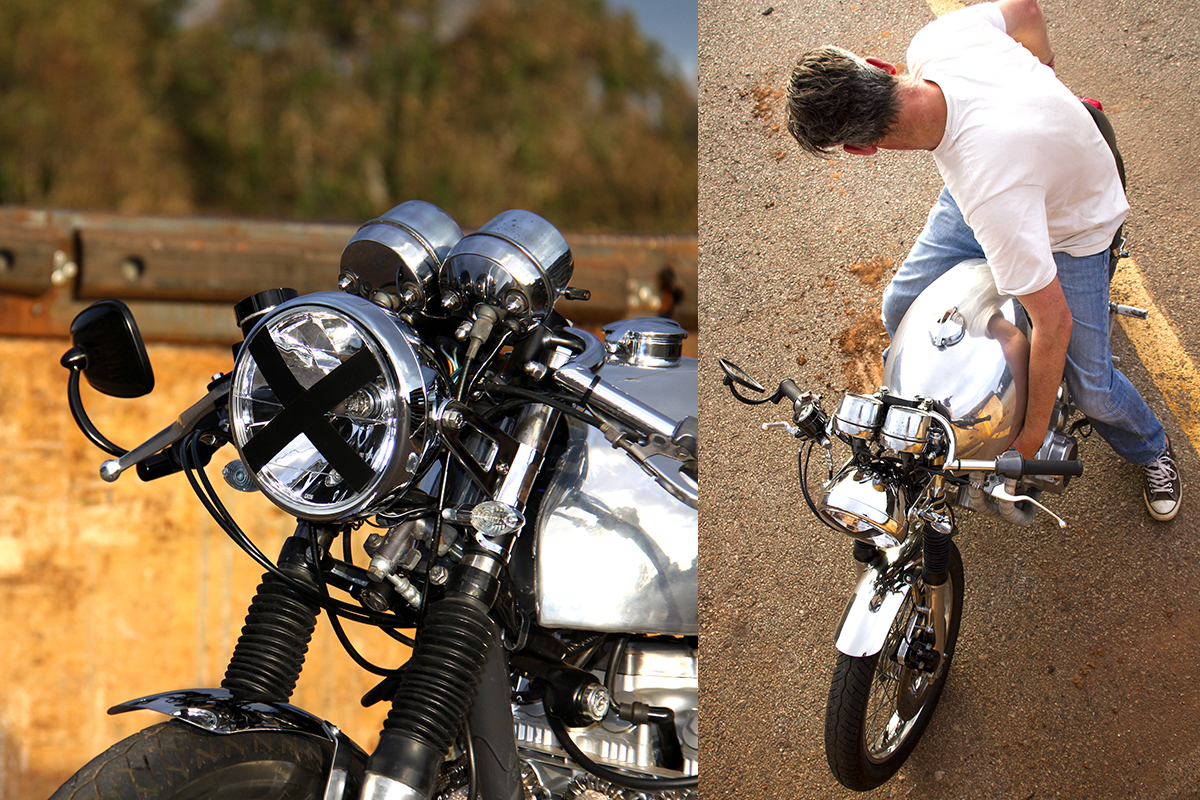 No Honda four would be complete without a 4­-into­-1 exhaust and Tony's Honda CB Cafe Racer is no exception. Header wrap keeps the old school aesthetic strong (haters be hating) and a stainless steel, short reverse cone muffler unleashes the engine's incredible soundtrack to the hills surrounding Perth. After having an absolute ball with this build and his new found social media chums, Tony has decided to make use of the rest of those spare parts by building a CB350 based bike. Stay tuned!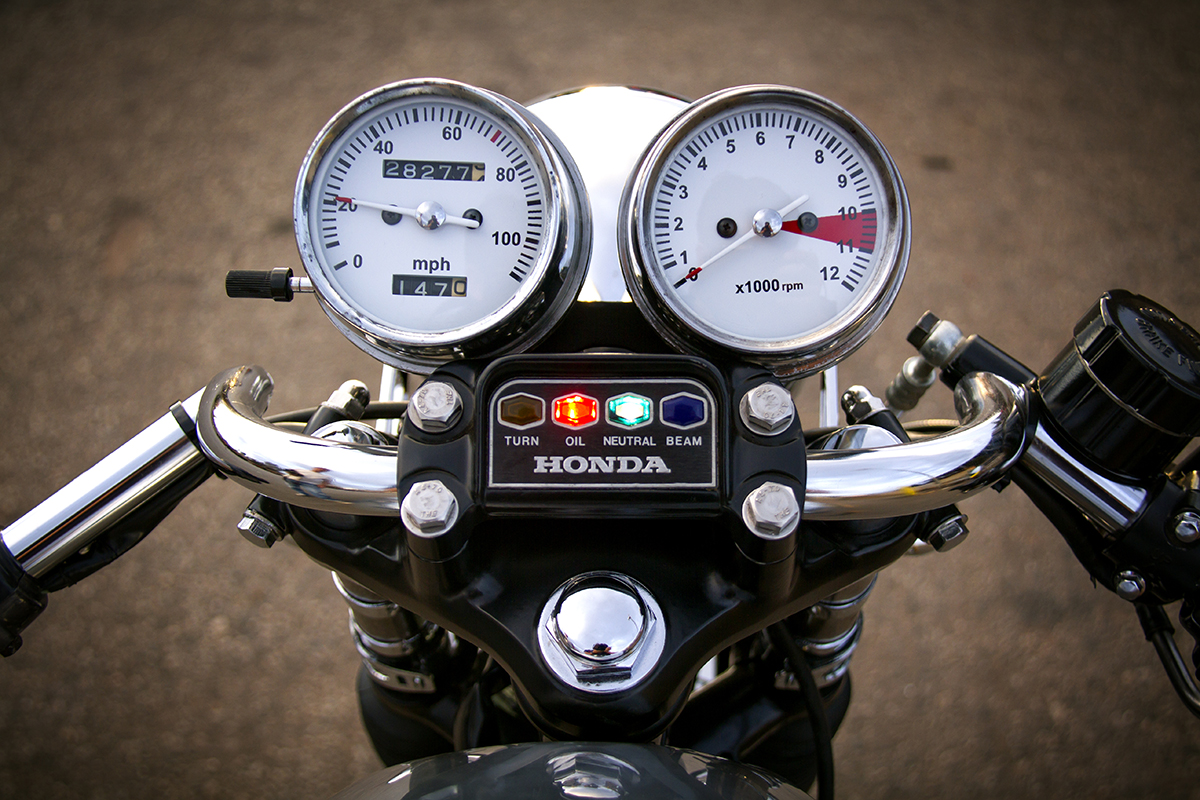 Images and story by Retro & Custom Cycles and Spirit Studio
Special thanks to Rex Havoc of Himalayan Heroes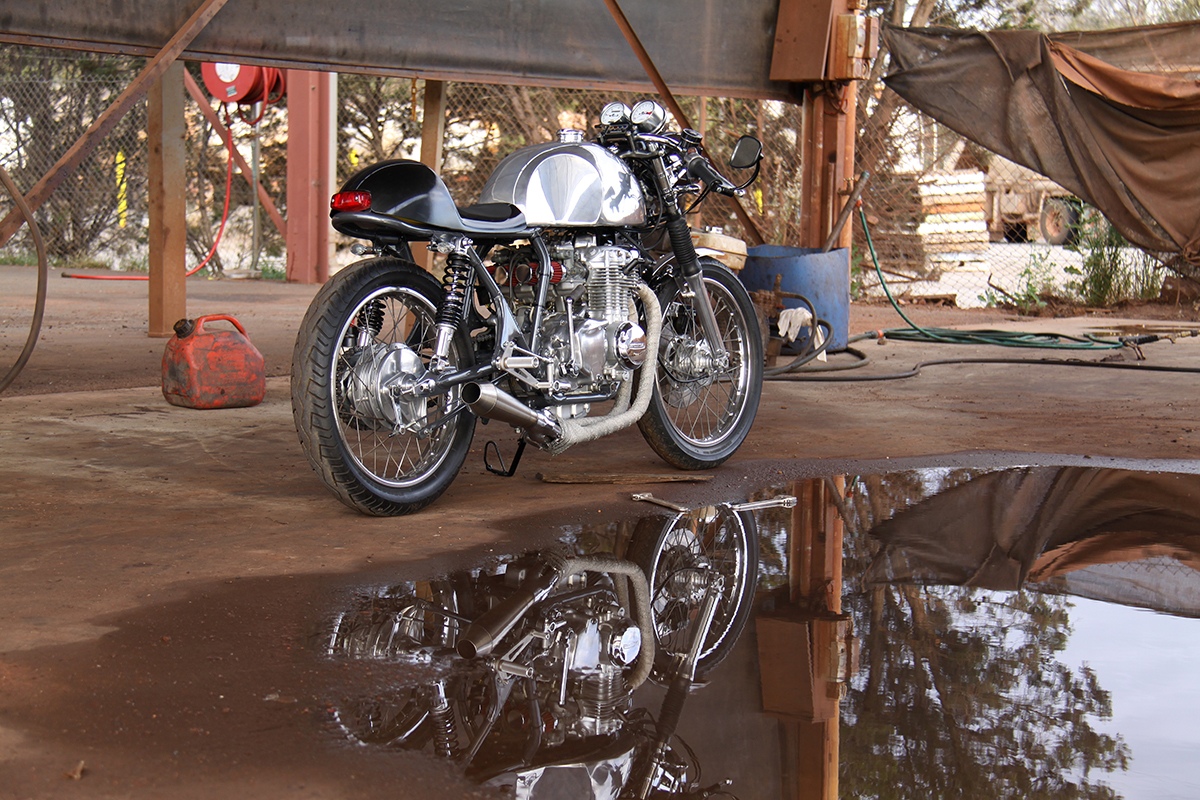 Tony Clarke is a man who knows all about detail. As the creative director of Spirit Studio a brand and identity consultancy in Western Australia, design is his forte. Having owned a Honda CB400/4 since the tender age of 19 Tony felt his stock bike needed a stablemate, so he set out to create a classic Honda Cafe Racer. As a first time builder, Tony felt his knowledge of the Honda 4 would come in handy if things got tough. So he sourced a 1972 Honda CB350/4 donor bike, along with a van load of spares and his project was underway.