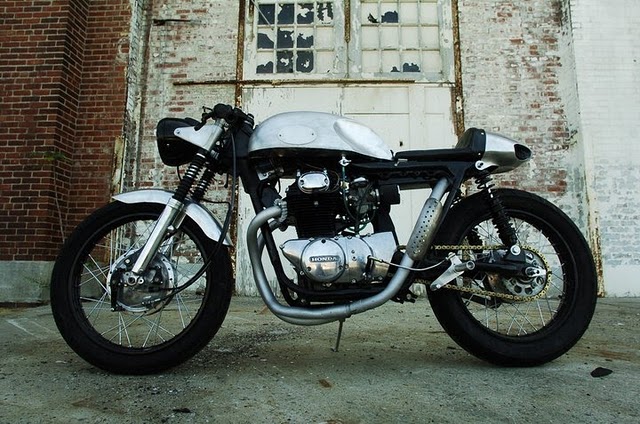 Sean of Roc City Cafe Racers in Rochester, NY has just finishing putting together this very tidy Honda CB350 coined the "Spitfire".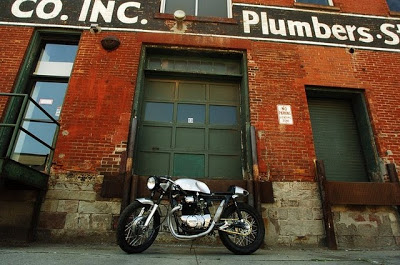 The lines on this bike are what really makes it special. The custom exhaust breaks up the rigid shape of the frame and gives it a more organic appearance. In fact I wouldn't be surprised to see a sketch of the Spitfire in one of H.R. Gigers publications. Sean custom made the bikes tank and seat out of aluminum without an initial design or sketch which very much makes this a product of his skill and imagination.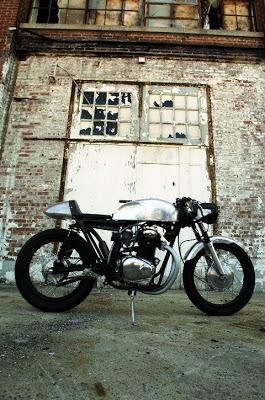 "I spent most of the design time considering how to combine the necessary parts of the motorcycle to simplify the overall appearance, and still achieve a unique and eye catching result."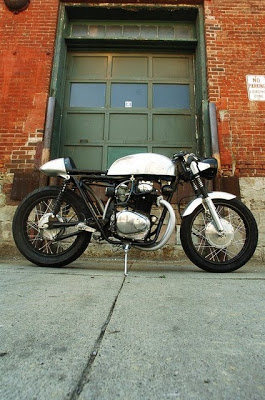 Cafe Racers were originally built because the motorcycles available at the time were designed purely as commuters. Motorcyclists wanted sports bikes like the ones they watched at the races so they custom built their own. With a similar attitude to the Rockers from the fifties Sean wasn't about to build a show(off) bike, it need to perform. The Spitfire may have started life as a Honda CB350 but it no longer handles like one. Changes to the rear swing arm and brake set up have improved the bikes handling while the new riding position and bars give the rider a much more responsive steed.
"I was riding behind the new owner of this bike as we approached 100mph, the bike handled and sounded great, I couldn't have been more pleased."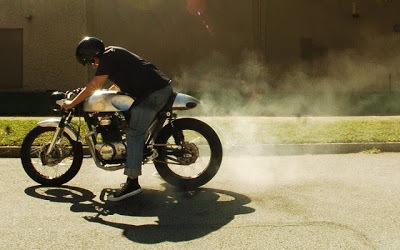 "I see this bike as a step in a direction of design that I have begun pursuing, a departure from the aesthetic of the cafe racer, which, as a form necessitates functionality and speed, all else being secondary. The development of the chopper also appears to have dead ended, having been careened into a heap of gaudy detail pieces and utter lack of composition and flow. From somewhere in this mix, I hope to see a form of custom bike come forward that combines rideability with excellence in design, form and function being complimentary rather than in contest."
Roc City Cafe Racers specialise in custom motorcycle builds, the production of fibreglass and alloy body parts and are resellers of you're standard collection of Cafe Racer style parts. Sean is also a king of the buffing wheel and can lace up a set of rims better than he can tie his own shoes. If you're in the neighborhood drop in and say hi or check out his site where you can purchase some of his wares.
Roc City Cafe Racers – 439 Central Ave
Rochester, New York 14605
Hours: M-F 8:30-6:30 Eastern
(585)469-5521