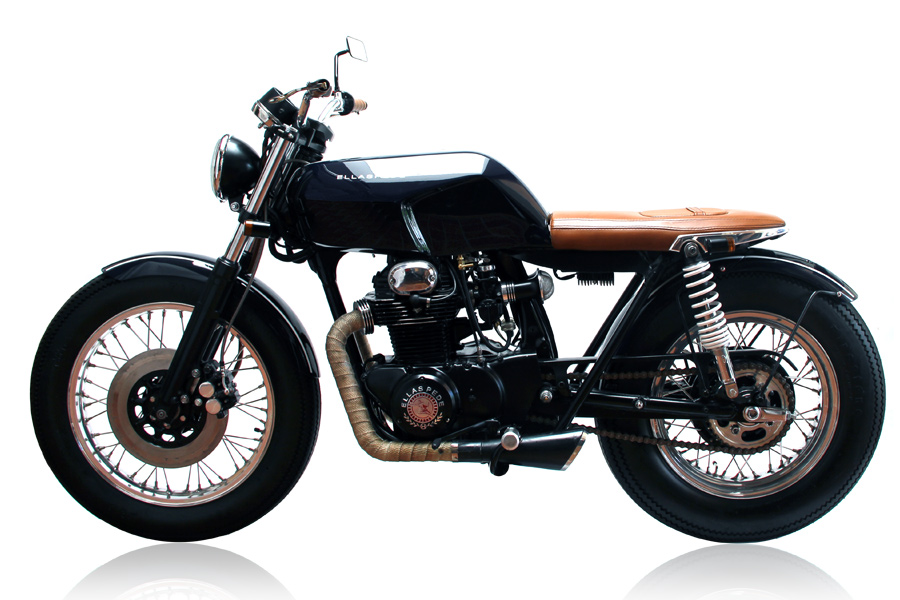 Brisbane based industrial designers, mechanics and tinkerers Steve Barry and Leo Yip are the driving force behind Ellaspede custom motorcycles and the creators of the Ellaspede EB001. It's their attempt at infusing modern technology with classic styling and if you ask me they did a pretty damn good job of it.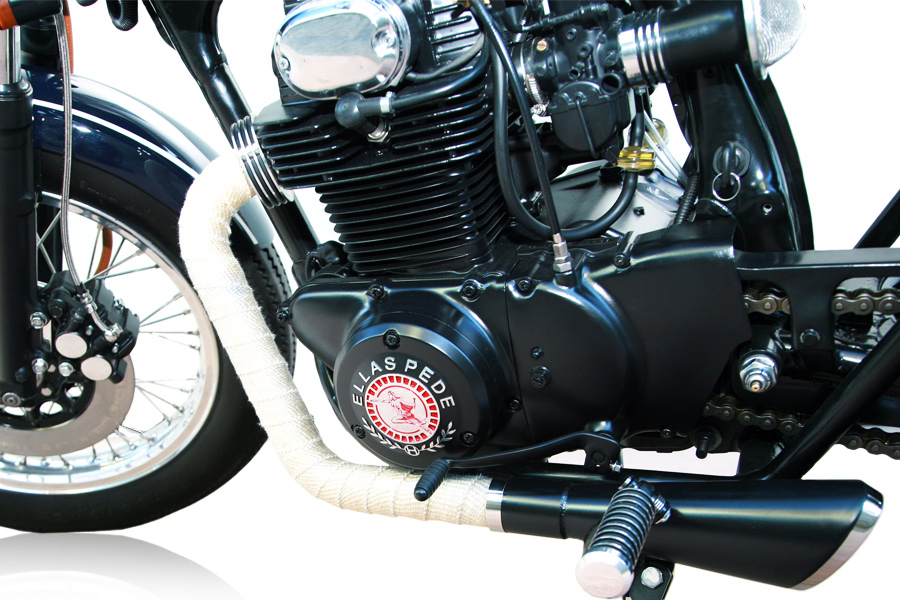 The 1971 Honda CB350 used as a base for the build was purchased in a pretty sorry state. The first stage of the build was to strip the motorcycle down and rebuild it's motor. The air cooled twin was kept to standard spec but get a slight power boost from upgraded 26mm Keihin carbs, tuned to suit the hi-flowing velocity stacks and the shortened custom exhaust.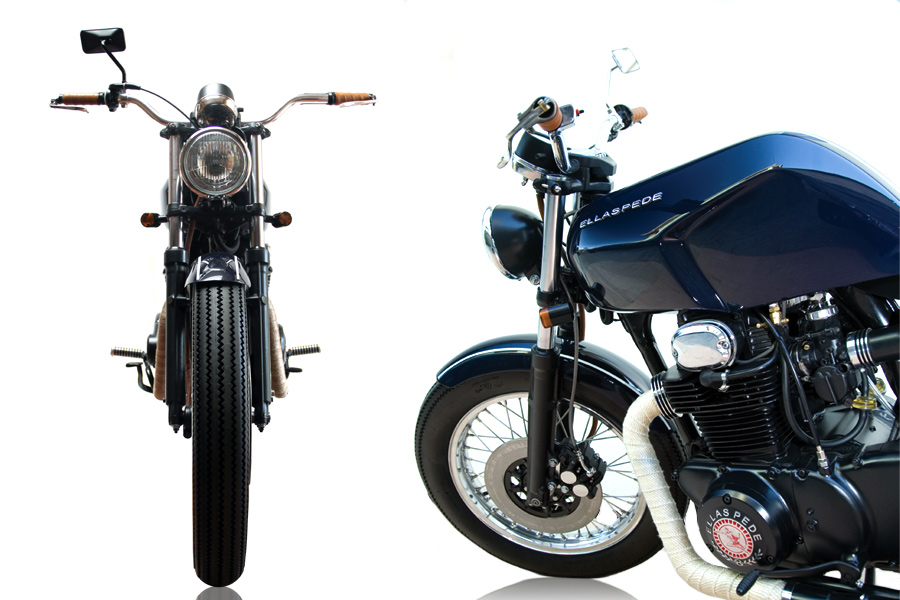 Classic bar end levers with a disc brake, Firestone Champion Deluxe rubber, LED brake light offset by a handcrafted and polished seat trim and a reversed engineered engine cover, CNC machined to feature the Ellaspede logo are all part of the modern/classic design mix. While modern upgrades to the 40 year old Honda's running gear come in the form of Ikon shocks on the rear and the front end and brake set up from a CB750F.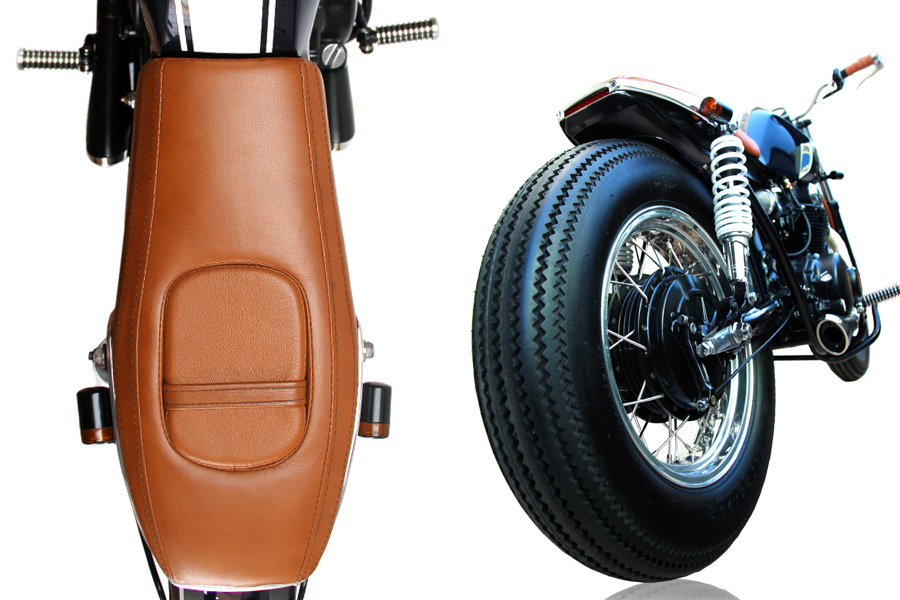 By far the most striking features of the Ellaspede EB001 are the custom tank and seat. Both were mocked up in foam on the frame before the final parts were made. The tank was then welded together from pieces of hand formed steel to create the chiseled lines of the knee indents and smooth, curved back. The seat finished in tan brown leather also features a compartment that can be lifted out to reveal a storage space for your gloves, a small tool kit or wheel lock.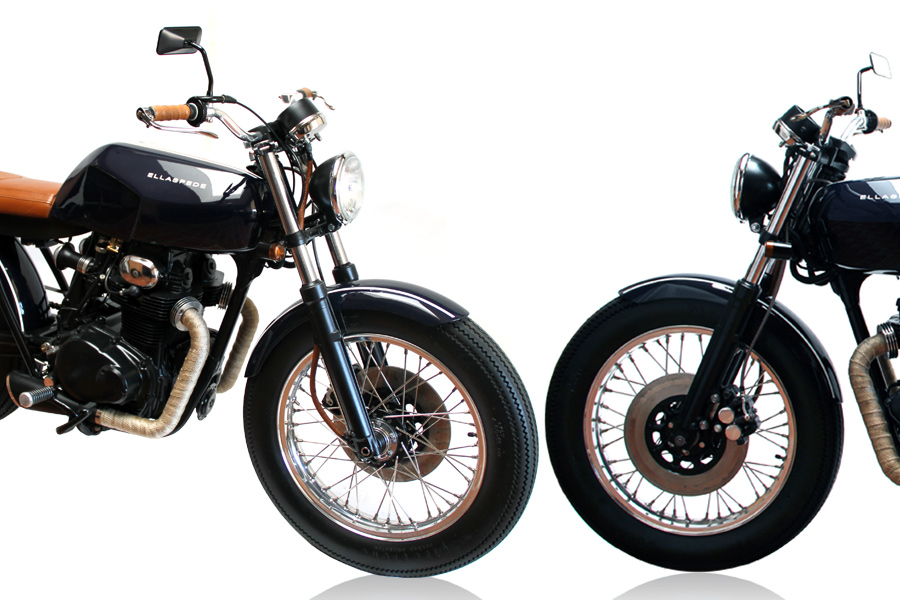 "Ellaspede is made up of a dedicated team of industrial designers, mechanics and general tinkerers based in Brisbane, Australia. Owned and operated by Steve Barry and Leo Yip, Ellaspede is a hub for motorcycle culture and creativity. Steve and Leo fuse traditional and modern automotive design techniques to create their handcrafted machines. Attention to detail and a drive to challenge the norm fuel their design passion."

Ellaspede also produce a range of handprinted tshirts and branded clothing all available through their website
ellaspede.com
.