Flat Track racing is nothing new. In fact, variations of the sport have been around since the 1920s. Typically a Flat Track race takes place on a 1/4 mile or 1-mile oval dirt track. It's fast, loud and delivers plenty of thrilling sideways action. In more recent years, thanks to the efforts of influential enthusiasts (hat tip to Gary at Sideburn Magazine), Flat Track racing has attracted the attention of the custom motorcycle scene. As a result, we're seeing more Flat Track inspired builds hitting the streets. In some cases, these bikes are also destined to race, case in point, this Honda XL500 Flat Tracker by Gas & Oil Bespoke Motorcycles.
Gas & Oil appeared on the custom motorcycle scene back in 2014. Since then they've pieced together an impressive 30 builds making them the most prolific custom workshop in the Czech Republic. Their 'Royal' Moto Guzzi Le Mans cafe racer appeared here in 2018 and today they've returned with a very different style of ride. "We called this project 'Mata Hari' inspired by the Dutch exotic dancer and First World War secret agent." says Gas & Oil's Matěj Sysel.
"This motorcycle is based on a Honda XL500S from the late '70s. However, the engine powering the bike was transplanted from a newer model XL500R." Transplanting an engine is in itself no easy task, but to make matters worse their donor bike was in an advanced state of disrepair. This meant paying special attention to the condition of each part and sourcing replacements for irreparable items.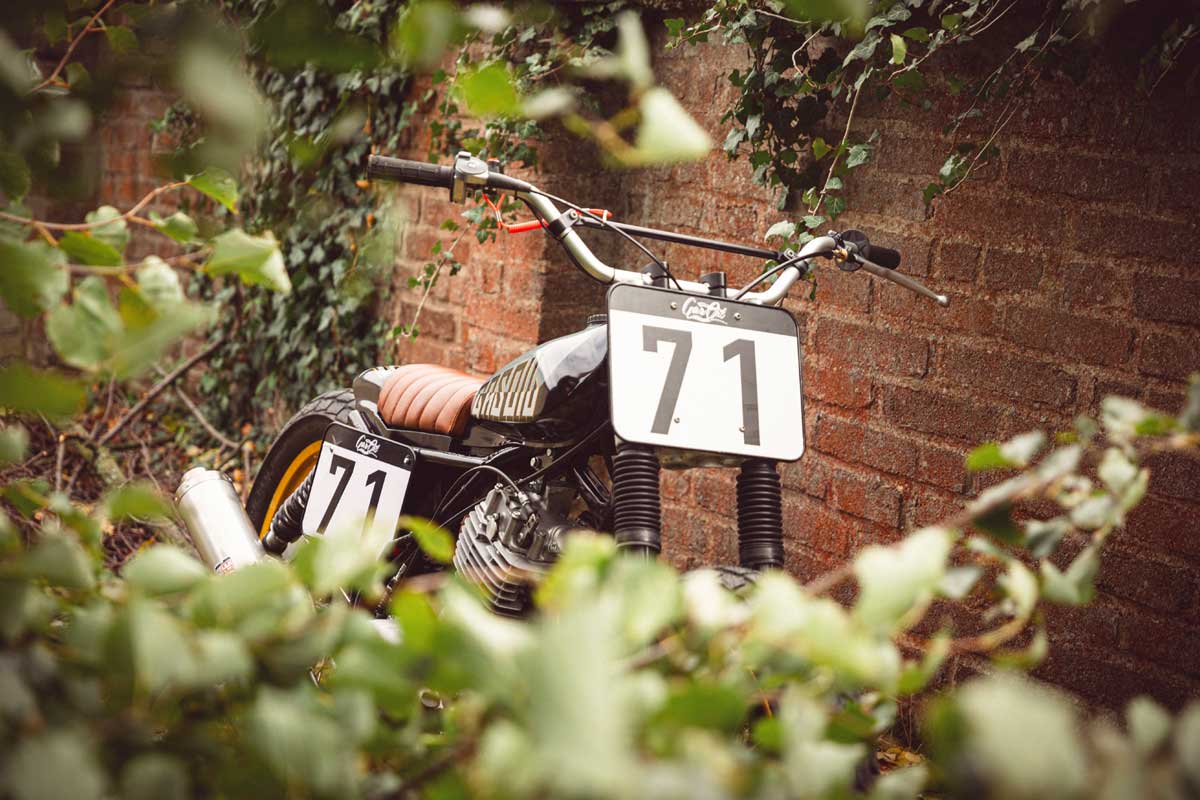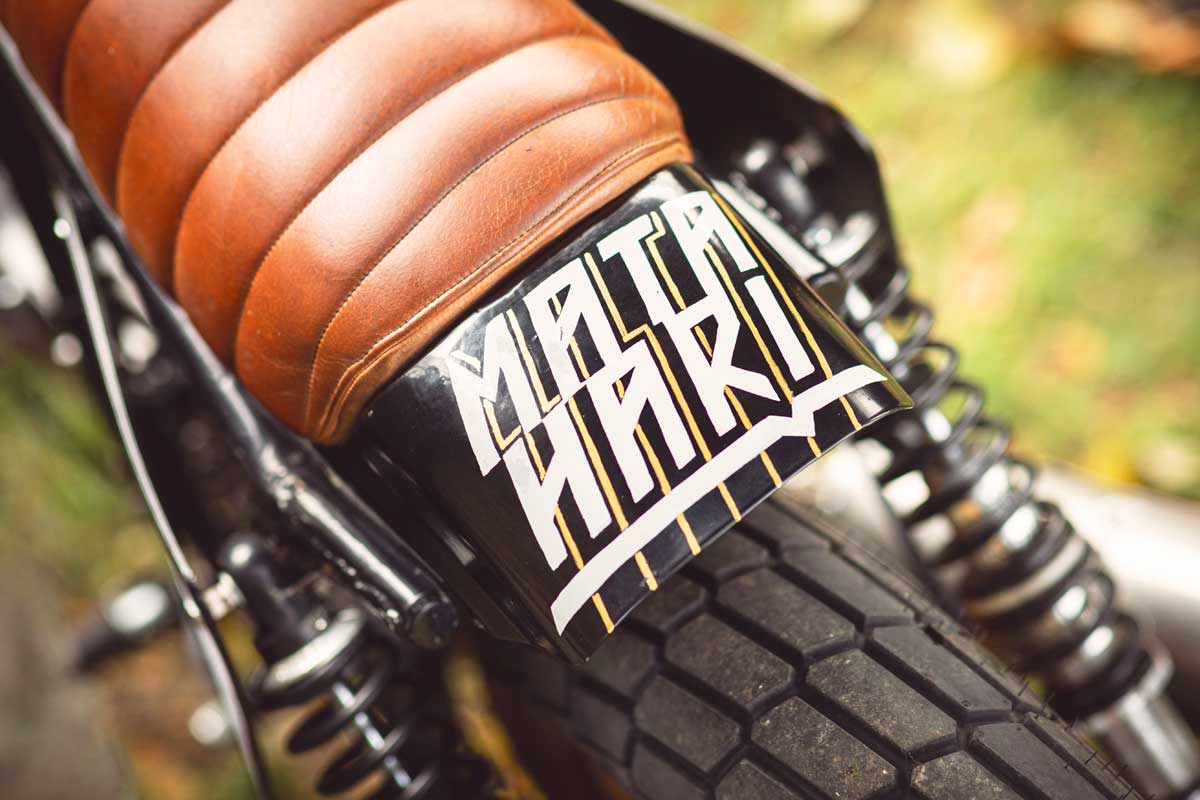 From the get-go, the Gas & Oil crew knew they wanted to create a Flat Tracker. With no paperwork to be seen the Honda couldn't be registered for the road. Building a race bike was the obvious answer. Since this was a personal project with no deadline, the build progressed slowly. Paid work had to take preference and huge delays with finding replacement parts slowed things down even more. All up the bike took an excruciating 3 years to complete.
Despite the Honda's panache appearance, this was definitely a function over form project. With the bike destined for the track, it was essential it could hold its own. "We focused on the engine. Because 500cc is not that big," says Matěj. "We tried to get the most out of it during the rebuild." So along with a few internal tweaks, Gas & Oil have fitted the engine with a larger Keihin carb and free-flowing K&N filter. Hung from the motor is a "purely functional" 2-into-1 set of headers and a Yoshimura race can. Functional it may well be, but that exhaust still manages to look cool and is sure to sound astonishing at full gas.
Next came a few modifications to the bike's geometry to prep it for the track. Starting with the suspension it now wears a set of rebuilt BMW R100 forks and Moto Guzzi NTX shocks out back. The matching gold 19-inch wheels are custom-built and wear purposeful Shinko SR 267-268 Flat track tires. After cutting away the excess at the rear it was decided to add a few bespoke styling touches. For this Gas & Oil installed a Harley Davidson rear fender that's been aggressively trimmed to a fraction of its former self. The seat is a completely one-off design and fuel is delivered via a repurposed Yamaha RD tank.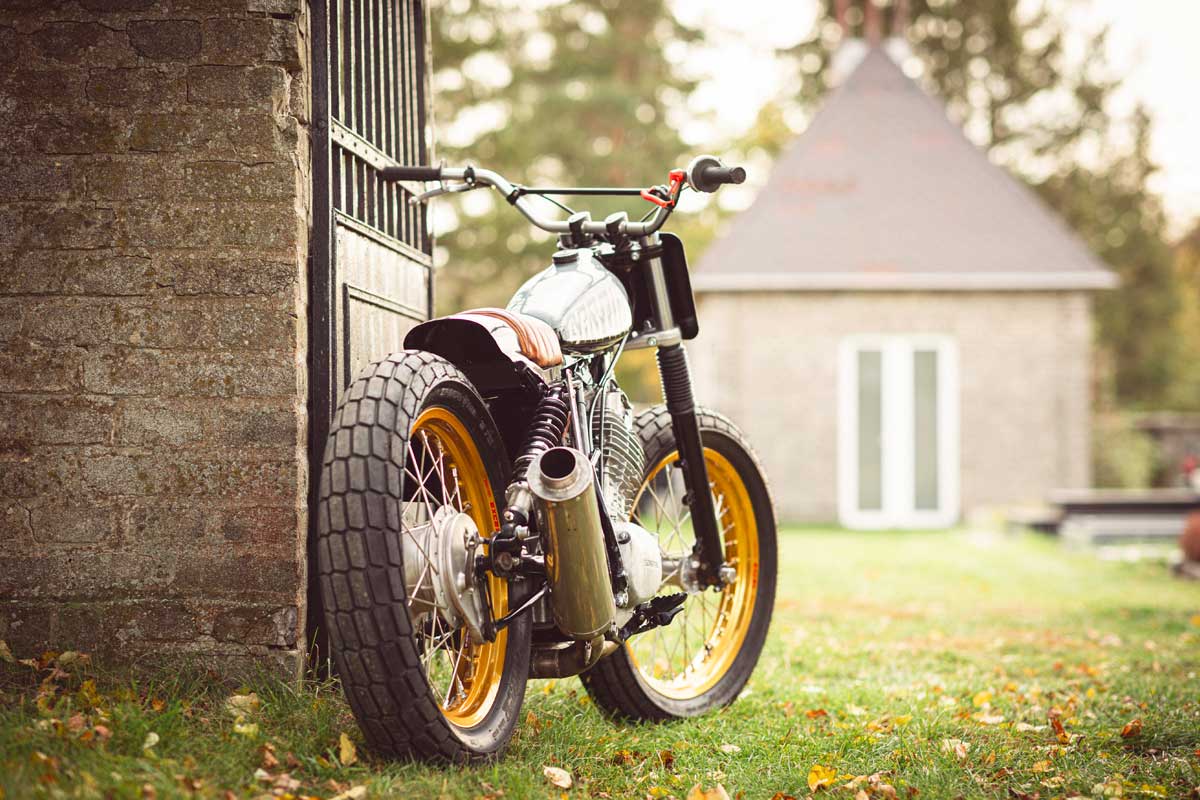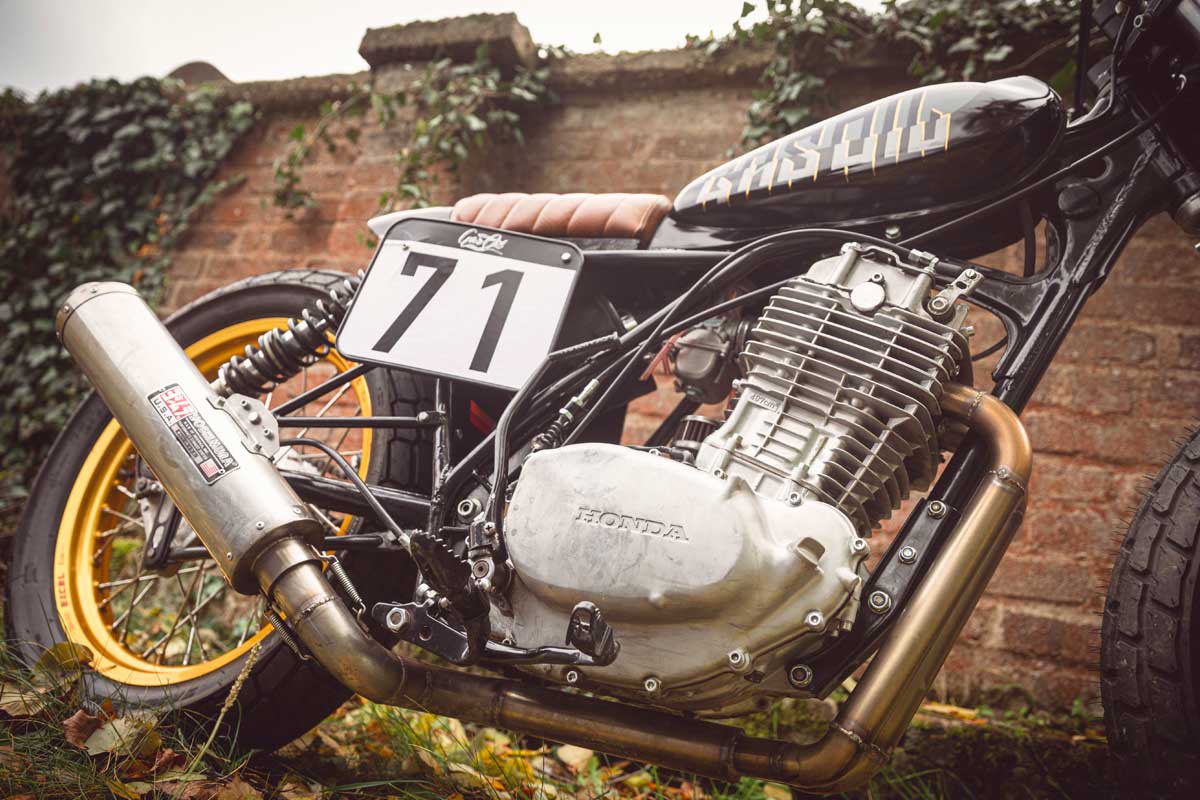 To wrap things up, the Gas & Oil Honda XL500 Flat Tracker was given a subdued paint scheme complete with workshop livery on the tank. The racing plates were 3D printed to get the perfect proportions. "It was an insanely long time for a racing project," admits Matěj. "Fortunately, it is finished and now it is time to start learning the art of Flat Track racing!"