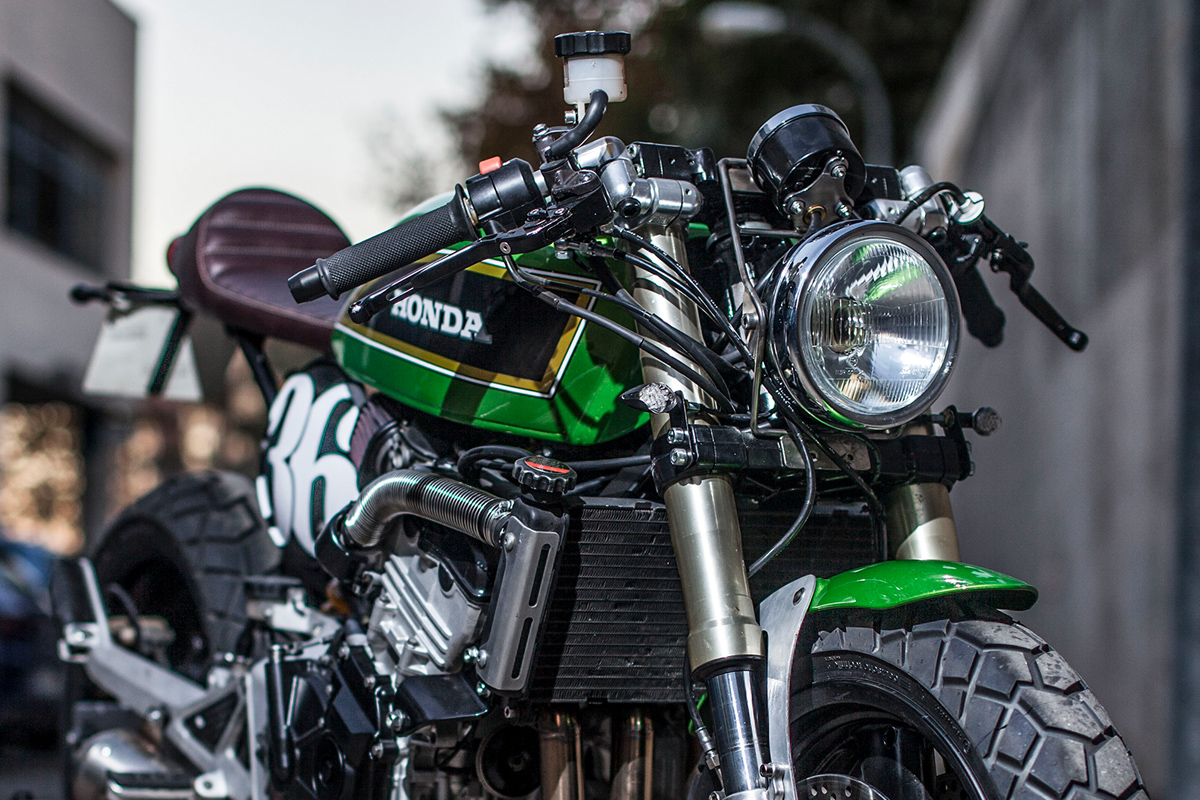 Once the bike was dismantled the 600cc inline four received a complete overhaul with specific attention being paid to the intakes and carbs. During the engines rebuild Pepo had it blueprinted and media blasted clean to ensure it looked and performed as good, if not better, than new. DNA air filters, a set of 4-2-1 Super Mario headers and a Spark Megaphone muffler free up the flow of gases to give it the extra boost of power it desperately needed.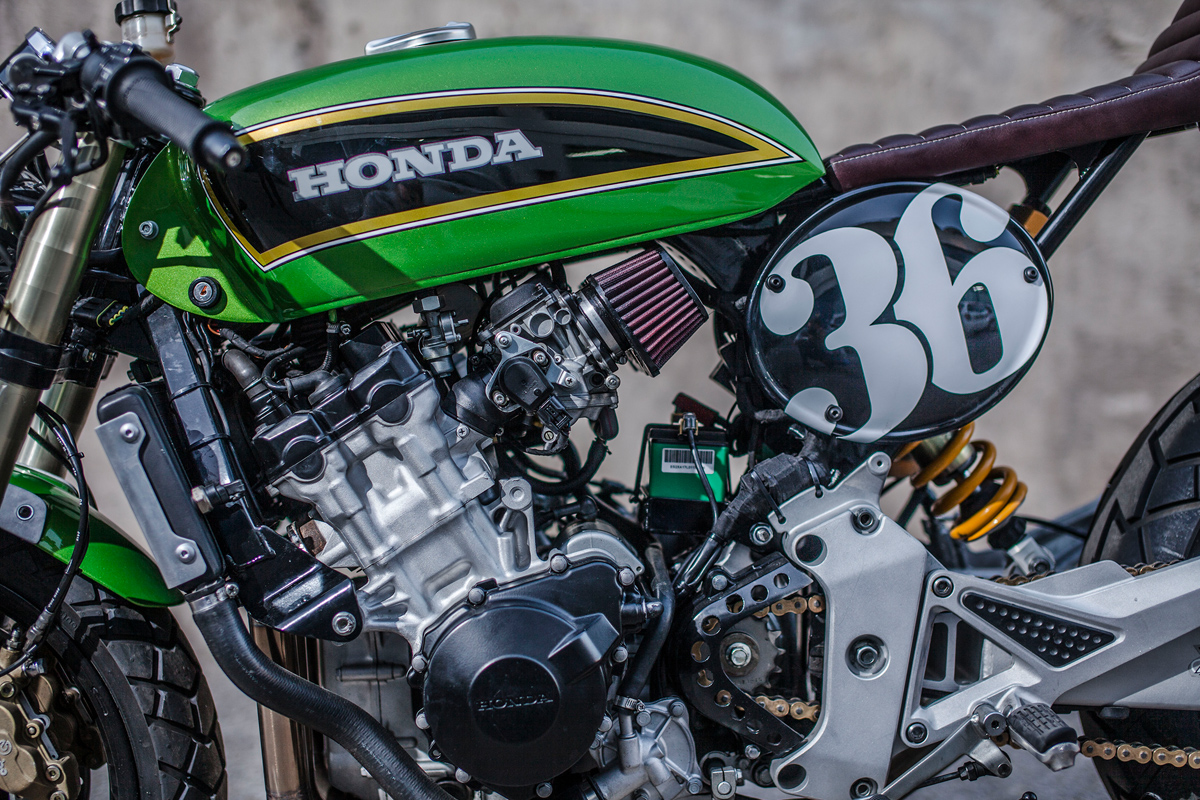 Handling upgrades include the adaption of a set of Ducati Monster forks, yokes, and front wheel. In the rear, the Hornet rim and swingarm were retained although the suspension is now provided by an Ohlins item. To round off the list of performance mods Brembo calipers, NG rotors and Frentubo kevlar lines provide ample stopping power.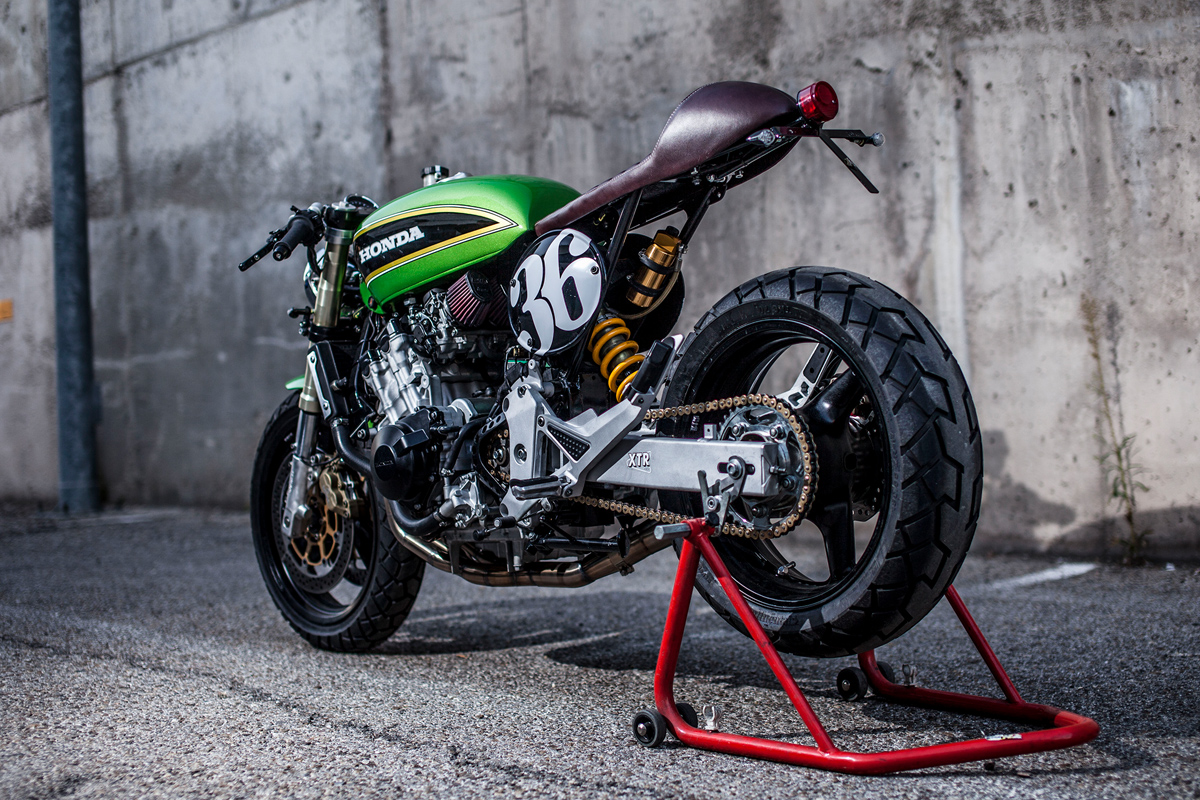 As with any Pepo build the Hornets styling is heavily influenced by his love for racing machines and classic motorcycles. After modifying the frame, he fit the Hornet with a cafe racer styled tail end that was wrapped in leather and fitted with a Montesa tail light. To fill the void left in the frame after the removal of the airbox he's mounted a pair of racing numberplates either side of the mono shock. Then, for a more classically styled silhouette, the stock Hornet tank was replaced by a modified version of a seventies CB500 tank, which incidentally is the bike that inspired this one's creation.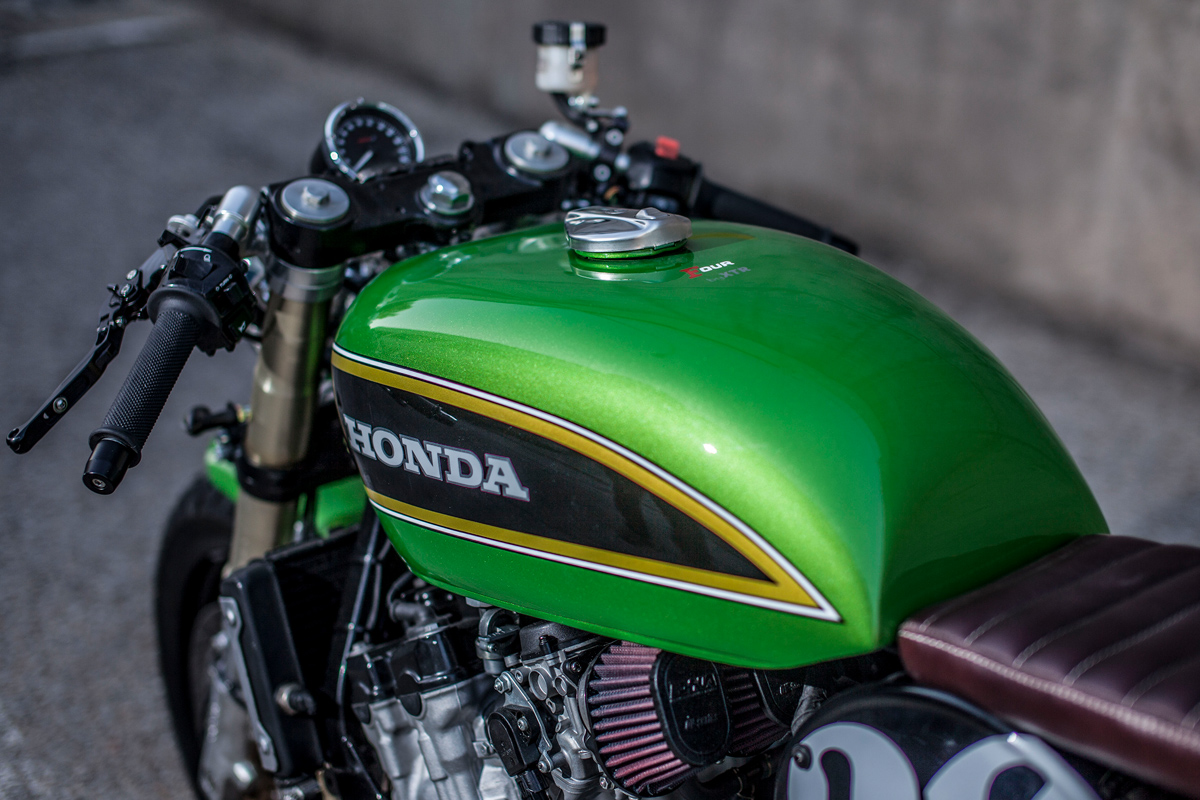 Along with the Hornet's one-off seat, Pepo has added plenty of other XTR workshop special parts such as its LED blinkers, tail tidy and headlight brackets. The front mudguard, however, is a BMW R9T part while an R1 and CB1000 donated their levers. For a more appropriate race riding position Tomaselli clip ons sit on the fork legs and the dash has been converted to use a single Koso speedometer.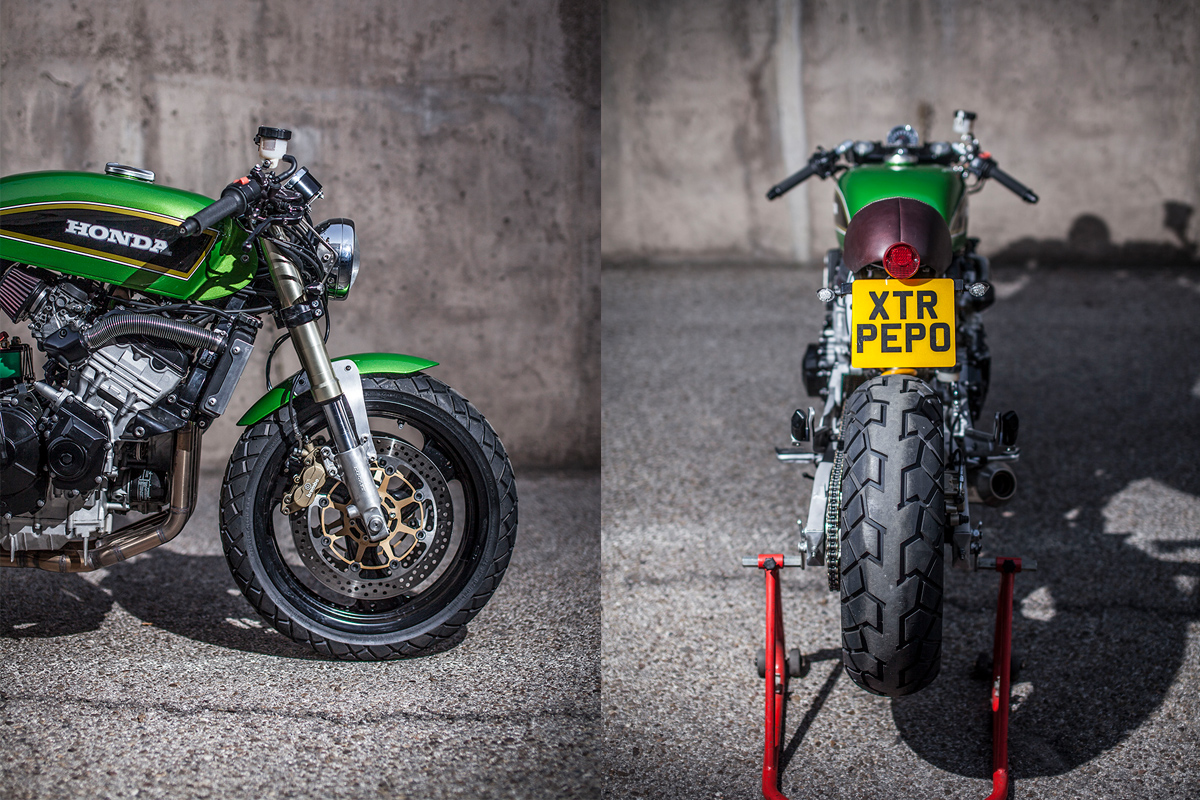 As for the final color scheme Pepo entrusted his local paint shop, Pintumoto with finishing things off. The result was this vivid metallic green that was inspired by the original CB500 color. I don't know about you, but we'll never look at a Honda Hornet the same again.
Photography by Cesar Godoy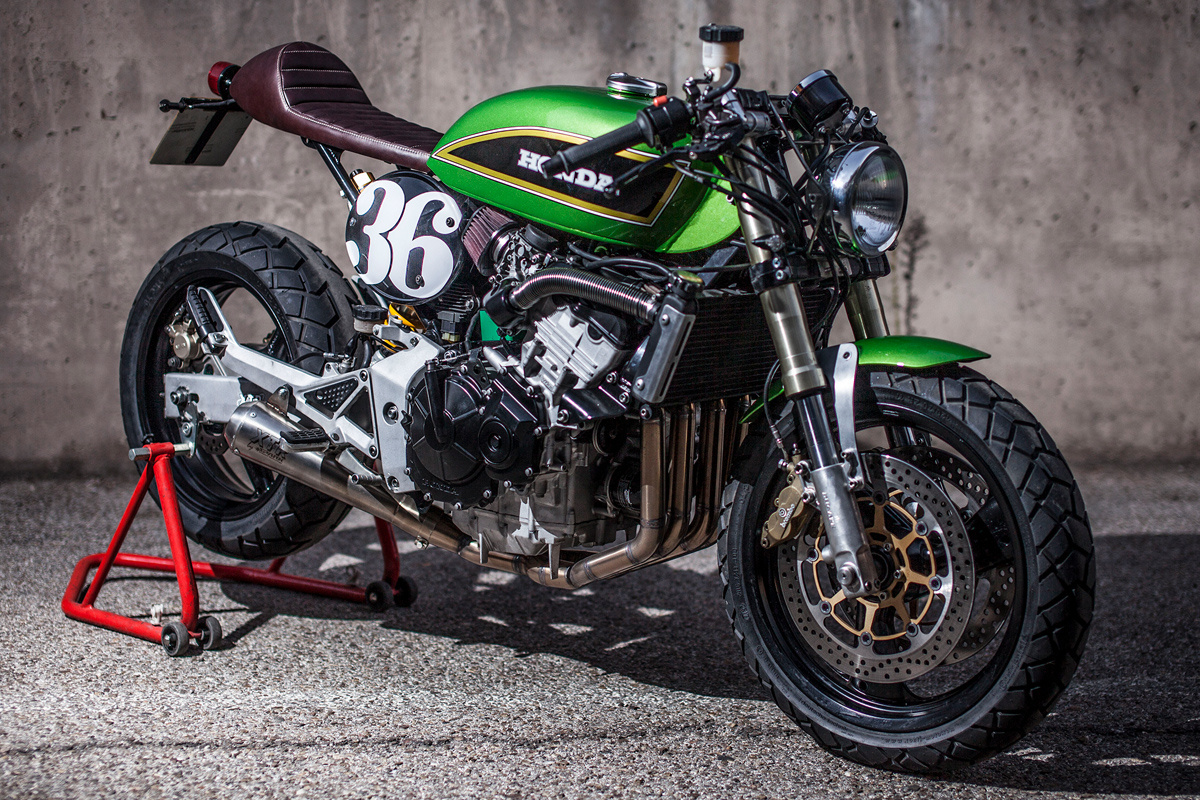 Pepo Rosell of XTR Pepo has been in the custom motorcycle building business for more than twenty years and he certainly doesn't seem to be losing any steam. For his latest project, Pepo's given a fairly staid UJM Honda a striking overhaul. The donor for the project was a 2001 Hornet 600 and as per any XTR project it was given a performance and aesthetic overhaul to bring it up to Pepo's exacting standards.