While the average person may think Italy's best export is its cuisine, lovers of automobiles will argue otherwise. That's because Italy is home to many of the world's most desirable automotive manufacturers and design houses. Brands like Ferrari, Ducati, Italdesign and Pininfarina represent the very best in performance and luxury and their creations are lusted after the world over.
As an automotive designer, working for these companies is the thing dreams are made of. Time spent working for such hallowed names will undoubtedly pave the way for a successful career.
Two designers who know exactly how that feels are Gianluca Bartolini and Francesco Iannuzzi. The pair have almost 20 years of combined experience working in the Italian automotive design world. They met while working at Pininfarina's Cambiano HQ and while this may seem like a dream job for many, they soon realised they both desired something more.
"We wanted to start from scratch. From a blank sheet that released us from any chains," says Gianluca. What they wanted was the kind of expressive freedom a designer can't find working for a commercial company. The solution they found was to start their own design "laboratory" where the pair could realise their visions free from the limitations of a corporate commercial world.  So together they set up a workshop/studio in Turin, Italy which they coined Dotto Creations.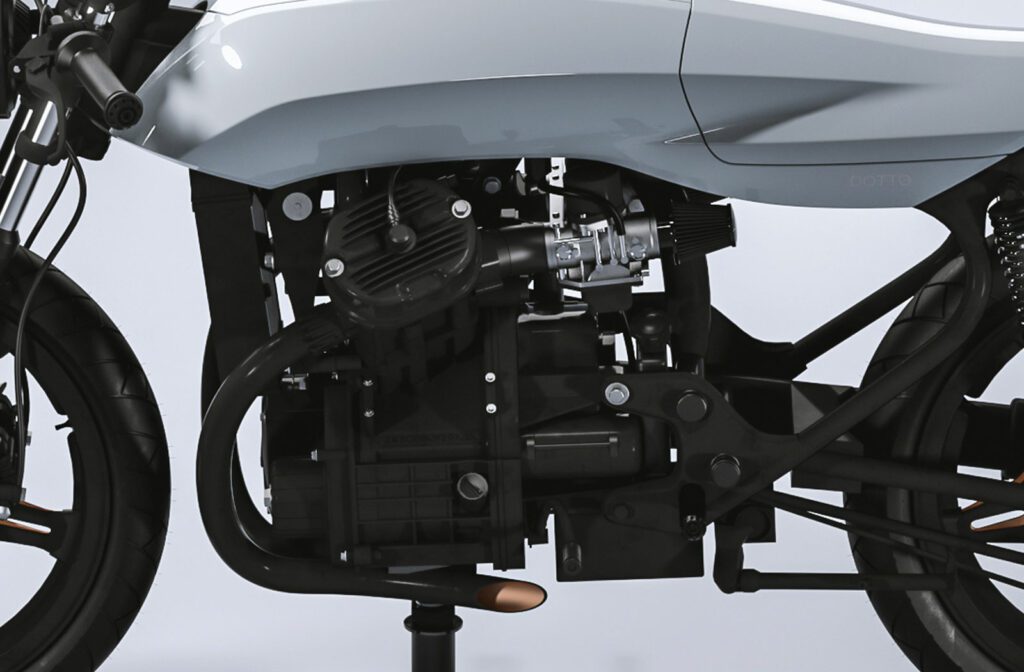 The first Dotto Creations project is based on a rather unexpected platform. Instead of opting for an Italian bred machine, they chose a Japanese motorcycle whose design was heavily influenced by an Italian machine. That motorcycle is of course Honda's CX500 which sports a Moto Guzzi inspired Longitudinal v-twin and was produced between 1978 and 1983.
As for their projects name, Gianluca took an interesting approach there too. "Biancaneve is a direct translation of Snow White in Italian. In addition to that, DOTTO in Italian means 'erudite' which in the Italian version of the fairytale is Doc, the oldest, most clever dwarf of the story. We've done this because we want to look at things with the eyes of a child."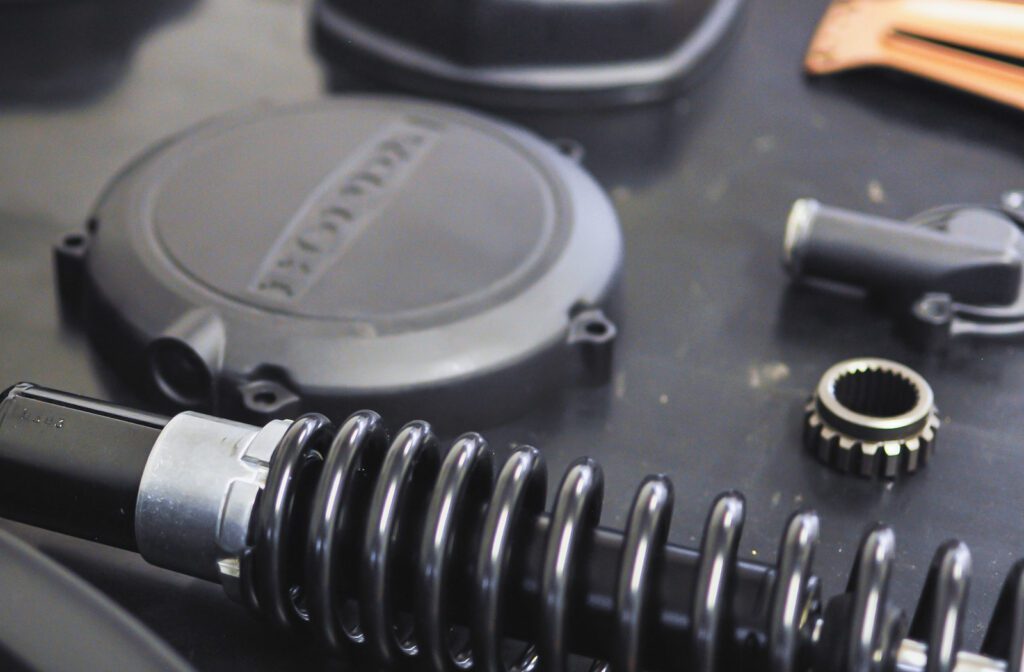 "Biancaneve is a 1979 Honda CX500 that we stripped completely and restored using the parts that we decided to keep." says Gianluca. "The engine has been opened up and completely restored but not modified. The same approach was taken with the carbs. We just changed the jets to work with our straight pipes. But we did replace the airbox with pods."
Biancaneve also retains the original Honda chassis and the bike's iconic Comstar wheels, but beyond those elements, it is a totally bespoke creation.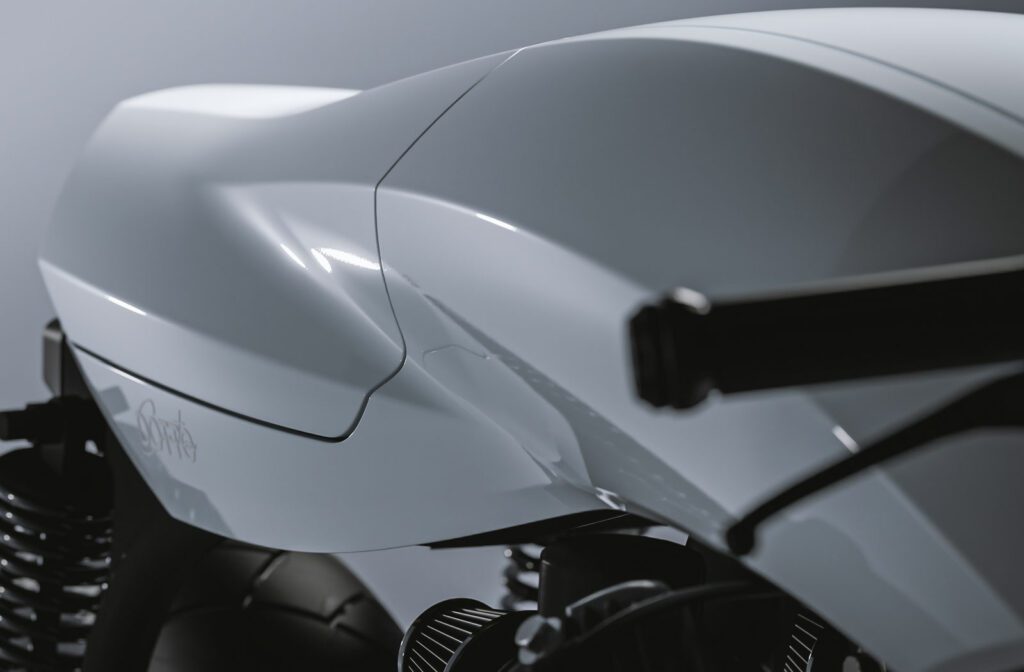 All of the off-the-shelf components installed on Biancaneve were chosen with the goal of reducing visual mass and giving the bike a sportier demeanour. To this end, the rear of the frame has been trimmed short and rear-end lighting has been integrated into the frame rails. The rear fender has also been dispensed with leaving the wheel completely exposed.
An equally minimalistic approach has been used on the front end.
Again there is no fender insight and the bulbous stock headlight has been swapped for a flat-bodied Highsider Frame-R2 headlight. Honda's plastic-bodied gauge cluster has been dispensed with too and a custom top clamp designed that has a Motogadget Motoscope Mini built into it. As for the rest of the electrics the harness is a custom design and it's wired up to a Motogadget M.unit electronic controller and fuse box.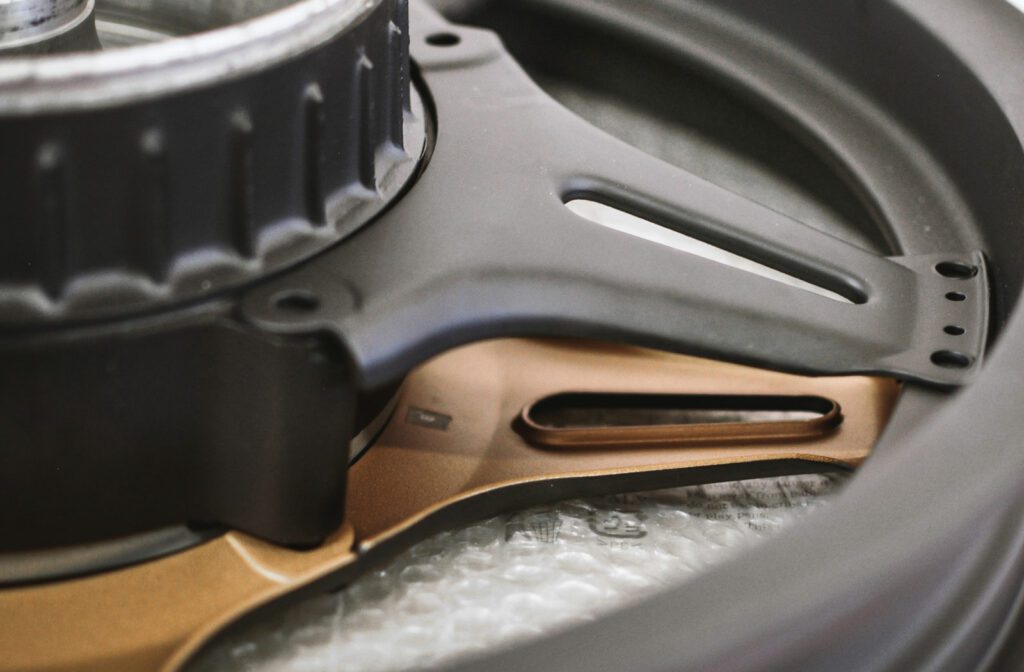 Biancaneve's suspension has also been revised to set it up for more spirited riding. The stock forks have been rebuilt and lowered while in the rear they've added taller Hagons. This has levelled out the CX's traditionally hunched posture. Clip ons have then been mounted to position the rider correctly.
With the goal of making the bodywork the focus of the project, everything on the lower half of the bike has been blacked. The only exception is the bronze used on the internals of the exhaust tips and the Comstar wheels.
As for the bodywork – that's where things get really interesting.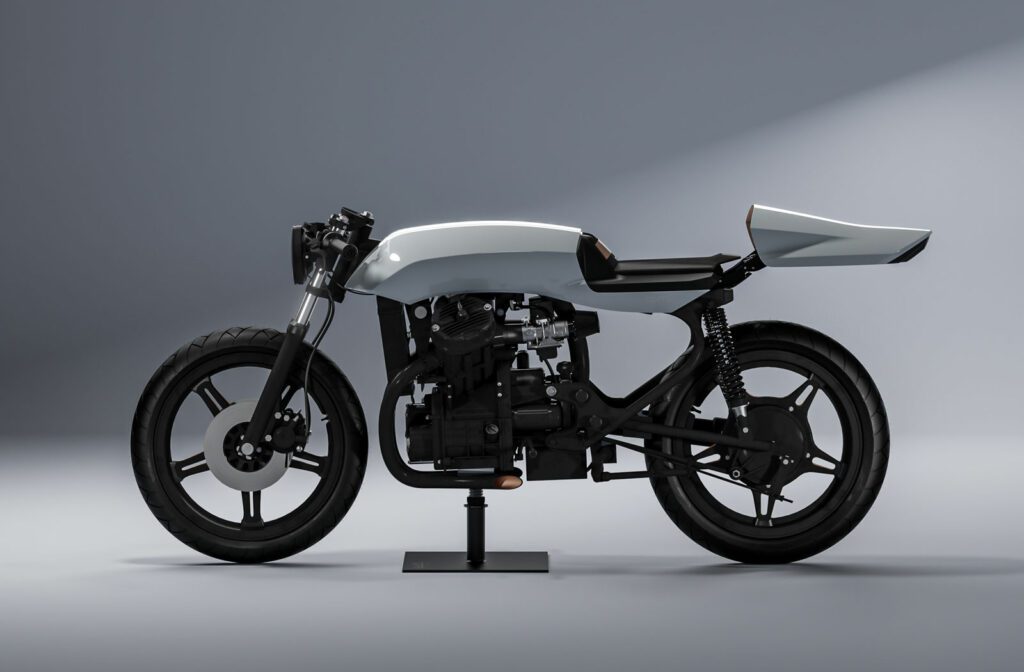 "On the upper part of the bike (all that's white), there has been months of design work, starting from the basic idea of having a sculpture on top of an engine and two wheels." Gianluca explains. During this time they also spent a lot of time considering when a motorcycle is most admired.
What they realised was that for both the rider and onlookers the best time to really observe a motorcycle is when it's stationary. So with this in mind they devised a plan to ensure their creation would look its best when curious eyes could linger.
Biancaneve's elaborate seat design is without a doubt unique. When the bike is stationary, the stark white monocoque body forms a single, uninterrupted structure atop the blacked-out CX500 chassis. It is, as Dotto envisioned it, a sculptural masterpiece that is sure to beguile curious onlookers.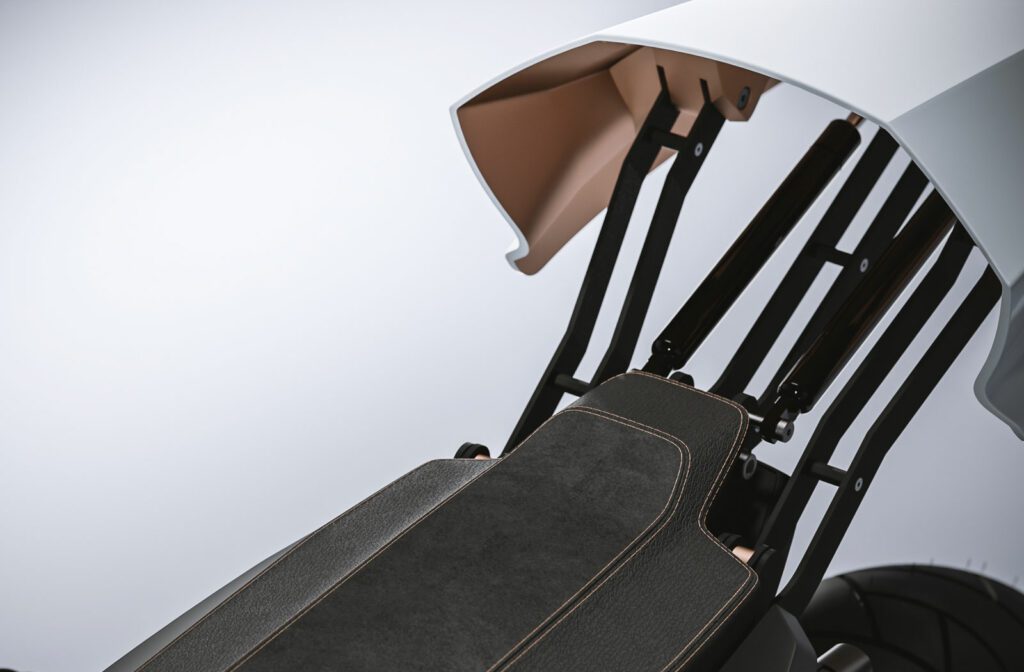 "We asked ourselves how we could create our vision and still build a motorcycle that could be ridden. That is when we started designing the cover opening to unveil the seat and all its mechanism. This turned out to be the biggest 'job within the job'," says Gianluca. "The mechanism took us weeks to engineer. In the end, even though the main focus has been working on the closed silhouette, our big accomplishment is that Biancaneve has a very powerful presence also when it's open."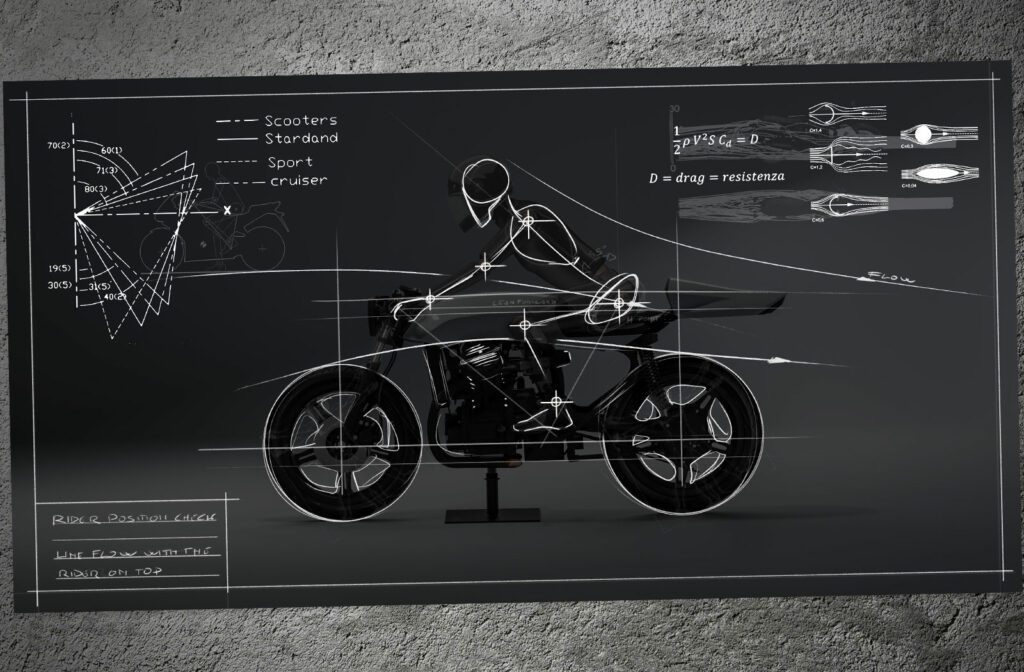 Gianluca and Francesco's concept uses custom hinges to relocate a section of the bodywork to sit it over the rear wheel. This then forms the bikes rear cowl and exposes a handcrafted premium leather and Alcantara seat that hides beneath. The composite bodywork is essentially a shell that also allows unsightly components to be hidden inside along with a custom made aluminium fuel tank.
Special consideration has also been made to how the rider and motorcycle integrate.
Gianluca explains that "Biancaneve blends completely with the riders figure for aerodynamics and a unique visual flow thanks to its long tail."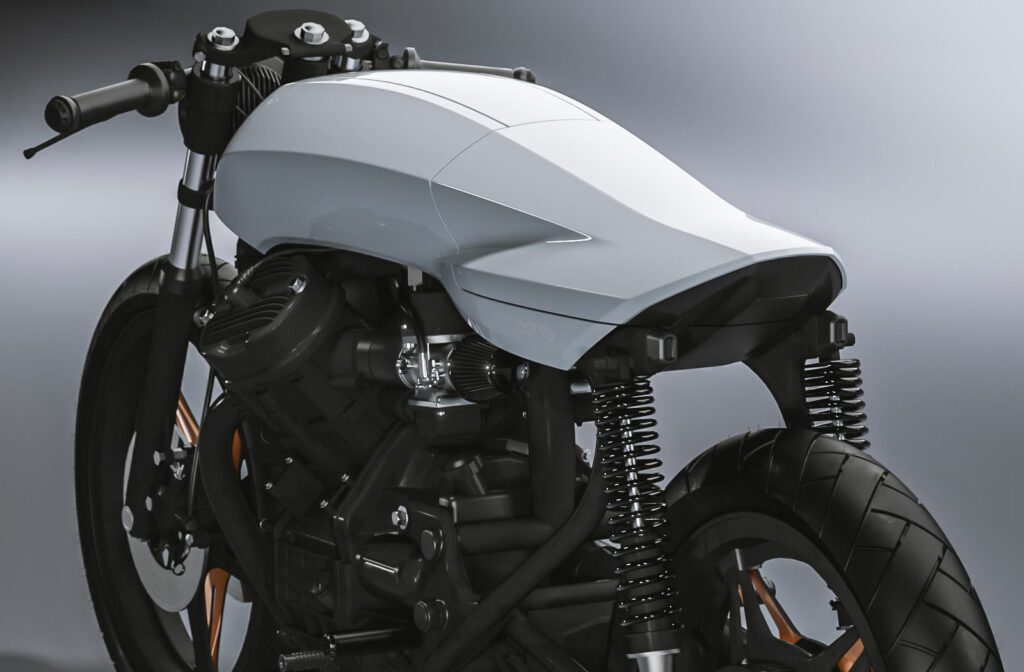 By now you have likely noticed that most of the images in this article are renders.
That's because Biancaneve is currently still being built. Slated for completion in November we're eager to see how similar the finished bike is to Gianluca and Francesco's vision. If all goes according to plan we have no doubt we'll be seeing many more mould-breaking builds from this dynamic duo in the future.