"It all started with my toy bikes as a child. I would cut off parts with my scissors and colour them in with my markers." recalls Fredrik Persson of Paal Motorcycles in Sweden. "As I grew older I started to customize my bicycles. Taking off the fenders, changing the tires, painting the frames etc. When I turned 15 I was allowed to drive mopeds and I started to customize them as well."
Despite an early fascination with two-wheeled machines, Fredrik's career followed a different path, one of a chef working at high-end restaurants "chasing stars" and culinary glory. Although they hadn't played a part in his life for many years, when he grew tired of the restaurant game it was his long lost love of motorcycles that lead him on a new path.
"I bought a bike, rented a space in a garage and started to build my first motorcycle," says Fredrik. It was a bold move for someone who was more at home handling cutlery than carburettors and one that didn't go quite as well as planned. Not being the kind of guy to be beaten by a single failure Fredrik decided to upskill himself by doing unpaid work at a local motorcycle service centre. "After working for about 8 months without a salary I started to run out of money. Thankfully the workshop offered me a full-time job as a mechanic."
Working on stock bikes gave him the skills he needed, but it didn't satisfy Fredrik's desire to build custom bikes, so he quit the workshop and relocated to his own garage space, equipped with a solid set of skills and the confidence he needed to execute his ideas.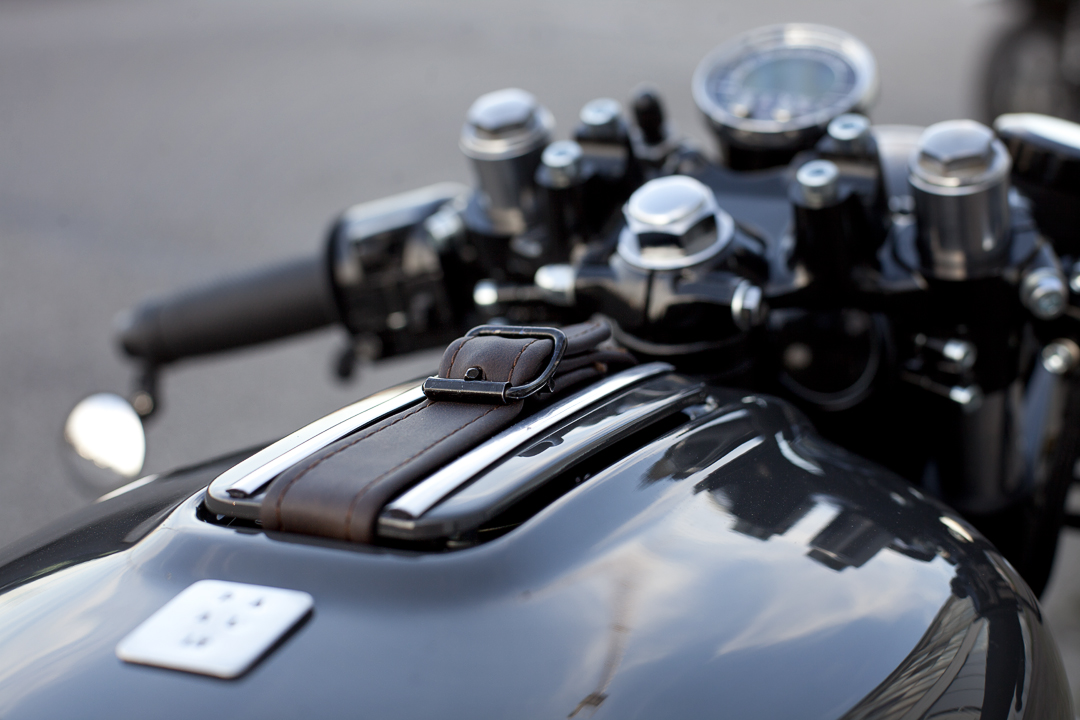 Now with 9 bike builds under his belt, a well-appointed, generously sized workshop and even a flashy website, customers are starting to line up and his Paal Motorcycles pipe dream has become a rapidly growing reality.
His number nine or 'IX' build shows just how far he's come as a custom builder. The 1977 Honda CB500 Four cafe racer features a beautifully balanced aesthetic and level of finish that makes it easy to see why things are going so well for Fredrik.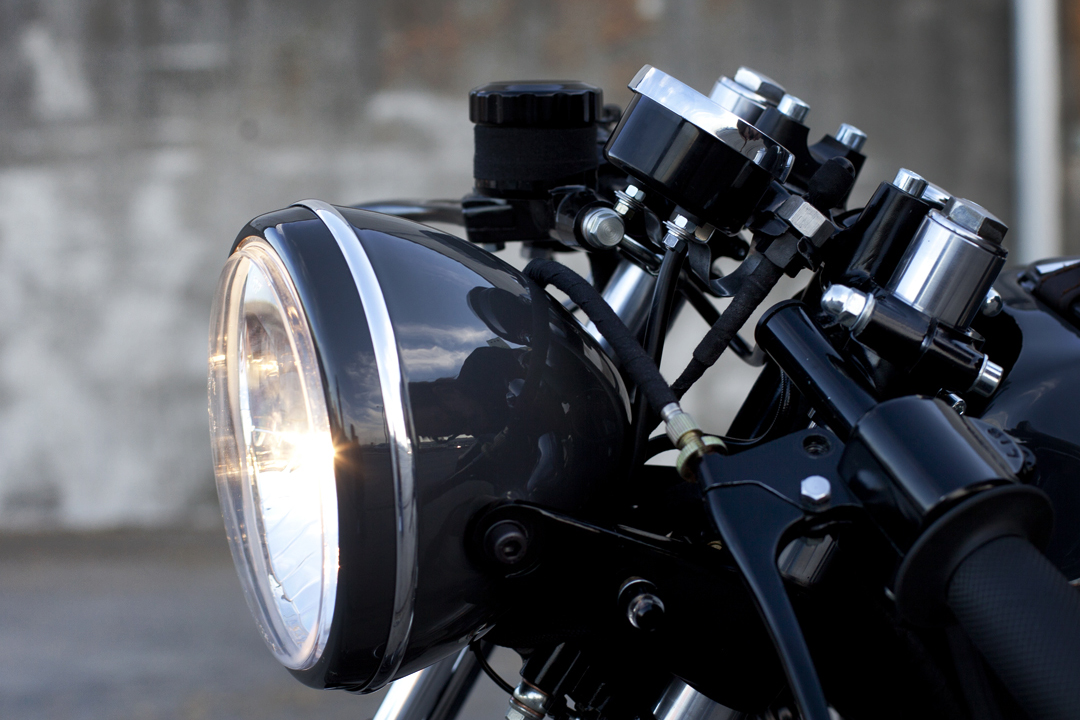 All up the Honda took around 2 months of full-time work to complete. The bike was originally being built for a customer, but when they fell into times of hardship, Fredrik was left with an unfinished project on his hands. Thankfully his unwavering determination meant he was willing to see it through to its completion as a personal project. As the build progressed though another customer started showing interest and the bike found a new owner before it had even been completed.
After taking control of the build Fredrik decided on a direction for the bike after looking at a Porsche grey colour with his painter. Intrigued by the colour he spent some time studying vintage Porsches and fell in love with their lines and elegant fit and finish. So, with those old Germans in mind, he set about transforming the bike in his own vision.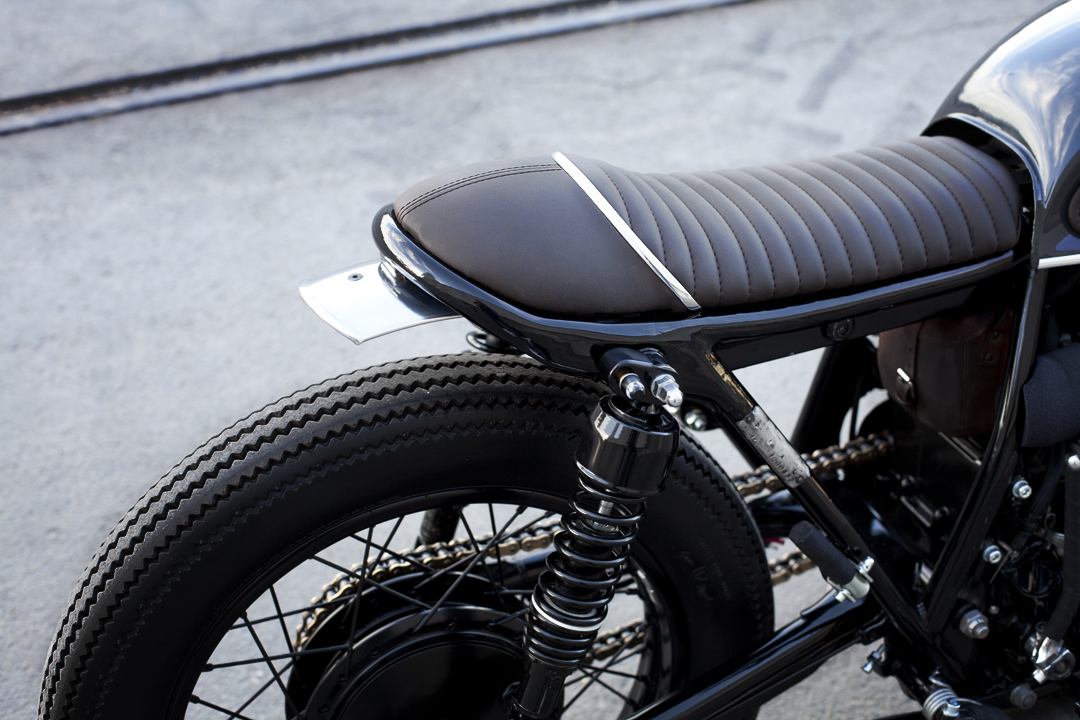 Firstly the bike had to be given a new lease on life as it's (almost) 4 decades of service had taken a toll. All of the bikes wiring was replaced and the ignition converted to an electronic system. With his in house engine guru Ebbe, they overhauled the inline fours internals with new pistons, valves and honed the cylinders. The stock carbs were also rebuilt and tuned to suit a new 4-into-1 exhaust system and Unifilters. While it was apart the engine was also given an exterior freshen up in classic gloss black that ended up spilling across on to the carbs, fork legs, wheels and frame.
Before being powder-coated the frame was also given a clean and a trim to tighten its proportions.  A custom tray was hung beneath the seat pan to house the relocated electrics and to hide the new battery. The front forks were also overhauled and the rear shocks replaced by brand new aftermarket units in matching gloss black. To give the factory tank a fresh look Fredrik took to it with a hammer, caving in the sides to form knee dents. Then, his favourite feature of the build, the seat and its matching leather knee pads were upholstered with chocolate brown hide.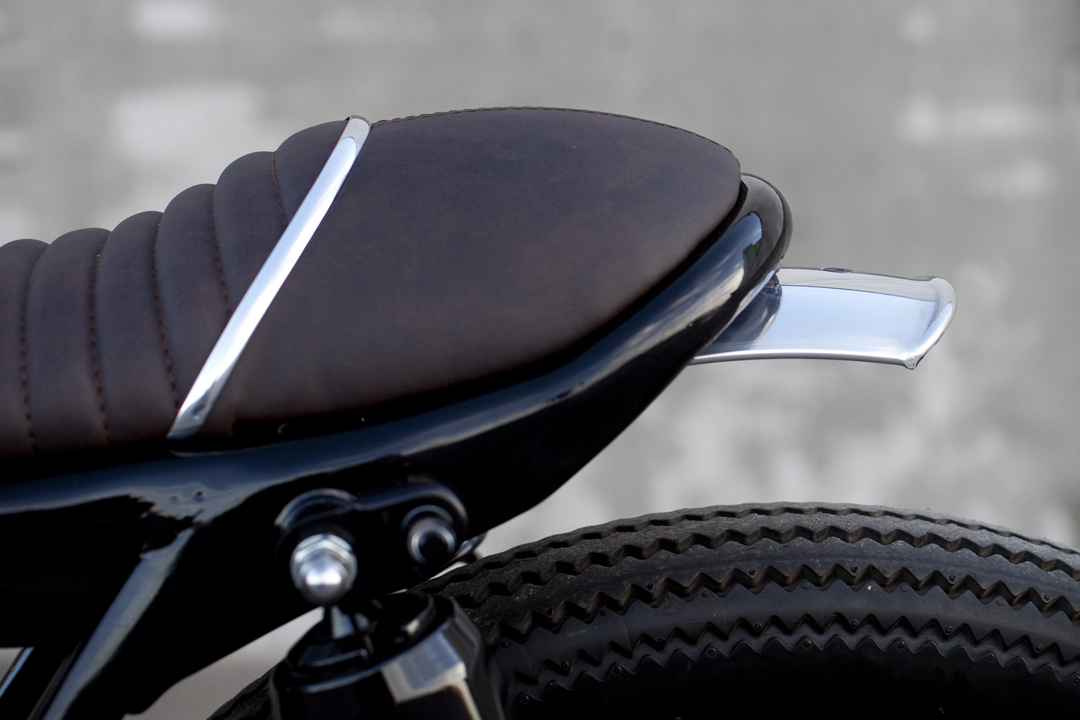 Black clip-on bars were fitted to the forks and there's a set of custom LED lights attached discreetly to the frame. A new speedo sits above the blackened top clamp and a Bates style headlight has been custom painted and mounted up front.
In the spirit of the Porsches that influenced this build, Fredrik then added touches of polished alloy to tie all of the different elements of his build together. Paying special attention to not overdo its application he kept it to a minimum allowing that awesome grey and chocolate brown leather to be the tonal highlight of this timelessly tasteful build.