On the dawn of the premiere of Discovery HD Theatres Cafe Racer TV series a production studio called "The Second Society" released a Cafe Racer documentary titled "American Cafe: Cafe Racers and the Slimey Crud Motorcycle Gang".
The documentary is a snapshot of the Cafe Racer culture existing in the United States today. It follows two eager motorcyclists as they attempt to build their own Cafe Racers to ride in the Slimey Crud Motorcycle Gang Cafe Racer Run. Jason transforms a 1974 Honda CL350 which was un-ridden for 10 years while Matt works on his 1982 Honda CB650SC half cruiser, who's parts are incompatible with almost every other Honda CB. Footage of the guys building their bikes is mixed with shots from the ride itself from walks through the car parks filled with Cafe Racers to footage out on the streets.
As it turns out the Slimey Crud Run is one of the biggest Cafe Racer motorcycle gatherings on the globe, attracting around 3000 riders twice each year. Although it isn't limited to Cafe Racers the run is recognised by the number of vintage and Cafe Racer style bikes in attendance.
"Despite all the makings of what should be an unknown event, the Slimey Crud Café Racer Run in southern Wisconsin is attended twice each year, on the first Sunday in May and October, by riders from all over the country and routinely has participants from at least five states in the upper Midwest.
Its origins are nearly as murky as Stonehenge, dating back to the early Seventies, according to one of its co-founders, former Triumph/Bultaco/Matchless racer and current Triumph dealer Lyall Sharer. From humble beginnings, the event has become an organic thing that thrives on its own energy…Flathead, knucklehead and panhead Harleys; TR-6, Daytona and Bonneville Triumphs; Lightning and Thunderbolt BSAs; Moto-Guzzi Falcone and 850 Le Mans, Ducati SS-900 and Diana, Norton Commando, Vincent Black Shadow, Munch Mammut, BMW, Velocette Venom, Royal Enfield, Indian Chief, Suzuki RE-5, Honda CB 77, Hondamatic, CBX; Laverda Jota, Kawasaki H1, two-stroke, four-stroke, rotary, flat-trackers, touring, choppers, bobbers, adventure bikes, rat bikes, to name but a few of the types, brands and models seen at recent Slimey Crud runs."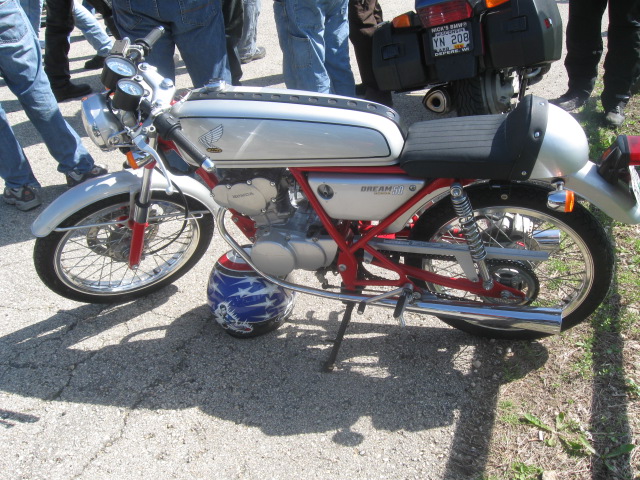 You can purchase a copy of American Cafe: Cafe Racers and the Slimey Crud Motorcycle Gang here on the Second Society website or if you're in the States you can view it in HD on Youtube for $2.99…can you say BARGAIN!