It's been some time since we featured a custom Honda CX500 here on the site and what better way to revisit Honda's longitudinally aligned v-twin than with this beauty from Portland, USA. Built by Josh Deardorff the 1982 CX500 he sourced for his project had only 1600 miles on the clock and purchased for the princely sum of $350 and hadn't moved since 1984. Inspired by the Wrenchmonkees own CX500, Josh set out to customise the bike using his skills in metal fabrication, despite having limited experience working on motorcycles. After an extensive rebuild and redesign, an epic 2-day break in ride and the bike's inaugural entry into a custom show, he was awarded a noteworthy prize thanks to votes from a global judging panel. Here's how it all happened…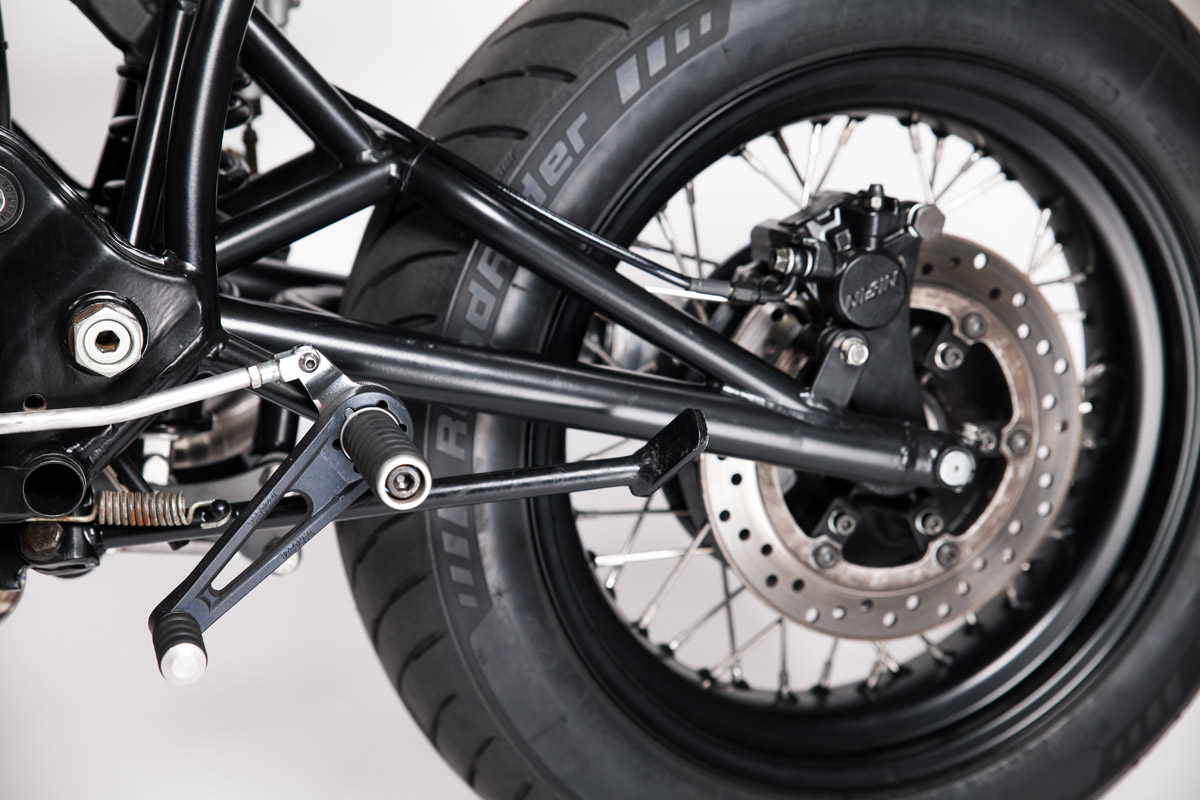 "The original plan was to clean it up by redoing the seat and tail section, changing the bars and throwing some powder coat at it." Josh had it sussed, but as he started to get to know the bike, it's faults started to surface. Dissatisfied with the CX's suspension setup he went about looking for solutions that he could adapt to the bikes dimensions. "The new rear end happened thanks to a mixture of not liking the traditional twin shock design and because I couldn't find the correct shock lengths that I wanted. I attempted a mono-shock design first using a CBR600 shock, but it ended up being way too soft. So, I figured out that the simplest way to do it right would be to just use an existing design. Honda had already figured out the leverage, linkage, pivot points and spring rates that worked so I just had to figure out a way to get that stuff onto my bike." Thanks to years of experience fabricating parts for the off-road industry Josh had no problem adding a braced mount to the CX500 swingarm to fit a pro-link linkage system Honda's 2008 CBR600RR.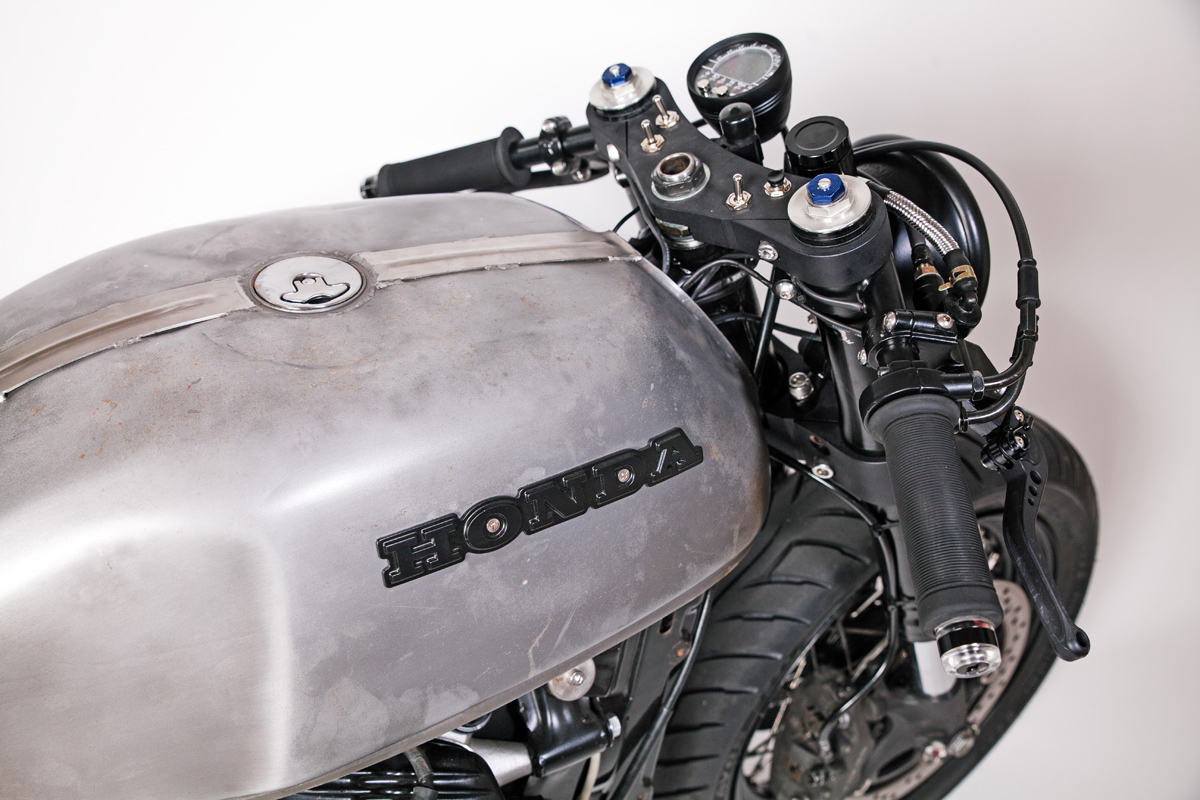 At the front of the bike he also tried a couple of few different configurations. "The first fork idea I fit used an '04 CBR600 front end. After I had the rear end sorted out though I had to update it to an inverted fork to look the part." The new front end consists of fork legs from a 2008 CBR600RR paired with triple trees that Josh machine from scratch. Nestled between those forks sits a Honda CB750 hub with the rotors from a CBR1100 spaced to fit, while in the rear a modified GL1000 hub has been laced to a 2014 Harley Dyna 17" rim.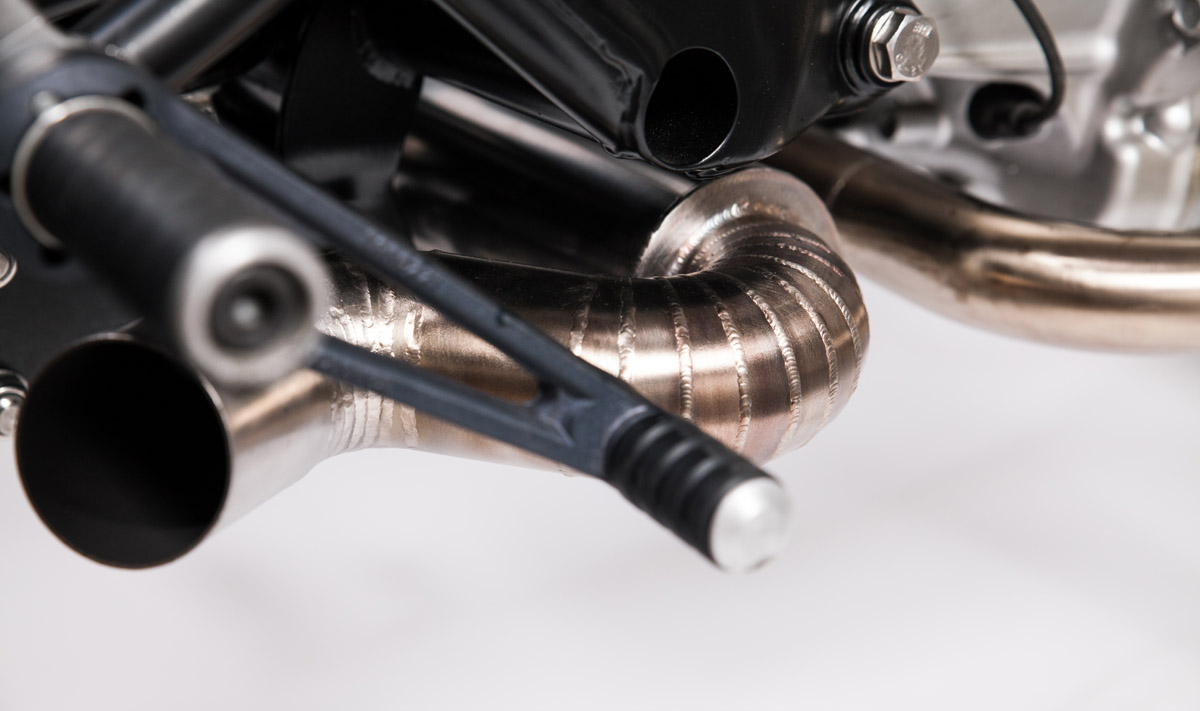 "The bikes handle bars are custom clip-ons that I made out of chromoly, since I couldn't find any steel bars that I liked and all of the nice aluminium bars I found didn't fit the budget. The rear frame and seat are the product of a few late nights and lots of head scratching. The rear cowl and seat/ tank piece are actually one piece that runs under the entire length of the seat and it was fabricated from scratch out of stainless steel. The tank is a CX500 deluxe unit that has been narrowed and the filler has been moved back quite a bit. Seeing as I have little experience working with thin sheet metal, it turned out a little rough."
"The headlight, from what little info I can find, is a 1960's car fog light that I found at a local salvage shop and has had a drag specialities bulb conversion and led bulb added. An Acewell speedo handles the vitals and the indicators have been machined to fit." Josh left the bike's engine stock but chose to fabricate a new, 2-into-1 exhaust system from stainless steel. He claims it's good for 110-115 mph thanks to the modest power gains and the loss of substantial pounds.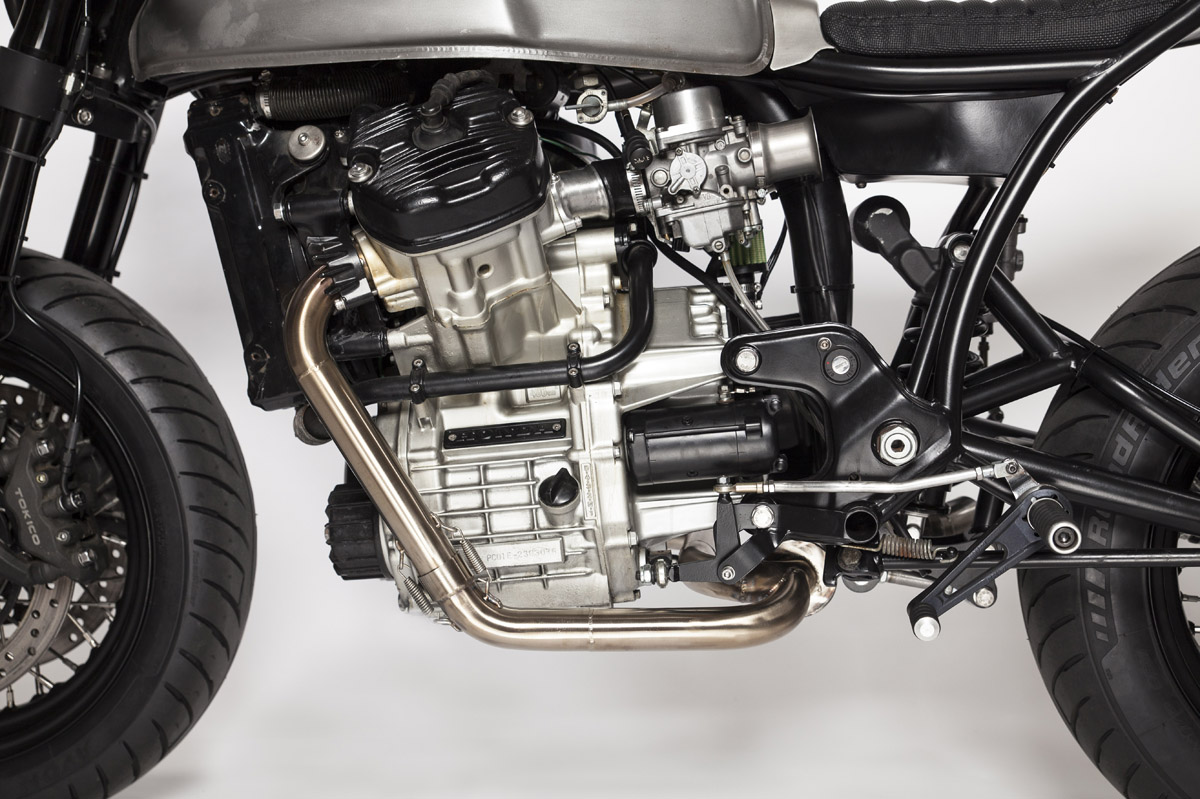 With the bike all done it was time to embark on a journey that Josh won't be forgetting any time soon.
"The trip to LA for the 2015 Deus bike build off was pretty amazing. Not only did I enter my first bike in my first build off, but I rode the bike from Portland to LA, alone, for two days and I won! Prior to the build off I had just finished my second front end swap, changed the tyres and fixed some electrical gremlins. I got the bike running and headed out with a backpack full of clothes, spare parts and tools. On the first day of that trip I put more miles on the bike, and myself, than I had ever ridden before. A few months later the worldwide vote count for all five countries nominees were announced online and I took out third place!"
Despite holding a special place in Josh's heart his Honda CX500 Cafe Racer will soon be moved on to make way for his next 2 wheeled project. If you'd like to see the build progress of this bike as it unfolded head to instagram and use the hashtag below…
#thisiswhathappenswhenyoubuyamotorcyclefor350dollars