A few years back I met Cliff Overton, a fellow cafe racer enthusiast, and backyard builder. When Cliff completed his awesome Honda CB450 Black Bomber back in 2013 I featured it in the very first issue of Tank Moto magazine. Since then he's put together several cool bikes as well as launching a great community project called 'Good Deed Garage' where he and fellow enthusiasts build custom bikes that are auctioned off to raise money for charity. This time around, however, Cliffs built himself a new personal ride and he's returned back to the CB platform, opting this time for Honda's legendary CB750K.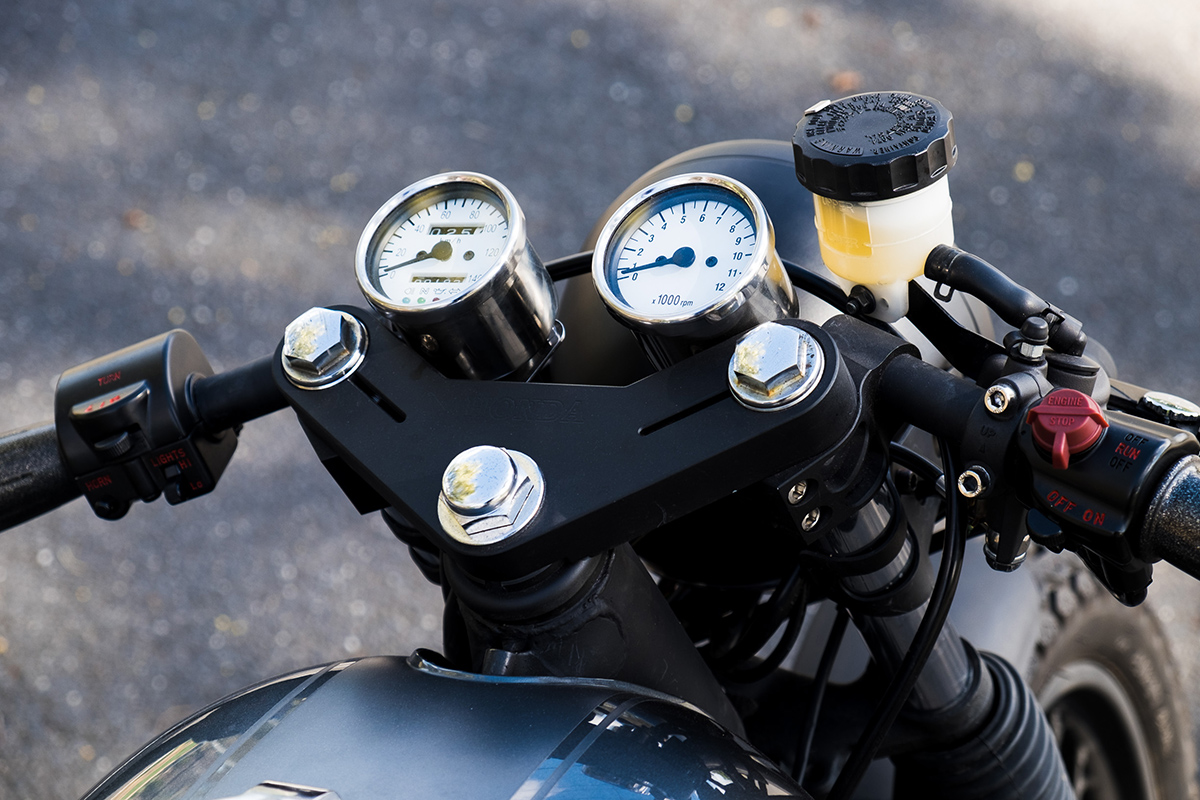 So why a Honda CB750?
Cliff Overton: I always wanted a CB750K. The first bike I ever modified was a CB750F2. It was a big ugly thing with Comstars that I managed to change into something decent looking. In fact – I think it was on the ROTCR page years ago.
To me the CB750K is the ultimate cafe racer platform and I am a big Honda fan. When I decided last year to build myself one I contacted a mate who was happy to sell me enough CB750 bits to build one, so I started from scratch with a ute load of parts.
Did you build the whole thing yourself?
CO: I got an experienced mechanic to put the engine together, and a top quality painter to paint the tank. I built the rest of the bike, on a tight budget. I bought secondhand wherever I could, but used brand new where it counted the most.
It's certainly a very "black on black" bike.
Yep. That's a product of this being a budget build. I went to town with the rattle can flat black on the frame, wheels, guards, engine, pipes, air filter – pretty much all of it except the tank. I used a good etch primer first so the black should stay put for some time. I wanted to build a bike without "bling", just a practical, subtle, stealthy thing that can age gracefully without needing a load of polish. In fact – I soon got sick of the black paint and ended up taking to it with some steel wool. Now the engine looks worn in and I don't have to worry about scratches.
What's with the six on the side covers?
The side covers came to me in a metallic black but the edges were very rough. I had a couple of vinyl 6s lying about from another build so I tried sticking them onto the side covers, spraying over the top with flat black and then peeling them off. I liked the gloss and matt combo so much I went with that on the tank.
And what about those green carbies?
Well – I stripped and rebuilt them and I wanted a clean factory look. I went to the shops and looked at metallics that might look like cast metal and chose Ford Ice Mint Green. Most people think that's the natural colour of the carbies!
Okay – enough about the pretty things, what's been done to the rest of the bike?
The frame is stock, the cafe seat is on a stock pan so it just bolts on. I used an old plastic cut down CBX guard on the front, mounted using a stock guard bracket and I cut down the rear guard. Tarrozi rear sets came off Gumtree. I added second hand clip ons, a billet top triple and small aftermarket indicators. There's a new headlamp, gauges, grips and mirrors too. I adapted a second hand Kawasaki ZX14 front brake master cylinder (which works a treat) and the engine was bored out to 836cc and wears a secondhand set of 4-into-1 pipes. That engine work provides enough extra go for me – the rest of the engine is stock.
The other trick thing I did was with the key. I installed a Motogadget M-unit which works fine, but I am experimenting with an implanted microchip that I have under a key tattoo on my right hand. The plan is to program the chip to work the same as the Motogadget key fob, so all I need to do is hold my hand at the right spot on the bike to turn it on and off. This way I stand less chance of losing my bike keys.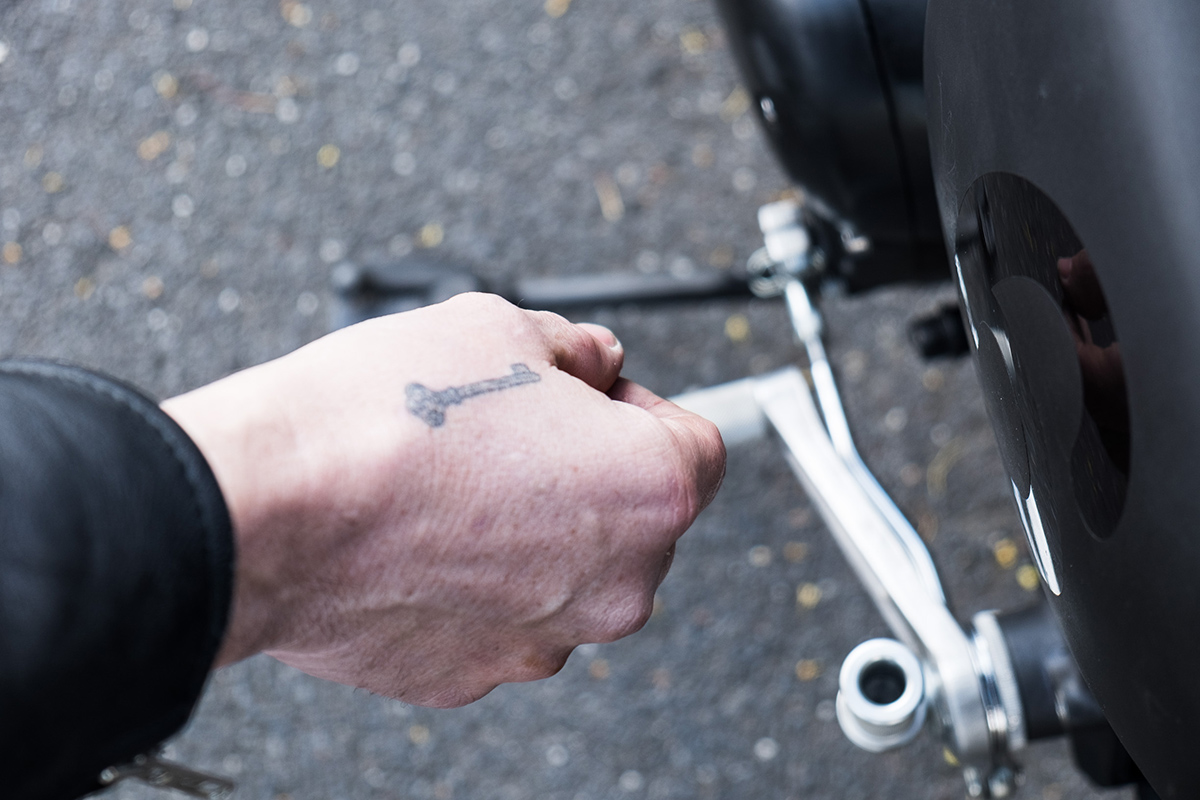 Well, that's just weird. Moving on… how does the finished bike ride?
I love it. The first real test was the annual Melbourne Cafe Racers "Brass Monkey Run". The shakedown took place over a few hundred kilometres of Gippsland's best twisty roads. The bike took it all in its stride, it had all the power I wanted when I wanted it, it handled the corners as well as I can take them and the only thing that broke on me was a poor quality speedo cable.
Photography by Ben Mulligan