Since the onset of the pandemic, we've seen quite a few builds fast-tracked. While the general population was bingeing on Netflix, filming their neighbours breaking lockdown rules or contributing to heated online political debates, Gene du Plessis built his wife a bike. Originally destined to be her learner bike the Honda CB200T was sitting unused in Gene's shed. With 3 previous builds under his belt and plenty of at-home time up his sleeve, he transformed her modest little runabout into this ostentatious Bebe pink cafe racer.
The donor for the project was an unrestored 1975 Honda CB200T and when it came to choosing a direction for the build Gene decided to act on an idea he had in the back of his mind. "I've always had the idea of a pink bike in my head. My wife loved the idea and this seemed to be the perfect time to do it," says Gene. "I wanted to keep the frame and bodywork as stock as possible, which meant no cutting or permanent alterations, at the same time, I wanted to make it a unique build that would stand out."…And stand out it certainly does!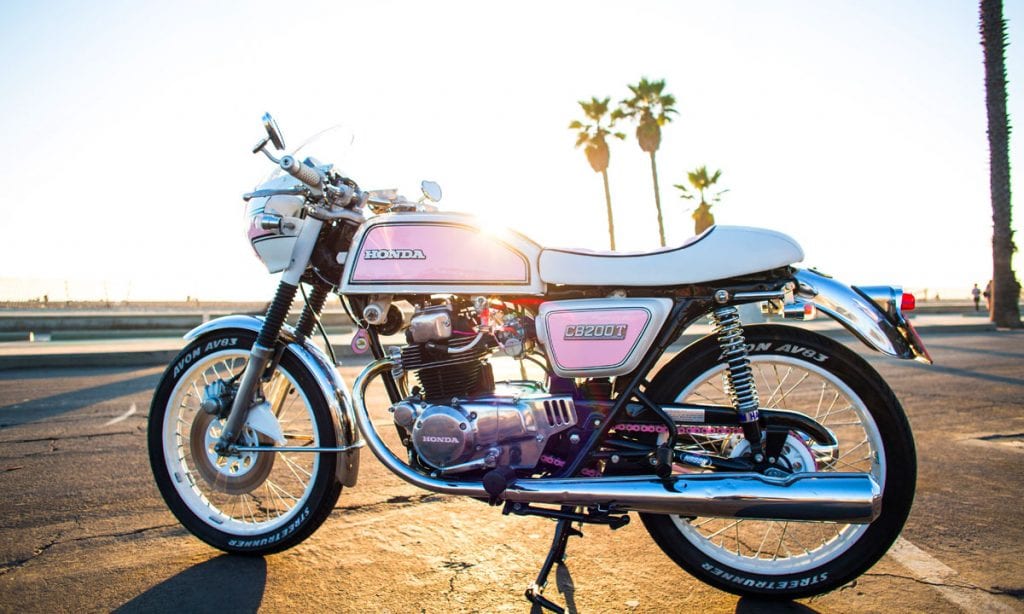 The first stage of the rebuild involved rejuvenating anything that was showing its age. After the initial teardown, Gene treated the Honda's frame to a blast and detab before hitting it with a fresh layer of gloss black powder-coat. He then put in the hard yards polishing 45-years of oxidization off the crusty alloy engine cases. Then, to adhere to his personal build requirement of no permanent modifications, he began his search for bolt-on parts that had the look he was after.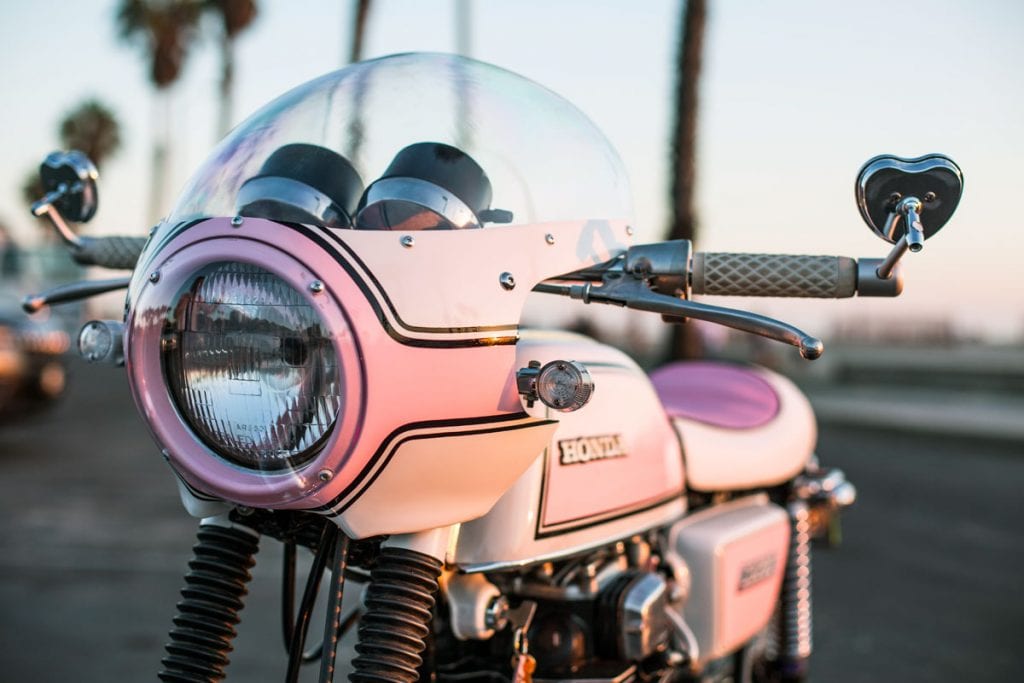 The bike's new bodywork consists of the original fuel tank which was painstakingly reconditioned prior to the respray. Sitting directly behind it is a custom made seat by Bike Seat Factory in Vietnam. Based on a metal seat pan design it features a cafe racer styled hump at the rear and was upholstered to Gene's unique white and pink with black piping colour scheme. To give the little CB a racier aesthetic he then bolted a Green-L cafe racer fairing to the front end. A set of drag-style handlebars provide the clearance required without completely sacrificing comfort.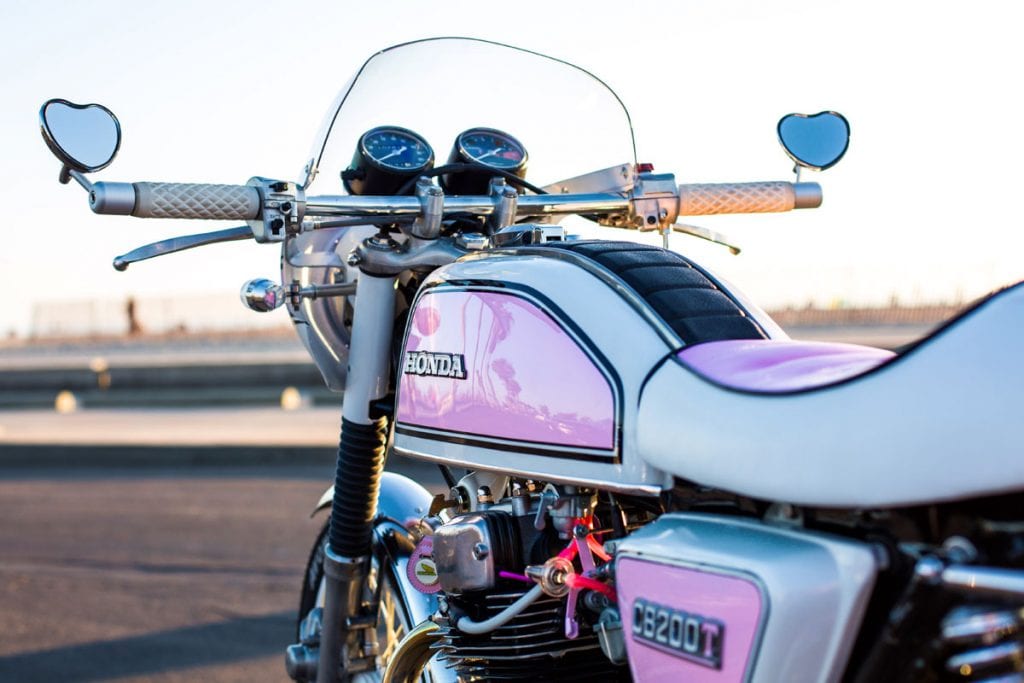 Next Gene handpicked a collection of unconventional accessories to trick his wife's CB200T out. The list of theme matching add-ons includes a set of white grips from Biltwell and clear lensed retro indicators by Alchemy parts. At the rear, you'll spot a Lucas styled trail light and the tyres are Avon's classic racing Road Rider tread. Taking pride of place on the fuel tank is a QSPS cap with a built-in fuel gauge and who can miss those heart-shaped mirrors. These were discovered in the Low Brow Custom catalogue. Gene's even gone to the extent of colour matching the sparkplug leads, fuel lines and chain to the bikes new pastel palette. As for the paint that was all Gene's doing as well with the only task outsourced being the final clear coat.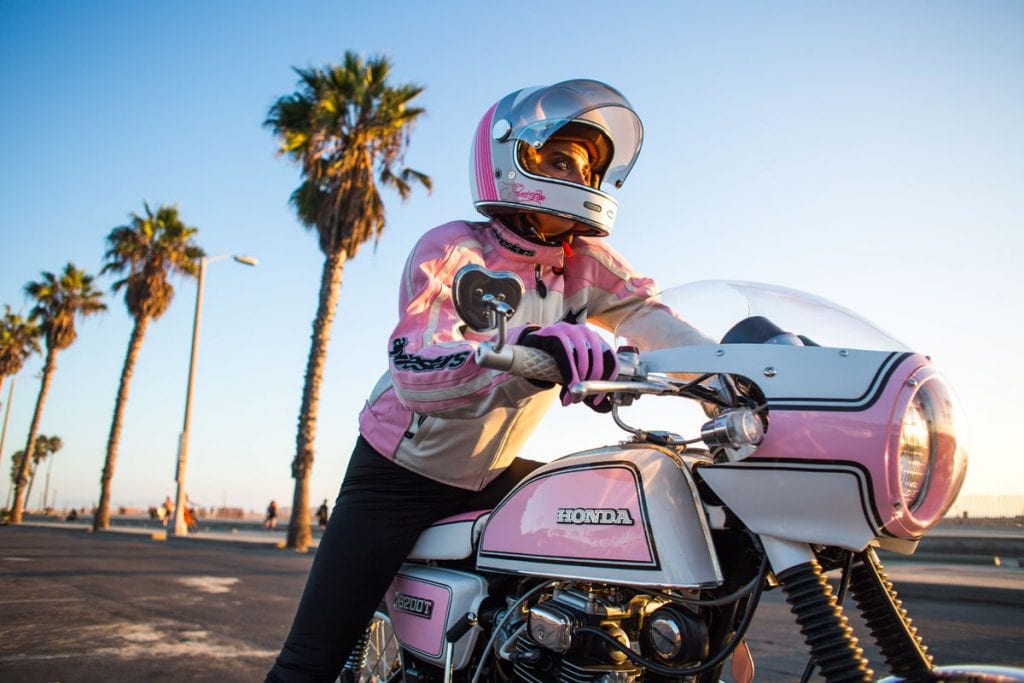 This Honda CB200T cafe racer isn't simply an exercise in styling though. During the transformation Gene opened up the engine too, "There was a piece of the carburettor choke flap inside the cylinder." he recalls, but thankfully closer inspection revealed no serious damage. During the rebuild the ports were polished and valves reseated, the busted carb replaced with OEM stock and a new Sparko Moto reg/rec installed. Gene also rebuilt the CB200T's unique cable operated disk brake assembly using parts he pulled from a CB200 and CB175. To sharpen the bike's handling the vintage shocks have been swapped for retro-styled Hagons.
The resulting performance isn't earth-shattering by any means, but according to Gene, "The bike performs like brand new. On a long downhill slope, it will just about reach 80+ mph!" As they say 'it's more fun to ride a slow bike fast' and when that bike happens to be sporting a bright pink paint scheme were sure the fun factor increases tenfold.