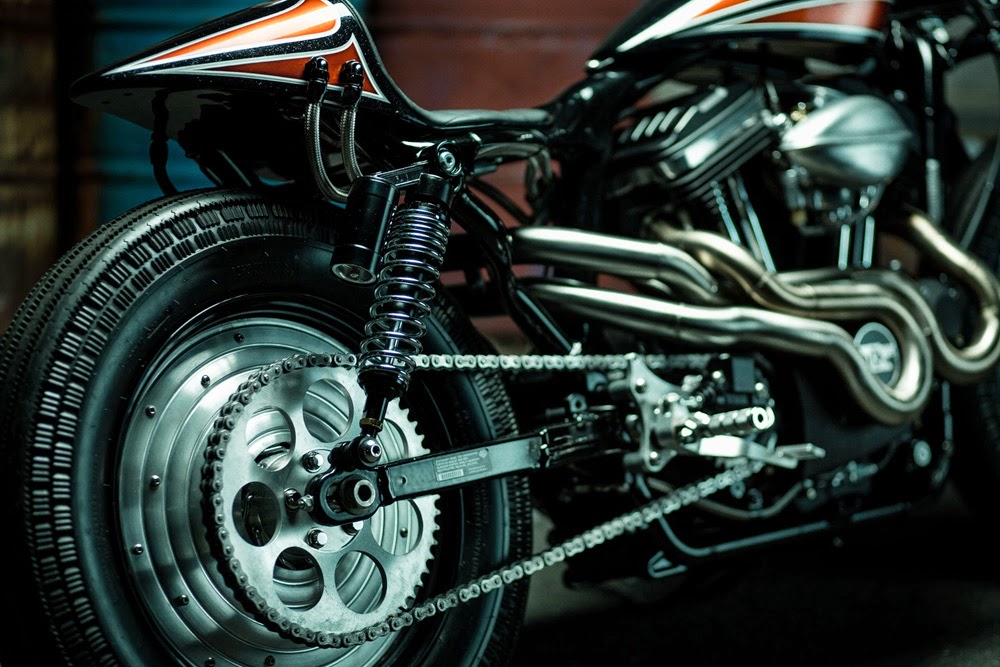 The build of the K1 was undertaken by a talented group of individuals who donated their time and skills to help make this build a reality. A dream team was formed. It consisted of Robby Ante a skilled welder, Glenn Aitken a Harley-Davidson guru, Matt McLeod an engineer, Karl Stehn a custom painter, Kenny Gohl an automotive electrician, Aaron Sinclair an upholsterer, myself, Jimmy and a handful of our members. Over 4 months we tore down and rebuilt the Forty-eight using our combined skills and plenty of man-hours. With so many people involved opinions sometimes varied and timeframes were hard to stick to with most people working after hours, but looking back now it all came together relatively smoothly.
The original plan was to put an XR750 TT style fairing on the bike, but with time working against us the idea was shelved and we instead stuck to an XR inspired colour palette. Karl Stehn at KDS Designs put together a slick paint design using the classic XR black, white and orange and added plenty of flake to really make it pop. We mimicked old school Café Racer techniques by using 2 Cole Foster fuel tanks, chopping one in half to function as the tail end. Since we'd removed the oil tank from the frame we also modified the tail to double as the Sporsters oil tank. Robby and Glenn devised the internal plumbing system before welding it all up to a custom fabricated seat pan. To support the weight of the tail/oil tank Glenn fabricated rear struts that blend with the original lines of the frame. Braided stainless steel lines and race fittings from VPW transport the oil to and from the engine, snaking around the frame and engine.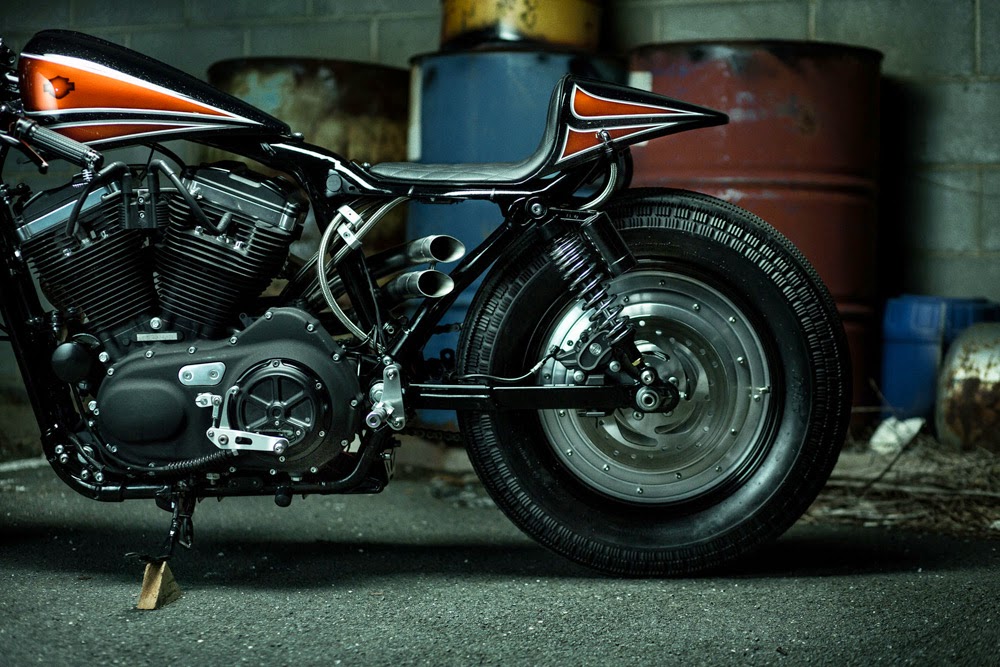 Roland Sands Designs provided the clip-on bars, clarity line Derby cover and various blacked out engine dress up parts. A set of Chainsikle rear sets put the rider in an appropriately aggressive riding position and the headlight was remounted deep between the forks. We wanted the bike look fast even when it was standing still so we used a Burly fork lowering kit to drop the front end by an inch and added piggy back shocks in the rear to raise it by an inch and level out the frame. We're big fans of the Japanese custom scene where form often outweighs function and since our Forty-eight is more of a city bike than a track bike we fit a set of chunky All State tyres from our friends at Antique Tyres.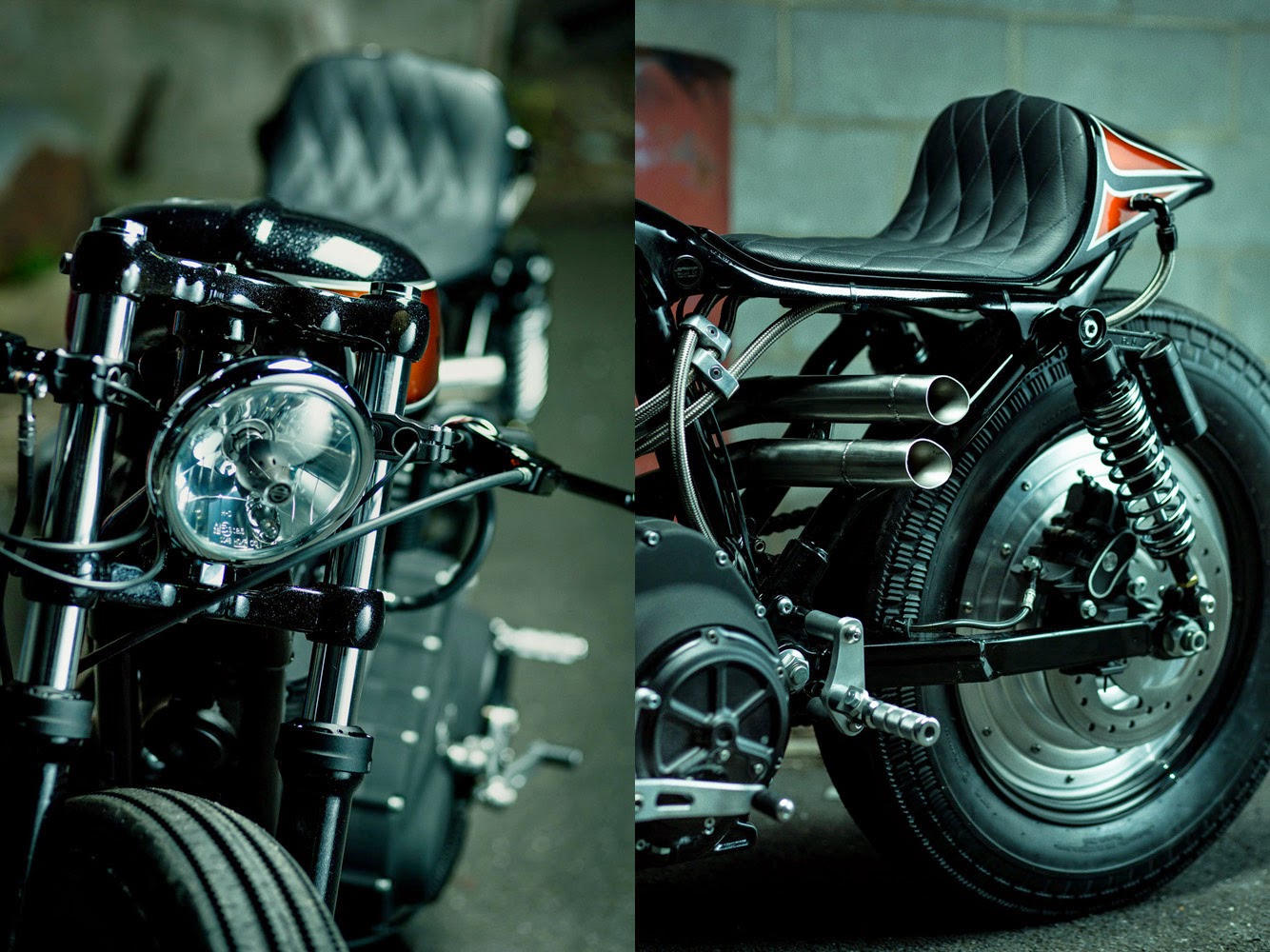 To transform the bike into a DIY friendly machine we had to remove all of the fancy electrical sensors and thing-a-ma-jigs that we couldn't tune using hand tools and old school mechanical know how. The ABS, alarm system, EFI, factory ignition and accessory wiring systems were all removed. Motogadget provided an M-Unit to manage the new electrics along with bar end indicators, mini-switches, and a keyless ignition. Matt from Krank Engineering machined new spacers to replace the ABS sensors on each axle and even milled a sweet custom points cover. An S&S Super E carb now manages the fuel delivery and because we love old school looks we swapped the belt drive with a chain set up.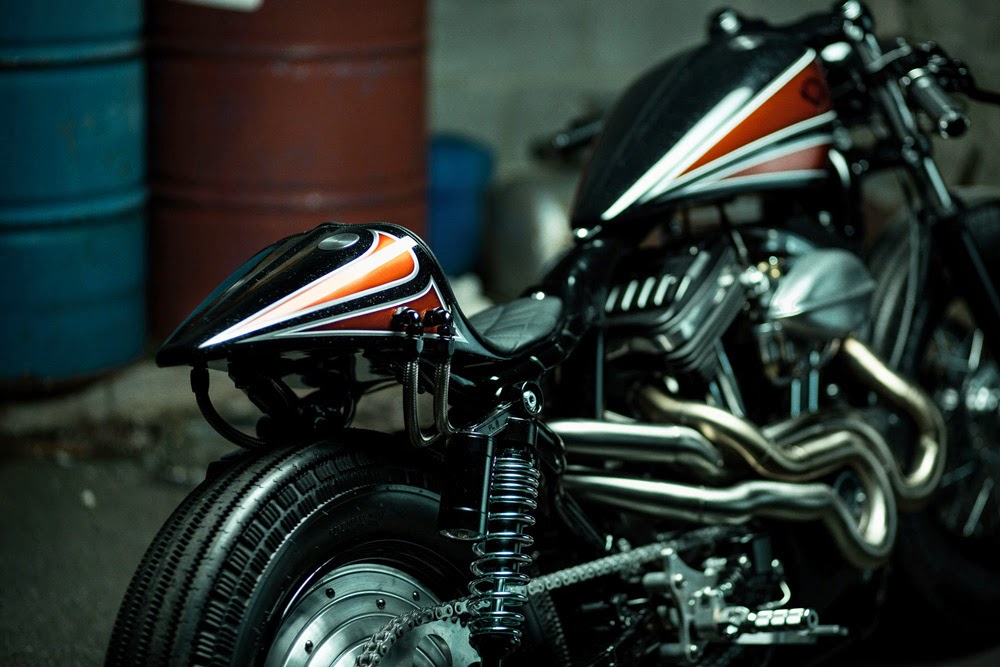 Despite all the other trick bits of fabrication and custom work on the K1 it's the pipes that show exactly what can happen when skilled individuals put their heads together. We spent hours discussing the route we wanted the pipes to take before Glenn Aitken cut each section by hand, measuring the curves and lengths by eye. We then removed, polished and brushed each segment before Robby Ante welded each stainless steel piece together again. Opinions will vary about the pipes and that's exactly what we were going for. They're our crowning achievement and to me, they sum up what the K1 and the communal workshop is all about. Experimentation, breaking rules and having a go. After all, when an opportunity like this presents itself why wouldn't you go all out?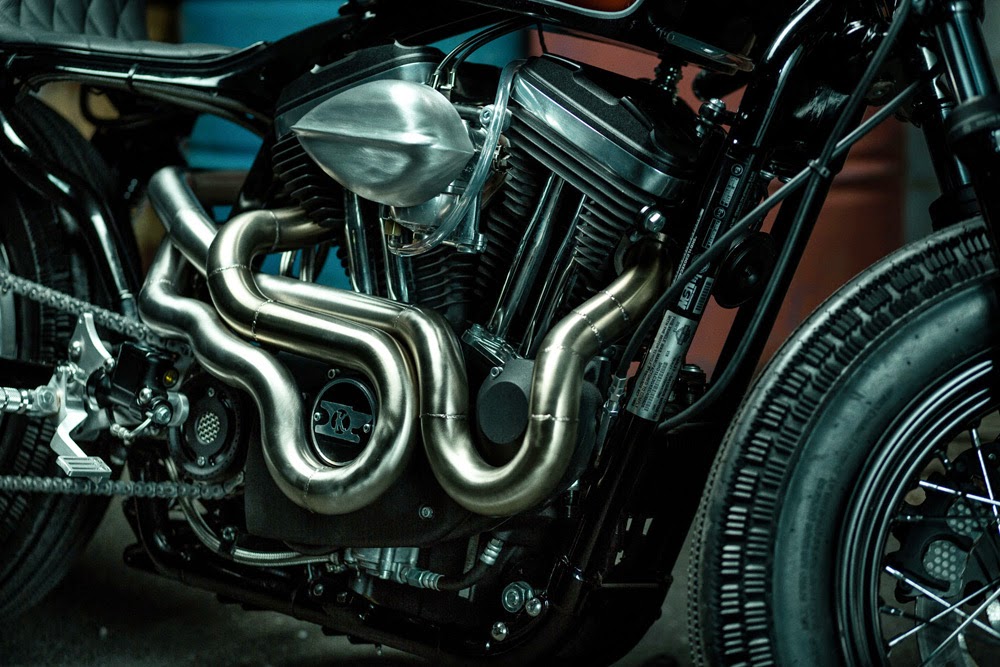 HUGE THANKS TO OUR FRIENDS
Glen Aitken, Robby Ante, Karl Stehn (KDS Designs)
Aaron Sinclair (Weird-o-pholstery), Matt McLeod (Krank Engineering)
Kenny Gohl, Lee Wilson, Mick Frawley
AND…
Roland Sands Designs, Rollies Speed Shop, Antique Tyres
Motogadget, Chain Sickle and VPW
IMAGES BY JASON LAU PHOTOGRAPHY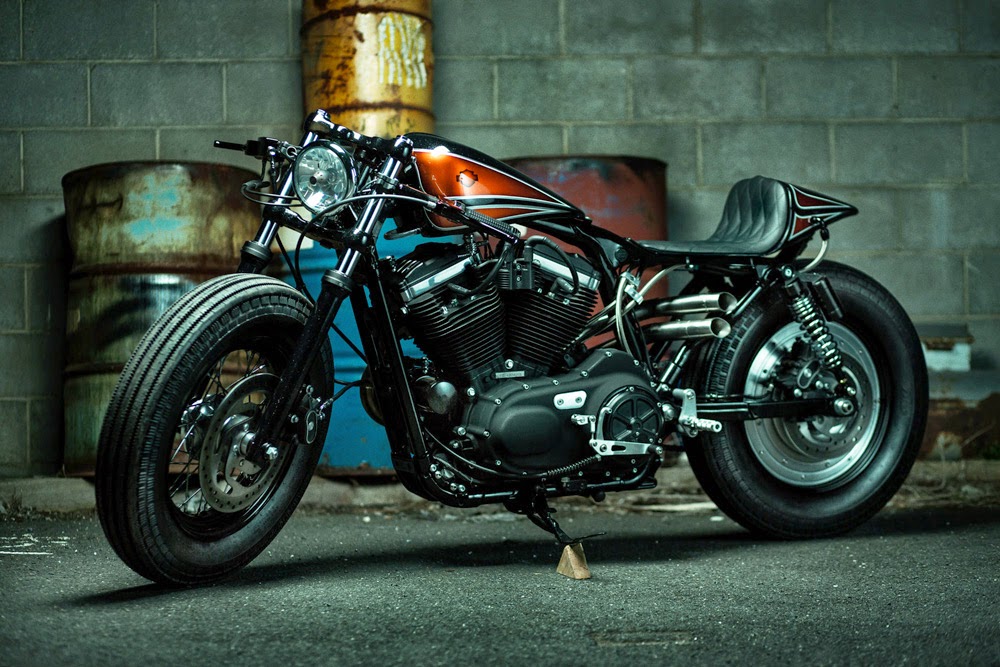 If you were given the opportunity to customise a brand new bike with the support of a major motorcycle manufacturer what would you do? This was exactly what happened to myself and a small team of enthusiasts back in April of this year when Harley-Davidson offered our communal workshop a brand new Harley-Davidson Forty-Eight Sportster and the freedom to do whatever we wanted with it. What we decided to do was to completely transform the Sportster and turn it into a bike that could be maintained and serviced using basic workshop tools. The result is the 'K1', a Cafe Racer styled, sleek and unique Sportster that showcases the skills of a talented team of "backyard builders".