"As an artist, I love beautiful things. I also love making things. When I get passionate about something, it's only a matter of time before I want to start making them. I've built classical and electric guitars, a wooden kayak and many radio controlled gliders. Now I make motorcycles.
My history with motorcycles is actually quite short. I only started riding four years ago, at the advanced age of 55. I started on a Harley Sportster and moved up to a Softail Slim so I could travel longer distances with my partner. Within a year I had started customizing my bikes. The following year I started my first full custom build and since then I've been building full time. I had absolutely no mechanical background when I started out. I knew how to use tools of course, but hadn't even performed an oil change on a motorcycle before."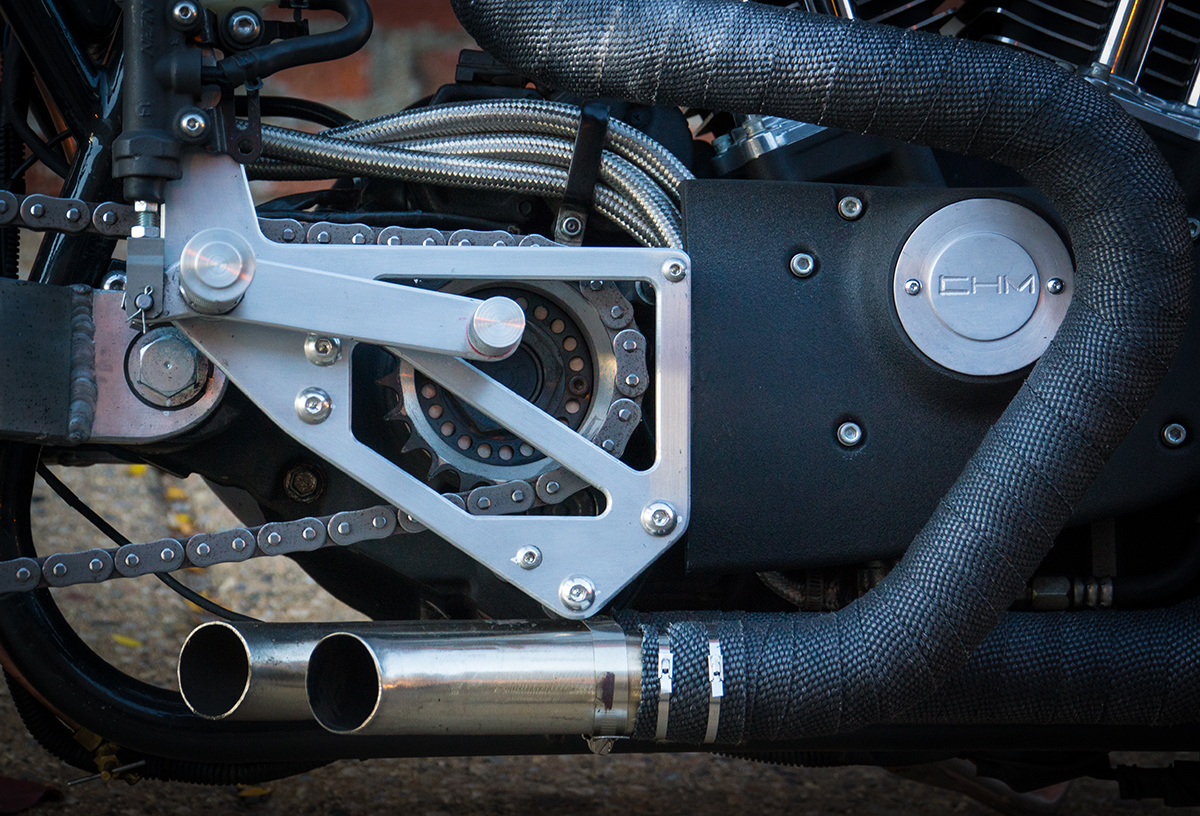 "I started teaching myself how to work metal and weld, how to use an English wheel and a mallet and shot bag. Before long, I got to the point where I needed help and advice. I found an excellent motorcycle program at a local Community College. The first course I did taught me the mechanics of motorcycles. I then took welding, machining and metal shaping classes and I'm now a certified mechanic and I'm still taking advanced classes in engine building, Dyno operations and tuning.
My first build was a classic chopper with a raked springer front end and a hard tail. You have to remember that I came from the Harley-Davidson world. It was awful to ride. Harsh on the backside and almost unmanageable at the front end. When I finished and rode the thing, I decided right away that the next motorcycle I built would be something with real, working suspension that handled well. I loved the clean, compact, elegant lines of Cafe Racer styled bikes so that's where I started. I decided to build a modified featherbed style frame and built everything around a 2009 Harley Davidson Sportster engine I bought from Ebay."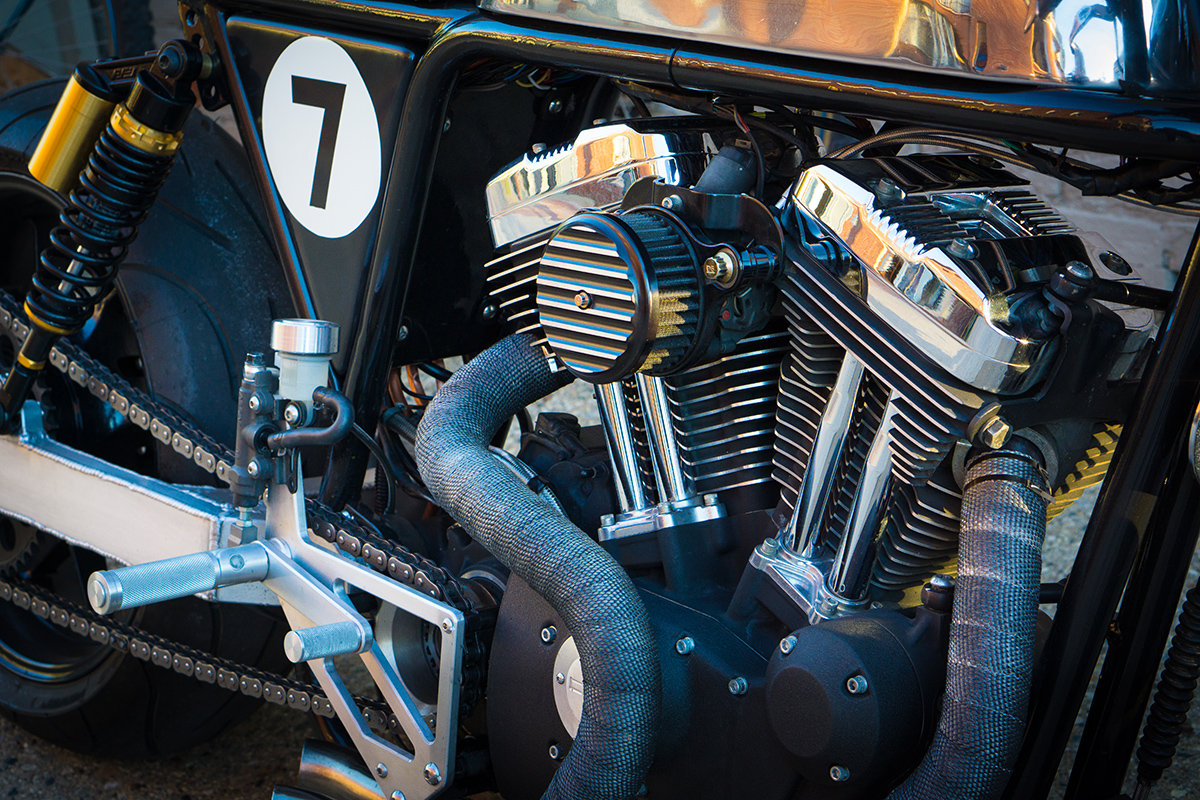 "I built the bike entirely by myself and it took me a full six months to complete. I used no outside services other than getting the logos 3D printed. When I bent and welded the frame on my jig I carefully checked the rake and trail to make sure the handling would be correct. I made the engine mounts and I fabricated all of the aluminium bodywork by hand then welded, sanded and polished them. I built the electrical box from aluminium sheet and even welded up the swingarm from flat stock. I painted the frame and electrical box (under the seat) and even masked off the graphics. I also wired the bike, starting with a Sportster wiring harness, cutting it to pieces and reassembling it. I made the gas and oil caps, the timing cover, the rearsets, everything. Although I suppose I need to also mention my neighbour Jeff, who sometimes came over and held something while I tack welded it!"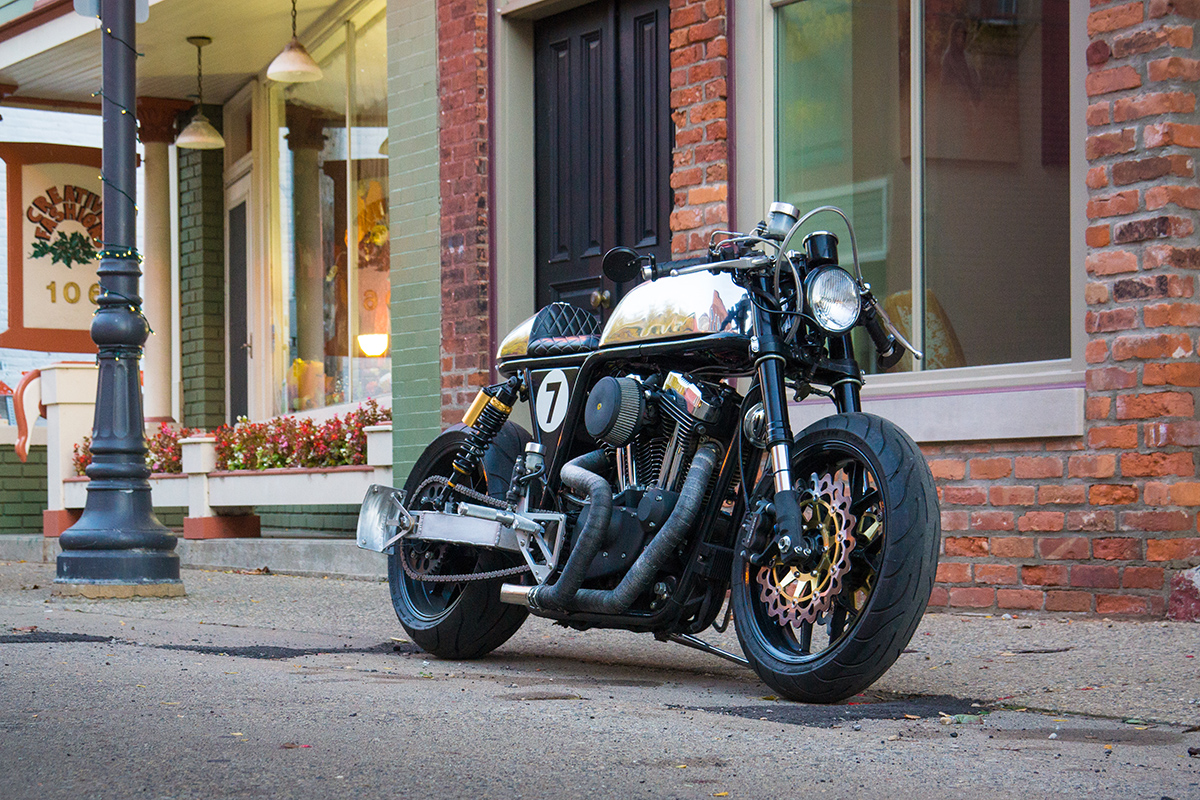 "Even the caps for the brake reservoirs were hand made, as were the bar end fittings and the cap for the steering neck. I've since replaced the plastic reservoirs with commercially made ones that were cleaner and more compact. I even made the license plate holder, though the one in these pictures has been replaced with a more compact, simpler and stronger one.
Commercially purchased parts included the engine, a complete CBR1000rr front end and rear shocks, the wheels, the brake rotors and tires. The headlight is from Dime City Cycles and I used LED lighting for the turn signals and the tail light."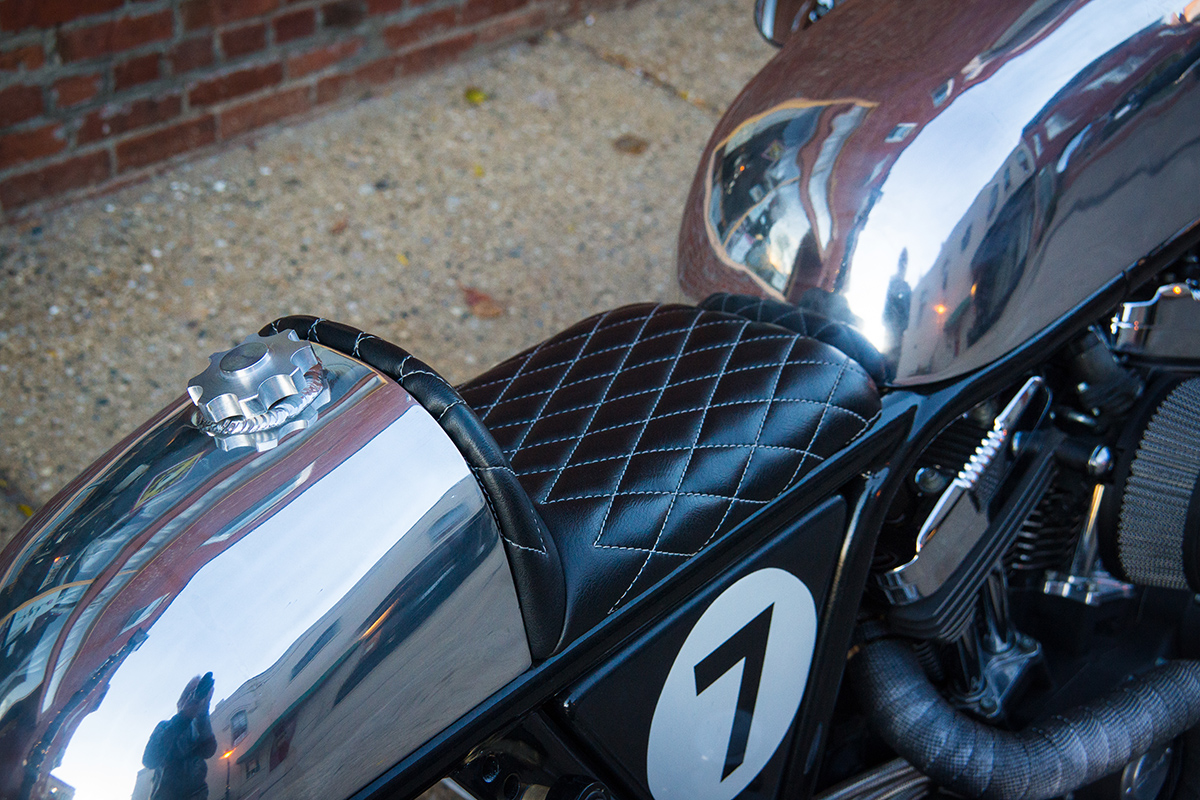 "I'm most proud of the way the overall build hangs together. I think it works as well as it does because of its proportions. The way the electrical box fits under the seat, the size and shape of the gas and oil tanks, the rough and ready looking swingarm and exhaust pipes. Best of all it rides and handles great.
Due to the incredible reaction I got from people when I rolled this bike out of my workshop I decided to start building bikes commercially. To help fund Ardent Motorcycles next build my featherbed Sportster is for sale."
If owning a work of art that actually rides interests, you can reach Curtis by clicking the link below…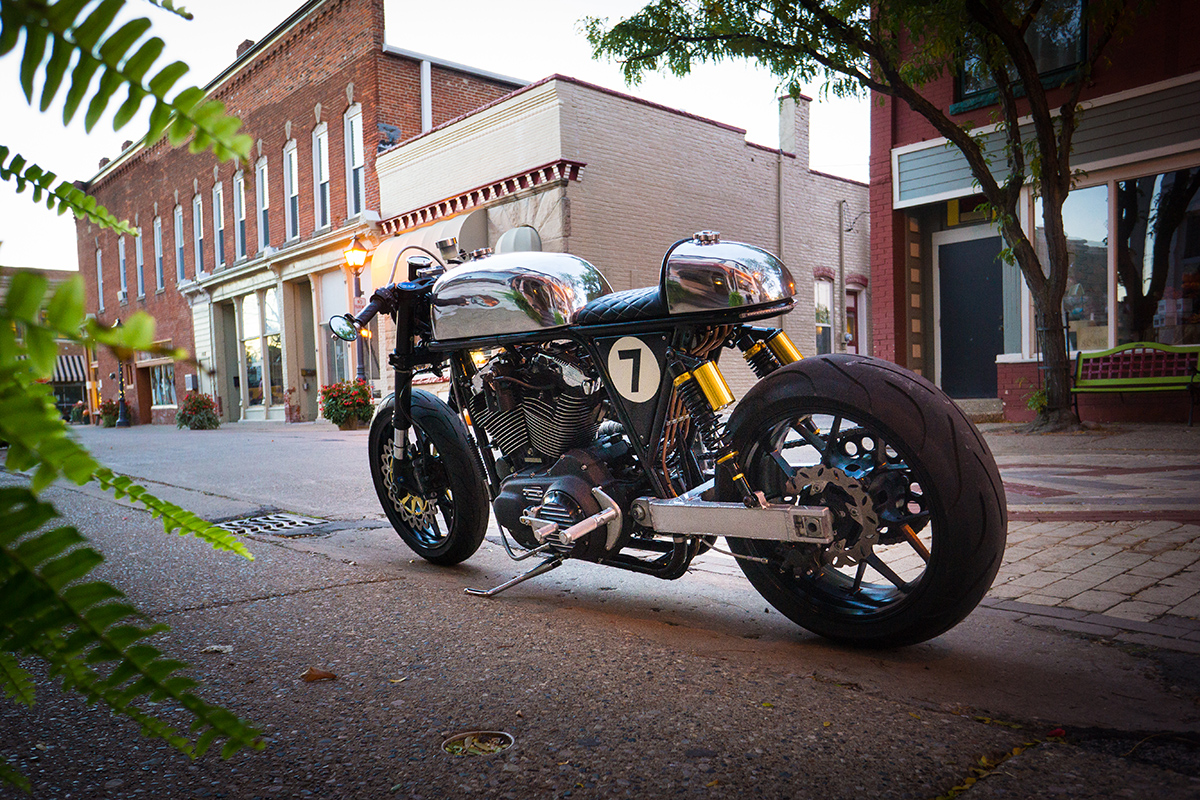 As any artist will tell you, composition is everything. Over his 30 year career as an artist, Curtis Miller has fashioned custom furniture, worked as an animator and had his paintings and photographs sold in galleries. Now at 59 years young he's begun applying his skills to custom motorcycle building and as you would expect they are bona fide works of art, but in terms of composition, it's how his bikes are put together that really makes them special…