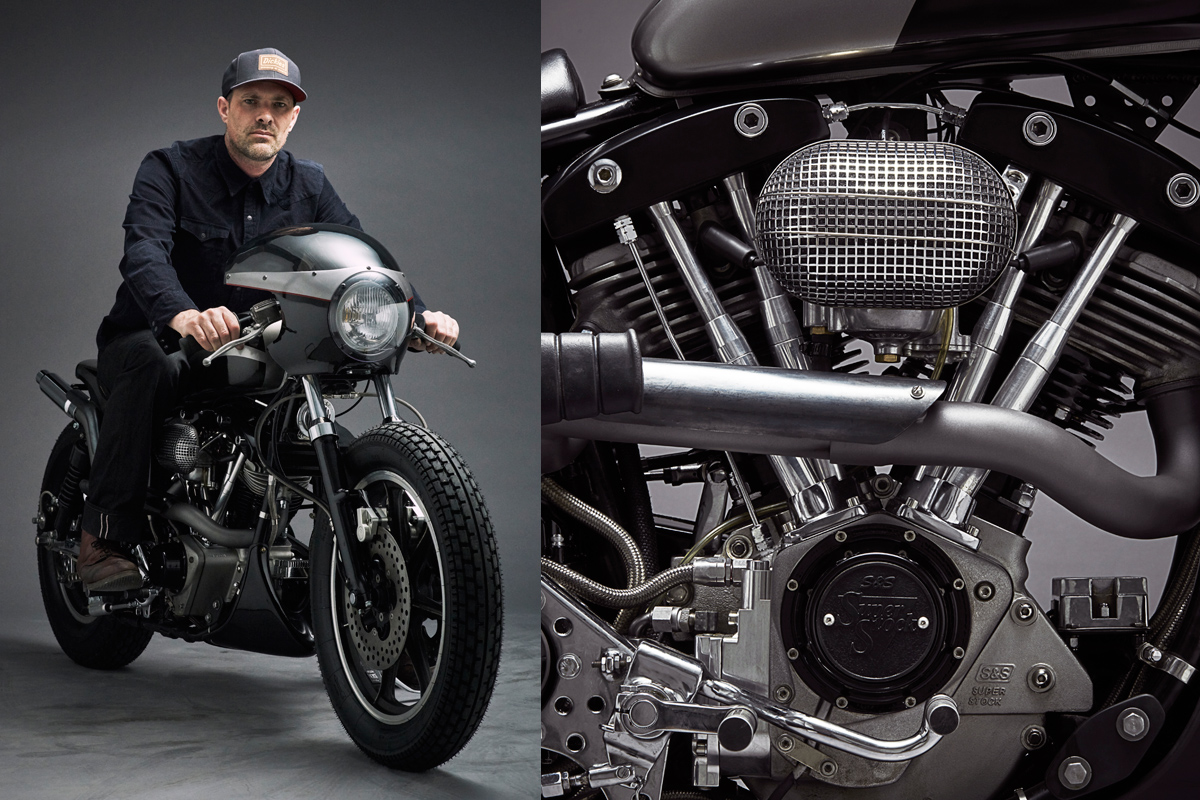 "Last year I received a rather sheepish email asking if there was any way I would ever build a café racer" recalls James. James' portfolio is almost entirely made up of Harley Davidson builds with Chopper and Bobber styling being his usual forte. For an outsider it might seem that he is set in his ways, but when the opportunity presented itself, he was more than willing to take it on.
"It can sometimes become a little monotonous always building bobbers and choppers so I gladly said yes. I have always loved the XLCR 1000 and that bike became my inspiration, right down to how we photographed it."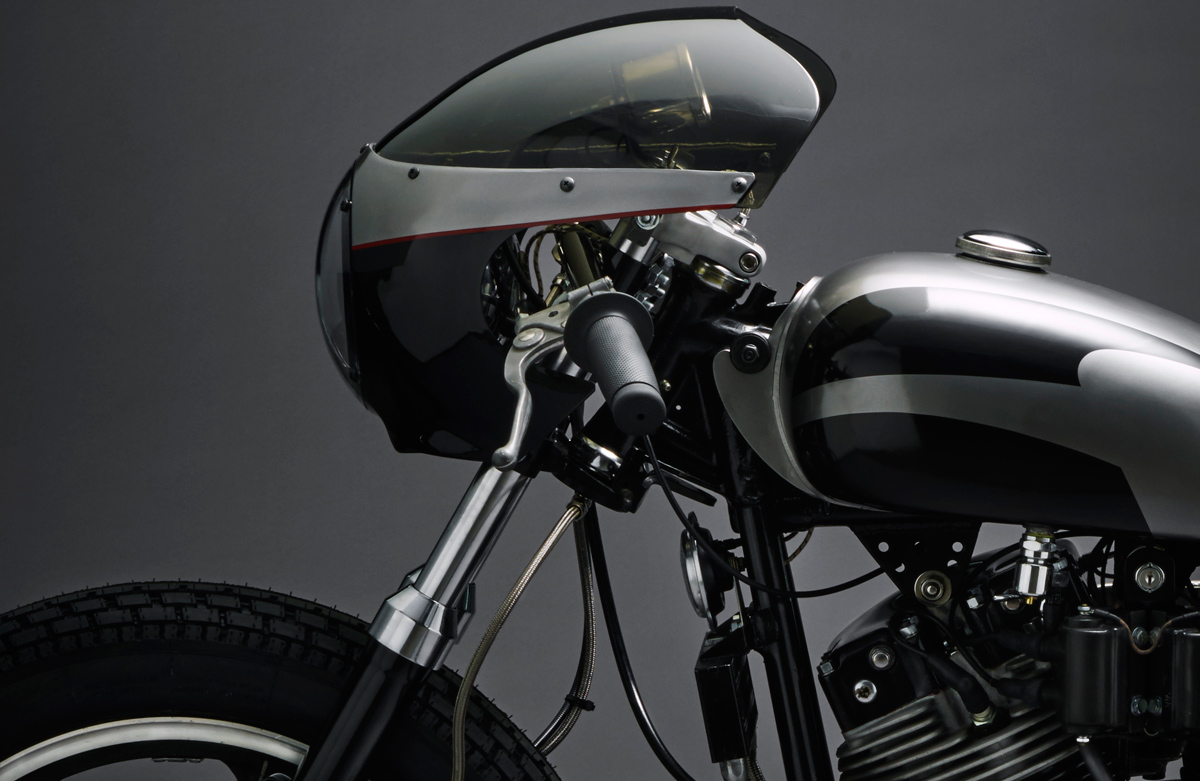 Rather than heading down the sameroute as the XLCR and using a Sportster as the starting point James opted to use a 1974 Harley Davidson FX Shovelhead. "I found a fairly stock FX that had an S&S 80 cubic inch motor and a 5 speed transmission, which is very nice."
With a powerful donor selected James started penning down some ideas. "To be honest I had no idea what I was doing when it came to building a Café Racer, but I knew I wanted it black with a fairing and for it to look F#CKING mean!"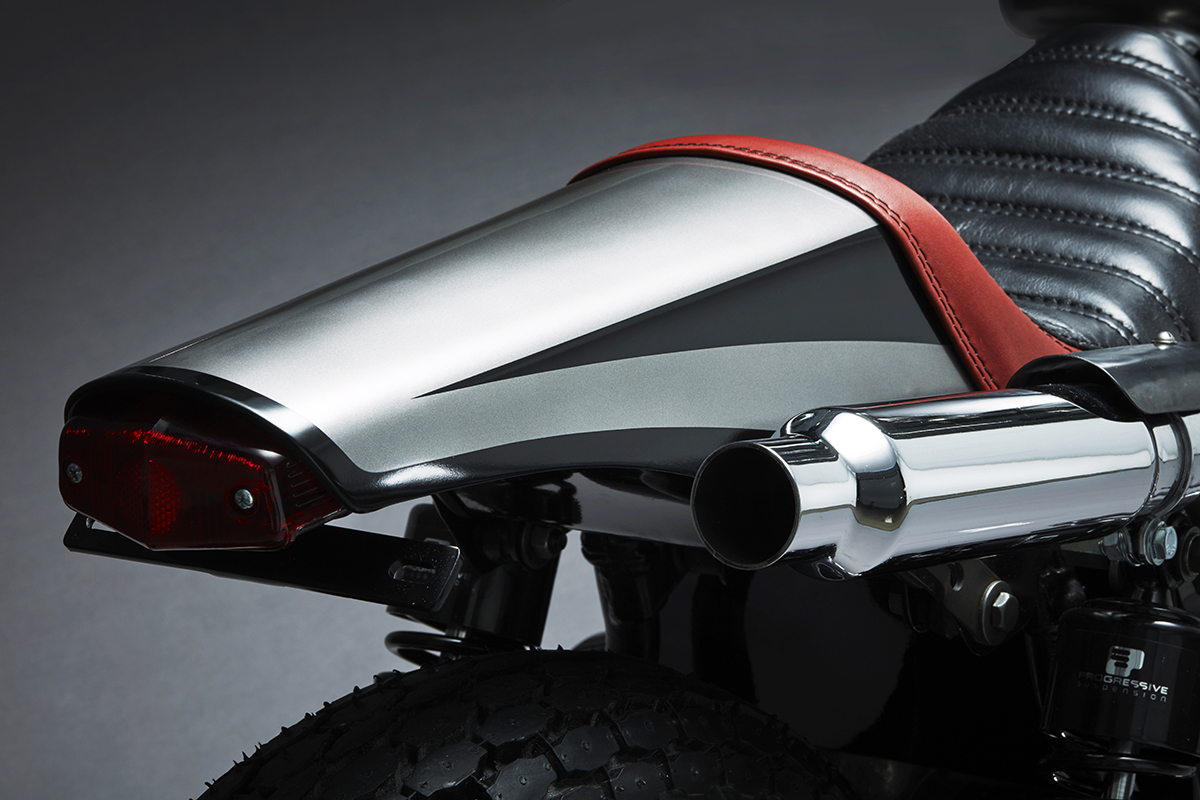 The build began with the bikes new bodywork. Influenced by the design of Super GP bikes James fabricated an entirely new seat pan and tail from scratch, integrating a Triumph tail light at the rear and mounting it as high as possible on the frame. Surprisingly his front fairing was an aftermarket unit sourced on Ebay. James purchased the unit unsure if it was going to fit his headlight, but much to his surprise it was the perfect fit. For the fuel tank he decided the stock unit looked right for the build and so he stuck with it. "Everyone always asks what it's from and are shocked when I tell them!" jokes James.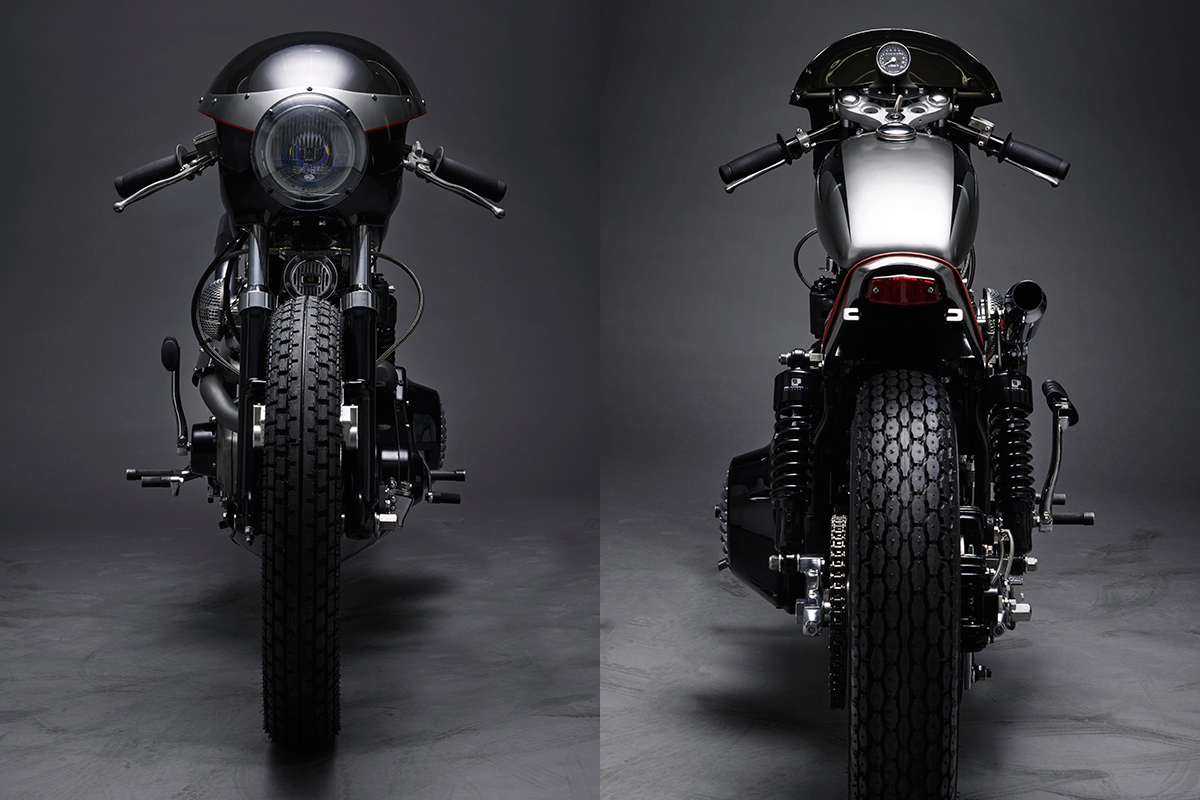 To get the bike sitting right James designed a Progressive shock and spring package that lowers the front end and raises the rear, creating a more aggressive riding position. Taking cues from his favourite Ducati exhaust set up he handbuilt a 2-into-1 system that runs high before exiting beside the tail. Two well placed heat shields sufficiently protect the rider from burns (tried and tested by the man himself) and the hotdog muffler lets everyone know to make plenty of room as the Shovelhead approaches.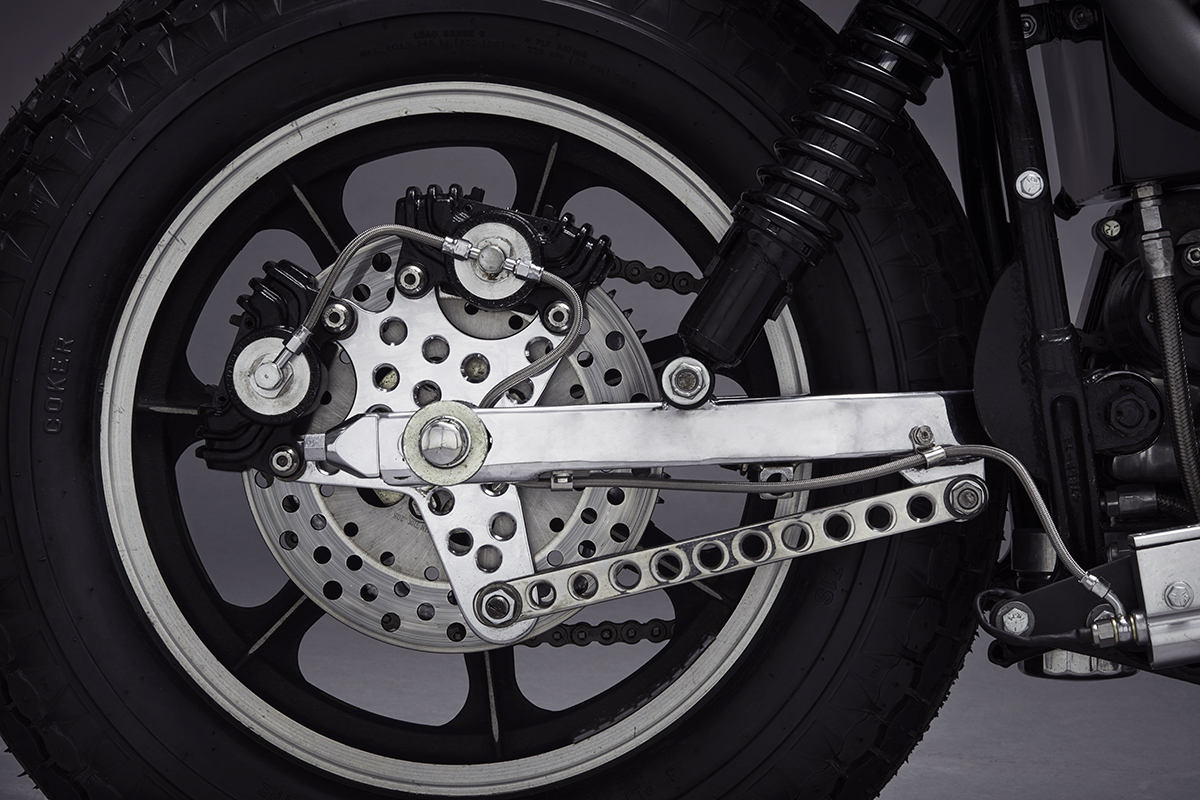 With loads of power on tap and a great suspension set up James knew he'd need to upgrade the bikes woeful stock brakes for it to be worthy of its cafe racer status. Using a configuration similar to the XLCR that inspired the build he mounted a set of twin drilled discs up front and a drilled disc with custom mounted, daisy chained twin calipers at the rear. Due to the Harley's dimensions it still runs mid controls, but they are custom made units that keep the rider's feet up high for improved cornering clearance.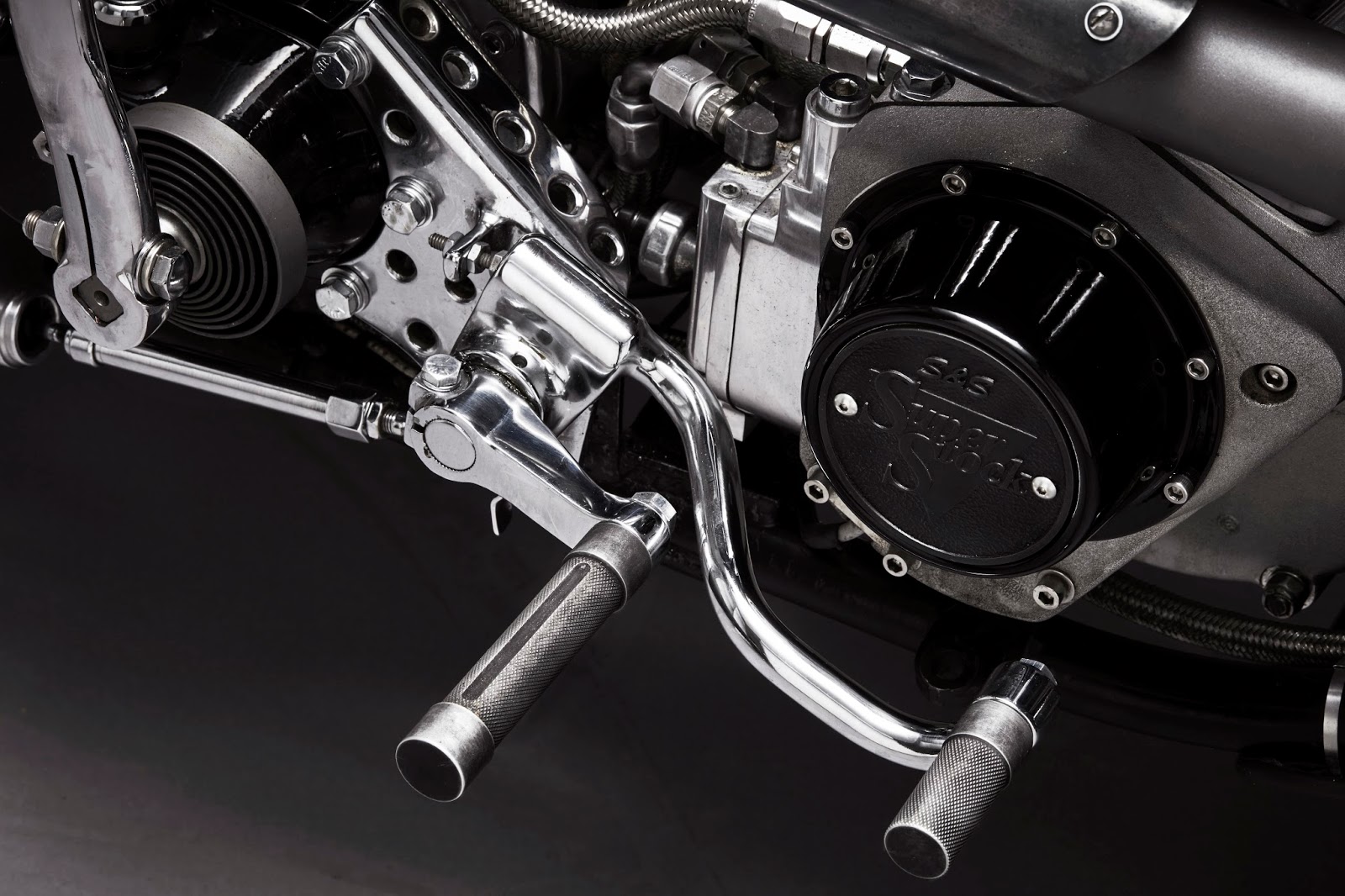 Taking a measly 5 weeks to complete James finished the bike using a paint scheme inspired by 80s and 90s GP Super Bikes. Touches of XLCR can also be seen on the engine where black has been liberally applied to those distinct Shovel shaped heads, the lower barrels, oil bag and various covers. Then to liven up the monotone theme touches of red were added to the seat and front fairing.
Knowing full well that Harley's aren't often the first choice for cafe racer conversions,  James has done his best to createa bike with the right look and performance to be worthy of the title. "I'm not sure how the Café racer guys will like this" says James. "But I can tell you it's awesome to RIDE!"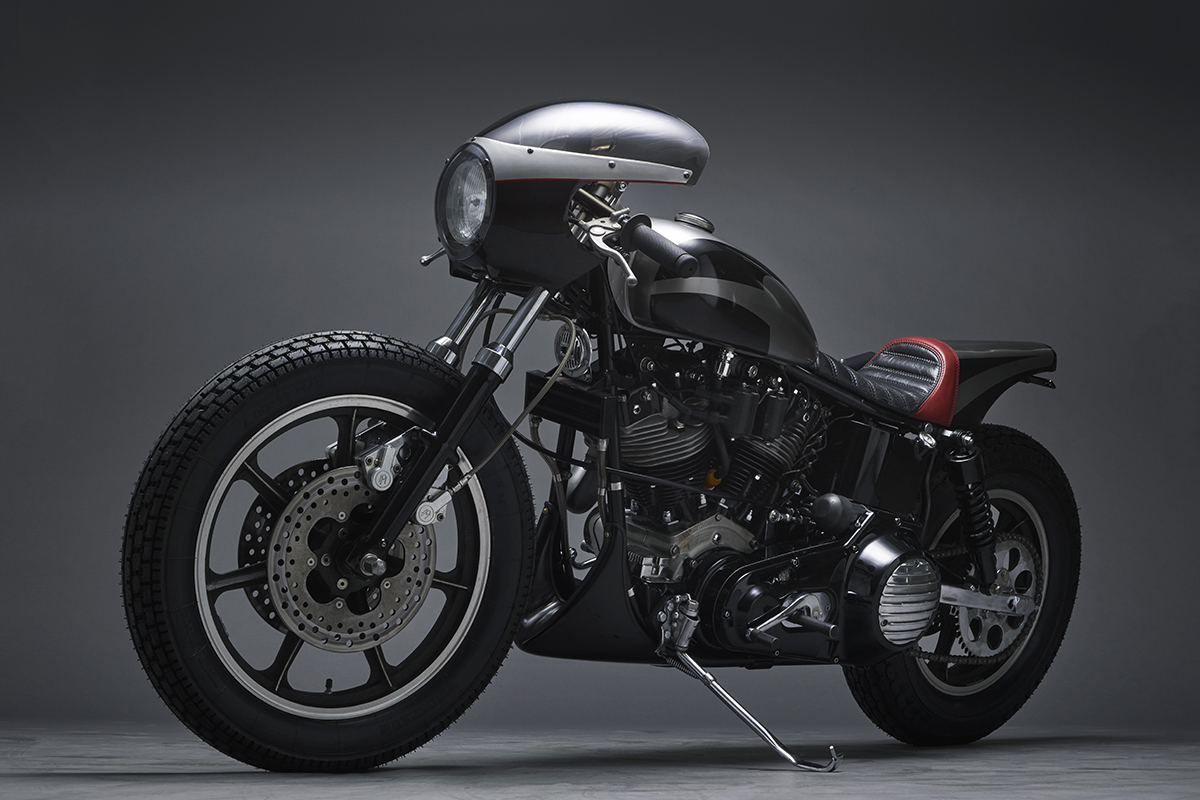 Back in 1977, Harley Davidson unveiled their American cafe racer, the XLCR Sportster. On paper and in the flesh the bike was certainly appealing. It was draped in black, had a unique siamese exhaust system, was powered by a torquey 997cc v-twin and wore bodywork, unlike any other Harley. Unfortunately, the press slammed the bikes performance and poor sales resulted in it becoming a rather famous flop for the Milwaukee manufacturer. Despite all of these factors the XLCR has become an iconic model in HD history and today they fetch high prices at auction. Not having ever ventured into cafe racer territory before James Roper-Caldbeck of 'Jamesville Motorcycles' in Copenhagen used the XLCR as his inspiration, but paid careful attention to not repeat Harley's mistakes.