Dan from the Speed Merchant dropped me an email the other day to let me know about their awesome 39mm fork preload adjusters for Harleys. They are without a doubt pretty damn cool, but in the photo he sent me, it was the Harley they were attached to that really got me excited. It's a stripped back 2001 Harley Davidson 1200 Sportster that's been redressed as a seventies style Street Tracker and although this bike may have never seen a day out at the skids, I'm sure it'd get a thumbs up from the Sideburn crew.

The 2 into 1 Scrambler style exhaust was a one off by Brawny while Speed Merchant are responsible for the handlebars with 7/8″ controls, Derby side cover, one-off rear sets, fork tube guards and of course those aforementioned 39mm preload adjustable fork caps.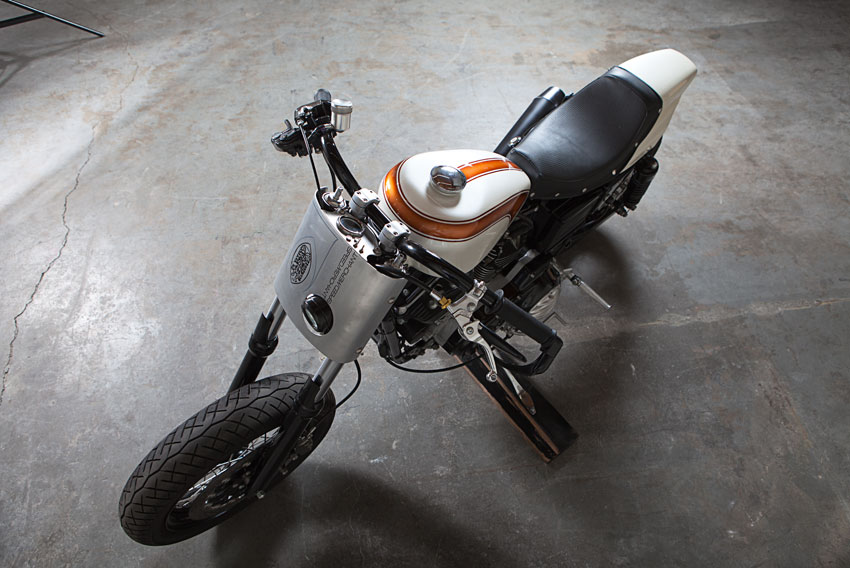 Other modifications made to get the bike handling as it should in it's new attire include – drilled rear and front brake discs with 4 and 6 piston calipers, an ASV clutch lever assembly, Nissin front master cylinder, Racetech emulator valves and a set of nimble 16″ wheels.
To finish off the Harley's Street Tracker appearance is a lightweight, Hot wing fiberglass tail section and a front end number plate custom made by the Speed Merchant team that integrates the speedo, warning lights, switches and a Laser star HID headlight. Finally a bit of glamour was added with the candy root beer speed stripes over a pearl white base and some neat pin-striping on the number plate.

This Street Tracker replica has just the right balance of cool looks vs performance tweaks to get two thumbs up from me and you must agree that those adjustable fork caps really finish it off nicely. Thanks for sharing Dan! 😉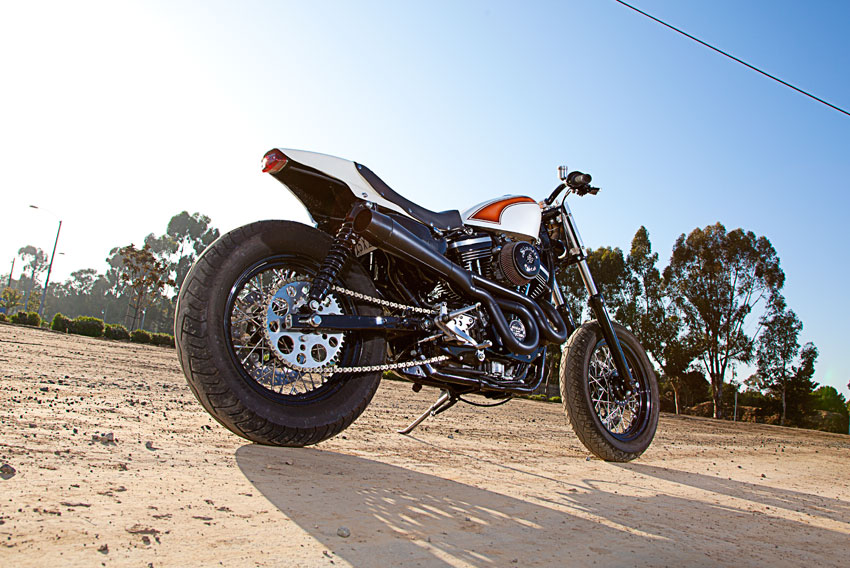 "The Speed Merchant has manufactured our 39mm Fork Adjusters for speed and beauty. 
CNC machined out of 6061 aluminum with precise craftsmanship, engineering and balance. With preload adjustment built into our fork caps, you no longer have to remove your old stock caps and cut spacers to adjust the preload on your 39mm front-end. Just turn the adjuster up or down to fine tune the last bit of adjustment your suspension needs. 
With up to 7/8″ adjustment, you will be able to rule the streets or run the canyons."