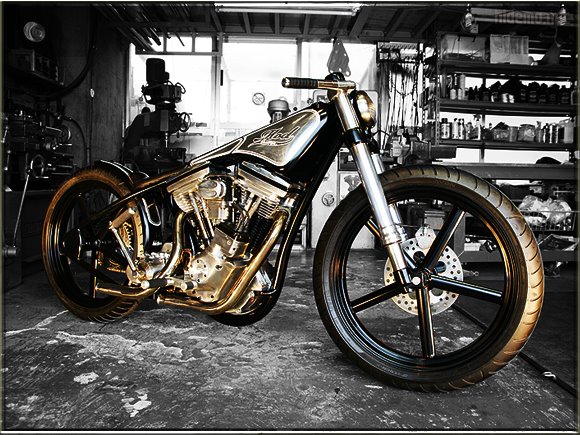 I know a lot of people (including myself) probably wouldn't choose a Harley as a base for their next Cafe Racer project but that doesn't mean you can't make a kick arse Cafe Racer using some good ol' American steel, which is what the guys at Hidemo (Hide Motorcycle) in Kawasaki, Japan are happy to prove to us.

Hidemo custom motorcycles are renowned inside and outside of Japan as being top notch and have won them several awards and appeared on the covers of many a custom bike magazine worldwide. Their past projects feature a range of custom Choppers, Bobbers and Cafe Racers maily based on Harley's but you will find the occasional Japanese manufacturer in their
gallery
. Their Cafe Racer projects show the evolution of their style over the years and the extent to which their custom part range has evolved.
Mod Cafe 1
Model: 1996 XL1200S
Build time: 3Months
Customization: Original tank and fender, seat, frame meter system, muffler, oil tank, swing arm system, handlebar. We used fire stone tires and progressive suspensions.
Description: Concept from the old cafe race '60s UK.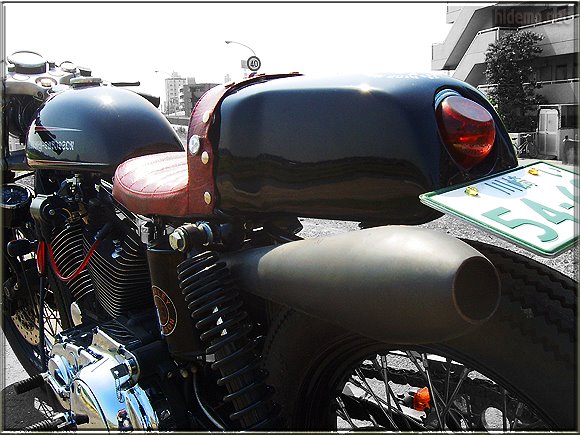 Mod Cafe 2Model: 1998 XL1200S
Build time: 3Months
Customization: Hide Motorcycle painted, engine build, we also changed alot of parts
Description: Our concept for this tank was an old German BMW motorcycle and an old YAMAHA D.T. trail bike. Maybe it's a bit big for a sportster, but this was a really cool design.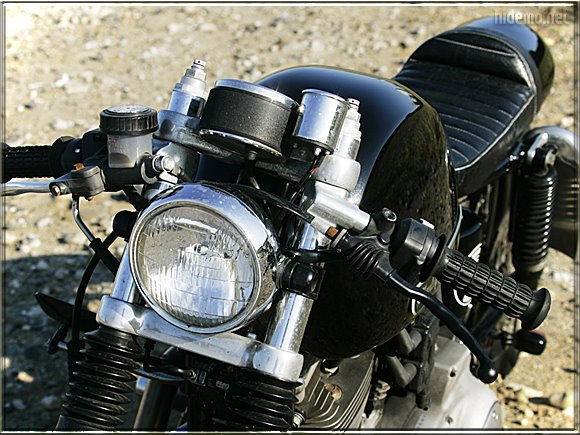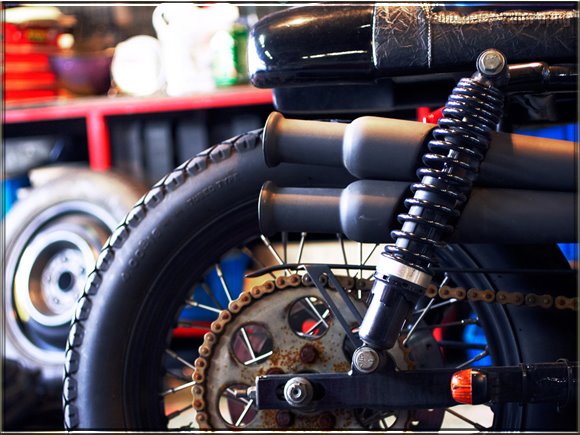 Mod Cafe 3
Model: 2006 XL883
Build time: 2 Months
Customization: Hide Motorcycle original gas tank, seat, fender, oil tank, steps , air cleaner cover, number plate support, muffler. etc.
Description: This bike looks like unbalanced because it's very narrow. This outside design has a really clean, unique and fantastic line. The Tank logos were designed by the bikes owner.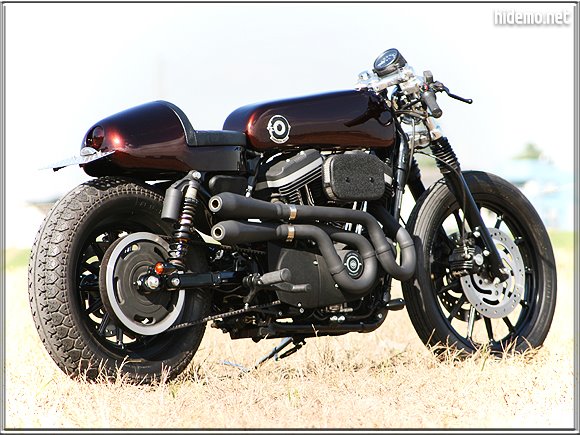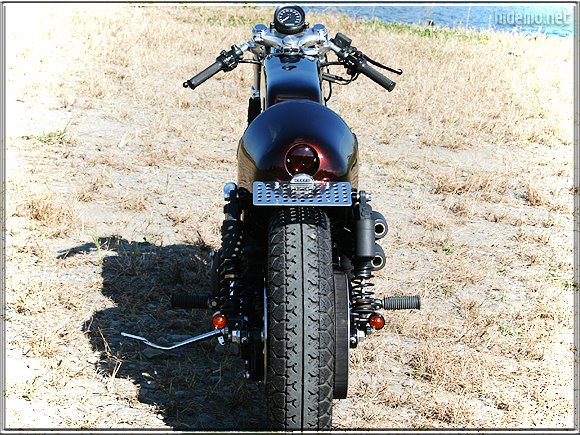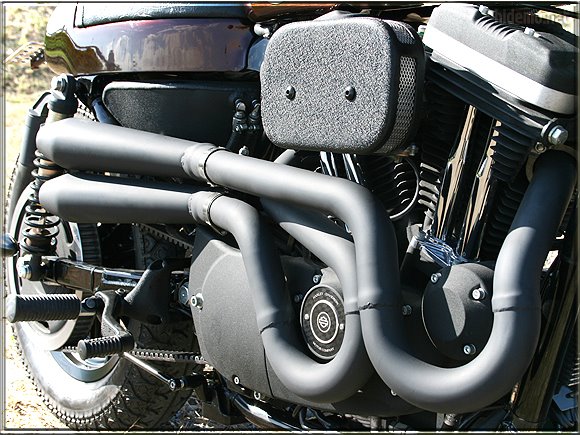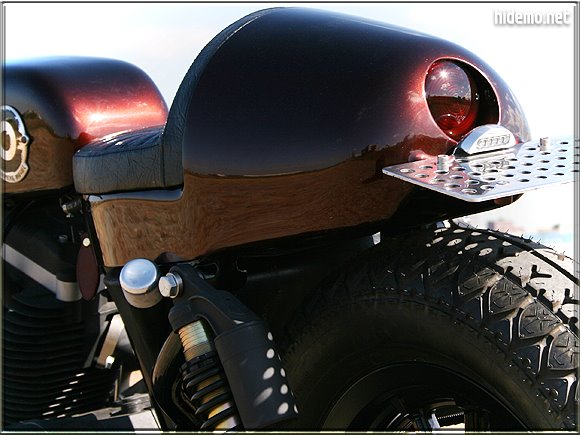 Hidemo's best work however (in my opinion) lies in a bike they have named the Mod Chopper. An absolutely stunning Chopper/Bobber/Custom featuring some amazing custom parts and laying claim to several prestigious trophies. Take a look at the pics below and try and tell me this is not an amazing motorcycle…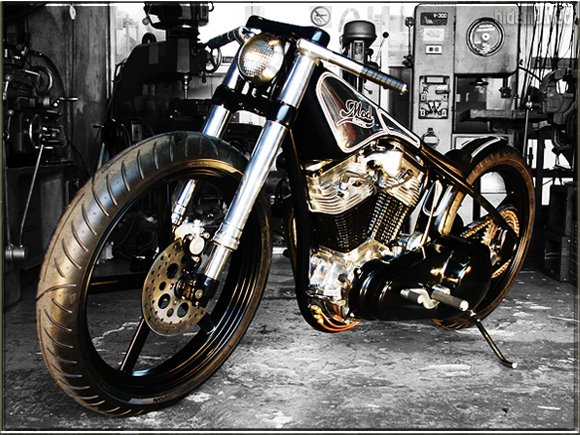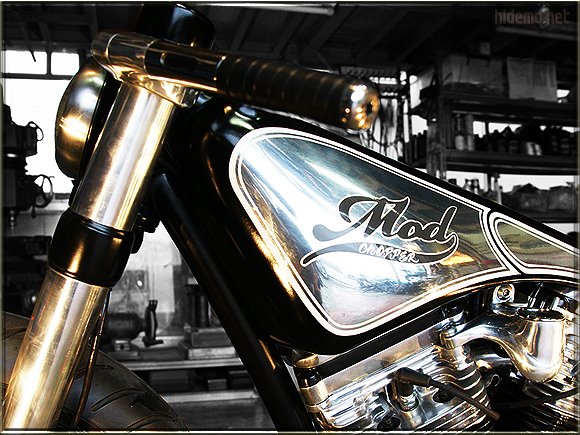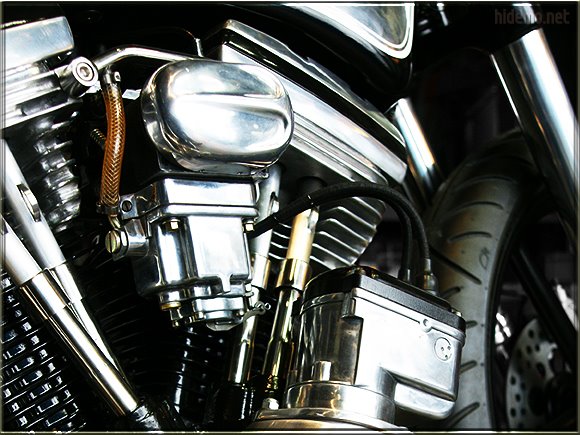 Detail on the Mod Chopper 3 are as follows:
Model: 1985 Harley Davidson
Build time: 3Months
Customization: Hide Motorcycle original and very special frame (which doubles as the engine oil reservoir). Our original design and built tank and handle bar, leather seat, steps, muffler, shift system, electrical system, rocker covers, wheels, fender, head light , etc.

Awards: Best Of Show Motorcycle in Yokohama Hot Rod Custom Show 2006 and 2007, and the second place in Jammer Cycle Award 2007 , the top ten in AMD European World Championship 2007, the second place in NEW ORDER CHOPPER SHOW KOBE 2008.
Hidemo also sell a range of custom and vintage motorcycle parts for your own project which can be purchased through their website (email them for details).