More recently Jay has turned his attention to motorcycles. Although he started riding at the age of 16 he'd never applied his skills to a bike so in typical Jay style, he decided it was time to challenge himself once again.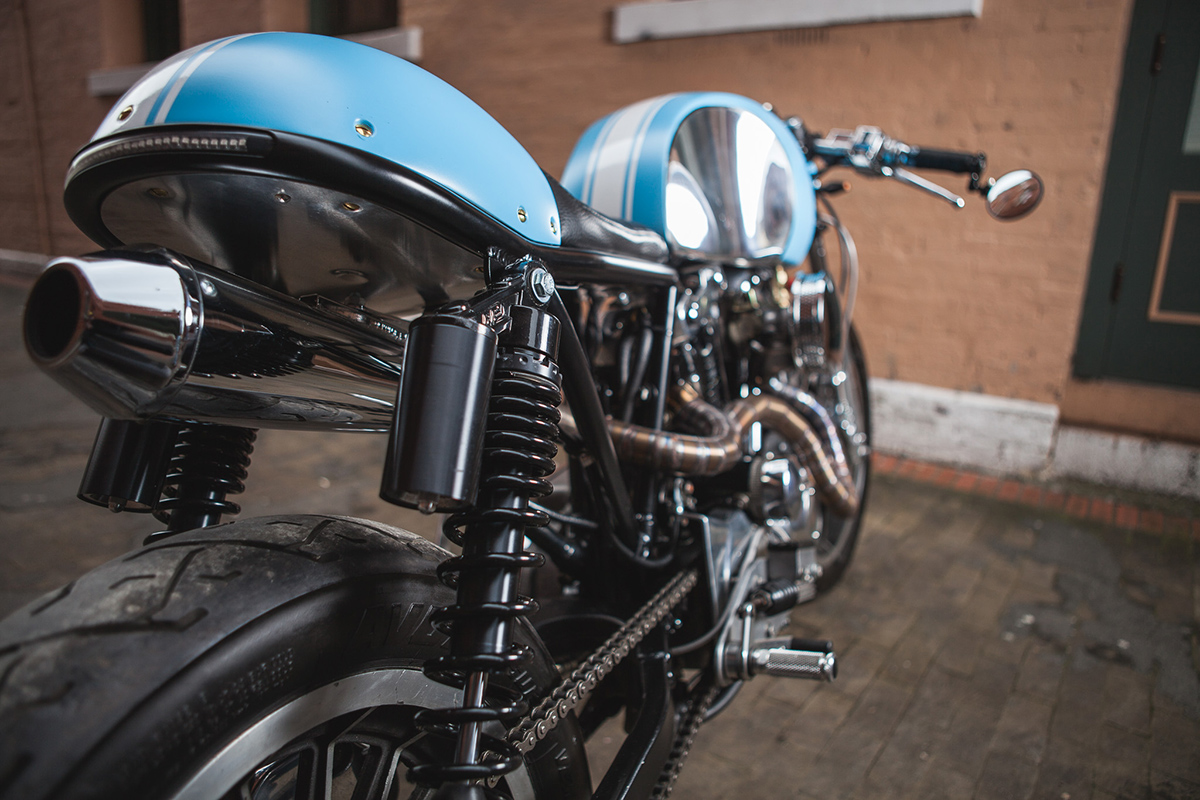 "This bike is a 1980 Harley Davidson Sportster that took me about a year to complete as a personal side project." Says Jay. "I'd had a street legal dirt bike when I was 16, as something to ride before I could get my license, but I had never really worked on a motorcycle prior to this. I wanted something to ride again, but even more than that, I wanted to build my own fuel tank to test and grow my metal shaping skills.
I bought the bike as a running roller from a local long-time Harley guy who was also a great help on the mechanical side of things throughout this build. The concept I had for the bike came about by wanting to do something a bit different with an old Iron Head. I opted for a sportier café racer stance, but I think what really finalized the decision to head in that direction was that I hadn't ever seen a café racer styled Iron Head that I actually liked which pushed my challenge button."
"I created a tail loop with an integrated slot for an LED taillight and welded it to the bike along with new shock mounts. The swing arm was extended and also received new shock mounts to allow me to fit the longer rear shocks to level the bikes stance. The stock forks were retained, but I equipped them with a Progressive Springs lowering kit and mounted clip-on handlebars, a GPS speedometer and 5.5″ headlight bucket to them. To get the speedo sitting right I made a custom mount.
The most challenging aspect of this build would certainly have to be the metal shaping and fabrication involved in making the combined oil and gas tank. It was a first for me and I learned a lot through the process. I designed the bodywork using a wire former I made from 3/32 welding rod, a method I picked up from taking Christian Sosa's Metal shaping class in Las Vegas. I then hand formed the final piece from a flat sheet of aluminum. The tail section of the bike doubles as a place to mount the battery and the gas tank actually contains 2 separate chambers. In the front section is the oil tank. There's then an air gap between the second half that holds the fuel to prevent heat from the oil radiating into the gas. Custom brass caps were machined for the tank and are accented by the brass screws used to secure the tailpiece and belly pan."
"With the oil and battery gone, I had room for my custom exhaust. I decided to build the exhaust using pie cuts for the same reason that dictated most things on this bike, it was something I hadn't tried before. This gave me the freedom to build an exhaust that complements the bike by flowing around its existing contours.
The finished bike now delivers a very different riding experience compared to the stock Harley Davidson. I designed it to fit my build and it's a lot of fun to ride. The Iron Head is something I will probably be upgrading and tweaking in minor ways for a while. I plan to keep it as long as I can to reflect upon my first motorcycle build. It was this build that made me aware of what an incredible platform motorcycles are for combining design, engineering, and fabrication. This is something I have become obsessed with since completing the Iron Head and bikes have now become my main focus."
If ever there was a person who was destined to become a metal fabricator it would have to be Jay Donovan. If you look past his uncannily appropriate surname though, Jay is one hell of a driven individual who has worked hard to achieve his personal goals. His career in metal manipulation started at the age of 18 when he and a friend converted the family barn into a workshop. During his apprenticeship in automotive collision repair, he challenged himself by taking on a 1930 Ford Model A chop and channel project that took 3 years to complete. During that time, he honed his skills completing every task from metal fabrication to the paintwork resulting in a showpiece he was able to use to kickstart his career and his BareSteel Designs workshop.