Two things we don't feature on this website all that often are Harley Davidsons and Scramblers. Well, today we're bucking that trend. This Harley XL1200R, post-apocalyptic styled scrambler is the work of Michael Bates from Stillwater, Minnesota. Why break tradition for something so radically different? Quite simply because we admire what Michael has done. You see he could have just built another cookie-cutter custom and got himself plenty of praise. He's certainly got the skill to do it. But instead, he's gone and built a motorcycle that will polarise opinions. It's a ballsy move which has no doubt resulted in a lot of negative feedback from the keyboard warriors that lurk on social media. Personally, I applaud builds like this. They encourage progression within the custom scene and get people talking. What I like most about Michael's XL1200R 'Ovrlandr' though is that it makes me grin.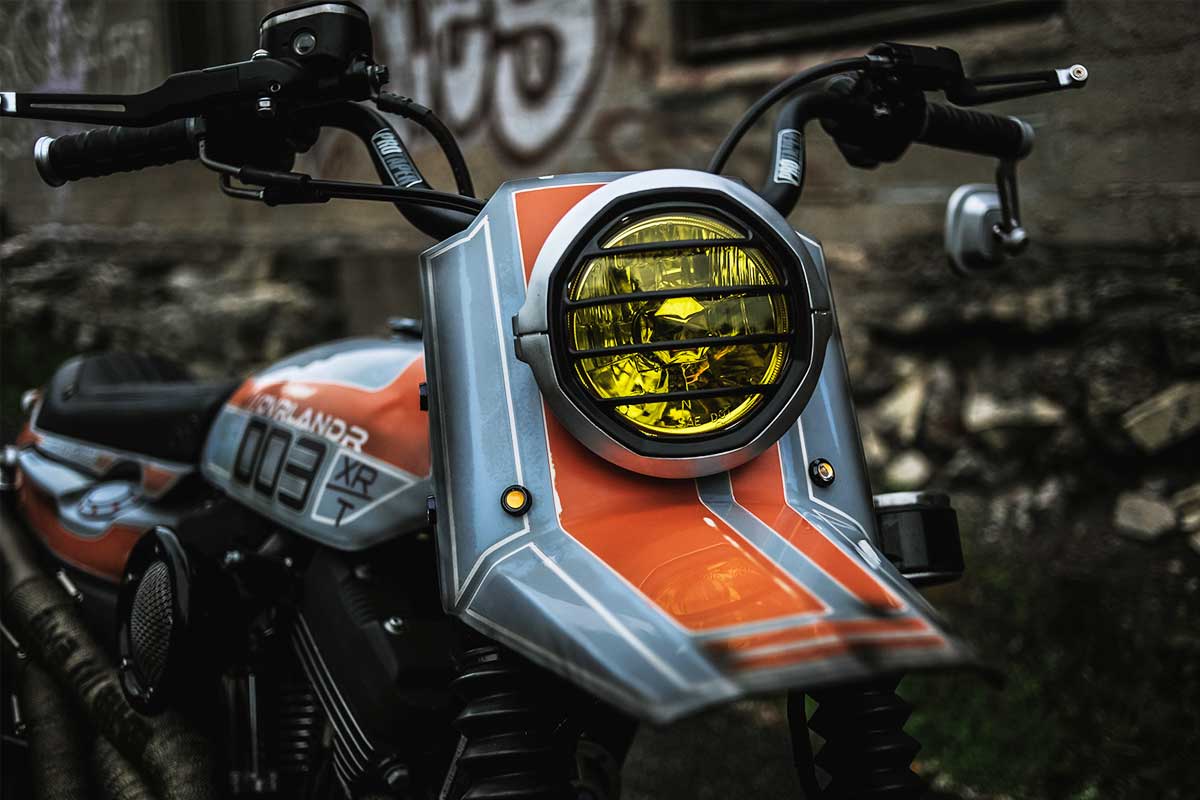 Michael is a product designer who spent 15 years of his career in the plumbing industry designing, machining, die casting and forging his ideas into practical consumer products. He then found an opportunity to combine his skills with his passion for motorcycles working for Harley Davidson aftermarket parts supplier, Kuryakyn. Today he's doing the same thing but is producing parts and consulting to other OEM's under his own brand, Combustion Industries. "I love working in the industry. You know what they say – if you find something you love you will never work a day in your life," says Michael.
As part of his business, Michael likes to have a custom project on the go. His XL1200R Ovrlandr was the first Combustion Industries build and he took the opportunity to develop a concept that merged another of his passions into the design. "I have a soft spot for old school sci-fi," he confesses. "I decided early on that this bike would be designed using logic from older sci-fi movies that I grew up with." His sci-fi hit list included classics like Star Wars and Bladerunner whose sets were generally made from repurposed household goods or whatever the SFX department had lying around. "They weren't the prettiest, but there was something cool about how the parts got reused or rigged to function as intended," says Michael. "They ended up looking pretty industrial."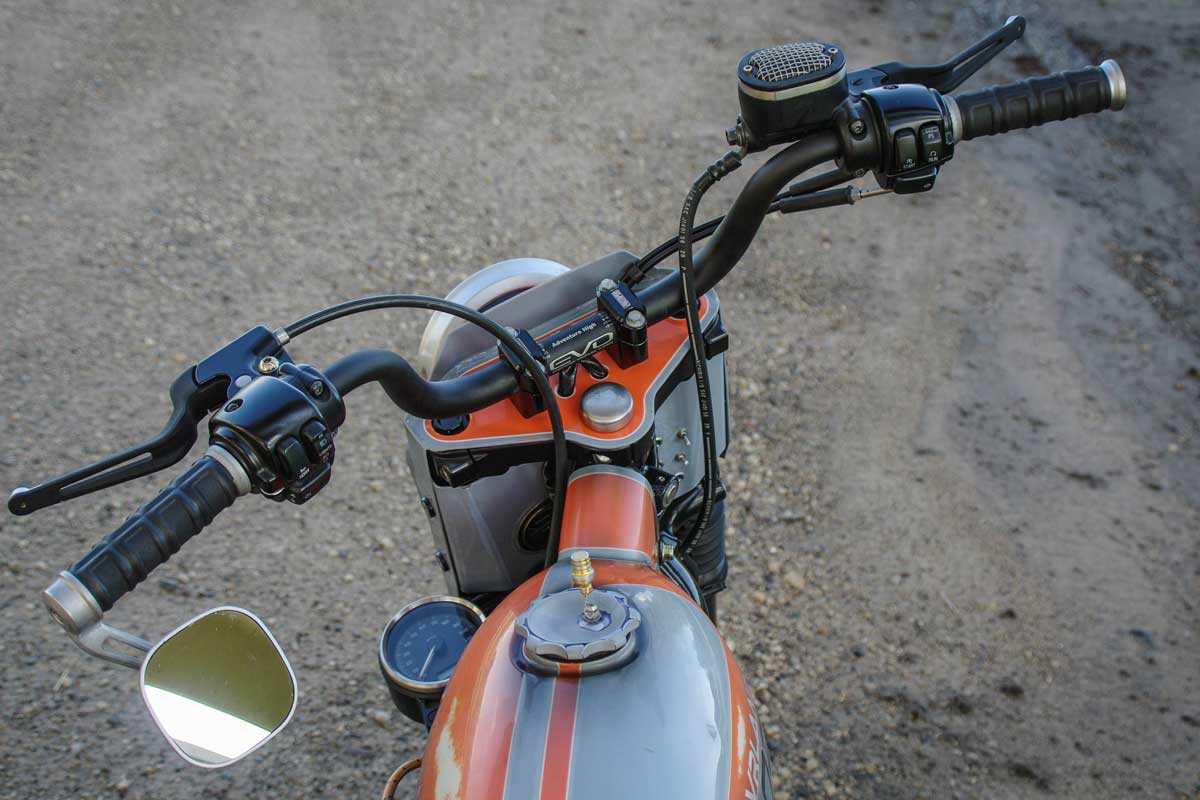 With a clear direction for the build laid out, he set about finding a suitable donor. After working closely with the brand for years a Harley Davidson was the obvious choice, and a 2007 XL1200R offered the ideal starting point. "I chose the 1200r because of its higher stance and higher compression motor."
Michael's concept didn't fit into any existing custom genre. Instead, it would have a defined purpose, like the different classes of starfighters in the Star Wars galaxy. "This is meant to be a light reconnaissance vehicle," says Michael which, by definition, means it had to be compact, lightly armoured and fast-moving. So with all that in mind he stripped the bike down to its bare necessities.
The first stage of the rebuild was getting the riding position right. In the rear, Michael fit a set of 16″ RFY shocks lifting the chassis for better clearance on unsealed surfaces. Next, a set of Protaper Adventure bars went on so he could confidently manoeuvre the bike while standing on the pegs. And then a set of wide footpegs and dual-sport Avon Trailrider rubber.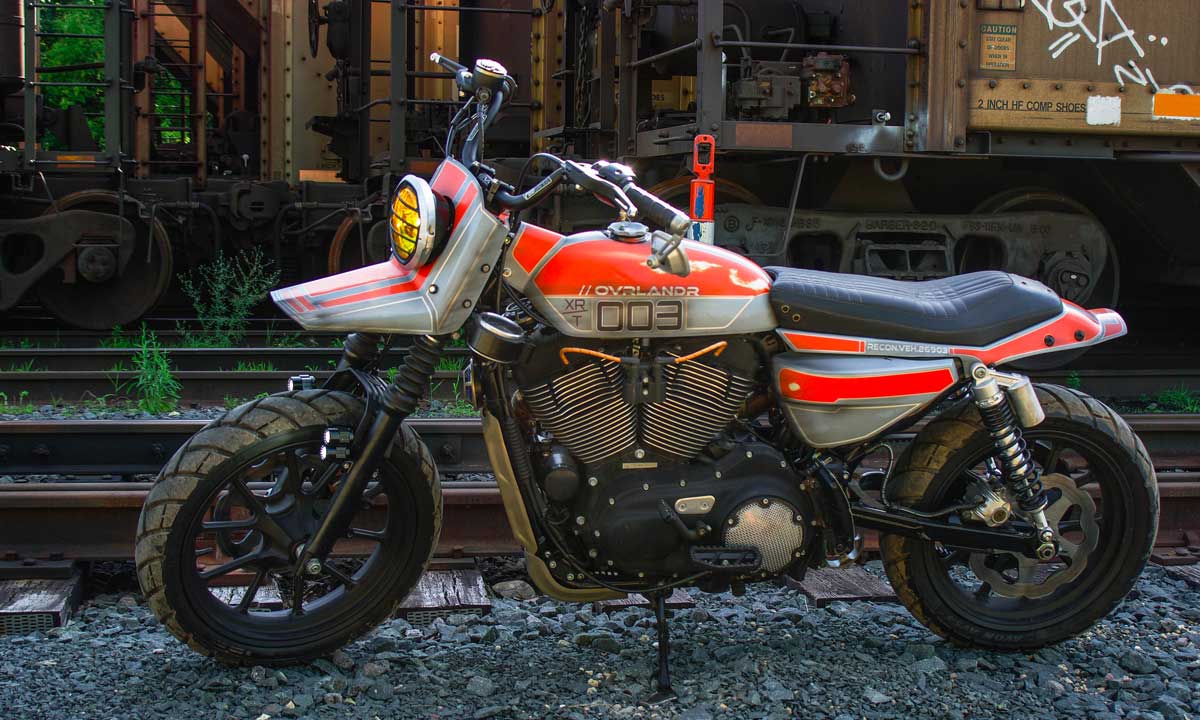 For the bikes new bodywork, Michael pulled an old tank of unknown origin off a shelf in his garage where it had been collecting dust for 10 years. After getting it to sit right on the frame he then tackled how to integrate the EFI pump into the equation. "I welded an EFI plate onto the bottom. Since the tank is very low profile the fuel pump had to be shorted by a quarter inch." This wasn't as easy as it sounds though. Michael had to first learn exactly how the pump worked before he could modify it. Thankfully after some research, he nutted it out and had everything working like the factory configuration.
For the rest of the bodywork, Michael resorted to a DIY approach. The unique front and rear fenders were built using the basic tools he had available in his shop. Michael then began retrofitting parts from other Harley's to the XL1200R to achieve the cobbled together 70s sci-fi look he was after. "Ovrlandr uses parts from four different types of Sportsters," he says. "There are Superlow wheels, XR side covers and sprocket and a few things I put together using different thinking." To add to Ovrlandr's utilitarian appearance he also mounted a bash plate to the frame, fabbed a fuel can rack for the rear and installed a custom made Mustang seat which he designed himself.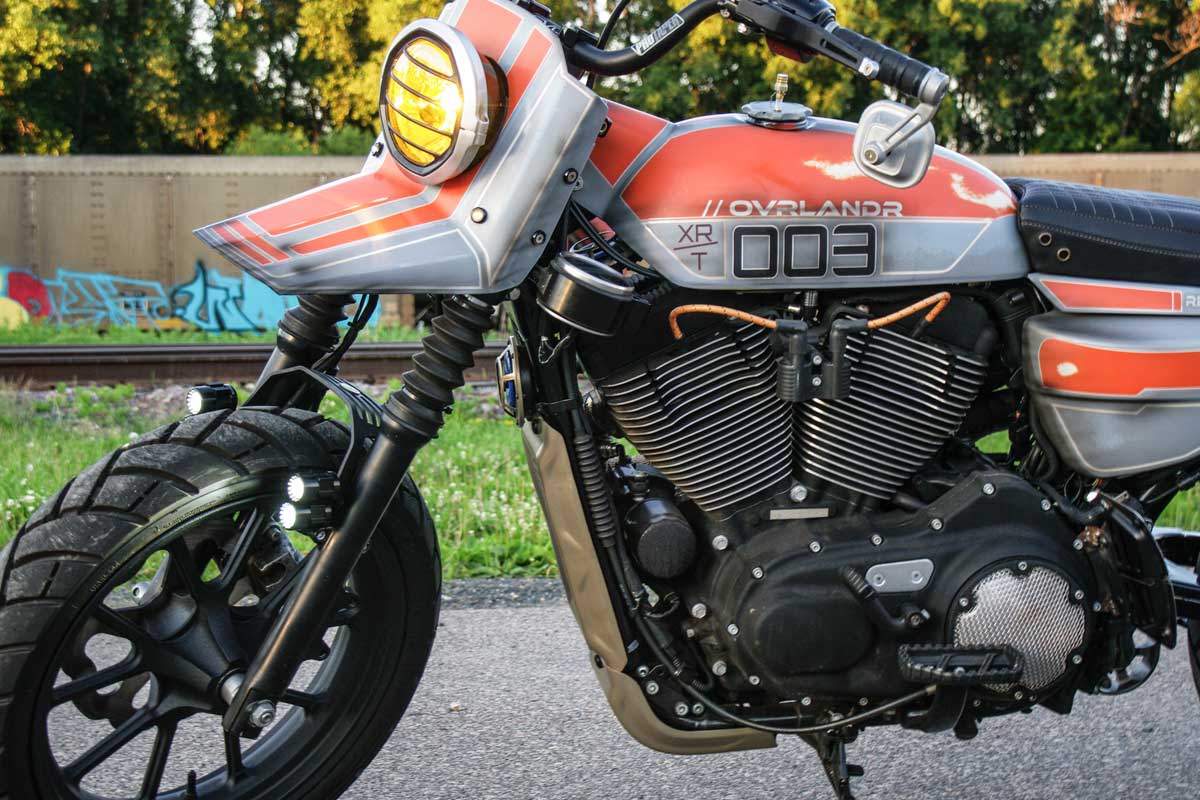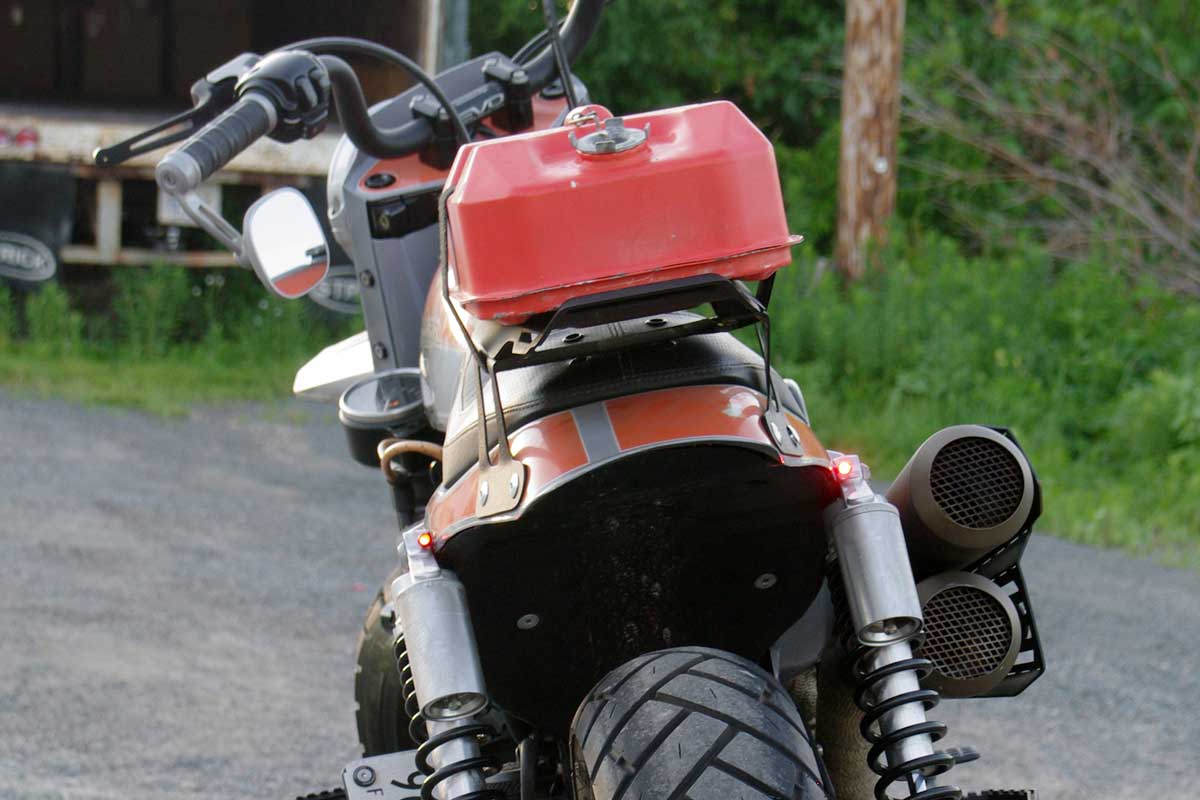 It goes without saying that Ovrlandr is running plenty of parts from the Kuryakyn catalogue. These include the mesh-covered engine cases, levers, a Dillinger bar end mirror, grips and bolt-on headlight. To maintain a stripped-down military look, bulky lighting was traded for tiny Kellerman alternatives. The lights at the rear double as brake and turn signals to keep things extra tidy. For night time missions there's even auxiliary lighting from Morimoto mounted to the front fork bracing.
As for performance, the 1200cc American v-twin breathes more freely thanks to a Kuryakyn Velociraptor air cleaner and SC project mufflers mounted to custom exhaust headers. But it's the paintwork that Michael thinks gives this Harley all its attitude. Styled directly from the droids and starfighters seen in Star Wars the orange and powder blue scheme definitely looks out of this world. It also gives the impression that this reconnaissance vehicle has seen its fair share of time in the field thanks to some clever paint ageing effects.
Yes, it's unusual. Yes, it breaks all the rules. And yes, I'd love to ride it. If you're a fan of the Combustion Industries Harley Davidson XL1200R Ovrlandr too Michael has decided to put it up for sale to fund his next, equally intriguing project. If you're interested you can visit his website for more details.