When you've spent over a decade building world-class Superbikes it's fair to say you know a thing or two about performance-focused design. Alan Boyter, founder of  Vendetta Racing in the UAE, is one such person. Together with his talented teammates, Alan has designed and built motorcycles that have completed in prestigious events like the Isle of Man TT, the Dakar Rally and Moto GP.
Back in 2014, Alan decided he needed a creative outlet. Soon after that, he completed his first custom street bike 'Project Trumpet', which was a lightly modified Triumph Street Triple cafe racer. The experience of building that bike was so enjoyable that he formed the workshop VR Customs.
Although the motorcycles rolling out of VR Customs are ultimately destined for the street Alan never veers from his performance-oriented approach to bike building. "Everything built has to perform as good as it looks," he says, and there's no question that his Project X Ducati 996 cafe ticks both of those boxes.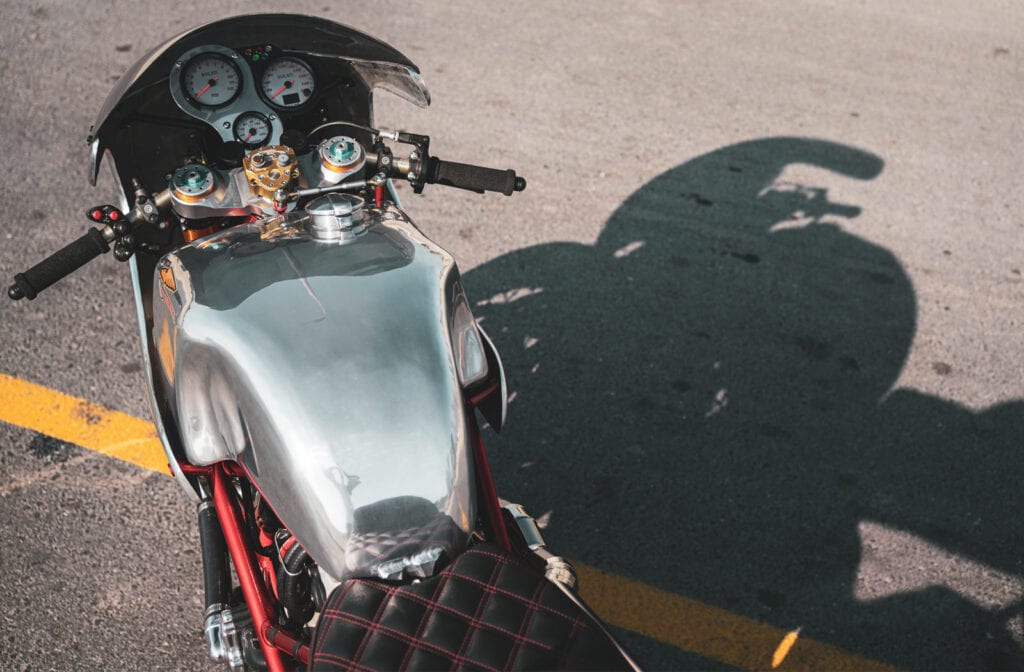 Although he possesses all the skills required to rebuild a Ducati 996 from the ground up, Alan wanted this bike to feature bodywork made using the same techniques and materials as cafe racers of the 1950s. This meant the bike had to wear nothing but hand-formed aluminium bodywork. Since this was one skill he lacked, he looked to the origin of cafe racer history for a solution.
Alans search lead him to a British workshop that specialised in alloy bodywork. He picked out a fairing and rear cowl from their existing catalogue. Then ordered them with a few bespoke adjustments to match his vision of a 996 cafe racer. For the fuel tank, however, he wanted something completely unique.
"I'd just started the restoration of a 1997 Ducati 916 SPS, and it was agreed that it would be a great, and very unlikely, base for a track-focused cafe racer project. So with the 916 SPS in bits, an old tank was modified with expanding foam and body filler to form a mould for a newly designed tank to be made from alloy. Once that was shipped off to the UK, it was time to source everything else…including a bike!" he recalls.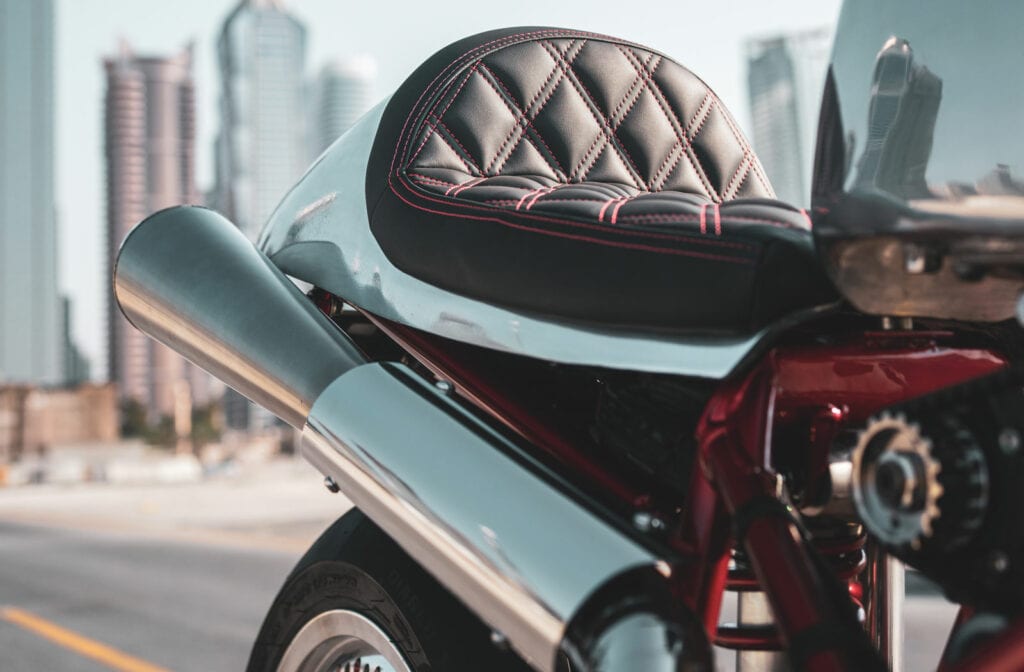 Alan's choice of donor for this project was heavily influenced by his 916 SPS restoration project and spurred on by the fact that relatively few people had performed such a build before. But without a suitable donor available in Dubai he once again looked to Great Britain for a solution.
"A clean-looking 996 was purchased online in the UK along with 1198S Ohlins forks, Brembo callipers, a 998R lower triple (56mm), Braketech full floating discs, Brembo brake and clutch master, and the sexiest wheels on the market by Kineo," he says. Once the bike arrived it was promptly stripped bare and unwanted parts were shelved for future projects.
The first cab off the rank for the rebuild was the bike's custom stainless steel exhaust. The pie cut curves of the headers were inspired by the work of Italy's South Garage and put together using VR Customs new tig welder.  Alan confesses that getting it to sit just right took a fair bit of tweaking and the final result was achieved thanks to some heavy reworking of the rear subframe.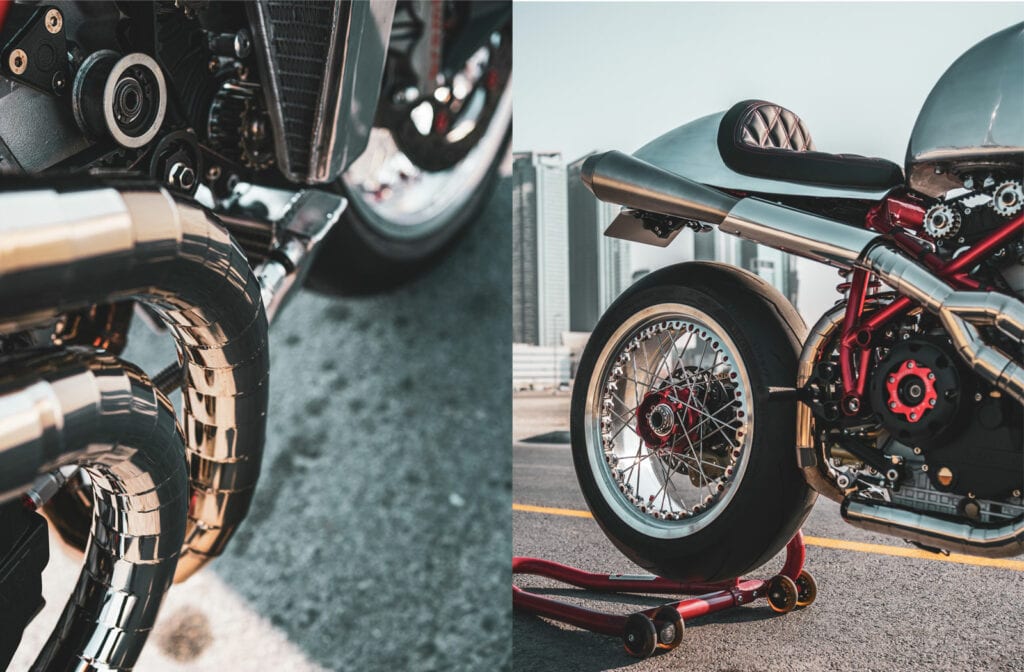 Once the pipes were completed the Testastretta engine went up on the bench for a comprehensive rebuild. Along with rejuvenating the v-twins internals, close attention was paid to its outward appearance.
"We chose to not use belt covers," says Alan "The backing covers were removed along with machining the cam mounts prior to powder coating so the cam pulleys 'float' round the heads. The pulleys were chromed to ensure they catch the eye."
The extent of external embellishments went well beyond the cam pulleys alone. As everything went back together it was either polished, nickel-plated or treated to a fresh coat of black. Infact the work was so extensive that even the return springs and butterfly screw of the throttle bodies were given a facelift!
Other engine-related modifications include the fitment of a K&N crankcase breather sitting on a one-way filter valve, a complete set of silicone coolant hoses and custom made braided oil lines. Taking pride of place at the front of the engine is a FRAM race radiator which Alan considers a 'must have' for a build like this. Here it sits farther back so that twin Spal fans could be installed along with a matching oil cooler. The polished aluminium of them both ties in perfectly with the theme as do the alloy header tank and overflow tanks that were built in house.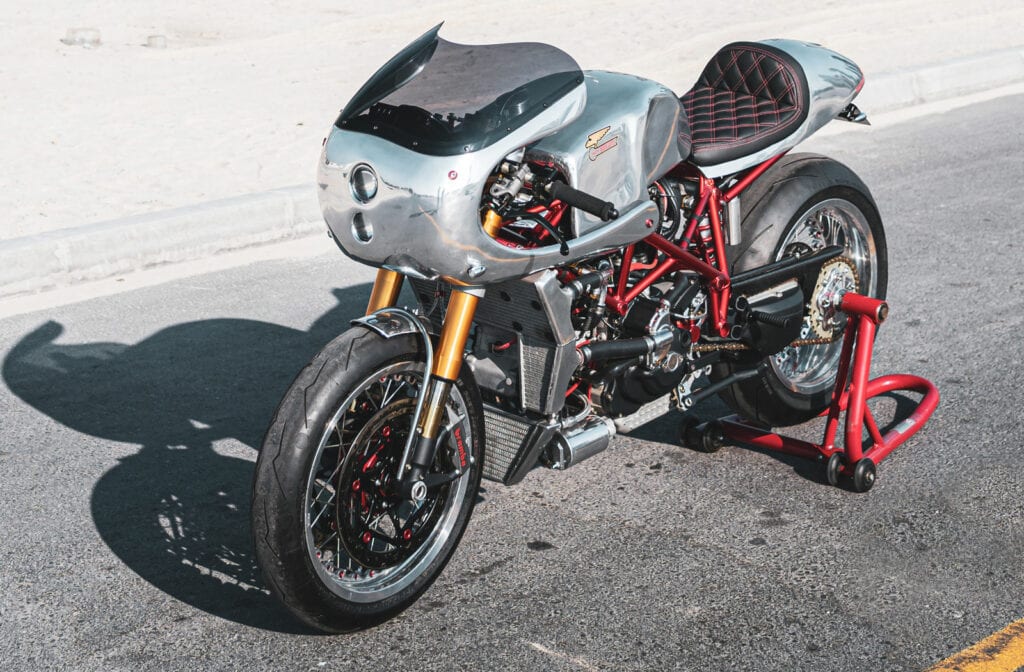 When the time came to tackle the wiring loom of his 996 cafe racer Alan quickly realised why very few of these bikes have undergone the cafe treatment.
"There was so much to relocate," he says. "With Ducati's late 90's wiring, which was a mix of analogue and digital components, it makes for a lot of wiring and very few places to put it all!"
Thankfully Alan's racing background taught him to never give up. He soldiered on with the mess of wires and eventually, everything was tucked neatly out of sight.
Turning his attention to the cockpit Alan bolted Renthal clip-ons with endurance grips to the forks and fabricated an alloy gauge surround. The new dash houses a custom made GPS speedometer, tachometer and temp gauge featuring the VR Customs emblem.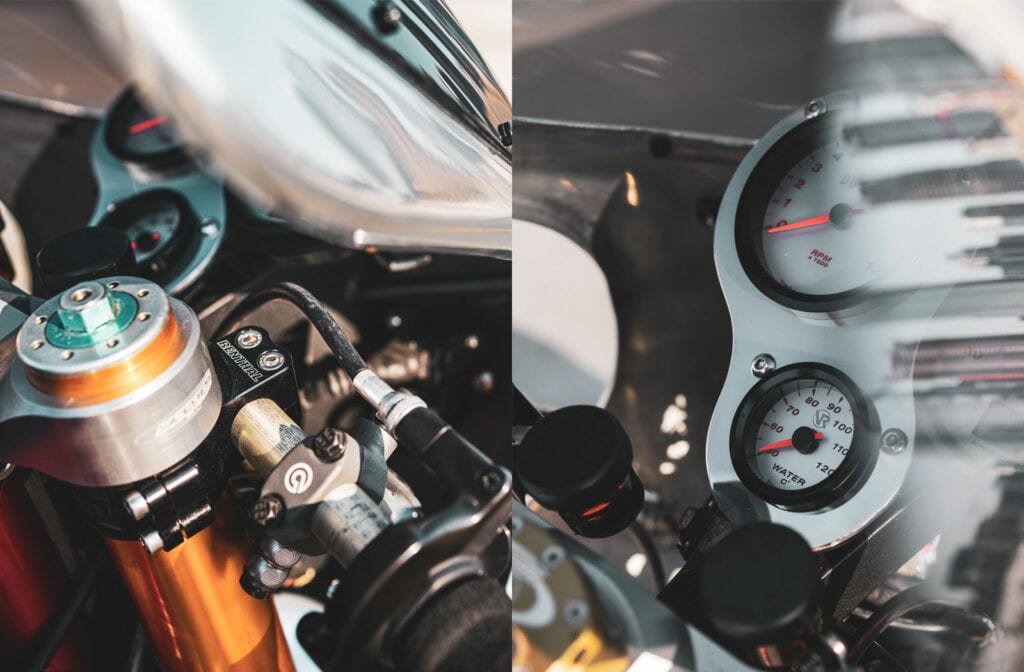 For the lighting, Alan went with a stacked twin headlamp configuration similar to those of the 996 successor, the Ducati 999. In the rear, he's added a similar set-up using 2 LED taillights while the turn signals are tiny Rizoma Club Series items. In keeping with the bikes clean finish, the standard key-operated ignition has been replaced by a Motogadget keyless system.
When the time came to select a finish for the bike, Alan once again looked to 1950s cafe racer styling.
To preserve the perfectly polished finish of the bikes alloy bodywork it's been given a coat of clear. The engine follows suit with its spattering of polished and raw alloy finishes. Black has then been applied to ensure attention is given to the areas that deserve it most. As for the frame, it's been coated in candy apple red as a glitzy hat tip to Ducati's iconic livery.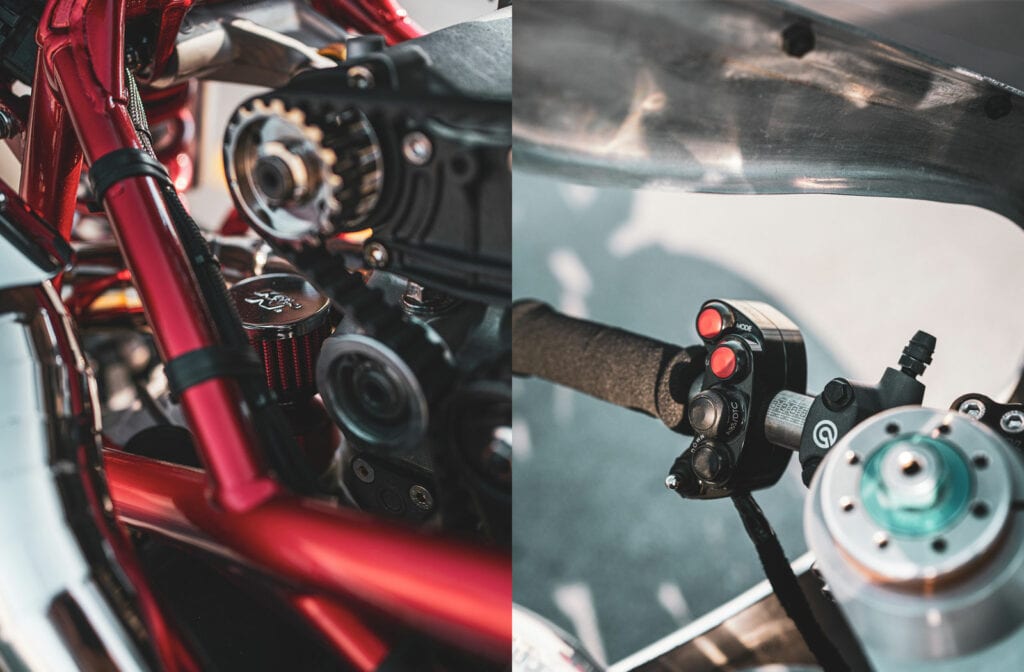 "The final shakedown was performed where the bike was always destined to be, at the race track," says Alan. "Looking over the wide-tinted screen and classic-style tank, the bike has a visual sense of being heavy, but this is soon forgotten once you lean into the first corner. It has the familiar, agile handling of a 996 but with far superior braking ability and suspension that was never this good out of the factory in the late '90s."
All up Alan's VR Customs Ducati 996 cafe racer took 2 years of hard work spread over a 5 year period to complete. Delays with the completion of the bodywork and other projects taking precedence were ultimately responsible for that. But despite the frustration that was sure to cause, the final result was definitely worth the wait.
Photography by Michael Vosloo