When architectural designer William Hendrix steps out of his office his mind is consumed with thoughts of motorcycles. He's a regular competitor in WERA and CCS racing events so it comes as no surprise he's passionate about the performance of his bikes. In keeping with his vocation, he also applies his skills in design to each project, but none have been quite as stylish as his latest creation. This custom Ducati SR4S named the Hendrix-Studio Ducati PS1000r 4v is William's salute to Paul Smart's iconic Imola winning race bike.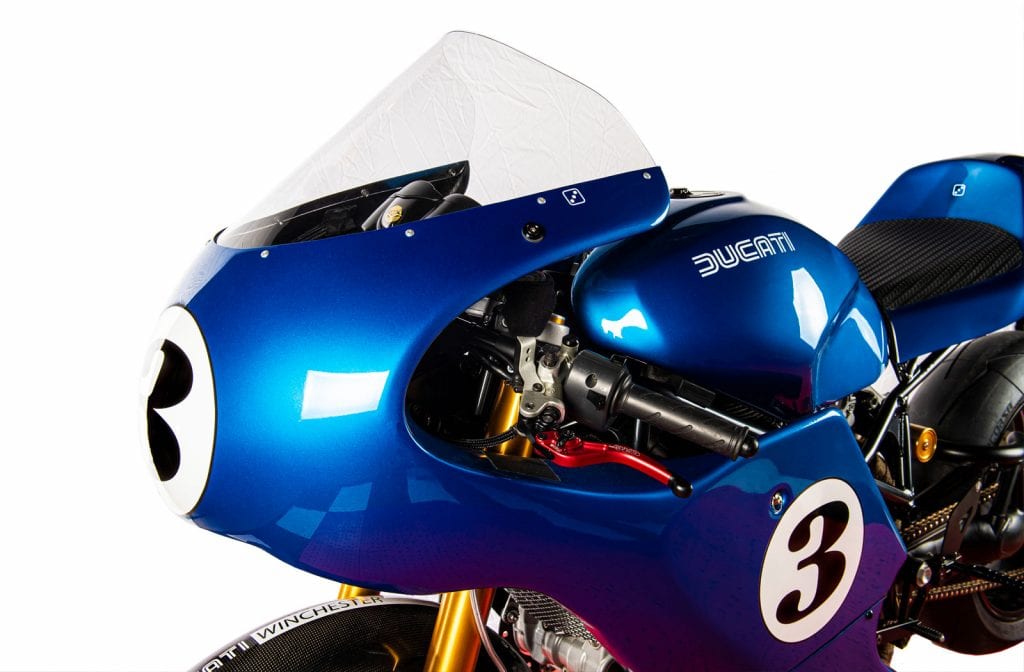 "Blue No. 3  was inspired by the 1972 Imola winning Ducati 750 race bike," says William. "The PS1000 4v artfully combines a liquid-cooled Testastetta 998cc power plant with Paul Smart replica bodywork to create an entirely new classic bike."
Similar to the current trend by manufacturers to produce 'modern classics', William has seamlessly merged modern engineering with classic styling. He's achieved this with the use of modified off the shelf replica bodywork and a series of chassis tweaks to mate them all together.
The bike's new bodywork consists of modified Flexi-glass Paul Smart MotoST fairings and a custom made Gustaffson Plastics windscreen. Fuel is stored in a bespoke Ducati S4RS fuel tank and both the front and rear subframes have been modified to achieve a factory perfect fit.
The Hendrix-Studio Ducati PS1000r 4v is built on a 2007 Ducati Monster S4RS platform. At the time of its release, the S4RS sat at the pinnacle of naked superbike performance. This made it an ideal starting point for a race-focused build. In its standard form, the S4RS came equipped with a complete Öhlins suspension package, 3 disc Brembo brakes, super light Marchesini alloy wheels, 4 valves per cylinder and a 998 Desmodromic Testastretta L-twin producing 130hp. That's an impressive stock specification list, however, William wanted more to make it truly competitive out on the track.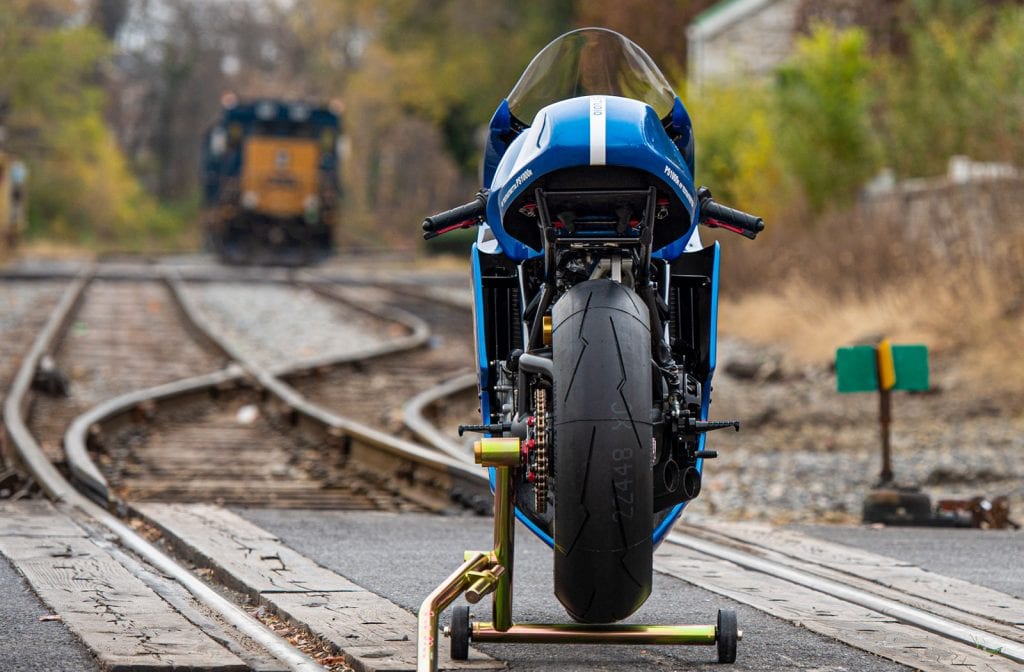 Stepping up things in the performance department is a Marelli electronic fuel injection system controlled by a Ducati Performance race mapped ECU. A 50mm throttle bodies and a fuel injection system feed each cylinder and it inhales via a pair of Corse Dynamic velocity stacks wearing '70s style F1 stainless steel screen filters. As for the noisy end of the combustion cycle that's taken care of by an inconspicuous race-tuned 2 into 2 H-S custom straight flow exhaust wearing custom carbon tips. To protect the bike's bodywork from searing exhaust heat the whole system has been heat wrapped.
Williams biggest challenge with the engine and his design vision was how to maintain a classic air-cooled appearance using a liquid-cooled platform. The solution was to create a 'reversed radiator' setup that stashed the radiator up in the fairing along with the oil cooler that sits within the underside of the nose.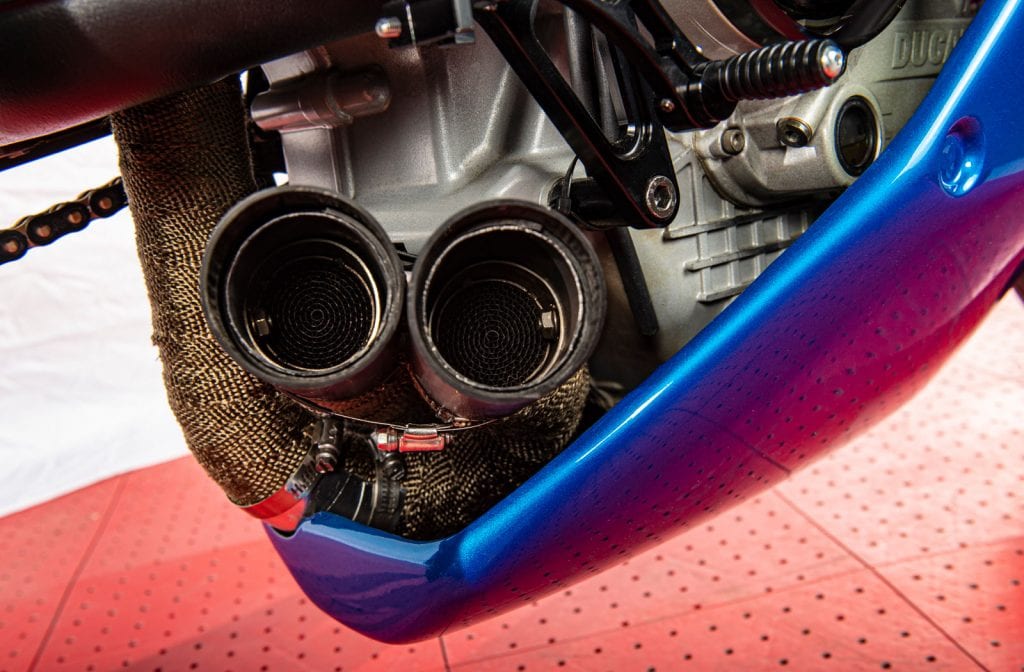 The Ducati's handling has also been overhauled for the track. The original Ducati SR4S 43mm Öhlins forks and rear monoshock have been completely rebuilt using new internals. An additional Ohlins steering damper helps to keep the front end in check and the wheels are wrapped in purposeful Pirelli Diablo Supercorsa TD rubber. To fully prepare the bike for its track debut William has also had the riding position and controls fine-tuned to perfectly suit the bike's owner.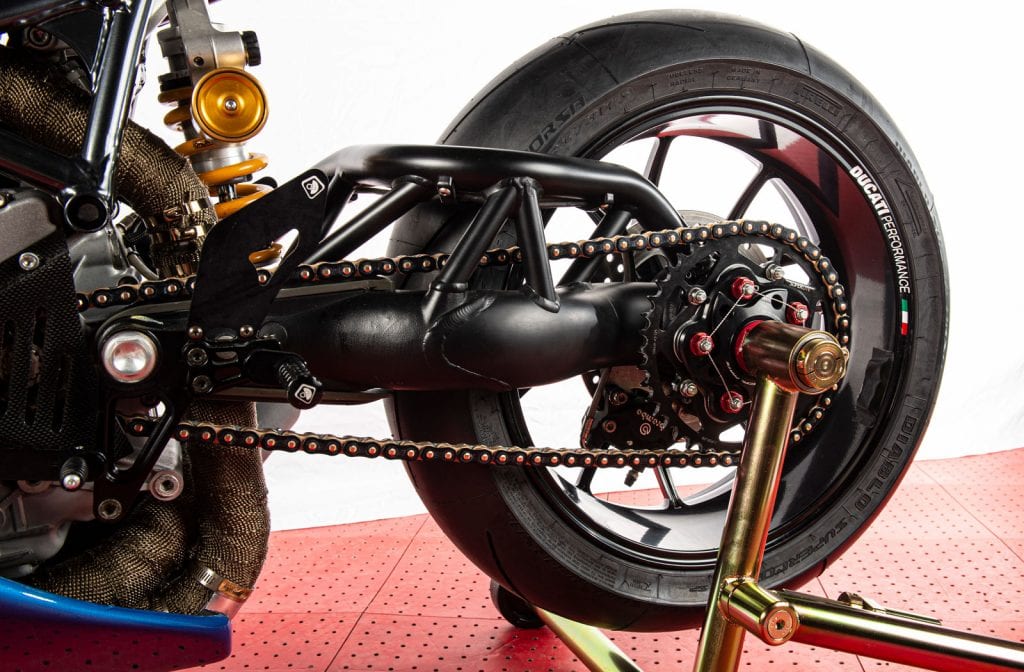 "The components are interchangeable and upgradable with many Ducati Performance parts, which makes this a flexible race/track day bike," says William. Named the Hendrix Studio PS1000r 4v as a hat tip to the original Paul Smart race bike, this custom Ducati SR4S is sure to be the envy of the track every time it cuts a lap.
Photography by Bob Blair