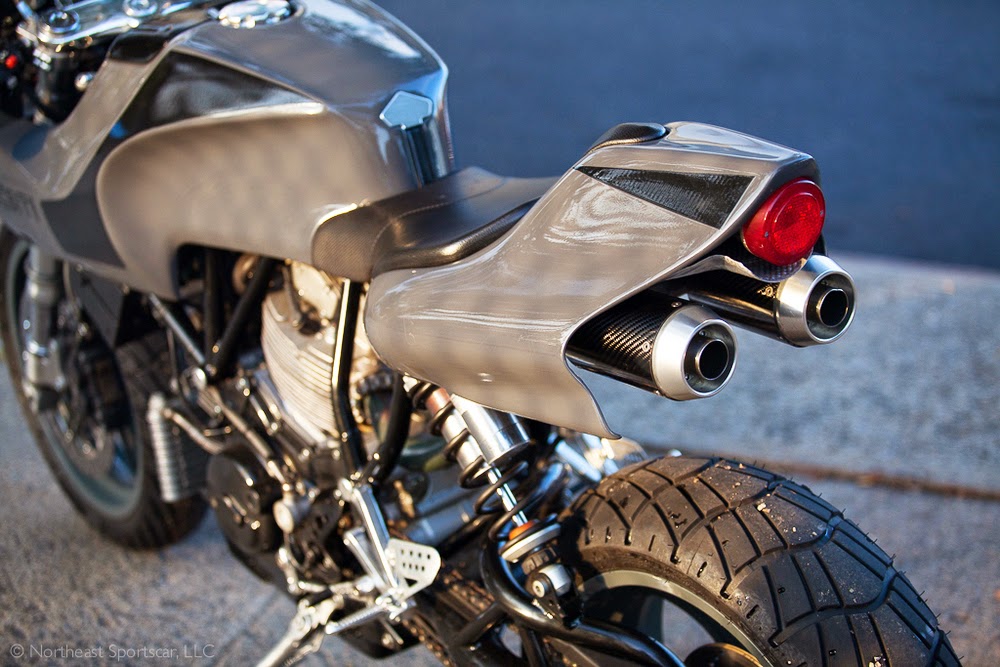 The Ducati MH900E started out as a sketch by Pierre Terblanche. His design was a homage to Mike Hailwood's Isle of Man TT winning Ducati 900SS. Unveiled at the '98 Intermot Show in Germany it received overwhelming great reviews from punters and the media encouraging Ducati to research its production further. After surveying interest with customers it was decided to produce a limited run of 2000 units (1000 per year in 2000/2001) offered directly to customers via online sales. Each bike was individually numbered, came with front and rear wheel stands, a commemorative plaque and even a t-shirt for the modest price of 15,000 Euro. When online sales were opened it took just 31 minutes for the first 1000 to sell out. The second thousand lasted only weeks before they too were gone.
Powered by the same ninety-degree v-twin found in the 900SS the Ducati MH900E boasted 74bhp and was capable of speeds a touch over 220kmh. While it certainly looks amazing the MH900E was also reviewed as a good all-round performer adding even more credibility to its name. Good looks, great performance. The MH900E was and will always be an "instant classic"… there I said it again.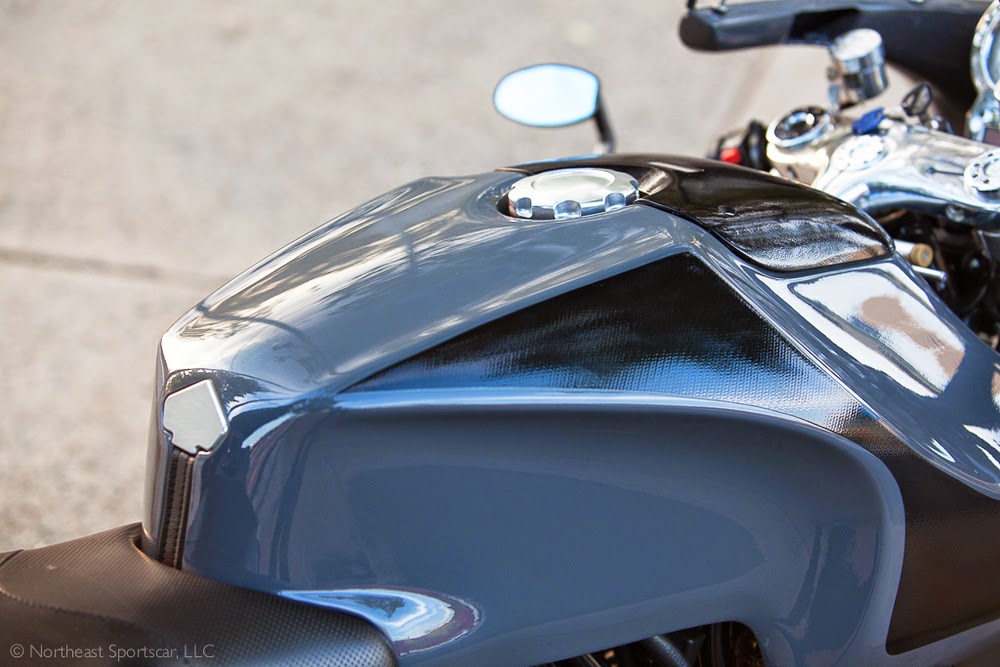 This bike is number 1434 of 2000. Bike builder and enthusiast Sammy purchased the 2001 Ducati MH900E and owned it for several years, clocking up 11,000 miles on it before deciding it was time to add some personal touches. "I had always loved the MH and I think it is the ultimate modern-day Cafe Racer with its single-seat, great exhaust, great sound and aggressive stance. However, I thought that it had too many little details that made the design not flow properly, so I started with a complete disassembly and drew up a sketch with my own modifications and colour combination".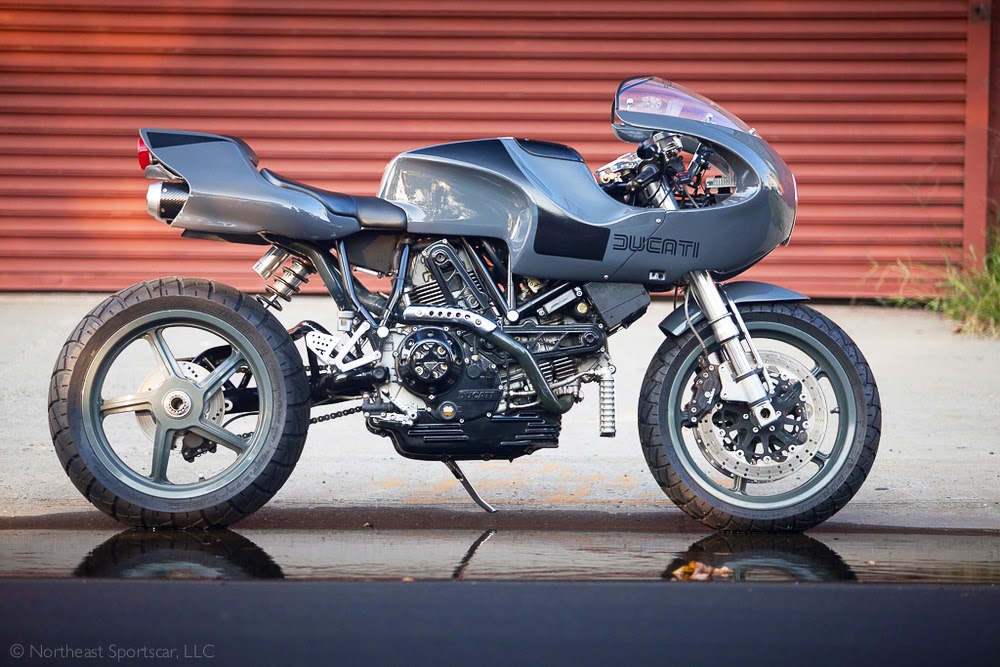 Sammy then had the frame, subframe and some of the engine covers sent off to be powder coated black. To balance the rear end he swapped the long stock mufflers for a pair of shortened Staintune exhaust with carbon sleeves. The new mufflers tuck nicely beneath the bikes unique tail section and tighten its proportions. To streamline the Ducati MH900e's body he removed the mirrors from the cowl and added bar end units by Motogadget in Germany. The stock indicators were also replaced with inconspicuous fork leg LEDs to really slim things down.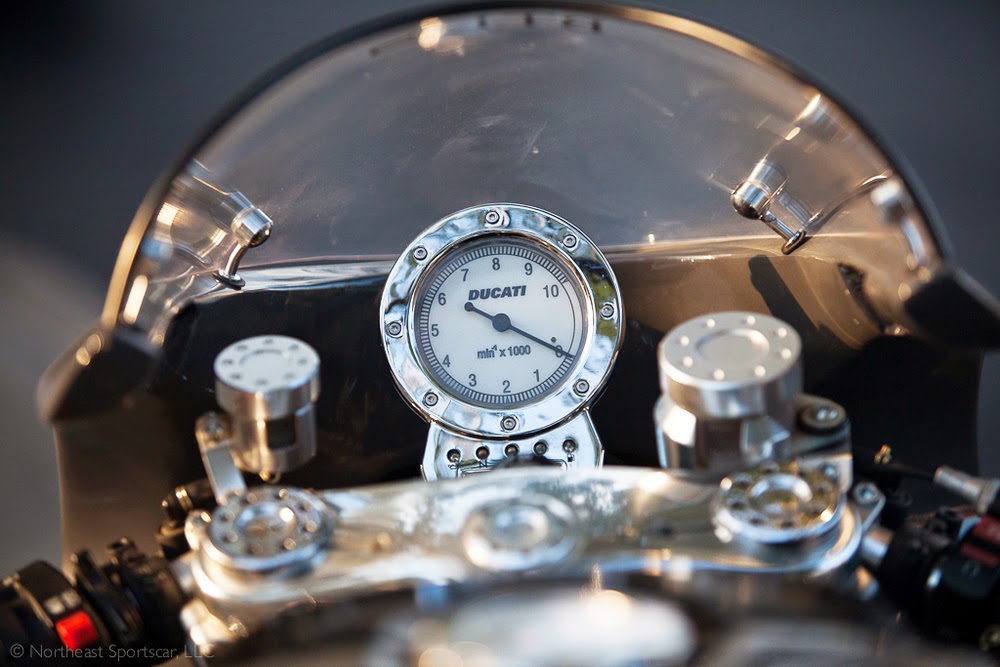 Next, the bodywork was stripped of its factory red scheme and repainted in a naval blue/grey scheme. The original contrasting decals were then recreated using carbon decals and applied prior to a coat of clear. The bike's wheels were also given a coat of grey to match the bodywork before being wrapped in Dunlop performance rubber. While the bike was apart the engine was also given a freshen up with new belts and filters and the carbs tuned to suit the new exhaust.
"I love the details on the MH900e and the smooth aluminium pieces on the dash. It's a true masterpiece. I don't call myself a bike builder but rather a customiser and take pride in turning goofy looking bikes, like a Kawasaki  650 KLR, into unique pieces of machinery."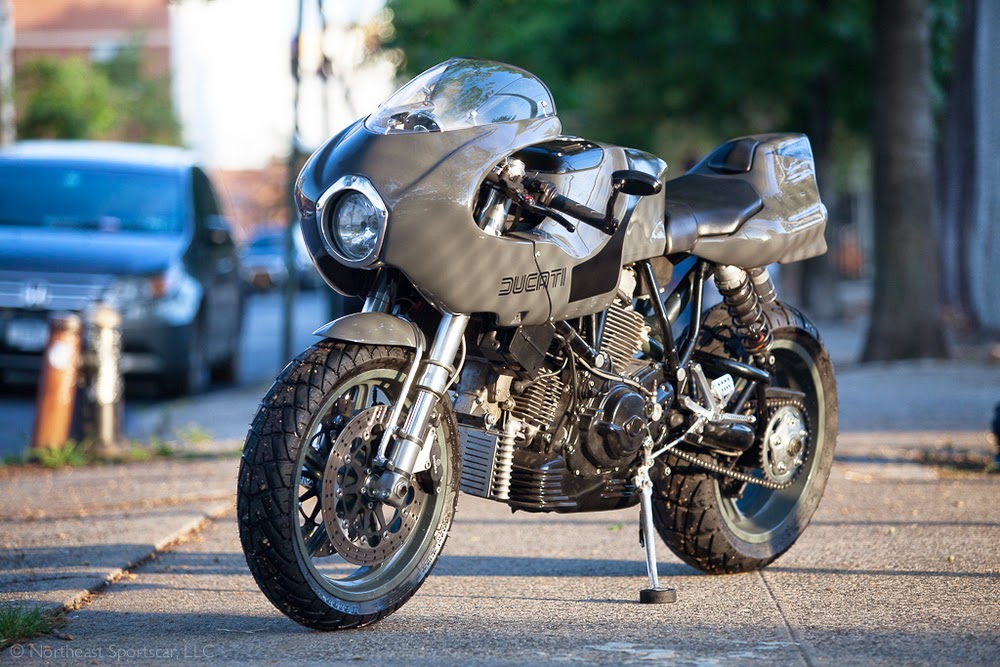 "An instant classic". That statement is an overused cliche in the automotive world. But not when it was applied to the 2001 Ducati MH900E. Everything about the bike from its design to the method in which Ducati sold it was unique. It's no wonder secondhand examples are already fetching serious dollars. Ducati produced a mere 2000 units of the MH900E and they sold fast – and by fast I mean the first 1000 were gone in only 31 minutes. Unfortunately, many of them went straight into storage or into personal collections so to see a customised one is a rare treat.