David Mucci is an Industrial Designer and Custom Motorcycle Builder working out of Portland, Oregon. Since his 17th birthday, David's been tinkering on his own vehicles. The obsession lead to him studying product and transportation design and over time he's learned the hands-on mechanical know-how to execute his ideas. Working under the pseudonym 'Moto Mucci' David offers automotive design and build services to customers around the world.
Through a special collaboration with training sketchbook suppliers, IDRAW Creative Goods, David has developed a unique book designed to help people like you and me accurately sketch our own custom two-wheeled concepts. To help promote the launch of the 'I Draw Motos' training sketchbook we sat down with David to talk about designing and building bikes and this intriguing new venture.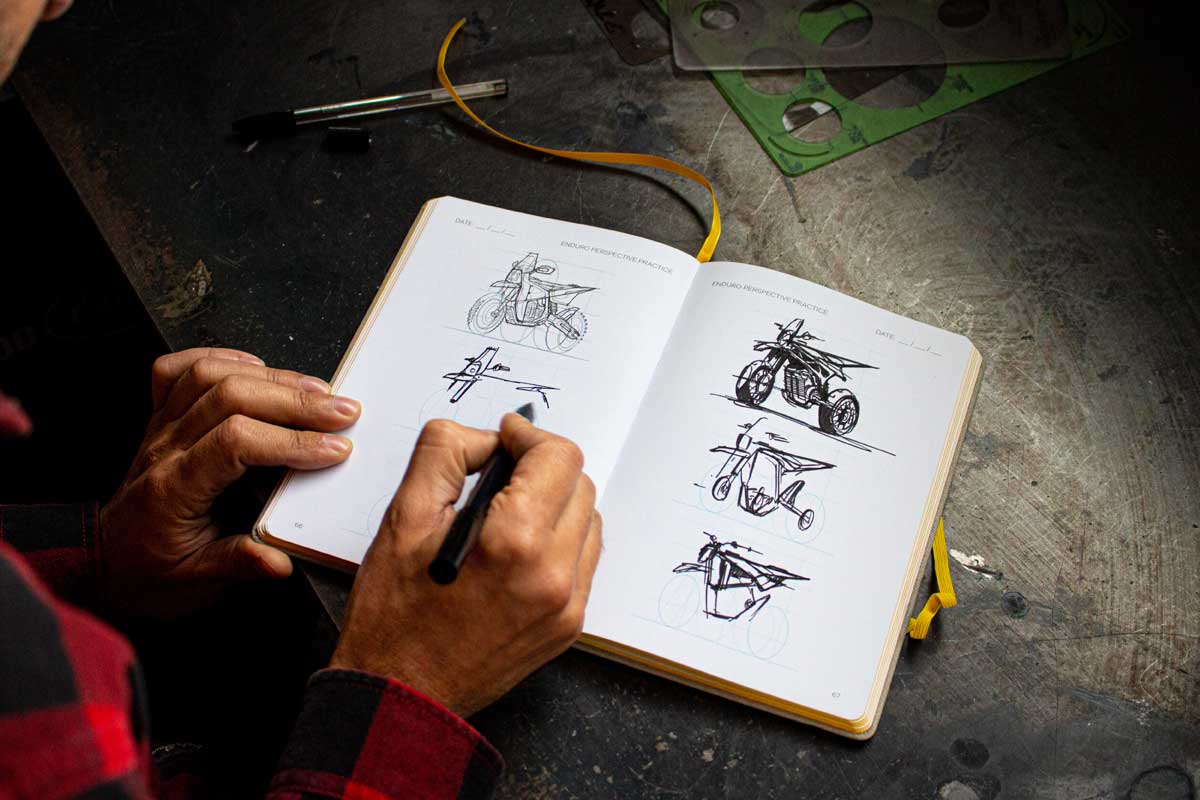 What is Moto Mucci?
Moto-Mucci is a studio specializing in custom motorcycles and design services for the motorcycle industry. What I'm most known for is the ground-up bike builds but I also consult for aftermarket companies to develop part lines and design concept vehicles.
When did you start applying your skills to motorcycles?
About 11 years ago now I bought my first bike, a 1978 Honda CX500, mostly in boxes. I brought it home, tore it down to the frame and turned it into a design/build project. I started a blog back then, I think it was 2010, to chronicle the project from concept sketches through to completion. I called the blog Moto Mucci because that's what my co-workers nicknamed me at the design office; mainly because I had motorcycles on my screen half the time. It was kind of a joke. Then the blog started getting 100k views a month so I ran with it.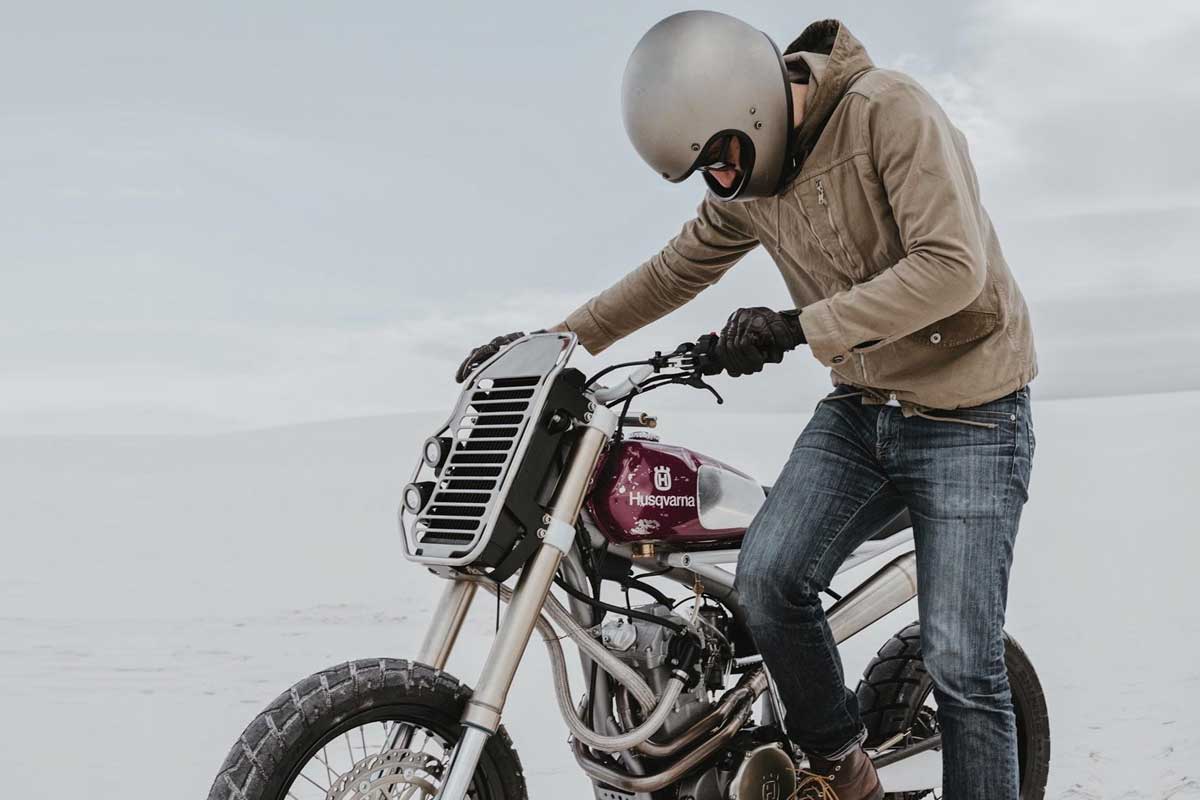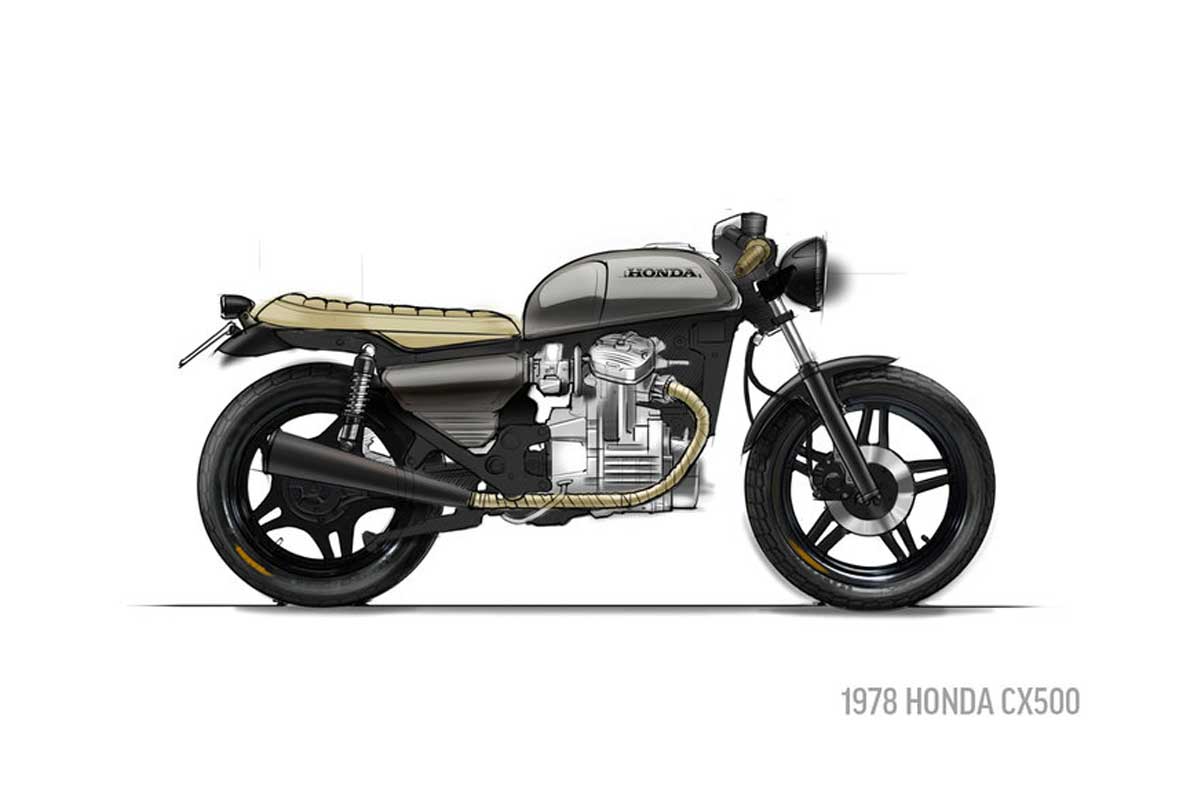 What are some of the techniques you use when you design and build a bike of your own?
I start every build on the computer, sketching concepts, compiling parts in photoshop, and building components in CAD. I don't ever touch the bike until I've got a final design that's been tweaked through multiple rounds of revisions. It's the way I work best. I spend a lot of time doing the conceptual thinking up front so that when I'm in the shop I can focus on execution.
How can people get involved with Moto Mucci for their own custom projects?
The Moto-Mucci website has contact forms for both custom motorcycle build inquiries and design service inquiries. Contact me here for bike builds, or here for my design service.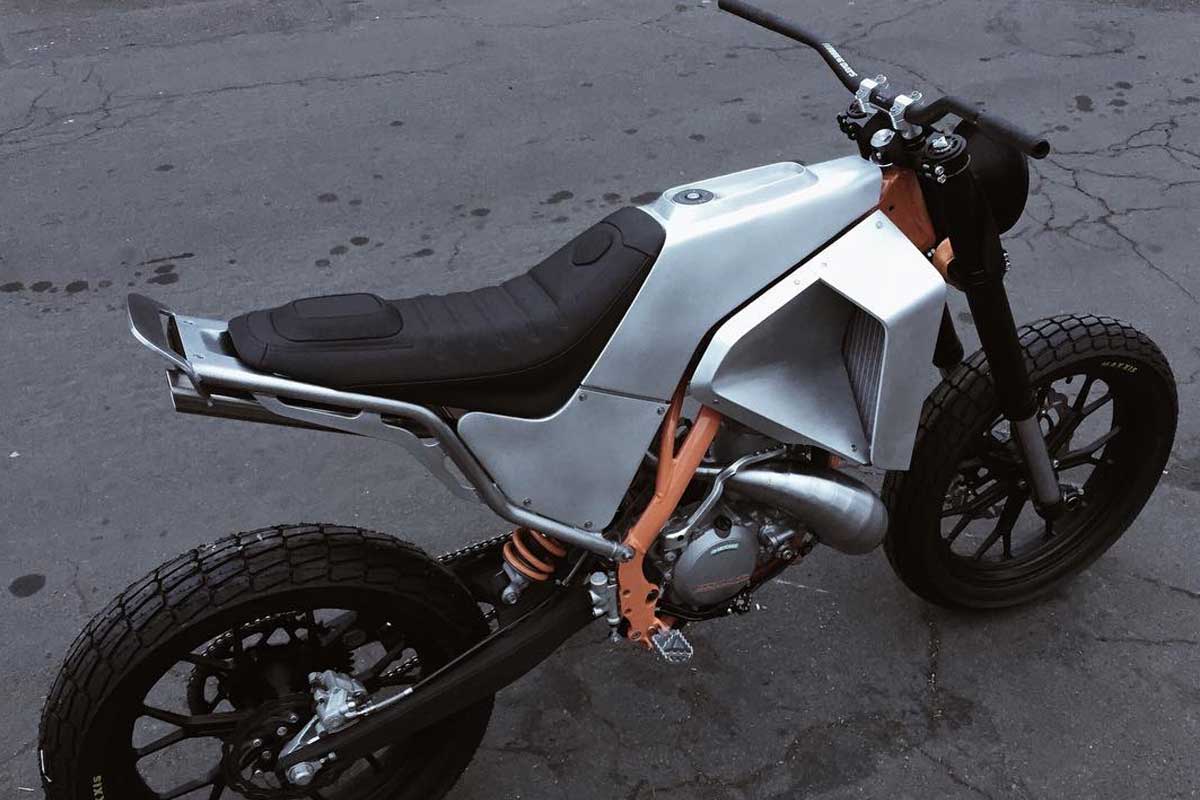 Tell us a bit about your latest KTM project.
The KTM started life as a 2014 300 XC-W Six Days – a hardcore enduro machine. The owner had other bikes that served that purpose and wanted to transform the KTM into a street tracker instead. After the design phase was complete I began transforming the chassis to tracker specification. The suspension was rebuilt to be 2.5″ lower with stiffer springs and valving. Triple clamps from the 701SM were fitted so I could squeeze in a Maxxis DTR-1 130-19 flat track tire mounted to some RSD 19″ Del Mar wheels. I designed the hubs to make it all fit myself and had them machined out of forged aluminum.
With every build, I aim to push my skills further and I decided it was time to tackle hand forming aluminum. I started doing research, collected the necessary machines and tools, and begun practicing. After a few months filling a dumpster with test pieces, and some time spent with master shaper Christian Sosa, I was able to hand form a 9-piece aluminum body for the bike. I also fabricated a new aluminum subframe with integrated tail light and exhaust, carbon fiber 3D printed headlight, hand-carved seat, and hand fabricated aluminum skid plate.
I'm wrapping the bike up now and am hoping to reveal it all very soon.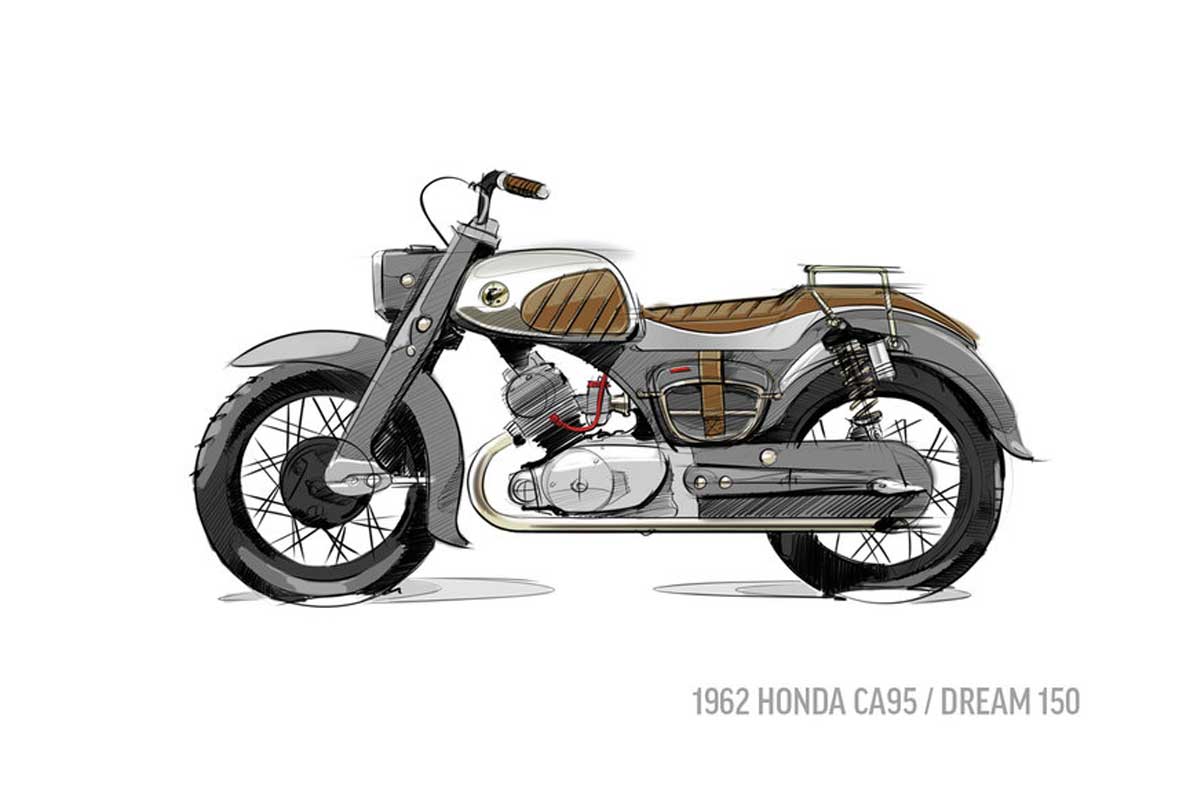 What was the driving force behind the I Draw Motos project?
A good friend of mine from design school, Matt Marrocco, started the IDRAW series back in 2011. They're step-by-step drawing tutorials printed in sketchbooks authored by industry professionals. For instance, the IDRAW Comics book was authored by Marvel Comic Book artist Ryan Stegman. Matt reached out to me after realizing that kind of resource didn't exist for people interested in drawing and designing motorcycles. I've been working on developing the I Draw Motos for the past few months now.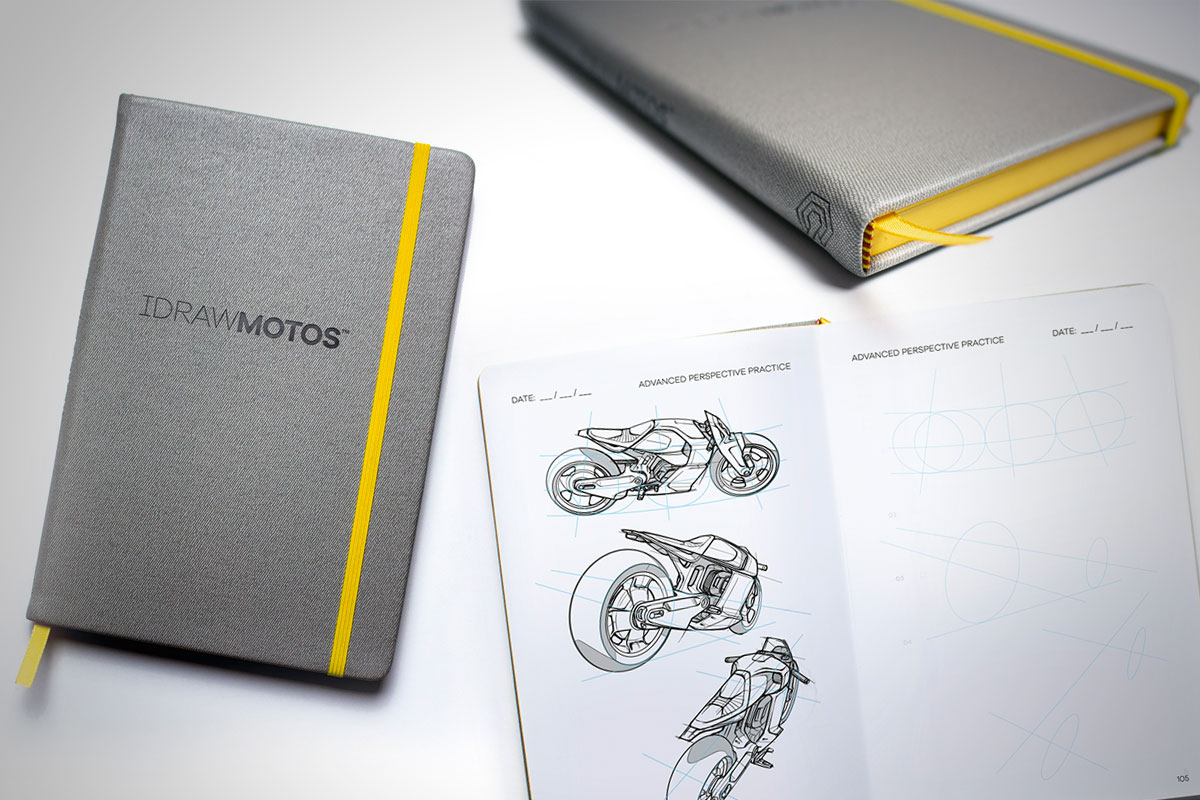 What are some of the things we'll find in the book?
The book is front-loaded with a ton of foundational information on motorcycle dynamics so that readers understand the differences between model types. It covers basic anatomy, engine type and configuration, handling dynamics and how to set up a model-specific chassis. All that's in chapter 1. From there the book gets into step-by-step tutorials, perspective lessons, wheel drawing techniques and layout fundamentals paired with 100+ templates to sketch over.
The Moto Mucci I Draw Motos Kickstarter campaign is now live. You can pre-order a copy of the sketchbook starting from as little as $20 USD. So if you'd like to learn how to properly develop your ideas on paper before dismantling your pride and joy, we suggest you grab yourself a copy.
Special thanks to Moto Mucci