Our workshop series continues this week with an interview from 'Cafe Racer Kits' in the United Kingdom. Ian Saxcoburg is a mechanical draughtsman who ran his own engineering businesses prior to starting the Cafe Racer Kits business. Along with his wife Tracey, they produce a range of cafe styled "kit bikes". The range currently includes conversion kits for Triumph triples, the Honda CX500, CB250N and CB400N. I spoke with the pair about their kits and how they develop their designs.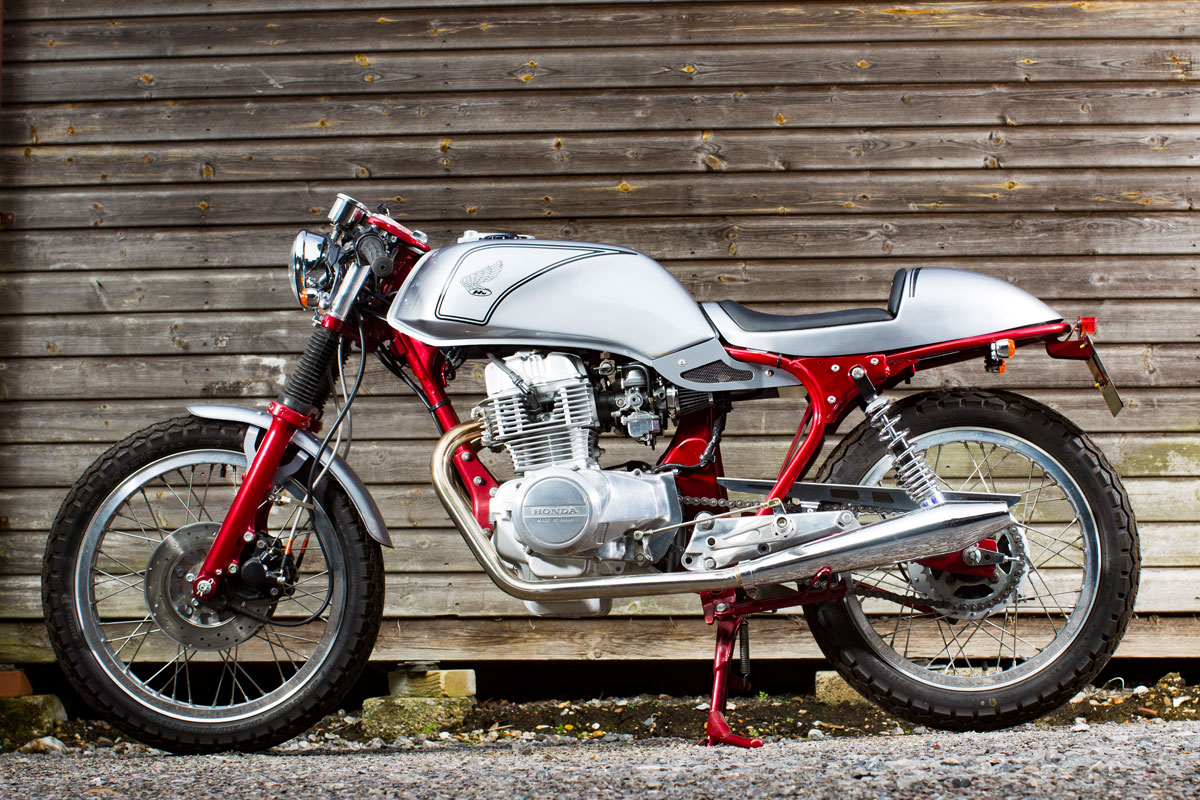 Where did the idea to produce cafe racer kits come from?
After watching the Cafe Racer series from the US, Ian was inspired to begin something new. He fancied building a cafe racer of his own based on a Honda CX500. After a few weeks of development, he figured that he would get a small batch of ten made to see if anyone would be interested. We took the finished bike to the Bristol Classic Motorcycle Mechanics show in 2012 and our timing couldn't have been better. We sold the first ten kits within 3 months.
Our principal idea was to continue using older, cheaper and readily available motorcycles. The CX was ideal. The first one cost Ian £100 and there were thousands stashed away in peoples sheds and backyards. We realised that not everyone has access to fabricators and that the costs involved for a one-off design don't make economic sense for most people. We also developed a working manual which meant that almost anyone could complete the conversion themselves. A few of our past customers have had no experience in the workshop at all. For them, the build has been a great confidence booster.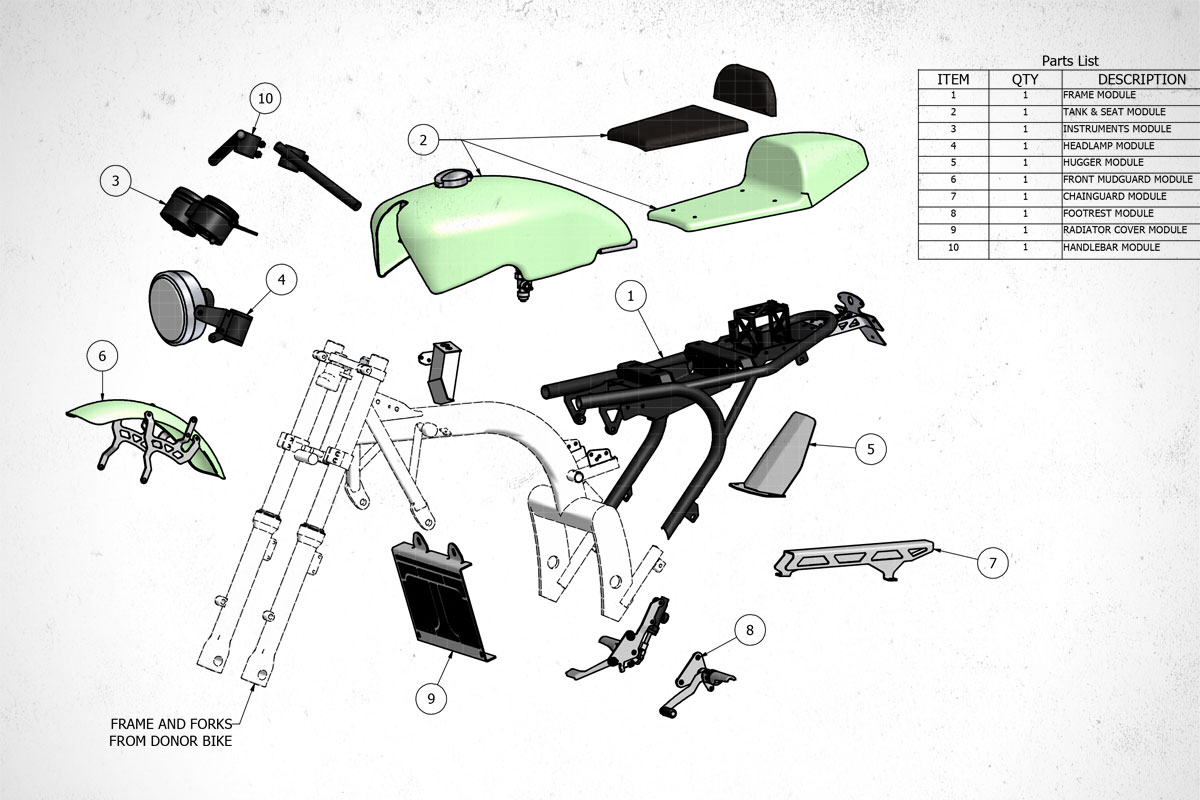 How is each of the Cafe Racer Kits designs developed?
The initial development of the kits begins with research. We look at the styling of old bikes and take cues from them. Obviously, the use of cafe racer styling is very important and we try and achieve the best results using the lines of each bikes stock frame. Overlaying sketches onto the original frame means we can make everything fit and flow harmoniously. We then use hardboard or cardboard to mock things up. Ian also utilises 3D software to visualise his ideas. We use a 3D printer for small parts prior to manufacturing to check they fit, look and work right.
How are the parts in your kits manufactured?
We produce as much of our kits locally as possible. The fibreglass parts are made by hand locally. We build an initial form using foam then file it to shape. A mould is then produced for making the stock parts. We work with manufacturers who are happy to do small batch runs. This means we can dedicate a high level of attention to detail.
Our metal parts are laser cut locally too. We have manufactured jigs for welding and drilling test parts to frames. Our 2 fabricators are very skilled at their job and have come to understand our products very well. They help us develop subtle changes to ensure parts fit effectively. We also use a skilled machinist for prototype parts. Here on the Isle of Wight, we have a good resource of skilled technical, hands-on people.
Sometimes Ian will also be in the workshop hammering, filing, shaving and bending until he is happy with a part. He has a bending machine he developed and many of the parts are all bent individually. He also has a dedicated space for blasting small parts, drilling, polishing, painting and deburring machined components.
How long did your Triumph Hurricane kit take to develop?
The initial development of the Triumph kit took around a year. At the time Ian worked on his own so he was often in the workshop or office late at night. Ian was in his 'professor' mode. When he gets like that you know something genius is happening.
Having three kits for Hondas under his belt helped enormously during the Hurricane development. There were still plenty of challenges to overcome though. The Triumph frame was more modern and he wanted a bolt-on subframe as opposed to welding. In the end, the Triumph was a phenomenal bike to use. The frame is sound, parts are easy to obtain and the ride is great.
What was the publics reaction to your Hurricane kit?
The Triumph kit was unveiled at the Stafford Classic Bike show in 2016 and was a complete show stopper! We knew it was amazing and even before the show opened other stall holders and press were falling over themselves to get a sneak peek at the bike. The colour scheme was eye-popping and anyone who knew their Triumph history was very happy to see the Hurricane colours again. Our stand was small but attracted a big crowd. By the end of the weekend, we'd both lost our voices!
Because we had a short initial run of the Hurricane we only wanted 10 deposits to get it off the ground. We didn't have any trouble with that. One person left a deposit at the show and had purchased a donor bike by the end of the day. After that, we were pretty confident we had a winner. We'll be sending out our 200th Triumph Hurricane kit this month.
Ian also developed the less aggressive Roadster version for taller, larger or arthritic bodies as well. It also has a 2 up seat which appealed to some customers.
How does the kit affect the bikes performance?
The conversion reduces the Triumphs weight by around 40lbs. This makes it much easier to handle. The smaller tank and capacity makes it lighter too. We were thrilled to see a couple of our conversions at Montlhery circuit in Paris this year. Then Matt Botterman also entered his Triumph Hurricane into the Bike Shed's 'Cafe Racer Cup' so we know it's a good racer!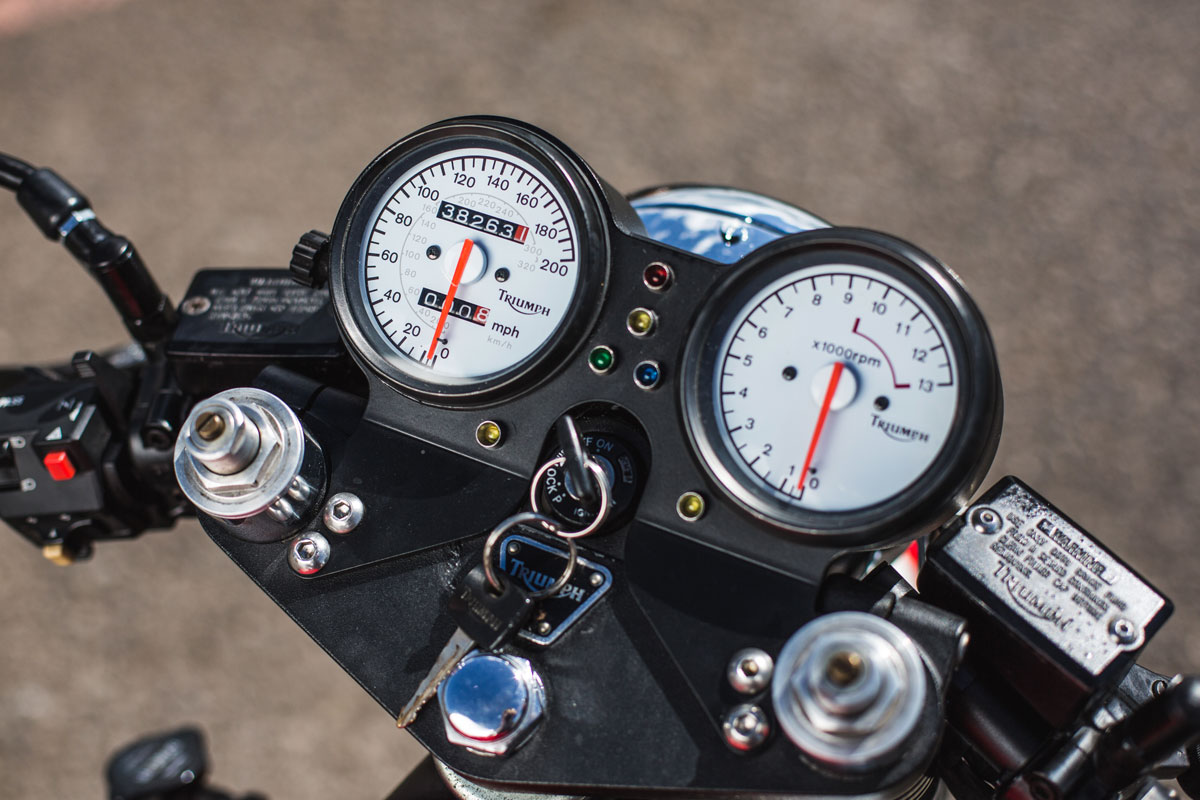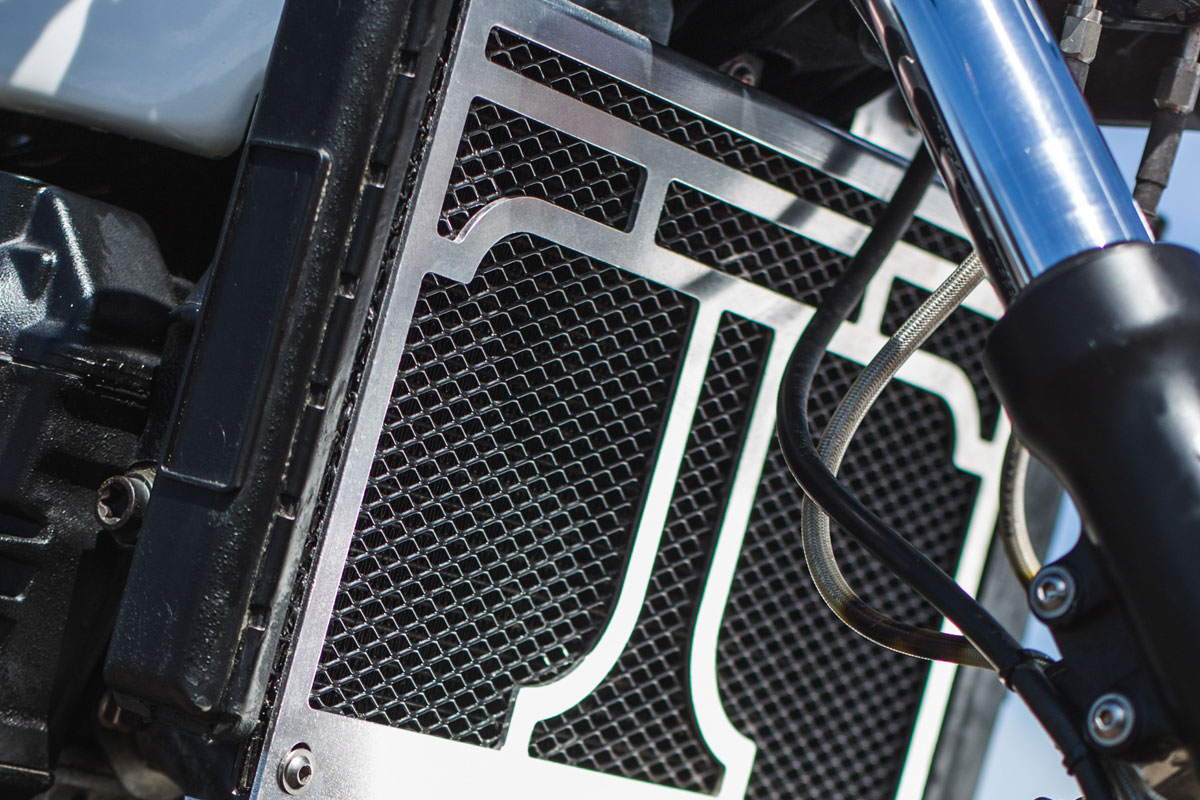 Are you planning to develop more cafe racer kits and parts?
Ian is once again in Professor mode. He's designing a new kit based on the Rob North racer from the 1970s using A Triumph RS 955. Drawing on key elements of Rob's bike it will have a fairing and a retro look. We hope to have a prototype on display at UK Stafford show this October with a release date in the new year. It'll be using the original tank, a bolt-on subframe and our own seat design. It will be a simpler kit to install but will have all the style of racers of the era. After that, we will move onto another make/model as we've used Triumph a lot. We know there are many other bikes that are deserving of a makeover.
We have also developed a switch and a wiring system in conjunction with Axel Joost Elektronik in Germany. The C & D box system runs all of a bikes accessories allowing from simplification. Ian has also developed flanges to convert ugly ComStars to spoked wheels. These have become a best seller! The spoked wheels really add authenticity to the retro look.
Quite often new products are also developed when we receive requests for assistance during a customers build. For instance, the water pipe cover on the Triumph often got lost, broken or thrown out so we created a fibreglass replacement part. For a team of 2, we don't do too bad!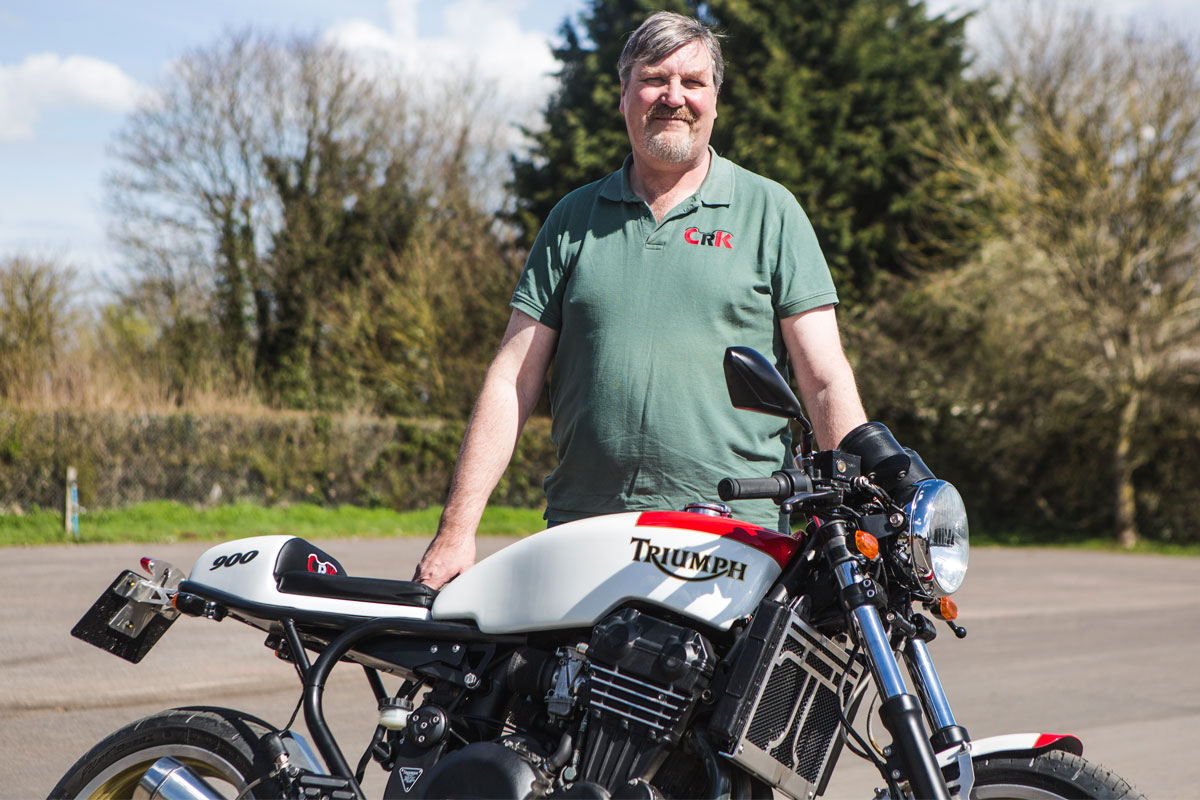 Anyone who has attempted to build a cafe racer from scratch knows how much time and money it takes. Thanks to Ian and Tracey they've simplified the process (and cost) to allow the average Joe to create a seriously cool cafe racer of their own. If you're a beginner or even a seasoned builder looking for a new project be sure to check out what's on offer at Cafe Racer Kits.